FEATURES
Unraveling Palmbomen II's Fantastical "Memories of Cindy"
By Joe Darling · January 22, 2018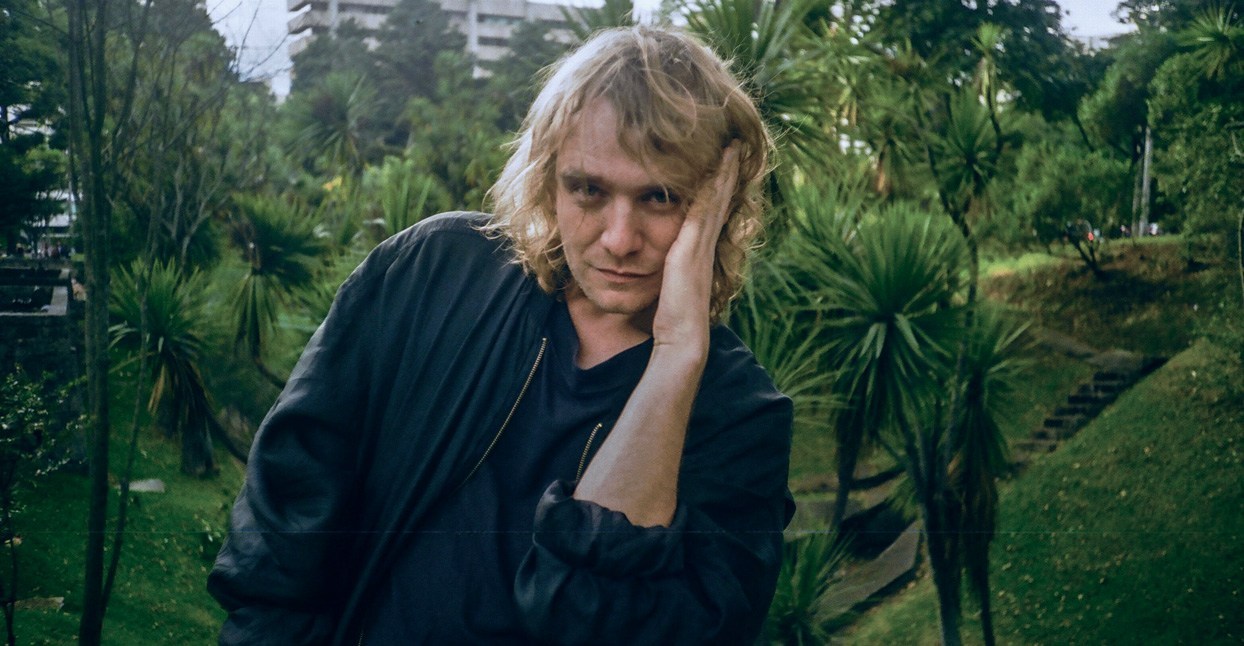 At first glance, artist/producer/filmmaker Kai Hugo, Dutch-born and L.A.-based, appears to be a masked man, intentionally projecting an image of enigma and mystique through his recording projects Palmbomen and Palmbomen II. His latest four-EP project, entitled Memories of Cindy, is less an act of evasion or self-consciousness, however, and more the work of an artist obsessively crafting a surreal world of fantasy fiction. The delineation of Hugo's band-oriented project Palmbomen and his solo incarnation as Palmbomen II seems cut and dry, but the designations are a matter of creative process more than they are personnel. While the music of Palmbomen may be largely conceived of live instrumentals whereas Palmbomen II leans more on electronic composition, there's no question that Hugo is the author and chief behind both.
In April 2017, Hugo debuted Pt. 1 of Memories of Cindy, which included six of the 22 total tracks. It was followed by Pt. 2 in June and Pt. 3 in September. The final piece, Pt. 4, is available exclusively as part of the four-EP box, and is scheduled for release on January 26. The new work arrives on the coattails of 2015's Palmbomen II, a widely acclaimed breakthrough set of synth-driven, acid house-fueled chillwave. Each of the 14 pieces on Palmbomen II were named after a minor character from the TV series The X-Files, one of whom is "Cindy Savalas." Cindy's ever-so-brief appearance in a Season Four episode of the wildly popular '90s franchise turns out to be besides the point, though. Hugo's portrayal of Cindy eclipses network TV ephemera and repurposes the character by building a newly-imagined narrative around her—a young woman in crisis, a woman of unknown origin, an alien displaced within a mundane domestic context.
We touched base with a mildly jet-lagged Hugo the day after his return from the Atlas Electronic Music Festival in Marrakech to discuss this latest series of work, his creative reflex, and his deeper ambitions in filmmaking.
Memories of Cindy has been in the works for quite some time now. The first EP came out in April. It's kind of been a summer full of releases for you.
It's kind of a heavy weight. Or it doesn't feel heavy exactly…it's just more time-consuming releasing something. I'm actually really behind on my video. I'm making the videos live while [Memories of Cindy] is being released. I'm almost done with this third one, but I made the error of trying to finish both of them and it was too much.
How long have you been doing video production?
Those videos [for the first record] were the first videos I ever made, and that was two years ago or something. I'm actually explaining this in the third video [for Memories of Cindy] because it's interviews. The very first video I had ever done and the first editing I had ever done was the 'Leo Danzinger' video. It came together randomly because I was shooting, and my then-girlfriend asked me to shoot some pictures of a girl, and she had a makeup artist there, and I liked it. We thought to change it into a music video, like a portrait or something. The next step was to have two people to have conversations and record sound on-set. Every video, I try to do something more. L.A. feels good to try things out. I have a lot of friends who work in film. It feels like trying to take a step up. This time for me, it was to build a set and also to do 3D. That was my challenge. It's like free film school. I compose for films and like that too. I like all those aspects.
How has that process played out with regards to these latest videos? The cable access angle and the dry, deadpan humor definitely reminds me of the characters Tim and Eric raised up for the first few seasons of Awesome Show.
For me, it's a continuation. It's like a really dry and rational continuation of trying new things and adding new things. But also it's Memories of Cindy, and Cindy is Cindy Savalas that was in the third music video I did for the Beats In Space series. As you see in the picture, she's the same girl that's declared dead. It sounds super meta when I explain this all. It progresses slowly and is pretty natural for me, but this is all a prequel to a film I'm making, which is about Cindy. The band album I'm making now is also a soundtrack for that film. It's all together, I guess. This was meant for me as a study towards the town [Carmel Vista]. I wanted to create different companies there. You mentioned Tim and Eric, and I guess that's the commercial side of it. That has definitely always been an inspiration. I like fake commercials and the concept of it. To have these different small pieces of music. You create little worlds that are just half-a-minute or a minute long. With an actor and some images, you create this whole idea and concept. I really love that. The world is connected to my first music videos. It's in the same world but this then is the TV they are watching there.
Tell me about the character Cindy. The opening track 'I Feel Everything' smacks vividly of Laura Palmer's disenchanted testimonies. Who is Cindy?
I think in all of my videos, there's this same kind of world with different characters. The girl that's dying is Cindy. The character from the second video—the 'Carina Sayles' one—is this guy Carina, who is kind of doing some bad [touching] on the beach. That's an important character and part of the whole world that I'm creating slowly. Every video I'm making is to give more shape to that world. My songs are tools inside of that to unleash a little bit more of that world. Cindy is important to me to discover and shape in my head what I want to make. The experience was really good because it was the first time that I connected film with my music and it felt really good, because suddenly you have all this power. A song can be really anonymous but, with images on top and especially images you make yourself, it becomes something with so much more meaning to it. You can add some dialogue and you create a real character with real feelings and that song shines through that character then. That's something I really like.
This next piece is in a short film format?
I'm planning it as a 40-minute or 50-minute short film. So in-between, I guess? I plan to make it as a conceptual pilot for a series. I like a pilot because it allows you to show a world but I don't have to have a whole story ready. It's like an introduction to a world. My intention isn't to make a series necessarily but I like to create the world out of it. It's a short film, but the concept around it is a pilot.
That makes it seem like none of these endeavors are an end in themselves but another rung toward a greater complexity.
Yeah, to unravel this world, there's no end to it. It just mixes up with the next one or something. I still really like this world and I like to explore deeper…but in different ways. But I think, after [this short] film, this world has been shown as much as I want it to be.