FEATURES
Out of the Blue
By Leah Rachel Swan · September 24, 2013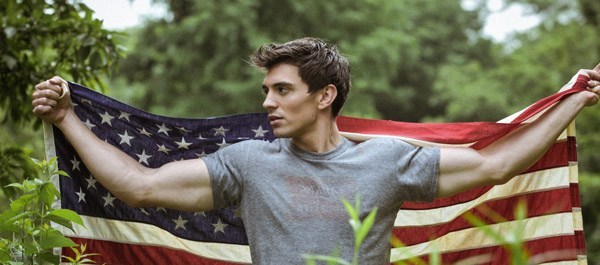 "I'm certainly not a star after one YouTube video…
Hopefully this is just the very beginning of a career."
.
00:10 / 00:58
Considering his swift rise to fame, it's perhaps no surprise that 23 year-old, Chicago-raised country singer Steve Grand still gets doe-in-the-headlights eyes whenever a camera trains on him. During a recent CNN interview – his first on national television — he had the look of someone pretending to understand a poorly told joke; politely fielding questions about his homosexuality, his unexpected star turn, and the home-made, gay-love-story video that initiated it.
Grand insists he isn't the first gay country singer, but he's certainly one of a small handful. And in his case, that seemingly contradictory identity is an asset rather than a limitation. The catchy, classic sound of his debut track, "All-American Boy," might explain why the video went massively viral when he posted it on July 2.  But viewers also glommed onto the story behind it, of an unrequited crush that stemmed from a friend giving mixed signals – something that many YouTube commenters said they'd experienced.
Within days, Grand had become the gay Everyman, a male Taylor Swift with more pathos and sharper politics. His song snowballed on social media: friends-of-friends shared it on Facebook, pop culture blogs like Buzzfeed picked it up, followed, in short order, by their more mainstream counterparts. Within a few days, Grand was fielding calls from CNN and the associated press. He posted "All American Boy" as a name-your-price, no minimum track, and quickly became the fastest, and best-selling, track ever on Bandcamp. More than 50% of his fans paid for it, and those who did paid an average of $6 (particularly impressive given that they could have grabbed it for nothing).
Grand is only one in a bevy of self-made stars who've used social networks, rather than traditional avenues, to cultivate a mass audience. His story has all the drama of the old Hollywood dream factory, though it lacks a key component. Grand didn't need a studio or producer to jump-start his career and hold him aloft; he conceived his own public image, fed it to a mass audience, and let that fan base mushroom organically. He learned to navigate media coverage later, and often approached it with the sweet, callow air of someone who still doesn't quite believe his own success.
"I'm certainly not a star after one YouTube video," he admonished the CNN news anchors as they grilled him about being a torchbearer. "Hopefully this is just the very beginning of a career."
He isn't the only social media star to voice such concerns when confronted with mass fame and no all-knowing Svengali to steer the course. Dani and Lizzy Nelson are identical twins, in their mid-twenties, who garnered 1.4 million YouTube views for a video recorded at their home in Vancouver, Canada. They own the Bandcamp record for second fastest selling title, behind Grand, and say they're also a little shell-shocked – and giddy – by the sudden attention.
"I just put it up on Facebook, and it went crazy from there," Lizzy said of the video, a loping country ballad called "Dancing in the Sky," which she sang while sitting in front of a computer monitor, wearing a sweatshirt and backwards baseball cap. "I was in the middle of a move," she continued, "and I just put it up on Facebook with no title and no contact information. I looked the next day and there were 500 shares." One man had posted the video as his status update with the line, "I want this song played at my funeral." Dani and Lizzy are currently mixing and mastering a debut album and considering offers from record labels.
Internet virality is, indeed, a sort of white whale for fledgling musicians; it's the equivalent of what in the old days was called "getting discovered," a form of alchemy that shunts someone like Grand from a lounge job singing Billie Joel covers, to the rosy heights of cable television. Few attain it, and even fewer parlay it into a viable long-term career. And yet most musicians still search for the secret formula.
As far as Grand can tell, there is none. If anything, it's a combination of hard work, natural talent, and stars aligning in the right way. "I didn't intend ["All-American Boy"] to be provocative," he said of the video. "I put it out there as something innocent and pure and familiar. I wanted it to be in a rural setting with things that were classic and familiar — the flag, the camp fire, the classic cars driving up and down dirt roads, people skinny dipping in the pond." He believes that familiar space of innocence, juxtaposed with the "aha" moment of two men embracing, might have made the song resonate.
Yet both Grand and Dani and Lizzy have real musicianship and a solid work ethic to bolster them.  Grand got infatuated with the piano after watching the Peanuts character Schroeder perform in a cartoon, when he was about 4 or 5. He eventually convinced his parents to buy a cheap upright, using a coupon they'd clipped from the Penny Saver of their hometown newspaper. He sang in two rock bands during high school, and played hymns for various Catholic churches in his Chicago neighborhood, a gig that often required 12 hours of mass on Sundays.
Dani and Lizzy spawned from a solid musical pedigree – their father is the Canadian singer-songwriter Paul Hyde; their brother Dave Nelson is a hip-hop emcee and electronic bass artist known by his stage name, Emotionz. As teens the sisters formed a hip-hop duo called Genetics, in which they slotted fierce, uptempo verses between R&B vamps. "It was East Vancouver rap, so we wore bandanas and really baggy clothes," Lizzy said. Only later would the sisters consolidate themselves as a pair of silvery-voiced balladeers, and even that could change, since Lizzy says they still enjoy flitting between genres.
.
00:10 / 00:58
In other words, all of these stars have kept magic in a bottle for years, which suggests there may be no such thing as a truly spontaneous Internet star turn. And many of their similarly successful (if slightly less famous) peers are every bit as hardworking and gifted. Singer-songwriter Rebecca Brandt, folk-rock duo The Oh Hellos, country duet Vocal Few, electronic artist The Reverb Junkie, and synth pop group Mystery Skulls could be Bandcamp's breakout stars of tomorrow. But their sheer numbers also illustrate the star-making powers of social media – that if forces truly align, it's possible for anyone with a computer to change her own fate overnight. Stars can emerge out of the blue, more now than ever.