FEATURES
Introducing: Oshwa
By Marissa Lorusso · September 21, 2016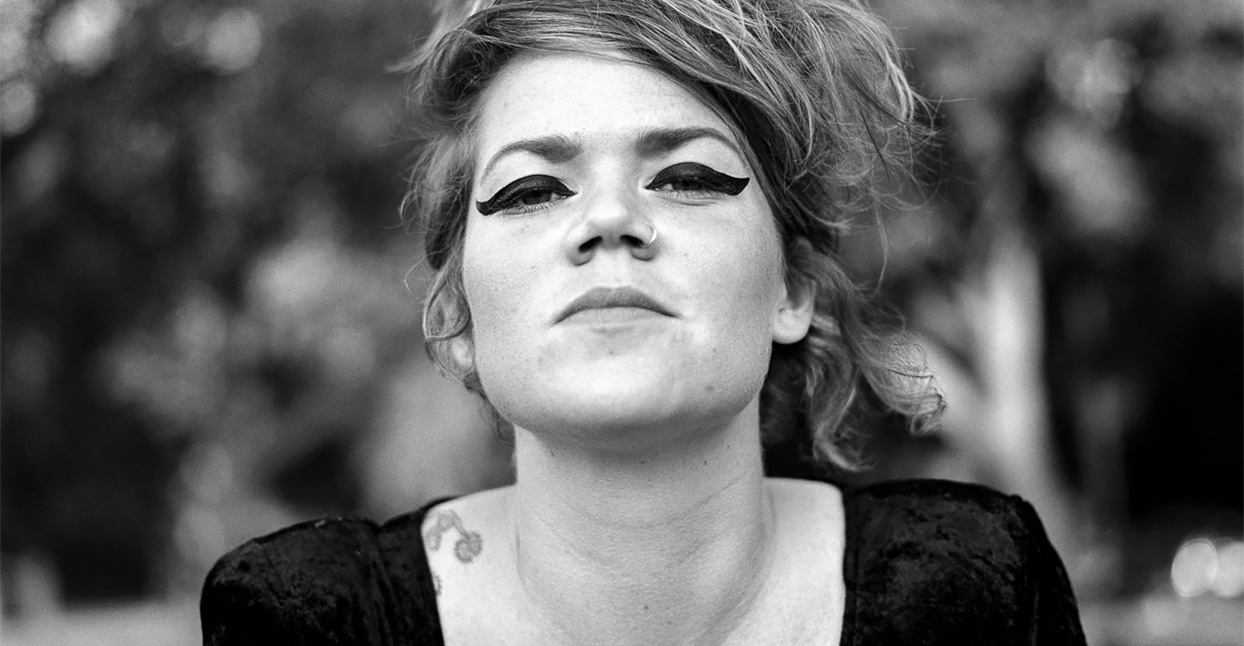 Oshwa's new album, I We You Me, is complex, heady alt-pop, full of careful string arrangements and moments of math-rock complexity. It's also undeniably fun, with singalong pop choruses and catchy riffs. The band is mainly the project of Alicia Walter, a multi-instrumentalist, songwriter and performer based out of Chicago. On this album—as on Oshwa's 2013 debut album, Chamomile Crush—she's joined by Michael Mac on guitar, Matt Noonan on bass, and Jordan Tate on drums. The songs on I We You Me provide ample evidence of Walter's time spent studying piano performance at Illinois Wesleyan University and music composition at Columbia College Chicago. But you can also hear the sincere appreciation for Top 40 dance jams she developed in an unlikely place. She spoke with us about blending intellectualism and fun, choosing to self-release the album, and coming up through Chicago's DIY scene.
.
00:10 / 00:58
Merch for this release:
Vinyl LP
Did your time studying music influence the way that you approach songwriting? I imagine what you're putting out on this album is pretty different from what you were being taught in school. Or do you feel like there was a good connection between what you were being taught and what you're writing now?
I think there's definitely a connection. I started Oshwa as a music project because I was frustrated with not being able to write the music I wanted to write in school. It's funny, because I felt, at the time, that the school was really pushing avant-garde music that didn't allow for someone like me, who wants to incorporate pop tendencies into that idea. And I also didn't really have the ability to perform the music at Columbia [College] either. But at the same time, I was hugely impacted by what I was studying in orchestration and arranging and theory. And I studied a lot of piano when I was there. It's cool, because I know that there are those influences, and I think it's an inherent part of Oshwa's music, but I think it's not necessarily a blatant nod to anything.
Your music is very difficult to categorize, and it seems like there's a huge blend of influences and genres that you draw from. Are there collections of things that you're aiming to bring together in your songwriting?
I think part of it is when I started working as a wedding DJ—which was probably around the same time that I was starting to write this album—I was still wildly unversed in popular music, like Top 40 music, because I had been in this really avant, neo-classical and contemporary classical music world for four years. And then I started listening to a lot of pop music, and also became aware of the relationship that people have with pop music. Being a wedding DJ, getting really familiar with that catalogue, and then hitting "play" and watching everyone be like "Ahh!" [laughs] and having it be a really fun time for everyone. I had been in this period of taking music so seriously, as a really serious form of expression. And I think Oshwa's music is still like that, but I wanted to try to be more in a more formulated song structure. But I think I'm getting away from your influences question.
No, this was something else I wanted to ask you about! Because I think that the blend of really heady and intellectual but also very accessible and fun totally comes through in your music. Please keep telling me about that!
That's just very much me, as a person. I'm a fun-loving music person, and now I'm so into pop music; I'm genuinely getting as much satisfaction from Top 40 music as I am from Scriabin or another serious composer. So I think that's something that just comes out in the music: I want it to be different, I want it to be something that I don't really know what [else] it sounds like, but at the same time I want it to be accessible and fun. And I want to sing a melody that is catchy and that people will remember, you know?
Personally, it is not any easier for me to write an accessible pop song that's good than to write an intellectual art song that is also good. So yeah, I think I'm just personally always feeling those two things.
.
00:10 / 00:58
Merch for this release:
Vinyl LP
I also wanted to ask about the fact that you're self-releasing this album, not releasing it through a label. What made you decide to do it that way?
This is all still a figuring-out process for me, too! A Chicago label called Naked Ally Records put out the last record, and [now] they're defunct. So there was no affiliation with them anymore. And I was kind of shopping demos around, and it just got to a point where it was like—I mean, first of all, no one was going to put it out. [Laughs.] And then it was just like, 'Why can't we just put it out?'
Is there a strong DIY scene in Chicago that you're part of, that you feel supports you in self-releasing things like this?
Yeah, totally. Oshwa wouldn't exist without the DIY network that is in place here. Originally, when I was starting out solo, there was an organization of people with house shows, house venues, basement venues, and I started going to their meetings. And that's how I started playing a bunch of shows; the first year or so of Oshwa was just house shows. And that's really how you cut your teeth, I feel like; or, at least, that's how I did. And now, to this day, still on tour, I love playing house shows. You never know what you're going to get, you never know what to expect, the energy is always so much more raw, because you're literally three feet away from everyone who's listening to your music. It's a really vulnerable thing to do. So I would say the Chicago DIY network is super supportive, and I don't think I would be the same musician that I am if I hadn't gone through doing all of that.
—Marissa Lorusso