FEATURES
How Orchestre Les Mangelepa Changed the Course of East African Music
By Megan Iacobini de Fazio · November 10, 2017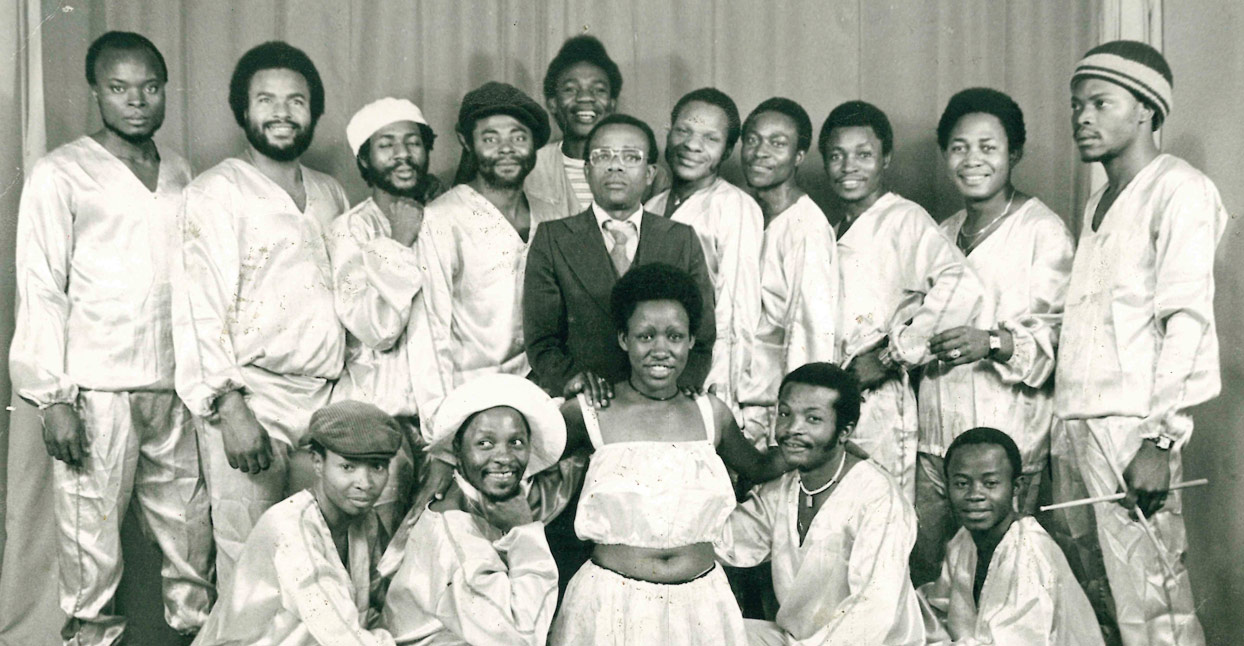 For over 40 years, Orchestre Les Mangelepa have been a dominant force in East Africa's music scene, making people dance all across Congo, Tanzania, and Kenya with their energetic live performances and signature sound. They've helped evolve East African rumba—the musical art form that has come to define East Africa—and have kept it alive in Kenya's busy capital, where they still play weekly gigs in local clubs.
Their story takes place mostly in Nairobi, which was a magnet for musicians from all over the East African region in the 1960s. Artists from far-flung cities and villages traveled to the city and brought with them the melodies of Tanzania, the traditional Taarab sounds from the Kenyan coast and the aching vocal harmonies of Congo's rumba.
Noticing its nascent music scene, and attracted by a growing economy, international music labels invested in the city, and by the 1970s, Nairobi boasted state-of-the-art recording studios, pressing plants, and hundreds of music venues. As Kenya's tourism industry flourished, new international hotels promoted local bands to play nightly gigs, covering versions of American funk, soul and West African afro beats, as well as weaving in elements from East Africa's contemporary genres.
Merch for this release:
Vinyl LP, Compact Disc (CD)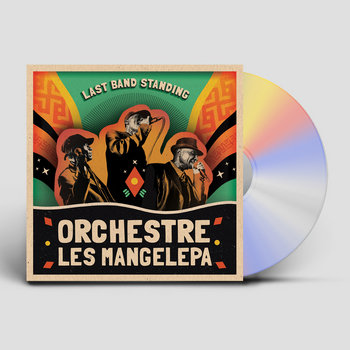 It was during this time that rumba began gaining popularity in the region. The style of music originated in the Congo Basin; Afro-Cuban son bands were played on the radio, and local musicians soon started emulating their sound—adapting the lyrics to both French as well as their local language, Lingala. Political uncertainty in Democratic Republic of the Congo during the 1960s and 1970s forced Congolese musicians to search for fortune elsewhere, and several bands crossed the border to Tanzania, even moving further afield to Zambia, Malawi, and Kenya. Rumba spread across Africa and left its mark on almost every type of popular music, but also morphed and developed as it absorbed elements from various local genres.
During this period of vibrant musical innovation and cross-fertilization, and despite dozens of other rumba bands playing in Nairobi, Les Mangelepa stood out. By the late 1970s, they were filling concert halls, touring the continent, and releasing hit singles that would sell in the thousands. But Mangelepa's name never made it big outside of East Africa, and its band members never reaped the economic benefits that their careers deserved.
Thanks to a partnership between No Nation, an international arts production and management organization, and Ketebul Music, a legendary Nairobi recording studio, Les Mangelepa recently released their new album, Last Band Standing, on Strut Records, and are embarking on a European tour, finally getting the international recognition they deserve.
Last Band Standing celebrates the undeniable, underrated genius of Orchestre les Mangelepa, a band which has simultaneously shaped and been shaped by the East Africa's history, culture, and music. Their story is that of an entire region, and of a musical form that is synonymous with East African dance.
The two people most responsible for the release of Last Band Standing are No Nation's Guy Morley and Ketebul's Tabu Osusa, who have been working together to uncover and internationally promote East Africa's rich cultural heritage. Listen closely to some of Mangelepa's tracks and you'll hear both men getting a shout out, Congolese style.
Morley first fell in love with Les Mangelepa over 20 years ago, when he heard their track "Nyako Konya" during a visit to East Africa. "It's a complete delight to have this opportunity to get them out there, and show how distinctive and good East African music is," Morley says. "There is something about them, they are extraordinary musicians, their hooks and melodies just make you want to dance. Mangelepa will always have an edge."
Merch for this release:
Vinyl LP, Compact Disc (CD)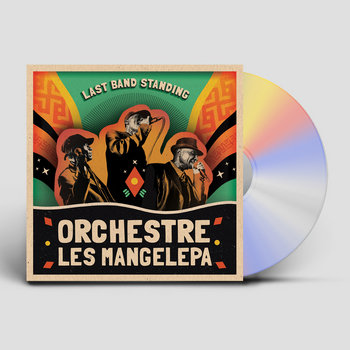 Last Band Standing combines new material with the group's past hits, re-recorded in Ketebul's studio and modernized without losing the trademark energy that made them dancefloor classics. Last Band Standing captures the sound of an exciting and innovative era of African music, of which Orchestre Les Mangelepa are the kings.
Les Mangelepa was officially formed in Nairobi in 1976, but their story starts years earlier, in the Congolese city of Lubumbashi. "I became a musician as soon as I finished school," says Kabila Kabanze, also known as Evany, who would become one of the founding members of Mangelepa. He describes Lubumbashi as a cool and peaceful city, where bars lined the streets and people went dancing all night, donning afros, and bell-bottomed trousers.
"The atmosphere was very nice, there were theaters and clubs and big bands that would play every night," recalls Evany. Together with Mangelepa's future members—Lumwanga "Ambassadeur" Mayombo, Lubula "Rocket" Katako, Luthulu "Macky" Kaniki, and Kalenga "Vivi" Nzazi—Evany joined rumba supergroup L'Orchestre Baba Nationale, led by Baba Gaston.
Baba Nationale decided to head to Kinshasa, the capital city, in search of better recording studios and new instruments. But they never made it. "When we were near the Tanzanian border, we heard that in Dar Es Salaam there were also some good studios, so we changed our mind and went there instead. It was 1970," Evany says.
When they arrived, they found that rumba had already reached the shores of the Indian Ocean, and that Tanzanian bands were covering songs by rumba legends like Tabu Ley and Franco, but changing the lyrics to Swahili. "Tanzania was good, but I was very discouraged to see the way they danced," Evany told me with a disapproving snicker. "We Congolese know how to dance very well and we always look very smart, but Tanzanians, wow, they really didn't know how to move."
In 1973, Baba Nationale began traveling to Nairobi to record and play gigs, eventually settling there in 1975. Evany remembers being astounded by the multicultural city, the myriad clubs and bars, and the vibrant music scene. Kenyans were polite and dressed fashionably, he says, but they didn't look as good as him and his bandmates. "Kenyans were always a step behind," he says with a laugh, "because us Congolese like to keep up with the latest fashion and look the best."
Perhaps due to their cutting-edge style (or more likely because of their unique vocals and compositions), Baba Nationale soon became one of Nairobi's most popular bands, and came to incorporate several more musicians who would later become part of Mangelepa. But as the band's popularity grew, the musicians' salary did not, and discontent starting sowing the seeds for the separation that would give birth to Orchestre Les Mangelepa.
"We became Mangelepa on July 1st, 1976. I can't forget that day, it was very amazing," says Evany. He had already fought with Baba Gaston over money, and especially remembers one incident during which he asked for a pay raise after the birth of his first daughter, but instead received an offensively small one-off payment of 20 cents.
One day, Baba Gaston organized a concert in Naivasha, a lakeside town a few hours away from Nairobi, but Evany and lead guitarist Bwamy decided not to go, and told Gaston they decided to split from the band. "And when the others heard about it, they were already going to Naivasha, and some of them started jumping out of the car and came back," he recalls. As each member returned, the growing group of musicians were excited to finally have their own band. "And that is how Les Mangelepa was born," Evany says.
Merch for this release:
Vinyl LP, Compact Disc (CD)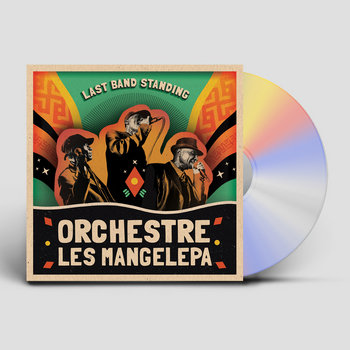 The new band began a residency at one of Nairobi's coolest clubs, Uhuru Park Inn, where they performed to huge crowds twice a week until the early hours of the morning. "Their music is made for the dancefloor," says Morley, describing the moment in many of their songs when the instrumentation drops out, leaving just drums, bass, and rhythm guitar to create an intoxicating groove.
Many of their songs run 10 minutes and above, "where the beginning of each song acts as an entrée, […] a place where the singers feature and the exposition is laid down; then a bridge takes the audience to the climax, where their feet take over from their heads and guitars and rhythm propel even the sturdiest recumbent patron to their feet," explains Morley in the album's liner notes.
Their catchy choruses, groovy guitar riffs, and hypnotic rhythm sections soon made them hot property across East Africa, and they embarked on tours of Uganda, Malawi, Tanzania, Zambia, and Zimbabwe.
It didn't start smoothly: in 1979, the band had been invited to perform a big stadium concert in Uganda, which had just been liberated by the Tanzania People's Defence Force and a group of Ugandan politicians who had been in exile in Tanzania, putting an end to years of Idi Amin's brutal and unpredictable regime.
"The Tanzanians just wanted to watch us, but the Ugandan's wanted to dance and celebrate being free, so a big fight broke out," says Evany. Their first international concert ended in a riot, during which, according to Evany, shots were fired, bottles were hurled, chairs broken, and several people were killed.
Despite this hitch, Mangelepa played a peaceful gig in Uganda a few days later, and continued to tour East Africa and play regular gigs in Nairobi, absorbing sounds and elements from Kenya's different regions, like Chakacha from the coast and Benga from the Lake Victoria area. Their style of rumba developed with their travels. "It is different [from] the kind of rumba that was in Congo at that time, and represents the authentic East African sound," explains Osusa, who has known Les Mangelepa since the 1970s and used to play in rival band Virunga. "Mangelepa are the only band still making this kind of old-school rumba," says Osusa, adding that after the dizzying heights of the '70s and the downturn through the late '80s and '90s, this recent international exposure is "their chance to a second life."
As was the case for many other musicians in the region, the '80s were not an easy time for Mangelepa. A 1982 failed coup to overthrow Kenya's President Daniel Arap Moi resulted in stricter rules that stifled Nairobi's nightlife and suffocated its live music scene. "There were fewer shows, and we were only allowed to play a few hours," Evany remembers. "Record companies started to close and move out [of the city], and life started to change. Things changed, and we changed, too."
The band left Kenya and traveled to Zambia and Zimbabwe, but eventually, the dynamics of keeping together a group of 16 musicians took their toll, and Mangelepa split into two factions. One group of musicians, including Evany, eventually made it back to Nairobi, where they recorded several acclaimed albums for Polygram Records and took up residencies in clubs around the city. Music never made them much money, but they persevered. "I didn't know anything else. I became part of a band the day I finished school," Evany says. "Also, it is our culture, to dance and sing everywhere. I grew up with music."
In the 2000s, piracy further cut into the musician's meager income, and the days of tours and fame seemed far behind them. "In the 1970s we used to tour, sell records, record, perform for many people, and it was nice," recalls Evany. "But in 2000, life was bad."
Merch for this release:
Vinyl LP, Compact Disc (CD)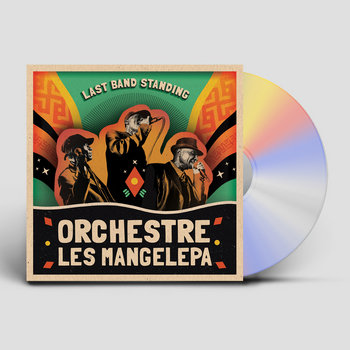 Almost 10 years ago, Morley was in Nairobi helping Osusa film a performance by another Congolese musician when he met Kalenga Nzazi, known as Vivi, one of the frontmen of Mangelepa. A few days later they went to see Mangelepa play at Club Vibro, and found they had the same energy and hypnotic allure they did back in the 1970s. Recognizing the invaluable contribution that Mangelepa have had on East African music, Morley and Osusa seized the opportunity to work with them.
The band began re-recording their music in Ketebul's studio, in Nairobi's industrial area, and in 2016 made it out of Africa for the first time, giving international crowds a taste of what they had been missing. This year in October, they embarked on another tour. "I am very happy because this is a gift from God, I've been waiting for this tour for long time," Evany says. "This is not the last [release], we have many songs, more albums. We have much more, as long as we are still alive."
But the band's struggles are not entirely over. Even after 40 years in Kenya, the Congolese musicians were never granted citizenship, and still face complicated hurdles with global travel. "It is a herculean struggle," says Morley, who has set up a fundraiser to help bring Mangelepa to the rest of the world.
Asked whether he will be taking a break from music anytime soon, the 62-year-old Evany answers with a resounding no. "I want to travel a lot, and I want to perform and record more, because I have many songs."
—Megan Iacobini de Fazio