FEATURES
Open Mike Eagle Is Not Looking for Laughs
By Max Savage Levenson · March 25, 2016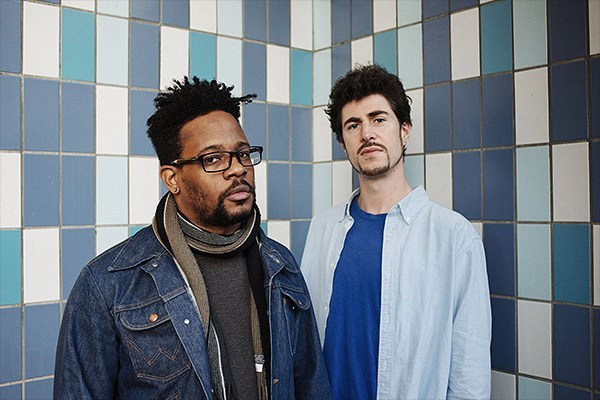 Open Mike Eagle and Paul White
"There's a certain expectation in rap that whatever situation someone is presenting, they have gone through personally. I like to put a little distance between myself and that."—Mike Eagle
The rapper Mike Eagle was in London last year to record Hella Personal Film Festival, his new collaborative album with British producer Paul White, when an encounter with a stranger sparked the album's most powerful track. Eagle had just left his hotel and was strolling down the street when he saw a man and a woman give each other a friendly greeting. "I tend to want to acknowledge people when I walk past them," explains Eagle, who also hosts the candid conversational podcast Secret Skin. As he passed her on the sidewalk, Eagle smiled at the woman as well. But instead of smiling back, she averted her eyes, trying to pretend he wasn't there. "It hit me in that moment how much that happens. There are people in my apartment building that don't look at me," Eagle told me with a rueful laugh. "I started writing the hook right there."
That hook became the chorus to "Smiling (Quirky Race Doc)." Over a chipper beat Eagle recounts being "avoided like a ghost fart," before his good humor evaporates. "Nobody smiles at me 'cause I'm a black man," he sings. Eagle describes "Smiling" as an "experiment in tone about something dark and painful, presented in an almost disturbingly light-hearted fashion"—a juggling act, he says, that was largely inspired by They Might Be Giants. Eagle employs this contrast throughout the album, balancing his peculiar sense of humor and knack for absurdist imagery with crushing cynicism, crafting narratives that are as complex as they are unpredictable.
Hip-hop artists like Kendrick Lamar and Killer Mike are praised for their realism, but Eagle's work, beginning with his 2010 debut Unapologetic Art Rap, extends beyond diaristic storytelling. "There's a certain expectation in rap that whatever situation someone is presenting, they've gone through it personally," Eagle says. "I like to put a little distance between myself and the song." Eagle constructs the premises of his tracks from a mix of fiction, hypothetical scenarios and personal anecdotes. "Insecurity Part. 2," for example, features a narrator who is looking for some alone time with his partner…until she arrives with another guy in tow. "[I was] in a situation once that could have been like that," Eagle says. "So my brain wanted to explore that idea." On the shimmering "I Went Outside Today," Eagle raps, "I looked up what Lena Dunham said, and I shouldn't have." The line plays like a benign pop culture nod, but it alludes to a bitter incident in which a Girls writer drew ire in 2012 after making racially-insensitive comments about the film Precious. "I tend to be optimistic about individuals," Eagle says, "but very cynical about humanity as a whole—especially in America."
This disorienting contrast between levity and realness in Eagle's lyrics finds a worthy foil in producer Paul White. The two struck up a conversation on Twitter after Eagle heard White's work on Danny Brown's Old. During the initial sessions for HPFF, Eagle sang and rapped over simple loops and beats. White added the album's vibrant and varied instrumentation later. "The fun really begins for me when I get a great lyrical track back," White told me, "and I can develop it into a full song and a world." Nowhere is this more evident than on lead single "Check to Check," in which Eagle connects the dots between an addiction to smart phones and the nail-biting anxiety of waiting for a paycheck. As the tension in his lyrics escalates, the sonic ground shifts beneath his feet. Buzzy synthesizers, a wash of crashing cymbals and a pulsating bass line sneak their way in and out, mirroring his daily routine.
Elsewhere, White employs a wild range of samples, interstitial voice tracks and vivid synths to alternately foil and emphasize Eagle's rhymes. On "Admitting the Endorphin Addiction" Eagle acknowledges, "when you're in a fucked-up space/ no one can hear you signal help" over a soulful groove that seems better suited to a slinky club jam than a heartbreaking confession. In "The Curse of Hypervigilance," Eagle, utterly straight-faced, accuses someone of sneaking something into his mashed potatoes over a goofy whistle and piano vamp.
It becomes clear that, on Hella Personal Film Festival, Eagle is using humor to catch the listener off guard—which, he argues, isn't the same thing as being jokey. "People tend to call my work funny, and I don't always like that," he says. "I don't want people to be putting on my record like it's a comedy album." Ultimately, Hella Personal Film Festival can't be pinned down as either entirely funny or entirely fatalistic. That complexity is what makes it all the more truthful.
— Max Savage Levenson