FEATURES
One of Many or One of a Kind?
By Andrew Jervis · June 18, 2013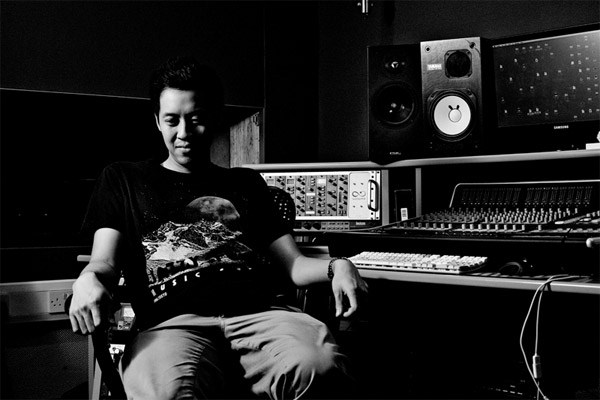 "I want the album to uplift people. I consciously chose not to make this loud or flashy, because everything else is so in your face right now – it's meant to be a beautiful record."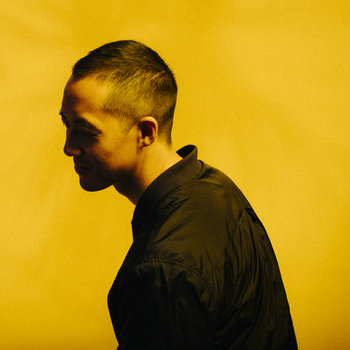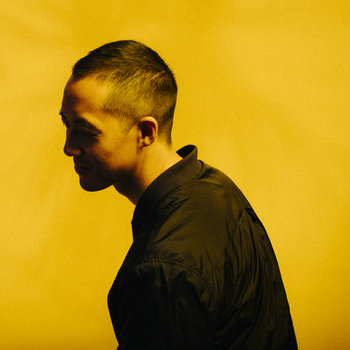 Merch for this release:
Vinyl LP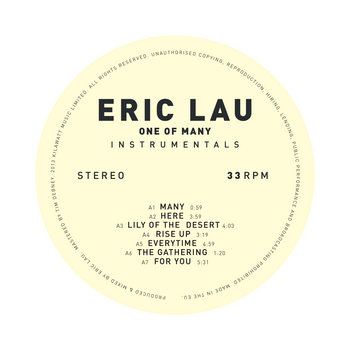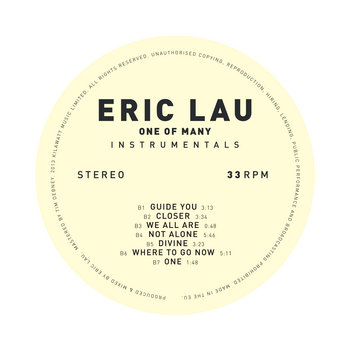 Judging by the title of his new album, London-based producer Eric Lau is a humble fellow who wants you to think of him as just One of Many. But with this release, and an impressive resume of productions for Lupe Fiasco, Oddisee, Dego (of 4Hero), Georgia Anne Muldrow, and an album with Stones Throw alumni Guilty Simpson, it is evident that he's crafting songs that are more distinct than his unpretentious attitude suggests.
As an educator, he has had the opportunity to teach underprivileged people around the world how to make music. As a DJ/producer, he has started to build a following from mainland China to South Africa. Despite these achievements, Lau remains grounded. "The album title means that I'm just one of many people on this planet and together the many of us make one – we're all connected," he says. "You can take it in many ways – hopefully it means one of many albums, too."
Lau credits his parents and upbringing for his strong work ethic and modest outlook. "They worked hard their entire lives to set me up, it would be a dishonor to my parents if I was not humble," he explains. Lau's family is originally from Sai Kung, a seaside town in Hong Kong's New Territories. During the making of One of Many, his father came from the New Territories to visit, spending 5 weeks in his son's London apartment. It was the first time Lau's father had seen his son working in his musical element – taking meetings, and producing in his in-apartment studio with a steady to and fro of musicians and singers. Pops got to hang with rising UK soul star Fatima (who's graceful London-mannerisms appear on "Divine") and finally listened to his son's music. "He heard the first single from the new album and his reaction was so nice," says Eric. "He asked me to put it on his phone."
Merch for this release:
Vinyl LP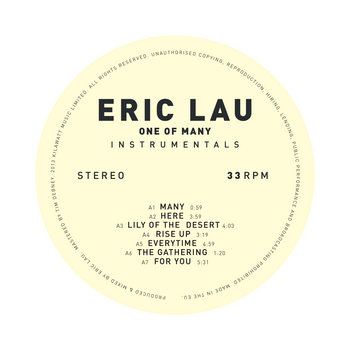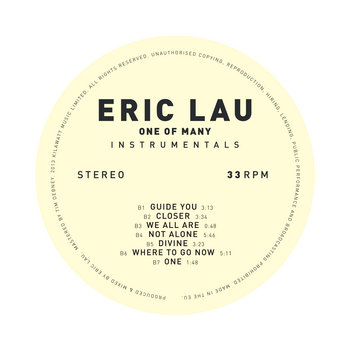 It's endearing to think of Lau's father warming to his son's productions (his musical endeavors are usually more karaoke in nature), but contemporary soul and RnB fans shouldn't have to leap too far to board the Lau bandwagon. He makes glowing soul tunes that are concise, crisp and use only the funky essentials. You can confidently file One of Many next to anything by Jill Scott or the more straight-ahead Erykah Badu releases. Andrew Meza, founder of the influential BTS Radio mix blog and label (and to whom I'm grateful for first introducing me to Lau many moons ago), describes Eric as having "some of the warmest and most impressive productions, sounds and swing I've heard since early Jay Dee or Soulquarian records. There's a fine balance of soul and hip-hop with a lasting feeling of hope. Most importantly, it's always knocking,"
Merch for this release:
Vinyl LP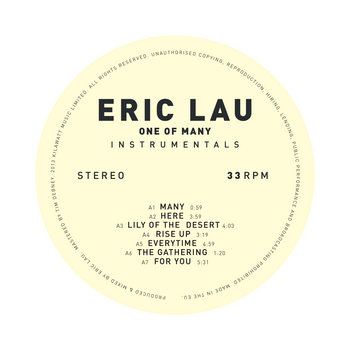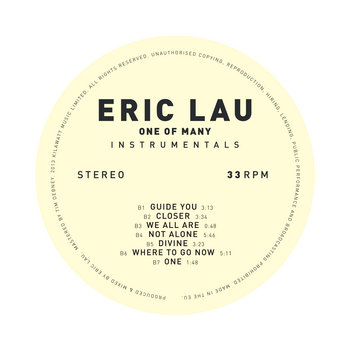 On "Where To Go Now," easygoing beats and a simple bass line are dialed back, allowing Tawiah to deliver a devastatingly simple hook accompanied only by piano and synths. Georgia Anne Muldrow's joyous, gospel-inflicted vocals drive the loose, "Brown Sugar"-like "Lily of the Desert," which also features organ work laid down by West London stalwart Khaidi Tatham. "I want the album to uplift people. I consciously chose not to make this loud or flashy, because everything else is so in your face right now – it's meant to be a beautiful record," says Lau. "It's a hard call because of the way people listen – through laptop speakers, ear buds, and iDocks. But at the end of the day it's about feeling. If you feel something and it's quiet, you will turn it up."
Merch for this release:
Vinyl LP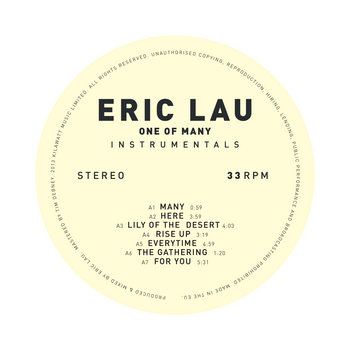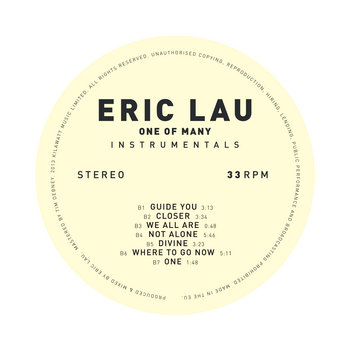 "Guide You" is reminiscent of the Asha Puthli classic "Space Walk" and shares the cosmic production sounds of Ramsey Lewis, Earth, Wind and Fire, or Roy Ayers with forward-thinking London poise. Warm Rhodes piano and flutes float behind Rahel who, seemingly effortlessly, drops a wide-ranging vocal that oozes laid back confidence. Lau recalls that events surrounding the recording of "Guide You" make the song extra special to him. After a productive session recording the instrumental track, Lau, Tatham, and bass player Alex Bonfante hopped in a car to head home. They were happy – still buzzing with the energy of recording together. Then the car they were travelling in was hit hard from behind. Thankfully, major whiplash aside, nobody was seriously hurt. "I'll never forget that track or that day," says Lau. "It happened for a reason. It was to remind us that we should be making music together like this all the time – health or life can be taken from us at anytime – do what you are supposed to do because you can't take anything for granted."
Simon Daley, founder of Kilawatt Music (the label releasing One of Many and several of his past records), sites Lau's music as part of the inspiration for starting a label. Lau and Daley met at Rolling Sound, a multi media training company, where Lau was Head of Music, and Daley an intern. At Rolling Sound, Lau cut his teeth as an educator, running workshops for everyone from young offenders to autistic kids and young mothers. Rolling Sound is now defunct, but Lau's reputation has taken him to teach gypsy musicians in Budapest and host workshops for the Red Bull Music Academy in South Africa. "I had the time of my life in Africa. I've never been embraced like that anywhere in the world – great energy, and the people were refreshingly friendly," says Lau. "I love teaching – I will always be a teacher. I'd like to teach in mainland China where the scene for this kind of music is still in its infancy."
While cosmopolitan Hong Kong has a healthy music scene, Lau's brand of soul and hip hop has yet to make deep roots in China. At a recent DJ gig, Lau did his best to engage the crowd. "They were really intrigued but didn't know the music," he explains. "Instead of dancing, people would come up and speak to me, and when I made the effort to try to talk in Mandarin they really warmed up. Hopefully my music transcends where I'm geographically based. I want to make music that anyone can feel."