FEATURES
Producer Ol' Burger Beats and Rapper Vuyo Chat on "Dialogue"
By Phillip Mlynar · February 12, 2021
The new project, Dialogue, from Zimbabwe-born, Norway-based rapper Vuyo and Norwegian producer Ol' Burger Beats conveys, as one might expect, a sense of conversational warmth: Vuyo relays lyrics that naturally shift from the introspective to the worldly in a tone that brings to mind a close chat between old friends, while Ol' Burger Beats blends static-swaddled spiritual jazz samples with snug mid-tempo drum patterns. Building on the title, the album is stitched together by interludes featuring an emotive voice message that Vuyo's sister, the South African artist Lunga Ntila, left after a deep conversation with their activist father.
Growing up, Vuyo remembers their father was, "heavily involved in the liberation of South Africa and really wanted us to be something else other than a musician." The voicemail, from October 2020, documented a breakthrough for Ntila—their father had finally "accepted that his son and daughter are artists and not politicians or lawyers or doctors," says Vuyo.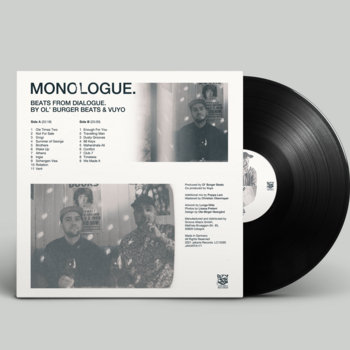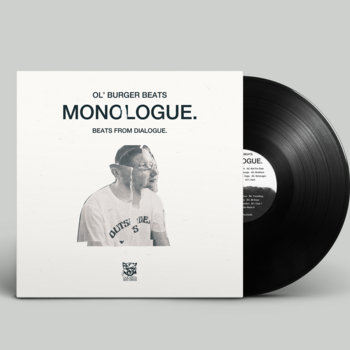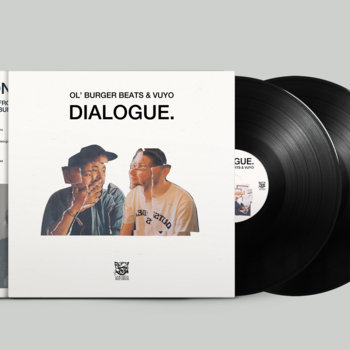 .
00:10 / 00:58
Merch for this release:
Vinyl LP, 2 x Vinyl LP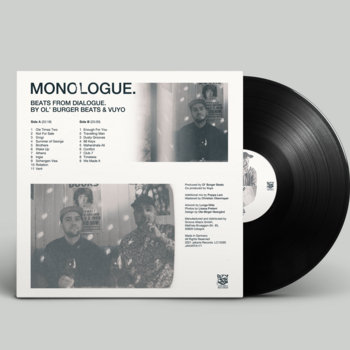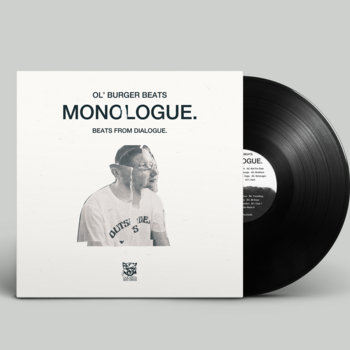 Ntila's voicemail came to symbolize the importance of conversation, and it inspired Vuyo and Ol' Burger Beats to embed her messages throughout Dialogue. "Vuyo defines this project as dialogue-driven: Talking to me, talking to his family, talking to his friends and speaking from the heart," says Ol' Burger Beats. "We're in a society now that's really polarized, and people are not really listening to each other. I hope the album can start a dialogue between people the way it's started a dialogue between Vuyo and his sister about their relationship to their father."
The mellow nature of Ol' Burger Beats's jazz-centric production is a smart fit for Vuyo's melodic voice and nimble yet unhurried flow. Vuyo says he originally met Ol' Burger Beats at a gig in 2015, but it wasn't until they both played sets at the Vill Vill Vest festival in the city of Bergen in 2018 that they agreed to record together. "We share a lot of similar heroes and share a similar musical background, insofar as what we grew up listening to," says Vuyo via phone from his home base in Oslo. "He gives me beats I fell in love with from J Dilla and A Tribe Called Quest, those mellow beats that are easy to write to."
Initial studio sessions between Vuyo and Ol' Burger Beats spawned the 2020 EP All Yours, which was released by the German label Jakarta Records. Realizing the strength of their creative chemistry, the duo's recording sessions quickly bloomed into the full-length Dialogue. "What started off as one song quickly turned into two," the MC raps over a lilting guitar sample on the shuffling album track "Dusty Grooves," before bragging how "me and Burger formed a bond like Dilla and his loops."
The musical tenor of Dialogue is shaped by Ol' Burger Beats' own listening habits, which have increasingly focused on '60s and '70s spiritual jazz. "The sound has a lot to do with the records I've been collecting for the last few years, like a lot of Don Cherry, John Coltrane, Pharoah Sanders and labels like Strata-East and Black Jazz," the producer says over the phone. He adds that his own style of production has moved on from "trying to replicate everything J Dilla and DJ Premier did," in favor of spotlighting higher-end treble frequencies. "I like finding a lot of textures and things happening in the higher spectrum of the audio," he says. "Like on the song 'Athens,' you can hear a lot of weird textures and percussion in the higher frequencies."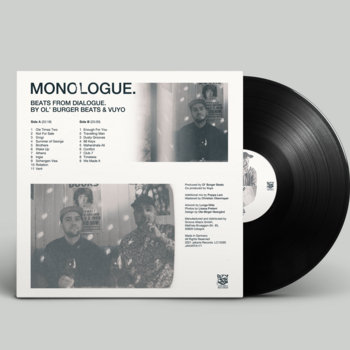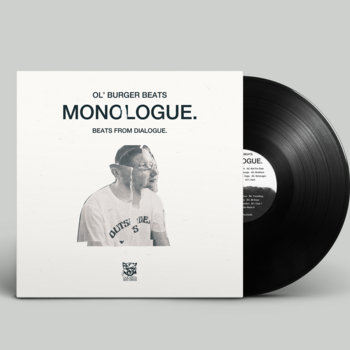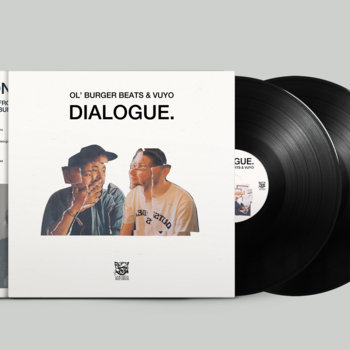 .
00:10 / 00:58
Merch for this release:
Vinyl LP, 2 x Vinyl LP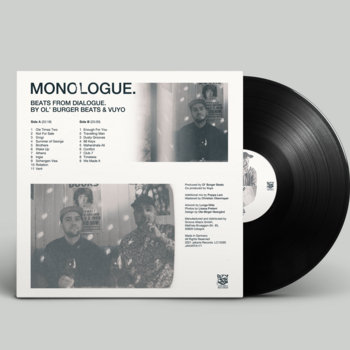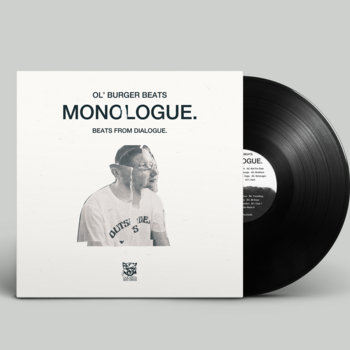 The importance of conversation—and its political utility—climaxes on the late-album track "Conflict," where Vuyo flows over a billowing bass line that's punched up by sharp scratches of guitar. Focusing on the aftermath of 2011's domestic terror attacks in Norway, the MC raps, "I remember Facebook 22nd of July/ And I told my ma I don't want to go back/ 'Cause when the bomb go off they assume that he's Black/ Reads the Quran and prays five times a day/ But people like that, man, you can't conversate/ But the conversation we should have is that of integration not deportation/ Mental health should be a major key/ 'Cause we all feel alone in this society."
Vuyo's words on "Conflict" were motivated by reading overtly racist messages of hate on the Facebook accounts of people he'd grown up with that were posted after the terror attacks. Direct expressions of discriminatory and inflammatory attitudes have become increasingly common since then—but Vuyo and Ol' Burger Beats hope the sentiment behind Dialogue can help steer the conversation in a more peaceful direction. "The world's a crazy place," Vuyo says. "You can only educate people—you can't change them—so try and talk to them, because dialogue is needed."