FEATURES
Okkyung Lee and Christian Marclay Blend Cello and Turntables to Bracing Effect
By Seth Colter Walls · November 11, 2016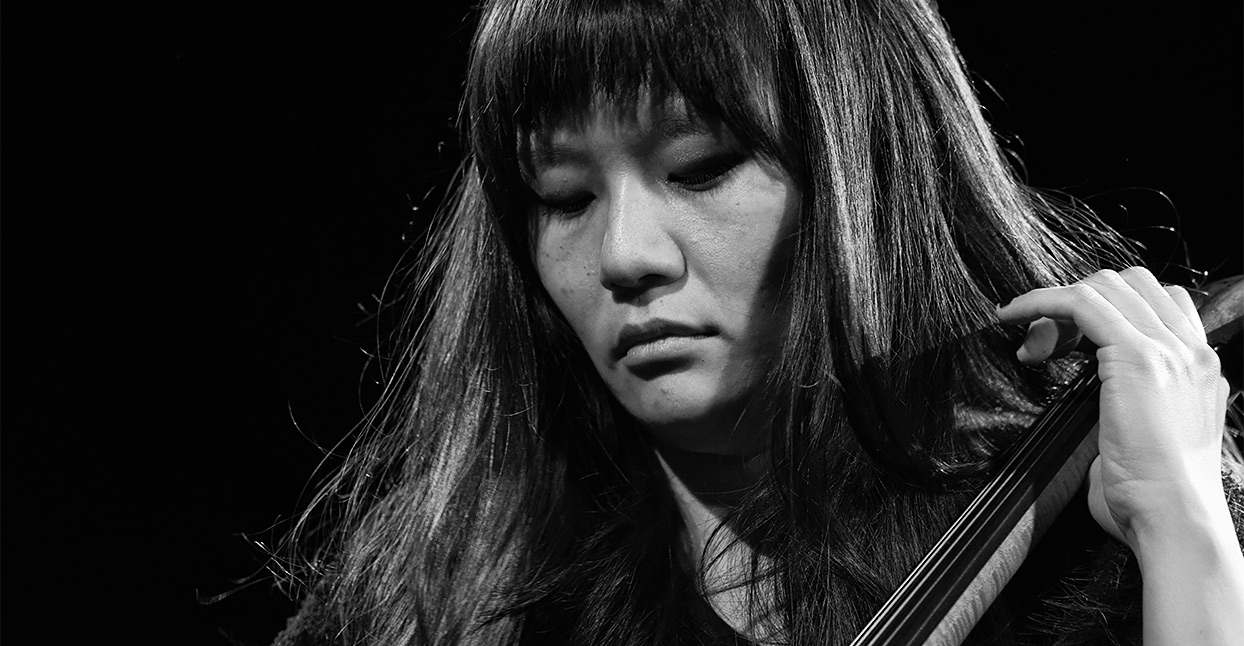 Cellist Okkyung Lee is known for her ability to extract a wild variety of sounds from her instrument—while an album of her original compositions might showcase her graceful playing, if you see her live, you'll find that her reputation as an avant-garde shredder is well earned. Turntablist, instrument-maker, and visual artist Christian Marclay has a similarly wide-ranging aesthetic. He's collaborated with Thurston Moore. He's been feted by the Whitney Museum of American art for his "graphic scores" (perhaps best thought of as collages that can prompt musical improvisation). And he's perhaps the most famous turntablist outside the hip-hop idiom. Starting in the late '70s, Marclay pioneered the use of scratching for noise-music purposes. Viewing the LP as an instrument, he eventually created his own custom-made vinyl—often by splicing together sections from different 12-inch records, and thus creating new, collage-style platters.
Lee and Marclay have collaborated a number of times before, but their new, improvised album, Amalgam, on Northern Spy, is a highlight in both of their catalogues. Drawn from a 2014 live performance at London's Cafe Oto, it offsets passages of startling cacophony with sublime, sedate meditations. We spoke with both globe-trotting musicians individually and, in the collage-mad spirit of their latest effort, spliced their answers together.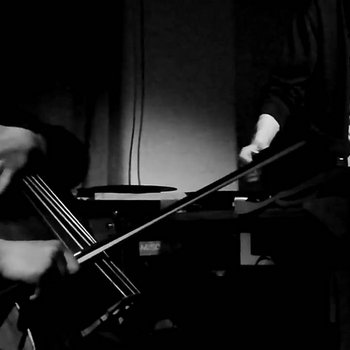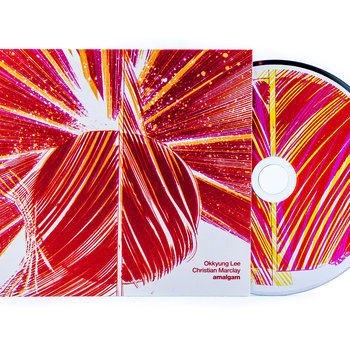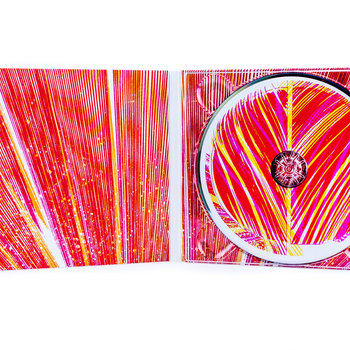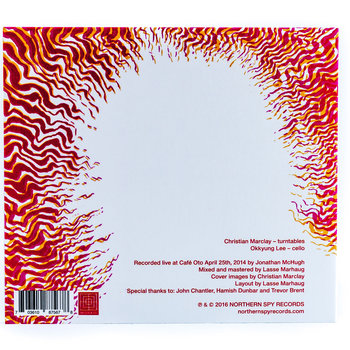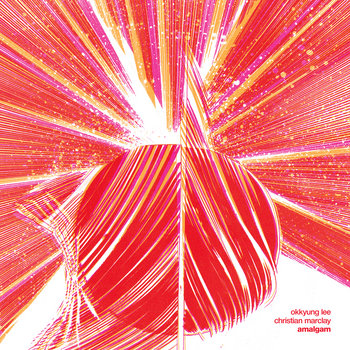 .
00:10 / 00:58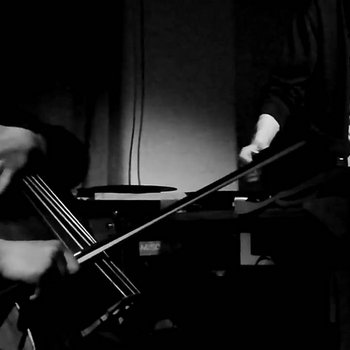 Merch for this release:
Compact Disc (CD), Vinyl LP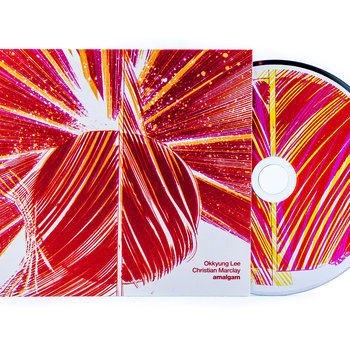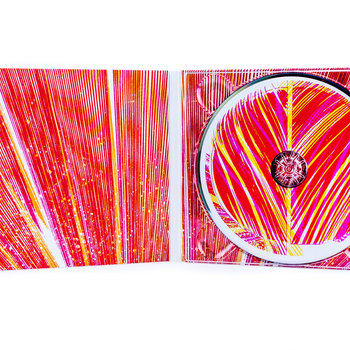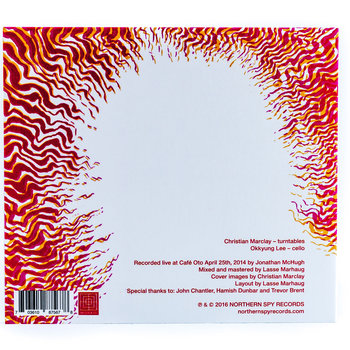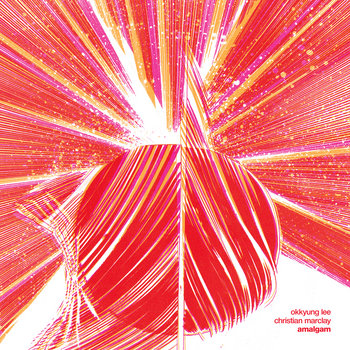 You both collaborate with a wide range of other performers. But you've returned to perform as a duo with some regularity over the years. What makes it special?
Marclay: I've always loved performing with Okkyung, because there's an interesting symbiosis between our sounds. I think it has a lot to do with the friction, you know: her bow on the strings, and the needle on the vinyl.
Lee: He always wants a challenge. With improvisation, it's really easy to get into a habit or a comfort zone—and I think we both try to push out of it. Sometimes, he throws some sound in, and to be honest, I really don't know what to do! But I have to come up with something right then, or find a way I can modify or work with the new element. It's like, 'Oh shit! Should I go with the pitch, should I go against the sound?' I have to navigate. And to me, that's how I get high from improvising. So playing with somebody like him is really fun.
One great aspect of the new record is the way that you both subvert a listener's expectations. Something that sounds at first like Okkyung's cello eventually reveals itself as a Marclay sample, or vice versa.
Marclay: I love it when you can't tell who's doing what. I choose sounds that I think would work with the cello, of course. But it's [also] the sound of the vinyl—elements scraping against each other.
Lee: He totally knows where I come from, and how to bring out that ambiguity. It just adds another element to the recording. Personally, I just love playing 'non-cello sounds.' Lots of times, I'm just doing my best to try to blend or play with certain electronics or noise coming from Christian. I know that Christian doesn't like me saying it—he never gives himself credit—but he's an amazing musician. Especially with rhythm and pulse. It's crazy, the fact that he's using turntables [during improvisations], instead of just playing an instrument. I don't know how he's finding these precise moments on each record that he spins.
Marclay: I mean, I've developed an ear.
Lee: No no no! He's a really full-on musician. I don't know why he's kind of shy—I mean, he's just so humble. He's one of the greatest video artists out there, and he's humble about that, too!
Marclay: [Amalgam] might be one of my last performances, sadly. Not the last performance, but the last using turntables. I've said now for several years that I was going to retire the turntables, because they don't have the relevance that they had when I started in the late 70s.
What specific relevance has been lost?
Marclay: Even though we're putting this record out on vinyl, and there are still people interested in vinyl, most people stream their music. Very few people are interested in the records. They don't have that same relationship that I had with records at a time when the only way you could listen to recorded music was on vinyl. So when you did something destructive to such an object, it was sacrilegious. People reacted strongly. They knew what sounds to expect when you spread the needle sideways. You don't have that so much anymore.
The other reason is that I've been having some hearing issues, after a couple accidents—which is the nature of performing loud music in some spaces that are not always very controlled. You know: exposure, age, that kind of stuff. So I'm working on mostly acoustic projects.
How did you first become aware of each other's work?
Lee: I think the first time I heard him play was in the New Museum, when it was still in Soho. Then we played together at some point. It's really vague, but we did make a little live recording, which came out in 2003.
Marclay: I think the first time I saw Okkyung was in a 'conduction' by Lawrence D. 'Butch' Morris. She was part of that. I was impressed with her performance. And I always loved hearing her. I can't tell you exactly when it was, but it was more than 10 years ago.
After this particular performance, did you immediately know that you wanted to put out a record?
Marclay: I remember thinking, 'Wow, I hope they recorded that.'
Lee: I remember liking it. To be honest, I didn't listen to it until a year later. I'm not really a big fan of listening to what I played. Some people listen to [tapes] the night after, but I can't do it. And then it took some time to get the files. About a year ago, I thought, 'maybe it should come out. That would be nice.'
Was this completely free-improv? Or did you have a little bit of structure planned for the performance?
Marclay: It wasn't our first performance together, so we're used to our sounds. But it was a total improv.
Lee: We don't plan anything. It's really really about being on the spot and creating something together.
Marclay: That's the magic of improvisation. You hope for the best. Never know what's going to happen, [or] where one musician will lead you. And it doesn't matter how much you plan—if we even plan anything—it's never gonna go there. It's going where sounds are leading us. But of course it's a risk. You take a risk; it can fail, right? And it does sometimes. [laughs]
Lee: But I think that's what makes improvisation special, because you really have to draw upon everything you know—as musicians and human beings, in a way. It's all about responding as a person, and not as a machine.
—Seth Colter Walls