FEATURES
Nurses Wield a Darker Sort of Magic on "Naughtland"
By Casey Jarman · October 13, 2017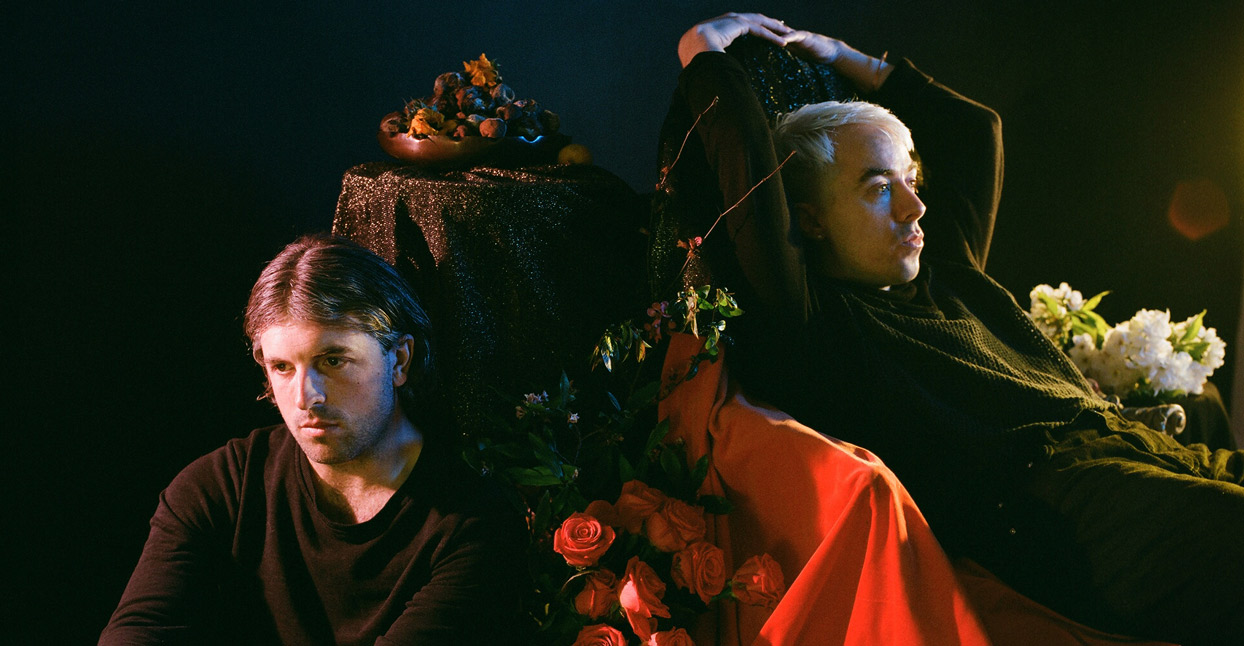 In 2008, Nurses were one of the biggest bands in Portland, Oregon. Their debut record, Apple's Acre, was a fantastically fresh and madcap take on pop music. With lyrics that read like minimalist poems and vocal runs that sounded wholly alien, it deployed bizarre samples and unconventional percussion to build a self-contained universe of magical, technicolor pop. It was the kind of record that seemed to have a bottomless supply of ideas. And the creative minds behind the project, Aaron Chapman and John Bowers, seemed almost like characters in their own strange songs. They appeared in Portland seemingly out of nowhere: Bowers with an unkempt wizard's beard and Chapman with the wide, glassy eyes of a dude on some eternal psychedelic trip. They walked everywhere, always together. They were known to wear capes—offstage.
In the nine years since that album's release, Nurses have toured the world, signed with indie rock label Dead Oceans, released a well-received sophomore record (2011's Dracula), and eventually shed one member (drummer James Mitchell). They've also done a lot of growing up: their new album Naughtland is their first in six years, and it finds them wielding a darker sort of magic. The record is full of water-warped synths and twinkling harmonic dissonance, with some songs calling to mind The The's "This is the Day" or Prince's "Darling Nikki." But one can't really fully pinpoint Nurses' sound, because Chapman and Bowers have been influencing one another for so long that they are the only two speakers of their shared musical language. I spoke with them about that tight relationship via a conference call, with Chapman and Bowers in their respective homes in Portland and Los Angeles.
So you two grew up together?
Aaron Chapman: We met when we were 15, in high school in Idaho Falls, Idaho. It was a predominantly Mormon town, about 50,000 people, not much going on. We weren't exposed to much music or culture, so we had to invent our own fun and get weird. That's probably why we're weirdos now.
John Bowers: I didn't know who [influential Boise band] Built To Spill was until I left Idaho.
Chapman: Yeah, same. I was into Operation Ivy and pop-punk stuff.
Bowers: Yeah, and there were like 10 people who liked that kind of music in our town, so four or five of us started a band. Our first band was called Sweet Stanleys.
And how did you wind up in Portland, Oregon?
Bowers: Aaron and I started writing what would become Apple's Acre in Idaho, when we were snowed in for a couple of months one winter. At the end of that, I think it was January 2008, we packed up our van and moved, and we just really lucked out in our choice.
Chapman: I remember the Portland decision being pretty spontaneous. We'd lived in California, and then we'd stayed in Chicago, where we lived in our van—but we'd never found a home. At first we crashed with our friend James, who became the drummer in our band for quite a while. And eventually we found our own place, where we were three adults living in an attic together. Our rent was $75 a month each, but there were like 15 people living in the house.
What were your aspirations as a band at that point?
Bowers: Well, Portland felt magical. It was just a bunch of young people hanging out all the time. There were so many house shows, and that's how we made a lot of friends, just by connecting with people through music and wandering around in parks. It was just full of creative energy and excitement, even in the winter. I was blissed out for a long time. Our only aspiration was to make the best possible music we could. We just wanted to be artists.
You were certainly living like artists. What was inspiring you at that point?
Chapman: I was just thinking about this the other day. I was inspired by anime, just the really bright colors in anime, and by that kids show Yo Gabba Gabba! We would talk a lot about visual cues, or like, a certain scene in The Wizard of Oz. We were writing what we thought were folk songs, but then dressing them in these colors we had in our head, if that makes sense.
It's a funny idea, sharing a photo and saying, 'Let's make a song that sounds like this.'
Bowers: That is probably, verbatim, like 100 different emails we've sent to each other. With Apple's Acre, we were living the writing phase for like two years. Before the writing process, we were listening to a lot of classic songwriters: Bob Dylan, David Bowie, The Beatles, Brian Eno's pop records. But we don't really listen to music once we start writing. So we were listening back to our own music, or to two-hour stoney jams we recorded on cassette. We were fully living in that world, and that world became Apple's Acre.
That's what that album sounds like. It's complex music, but there's a childlike quality to it, like it's the product of that intense sort of creative time you spend with people as kids—which adults generally don't spend together.
Bowers: Well, Aaron and I lived together in an attic with no separation between us, like we were twin brothers or something.
Chapman: We slept on pads on the floor, and we put them right next to each other. We didn't even put them on opposite sides of the room. It was every day, all day, for years. The majority of that time was spent drinking too much coffee and pacing around saying, 'What are we going to do?' and just hyping each other up. We'd get really manic together.
I gather that you were still sort of inseparable when you worked on the follow-up, Dracula, but now you're full-fledged adults who live in different cities and it's been six years since your last album. How was the process different working on this one?
Bowers: Well, a lot of it was written while I was living in Astoria, Oregon, and I had this amazing studio out on the water. So Aaron would come over and he'd just sleep there for like two weeks. [Chapman hysterical laughs]
And we'd stay up late recording, then go to Safeway and get donuts for breakfast. He'd come out for a couple of weeks, and then I'd go to Portland for a couple of weeks. We recorded maybe hundreds of cassette tapes. We were trying to stretch what we were doing really far from where we had already been, but there's something about what we do that just stays the same no matter how hard we try to turn it into, like, a three-hour drone. We just carve that back into a three-and-a-half-minute song. So a lot of Dracula was written in that same binge-heavy mode. Every time we're together we go back into the mode of hyping each other up, but now we value our time apart. We've realized there are things we can bring to the table because we're living our individual lives.
You toured a lot on Dracula, it was on a respectable indie label. Now it's been six years and all has been pretty quiet on the Nurses front. What happened in that time?
Chapman: We had toured for a long time, and we hit a wall where it was just not coming from the same place—the inspired passionate place—and we needed to take some time to reboot. There was never a planned hiatus, but a lot of life happened. I went through some hard times that slowed me down creatively, just mental health-wise.
Bowers: Also, we were collaborating with Jake Portrait of Unknown Mortal Orchestra, and then [his band's album] Multi-Love happened, and his life sort of erupted. So there was a lot of waiting and planning and trying to schedule time. He wound up on probably a third of the record, altogether.
But also we were just exhausted. I remember Aaron getting strep throat on tour, and our agent at the time wanted us to keep playing shows. I remember thinking, Whatever is happening now isn't sustainable, and we need to switch it up. We said no to a couple of tours, and decided we should rest and get inspired again. And then we got excited about releasing our own record, because that seemed natural.
The new LP is called Naughtland. What does that title mean, and are there themes to the record?
Chapman: We were talking in abstract terms about the origin of ideas and inspiration, and whether those things were just an amalgam of experience in your mind or whether they sort of exist independently. If they exist on their own, it's fun to think about where that place would be: The place where these ideas float around before you think of them. This eternal plane. That's something we'd talk about between jams, and we began calling it Naughtland. I think a lot of the themes we explore here are about just being a person, and being courageous and positive when things are hard. Confronting tough times with empathy and love. That's a theme we've always explored.
The title track is so different from anything you guys have done. It's just vocals and vocoder, and it's very lyric heavy, and it seems to deal with issues of life and death. Can you talk about what that one's about?
Bowers: Well, we were many weeks deep into binge-writing music, and that piece sprung out of that state of mind. Aaron stepped up to a mic that happened to be connected to a vocoder that I had a guitar plugged into. It was almost happenstance, and the essence of it was written in as long as it takes for that song to play out. And I think you're spot on, it's about life and death
Chapman: There's a lot of death on this record, actually. I went through a super hard and dark time. I don't think we were purposely trying to dwell in darkness—if anything I think we were trying to be positive. But I think you go through phases in life where you try to distract yourself from the things you don't want to think about, and then sometimes it gets to the point where it feels really good and liberating to put it on the table and have a conversation with your mortality. Life is so weird right now, and I oscillate in that way.
Bowers: There are a few people in my life that I can consistently go into that realm with, and Aaron is number one. We've been with each other during the hardest times in our lives. He went through a lot of loss during the making of this record, and I had two long, full relationships end—relationships that I thought were never going to end—during the making of this album. The concepts of loss and of the value of life, those are everywhere here.
—Casey Jarman