FEATURES
Afro-Fusionists Nubiyan Twist are at the Top of Their Creative Game on "Freedom Fables"
By Max Pilley · March 15, 2021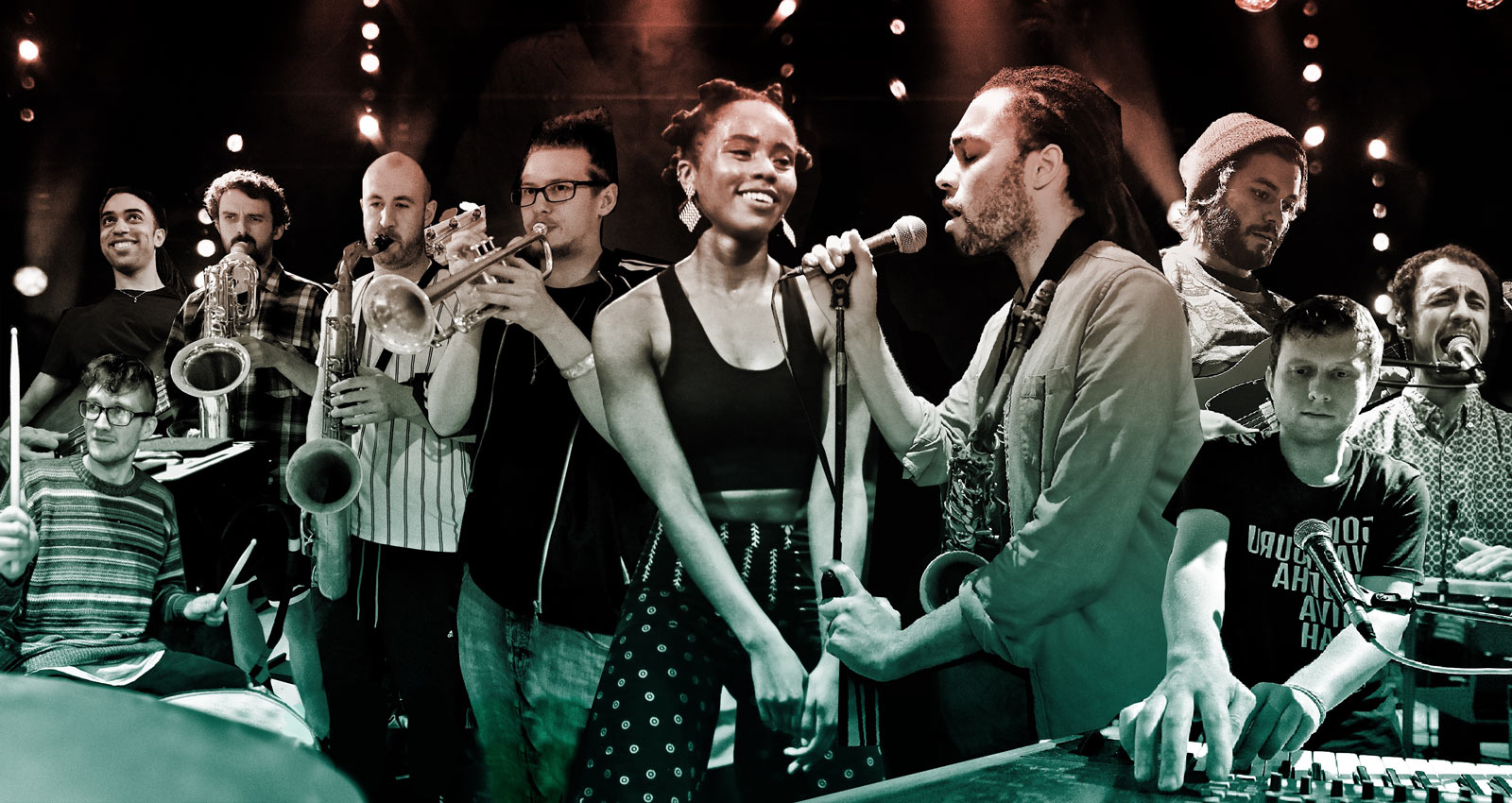 Tom Excell has spent his life surrounded by African music, from his earliest memories as a seven-year-old in the east of England, playing guitar along to his father's collection of Afrobeat records, to his final pre-lockdown activities in early 2020, when he was touring around Tanzania and playing improvised sets with local musicians. A lifetime of learning to respect and appreciate the perspectives of other cultures is the basis of his latest and finest project to date, Freedom Fables, the third album by his band Nubiyan Twist.
"Freedom Fables comes from the idea of finding freedom through people's stories," Excell explains. "We were keen to hear people's stories, to celebrate individual expression and that idea of being true to your narrative. We wanted to celebrate the uniqueness of our differences and how that can bring us together."
Merch for this release:
2 x Vinyl LP, Compact Disc (CD)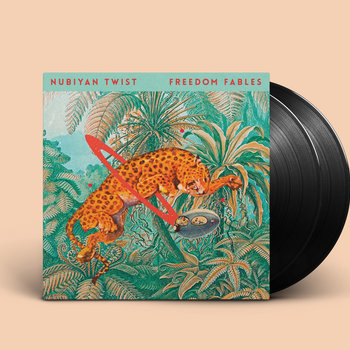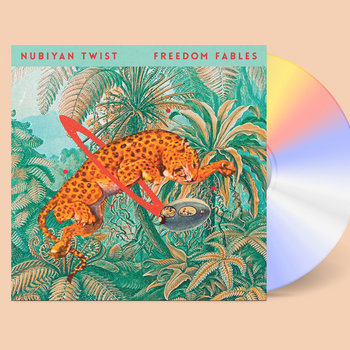 The album bubbles with energy, drawing not just on the talents of the band's own musicians, but also on a cavalcade of guest features, from the UK saxophonist and rapper Soweto Kinch to K.O.G., Sheffield's premier Afro-fusion multi-instrumentalist. The sense of communal bonding through music is palpable. "That's been something that we've always enjoyed as musicians," Excell says. "Everyone on the record has such a unique personality in their playing and their soloing, but the sum of all that together makes something stronger than any of the individuals."
The band formed nearly a decade ago when Excell, saxophonist Joe Henwood, and vocalist Nubiya Brandon were all studying at the Leeds College of Music. Gradually expanding their ranks over the years, they settled on a nine-person lineup in 2018 after Brandon departed to pursue a solo career. Their live shows quickly became a cause célèbre after their relocation to London, with 2019's Jungle Run cementing their status as one of the UK's strongest outfits in both the jazz and global music spheres.
Few styles are out of bounds on Freedom Fables, from the samba-influenced rhythms of "Keeper" and the R&B sass of "Flow" to the smoky, jazz club moodiness of "24-7" and the hot funk sax marathon at the climax of "Tittle Tattle." "Ma Wonka" is a gloriously uptempo highlife track that features a guest turn from the legendary Ghanaian singer Pat Thomas, often referred to as The Golden Voice of Africa.
"It's very humbling to get to the point where we've worked with some iconic musicians like Tony Allen, Mulatu [Astatke], and Pat Thomas," Excell says. "I have to pinch myself when I list the names of artists I've admired since I was tiny."
Merch for this release:
2 x Vinyl LP, Compact Disc (CD)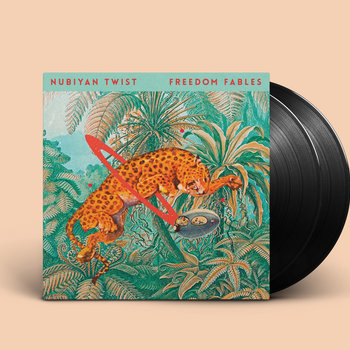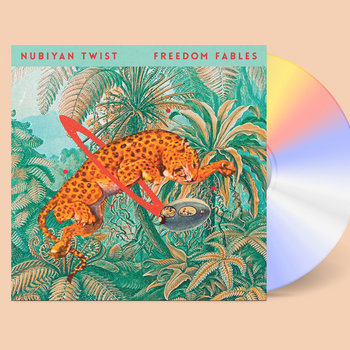 For Excell, who is the musical director and producer for Nubiyan Twist, wrangling nine band members into one studio outside of touring schedules is difficult enough—especially given that they're spread between London, Sheffield, Leeds, and Dublin—let alone having to factor in five guest artists. Fortunate, then, that the Freedom Fables sessions wrapped up with mere weeks to spare before the UK entered its first period of lockdown in March 2020. That allowed Excell a grace period to tinker with the resulting master tapes while he waited for Thomas and guest singer Ria Moran to send in their vocal takes from their respective homes in Ghana and London.
Throughout, the album rejoices in storytelling, marking a progression from the musically formidable but less thematically coherent Jungle Run. Its nine tracks weave a biographical tale, forming a patchwork of political and cultural expression that makes Freedom Fables something of a manifesto for Nubiyan Twist, their first truly cohesive statement. 
While it may seem that they've reached the apex of their all-genres-welcome musical eclecticism, Excell still sees room to explore. "I'd like to do more grime tunes, actually," he says. "Live, nine-piece-band grime—I'd definitely like to experiment with some crossovers there." He also cites Kojey Radical and Sampa the Great among the artists he'd love to collaborate with.
Merch for this release:
2 x Vinyl LP, Compact Disc (CD)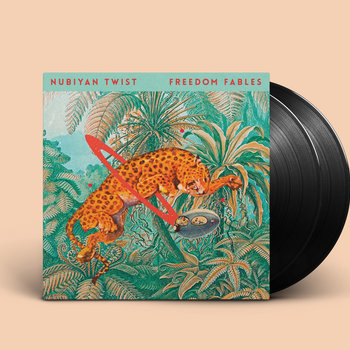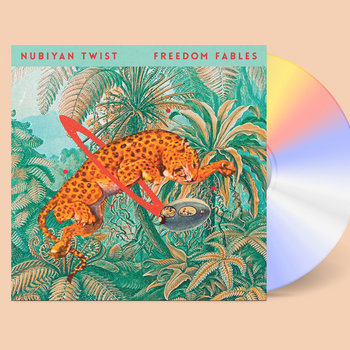 Excell continues to balance his responsibilities in Nubiyan Twist with his other primary musical project, ONIPA, a band featuring K.O.G. that experiments with the fusion of pan-African rhythms and electronic beats. It is all part of a musical life that Excell has been imagining for himself since those early days rifling through his father's record shelves. "I think I always knew the thing I wanted to do," he says. "Pretty much since I can remember, there was quite a clear path, actually. Maybe it's unusual to be that focused."
The focus may be rare, but so are the results. With Freedom Fables, Nubiyan Twist have finally found the formula that translates the potential of their live performances and playing ability into a fully-realized body of work.