FEATURES
Noveller's Sarah Lipstate Channels Her Anxiety Into Iggy Pop-Endorsed Soundscapes
By JR Moores · February 01, 2017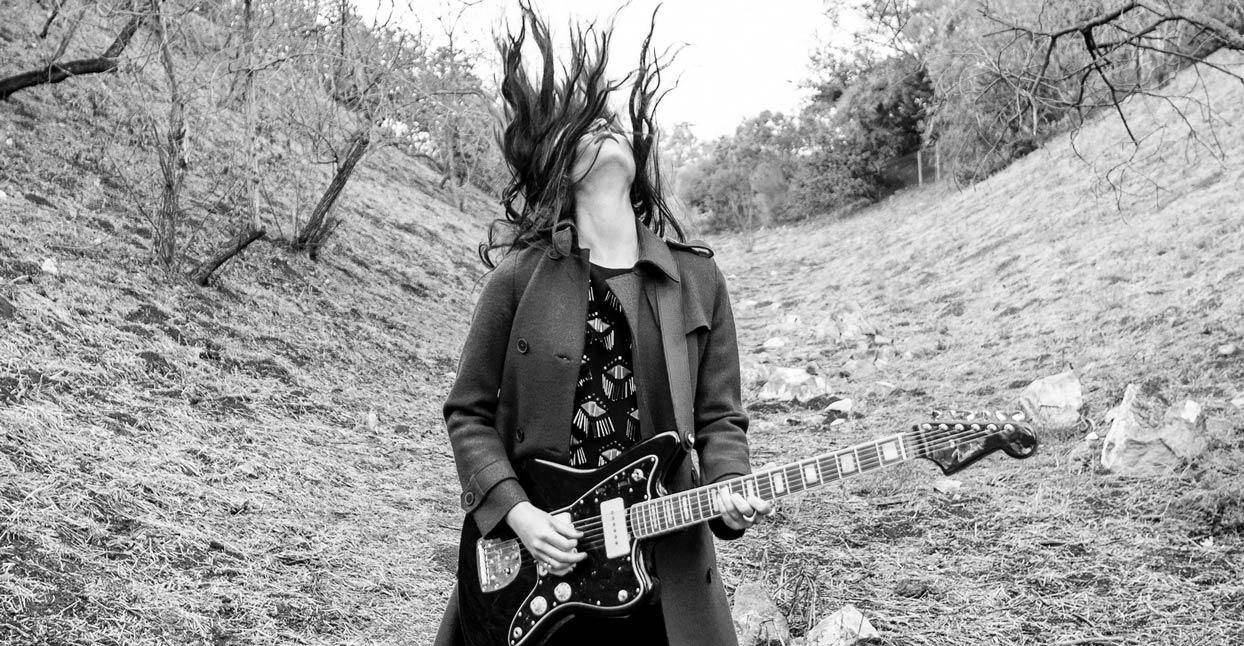 Working as Noveller, Sarah Lipstate crafts cinematic guitar-focused instrumentals. Using alternatively-tuned guitar techniques fed through an assortment of pedals—which make it sound like she's playing a synthesizer and not a string instrument—Noveller's mesmerizing art has even soothed the grizzled ears of Iggy Pop. After reading a newspaper album review of Lipstate's 2015 album Fantastic Planet, Iggy started spinning her tracks on his BBC radio show, and subsequently invited Noveller to support him on last year's extensive Post Pop Depression tour.
Noveller's eighth studio album, A Pink Sunset For No One, is partly inspired by that experience, although Lipstate's meditative sound differs wildly from Iggy Pop's garage-punk racket. "Coming home from any tour is difficult," she says, "any musician will tell you that. But coming off such a huge, life-changing tour, you're going to have some really hard days. It's a big comedown. The way I dealt with that was to really immerse myself in playing."
Now based in Los Angeles after spending most of her 20s in Brooklyn, Lipstate spoke to us about that recent stint touring with Iggy Pop and her ongoing anxieties.
.
00:10 / 00:58
I gather 2016 was an exciting year for you.
It's hard for me to separate the year I had personally and professionally from the year that the country had. The first half of the year for me, as a musician, was completely life changing. I was first contacted by Iggy Pop's manager in early February about the possibility of being the support for Iggy's tour. The fact that I was able to tour with him, not just in the U.S. but Europe as well, was just amazing. So a big chunk of my year was spent just doing what I love to do for a huge audience, with an artist who's inspired me since I was a teenager. I gained a lot of new fans just by doing that tour. People pay attention when someone like Iggy Pop plays me on the radio and when he says, "Check out this artist, I love her music." That stamp of approval makes a real difference.
.
00:10 / 00:58
Going from smaller venues to bigger theatres, did you change the way you performed?
Usually when I tour on my own, I try to be as efficient as possible with the amount of gear I bring. I pare down my pedal board so it's as small as possible to make it easier to travel, so sometimes I'll sacrifice the convenience of having more pedals or certain sounds. This tour, my job was to do what I do to the best of my ability. I wanted to make sure I had all the tools I needed to sound as good as I could and be really happy with the performance. Having more pedals means less time spent in between songs switching the settings. That's fine in a small venue, but I was conscious of how it was going to be presented to this audience. I expanded my pedal board, felt really comfortable with the sounds, and wanted a really tight set. Usually I'm comfortable wearing pants, but I wanted to make a nice impact, so I put a little effort into looking nice, wearing a nice dress, showing up for the occasion at these beautiful venues. You want to look like you put some thought into presenting yourself. I didn't change my sound or try to be more "rock" or anything like that. I just wanted to present the best version of Noveller to Iggy's audience.
Where does the title A Pink Sunset For No One come from?
I was transitioning from being in a relationship, to being on my own and also spending a lot of time walking my dog and reflecting on what it means to appreciate beauty without sharing that with someone else. We live in a culture where if we see something beautiful we take a photo of it to share with others, either on social media or with the family, your partner, whoever. It was part of trying to live in the present. If there's this gorgeous sunset or a beautiful plant or tree, to just stand there and take it in. Every Noveller album represents some obstacle or change in my life and usually that's reflected in the title. I don't have lyrics, so the titles are a big part of [my] expression, aside from the sounds. I thought it was a good representation of that period in my life.
.
00:10 / 00:58
What does a practice day look like for you? 
If I just play for a few hours and then go out and be sociable then that's a good balance. I don't want to become a guitar hermit. I'd say anywhere between one to five hours. When I play for five hours, I start getting worried about my mental health, so maybe two or three hours would be a good limit for me. That's how it's been lately.
You've said before that most of your creativity springs from anxiety. What are you anxious about?
Anxiety has been my constant companion since I was 19. I live in my head a lot, which is a pretty good environment for anxiety to grow. I spend a lot of time thinking about the future or reflecting on things in the past that didn't really go as I hoped. That's where a lot of the anxiety comes from, especially thinking about the future, which you have absolutely no control over. When I started playing in bands like Parts & Labor—I was their guitarist for a year and a half—I developed really horrible anxiety performing onstage with them. With Noveller, I had to focus so much on everything that there wasn't the space in my brain to have a panic attack. So it's actually much easier for me to be the only person onstage. I think that's really interesting and also very lucky for me because it would very difficult to do what I do if I had a panic attack every time I got onstage. I guess it's getting better. It's something I have to work at. It's manageable. I'm able to live my life, and if I can use it as a creative tool, that's a silver lining.
—JR Moores