FEATURES
For Northern Haze, Indigenous Rock Has Become a Family Affair
By Luke Ottenhof · January 04, 2018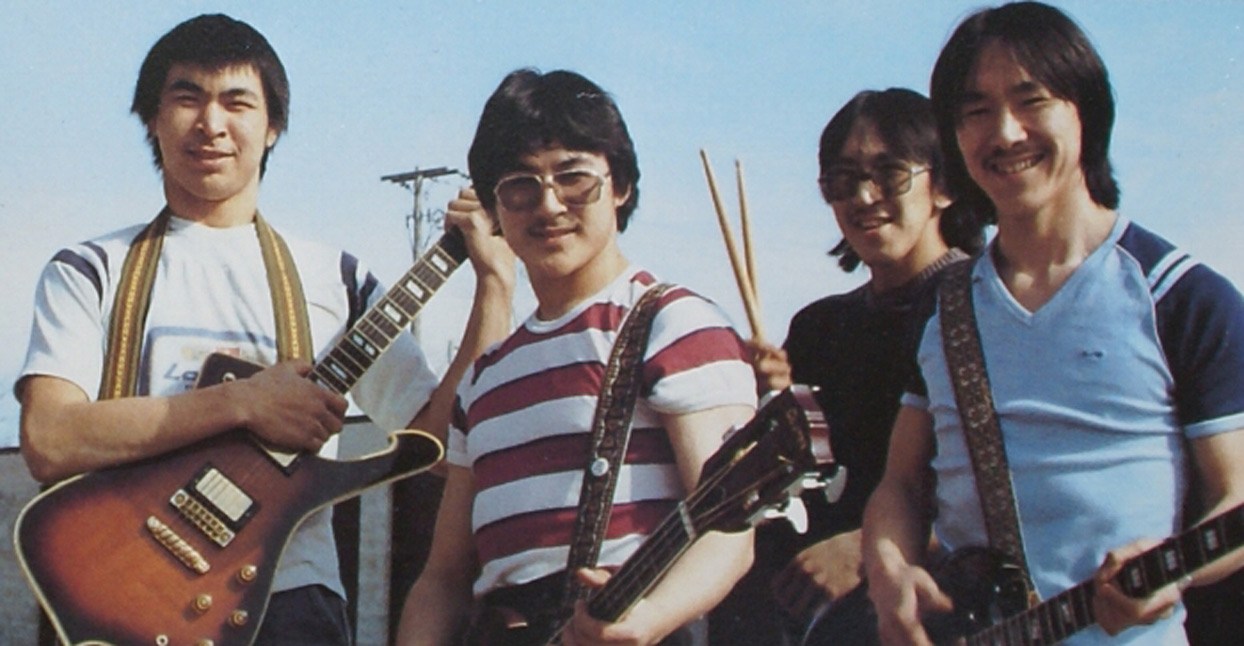 It's Friday night in Iqaluit, and it seems like the entire city is at the local Legion. Iqaluit, nestled on the shore of Frobisher Bay, is the capital city of Nunavut, one of three territories in Canada's far north. With close to 8,000 residents, it's home to nearly a quarter of the territory's widely-dispersed population. It's steak night at Legion (a big draw in and of itself), but the bar is humming with more than the usual excitement. Suddenly, the packed room erupts with cheers and hollers as people flock to the door. After a few moments, the reason for the pandemonium becomes clear: the musicians of Northern Haze had arrived.
Northern Haze are hallowed hard rock legends in the north. The band, hailing from the tiny hamlet of Igloolik (population: 1,682 as of 2016), are in town to perform at the inaugural Nunavut Music Week, a conference designed to stimulate solidarity and connections in the Nunavut music scene, and to introduce southerners from Canada's music industry to the vibrant cast of overlooked musicians and bands in the north. It's an exciting affair for everyone involved, but for the members of Northern Haze, there's an added gravity. They've been together for over 30 years, and they're excited to help build a network of opportunities for young Inuit artists in the territory that they never had. On the first day of panel discussions, guitarist and singer James Ungalaq, his face lit with a toothy grin, describes their plight: "Broke, but inspired!"
That relentless optimism has fueled the band since their start in the early 1980s. Ungalaq, a kind, soft-spoken man, is smiling again as he describes his first guitar. "We found [it], I don't know where it came from," he chuckles. "We didn't buy it from the store, I know that much." Instruments had to be ordered and shipped up from southern Canada, typically taking months to arrive by sealift, but that was costly and time-consuming. Instead, they made do with what they could find: drummer John Inooya's first kit was a plastic Disney set. Ungalaq explains his first guitar only had two strings, before adding earnestly, "It made beautiful sounds."
Isolation and logistics also affected the flow of music to the north. Shortwave radio frequencies were sparse in Igloolik, but as CBC programs reached Nunavut, so too did contemporary sounds from the south. Ungalaq recalls listening to Jimi Hendrix, Thin Lizzy, and Led Zeppelin once they started picking up rock stations in the 1970s. For Ungalaq, Inooya, guitarist/bassist Naisana Qamaniq, vocalist/guitarist Kolitalik Inukshuk, and bassist Elijah Kunnuk, the international imports were critical listening; nursed on this guitar-rock invasion, the five friends in Northern Haze developed a knotted, riff-heavy mash of hard rock, blues, and metal.
Not everyone was as excited about the injection of non-Indigenous musics. Inuit culture was, and continues to be, decimated by southern colonization. Among the violent practices of Canada's colonization of the north was a ban on Inuit arts and culture; traditional practices like mask dancing and face tattooing were suppressed and outlawed. Many Inuit were rightly distrusting of southern cultural institutions, so when Northern Haze began introducing southern musics, many in their community were less than enthused.
The tight-knit nature of northern communities meant criticism was unavoidable. "We had our fair share of fights," Ungalaq recalls. "People thought it was… I don't know, bad influence." The Hazers, as they're affectionately known by locals, aren't the only ones to experience this pushback. Inuk singer Tanya Tagaq—originally from Cambridge Bay, Nunavut—recently faced similar criticism from northern communities for her recontextualization of throat singing. But like Tagaq, Northern Haze stood their ground. "We knew what we were getting into," Ungalaq recalls. "That didn't stop us. In real life, somebody loves you, [and] there's the other guy who hates you just as much. We didn't want to let the negative feedback determine our fate."
Like all Inuit, the band was resilient and resourceful; they borrowed instruments and amps from friends, and without proper venues or practice spaces (Nunavut is the only region in Canada without a dedicated performing arts space), they cut their teeth at community dances and parties. After building a loyal fanbase in Igloolik, they made their first record in 1985. Sung entirely in Inuktitut, it was the first Indigenous-language rock record ever recorded in North America.
For the next three decades, Northern Haze didn't stray far beyond their home territory. Touring outside Nunavut is prohibitively expensive; a round-trip flight from Iqaluit to Ottawa (just three hours each way) runs around $2,000. Besides, band members were content at home, on the land. But in 2007, the band was dealt a tragic double-blow, as Inukshuk and Kunnuk died just five days apart. "We were like dead fish in a pond," Ungalaq sighs. But the remaining three members refused to quit on Northern Haze, and they found help at home: Ungalaq's son, Derek Aqqiaruq, joined the band to contribute bass, guitar work, and vocals.
For Aqqiaruq, it was literally a dream come true. "I always dreamed of playing with these guys," he says. He grew up worshipping the band alongside heavyweights like Metallica, Guns 'n' Roses, and Pink Floyd, but Northern Haze were a legitimate, reflective emblem of possibility in his home territory. "I couldn't believe they were from the same community where I live. To me, they were as good as those big rock bands from the south." Seeing his identity affirmed and celebrated onstage was crucial; he could be in an all-Inuktitut rock band. Aqqiaruq still wants to spread that representation. "We're using our own language to sing and promote our culture," he adds proudly.
For both Ungalaq and Aqqiaruq, the band has never been a vehicle for fame and fortune. It's rooted in their health and happiness, and a desire to connect with their community. And even though Ungalaq is mobbed by fans in Iqaluit, it's different when he goes back home. "I'm James to them," he says. "I'm not Northern Haze or a popular guy. I'm just a member of the community." He cites the band as his "anchor." "It kept me at bay," Ungalaq says simply. "I never made money from it, I just loved music. It helps us cope with everyday life, whether it be a tragedy, or to celebrate life, or have a celebration with the community."
Aqqiaruq echoes the importance of expression. "Sometimes I'll have bad days, and when I start playing music, it releases a lot of emotional tension," he says. "You start feeling like you're doing mental and emotional therapy."
That empathy and humility are what underpin Northern Haze's approach: they want to support, encourage, and enable one another, not fret over record sales or what's on their rider. With the addition of Aqqiaruq and Ungalaq's nephew Allan Kangok, Northern Haze has become an inter-generational affair, a new tradition being passed on to up-and-coming Inuit musicians in Nunavut. Aqqiaruq is excited to record a new album in January, but he emphasizes, "One of our goals has always been to promote our language and culture, and to share our experiences with our fellow Inuit artists." He adds with a laugh, "My goal for Northern Haze would be to keep playing music until I die."
Ungalaq is visibly emotional when he sees the connections being made between musicians across the territory. "I hope they have better opportunities than we did," he says. When he thinks about the future of Northern Haze, he shrugs, his face etched again with a familiar smile: "I hope I stay James."
-Luke Ottenhof