FEATURES
On "YEN," Rapper Nolan the Ninja Takes the Next Step in His Career
By Gus Navarro · September 26, 2017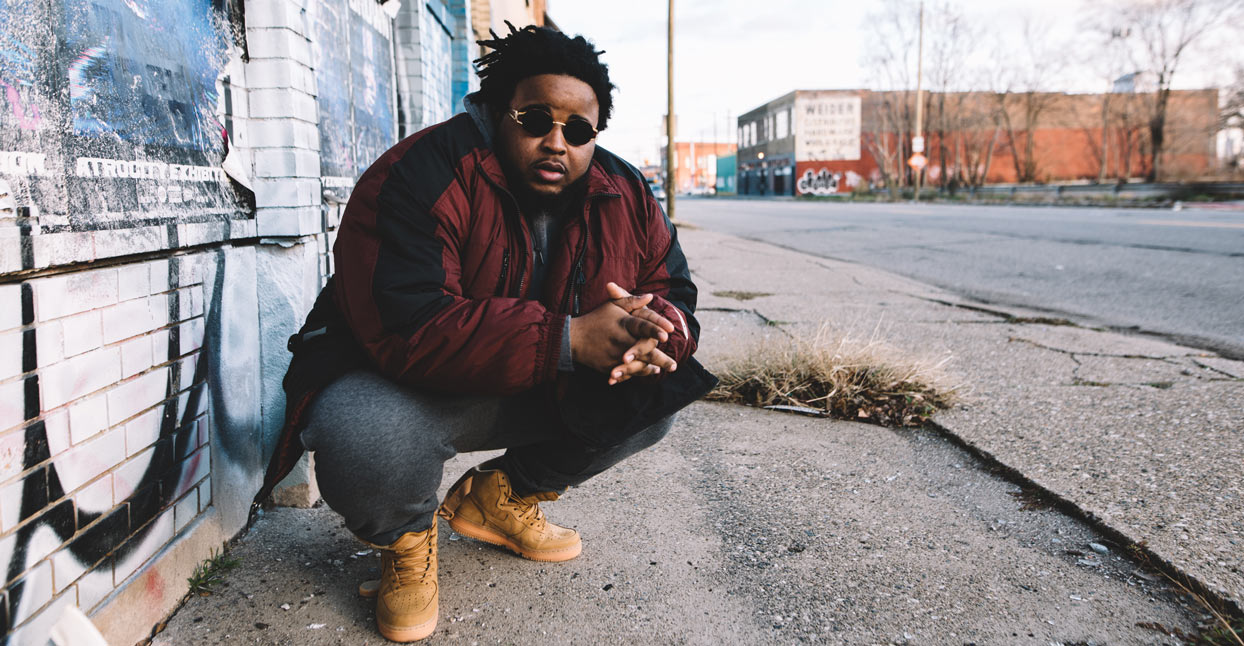 Trends come and go, but the ability to spit ferocious bars over dusty, head-splitting beats will always be a benchmark of talent for a certain type of hip-hop fan. On his latest record, YEN, released on DJ Soko's imprint, Left of Center (LOC), Detroit's Nolan the Ninja offers ample evidence that he's got both of those abilities down to a science. On YEN, Nolan doubles down on an element that's often lost in contemporary hip-hop: the art of storytelling. YEN doesn't rely on catchy hooks, trap beats, or the glorification of party culture. Instead, it's a combination of fierce rhymes and hefty beats that reflect Nolan's life experiences and personal perspective. We spoke with Nolan about the meaning behind the record, his growth as an artist, and his musical influences.
.
00:10 / 00:58
What is the meaning behind YEN?
YEN signifies a lot, it symbolizes a lot. It's not a reference to the Japanese currency, as some people have thought. It's the verb 'yen,' meaning to desire or crave something. You can yen for something. In late 2015, I released an EP called Fuck the Hype with my man DJ Soko and Dart Adams. From there, people were introduced to me, and a lot of doors opened. At that time, I was 22 years old; I'm 25 now. The more people appreciated the art, and the more that Fuck the Hype gained momentum, my goals became bigger, you know? A few years ago, it was like, 'Man, it would be dope to have my music posted on these blogs,' or, 'It will be dope to open up for such and such artist.' Now I'm at the point where I've done those dope things, and I'm very grateful. But now I want bigger things. I want to be able to look back and see that [pursuing a career in music] wasn't a waste of time. So on YEN, I talk about my upbringing, and how it's affected my aspect of the 'yen.' It's real personal. Throughout the album, you're gonna hear all types of things that correlate with each other, and how it's gotten me to this point [in my career]. It's an introspective album, I think a lot of people will mess with it.
How have you grown as an artist from the release of your first LP, He(art), until now?
On my first full-length album, He(art), I just wanted to rhyme and prove myself as a rapper. Now I feel I've done that, and I want to bring people into more of my artist side. I really want people to see that I can craft great songs with great concepts and direction. I want everything to be cohesive. That's why all the artwork that goes with my music looks similar. When the album comes out, there's a digital booklet that will go with it. I definitely come from the era of ripping off the package and reading the booklet. It helps you gain even more insight on the record and what it's all about. If you hear a beat you like, you gotta look to the booklet for the producer's name.
.
00:10 / 00:58
Who were some of your musical influences growing up, and as you became more interested in hip-hop?
The usual suspects. Nas is my favorite rapper of all time. Of course Hov [Jay Z]. Of course Biggie Smalls. I was one of those kids in high school and middle school that was on LimeWire and YouTube all the time. I was downloading music and looking at old videos and stuff. That's how I learned about more 'underground' acts who still were making moves. I remember when I got hip to Souls of Mischief. My mom is into R&B, so I get that from her. My cousin was really into hip-hop, so I got that from him. My brother was into alternative stuff like Gym Class Heroes and the indie label Fueled by Ramen, so I have that as well. I want to tap into all of those, eventually. I would love to collab with people who aren't hip-hop artists. I'm influenced by a lot and there's no telling what could be in my playlist. I take something from everything. Whether it's R&B, pop, or whatever. I love to study and learn about music.
When you're creating music, whether making beats or writing raps, do you have to be in a particular frame of mind?
With writing, I definitely have to be in a certain zone. I take my time. At the same time, I try and stay ahead. I'm already working on my next album that'll probably come out in the fall of next year. But with beats, I'm always cookin' beats. That's more of a vibe thing. When I'm at home, it's kind of like a pre-production phase for me. I'll start ideas there, but then take it to the studio and work on those ideas more. I create at Assemble Sound in Detroit and I like working over there. I love the creative space I'm in right now.
How should people approach listening to your music?
When I present my music to the masses, I really want people to absorb the album. Don't just listen to it once. Bump it in the car for a week! Whenever I listen to albums, I need at least a week to ride with it. I always catch different stuff. Jay Z's Reasonable Doubt was a huge influence on YEN. I'm still catching stuff Jay was saying, and that album is over 20 years old. I want my albums to be like that. I feel like I'm in my own lane, and I'm not worried about what's trending or any of that. I just wanna rhyme and make great music. I want to be able to perform and travel with my music. As long as what I create has longevity I'm good.
—Gus Navarro