FEATURES
No Trend: The "Anti-Punk" Group That Didn't Want to Be Remembered
By JJ Skolnik · August 04, 2020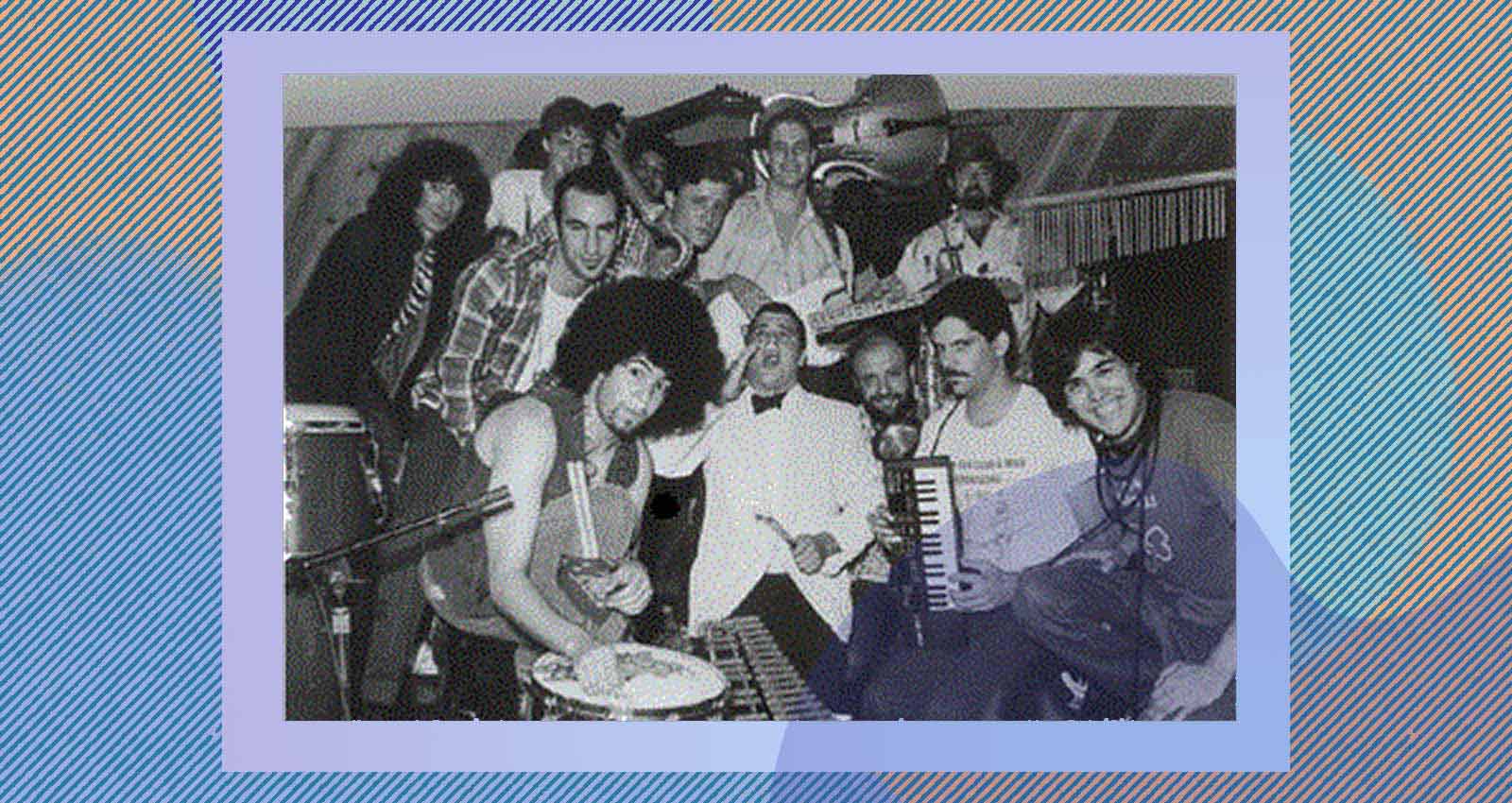 It's been hard to place '80s D.C. punks No Trend into punk continuity since they rebuke every narrative one might want to place onto them. (This, perhaps frustratingly to them, might make them not "anti-punk," their preferred means of self-description, but "extremely punk," owners of a sort of kneejerk oppositionality.) Their music isn't easy to digest—no searing riffs, no mosh parts, not much musical structure. Their early music is more clearly born from hardcore (they got a fair amount of Flipper comparisons at the time), while the later stuff is genuinely bizarre, joining art-punk and noise to flippant piss-takes on adult contemporary pop and jazz fusion. Their lyrics and song titles impugn the audience (and themselves), as well as any other enemies in their sight lines. It's purely nihilistic music, and strangely compelling.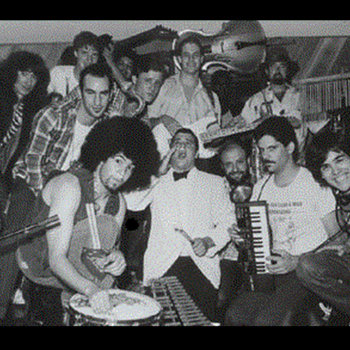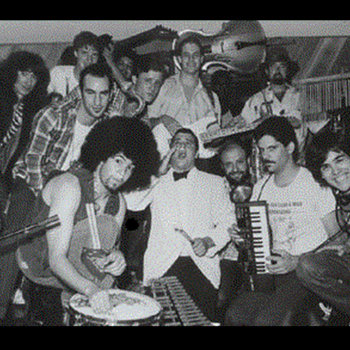 Merch for this release:
Vinyl Box Set
Journalist Jordan Mamone was determined to tell the No Trend story, though. He'd first heard No Trend when he was in high school and tracked down the records in his college years. "The negativity, the intensity of it, there's even a sort of pathos I think to the music," he says of what drew him to the group. "Anyway, I was a fan. And when More [No Trend's last album, meant for release by Touch & Go in 1989 but tabled, eventually released by Baltimore's Morphius Records in 2001] came out, I decided that I would try to track down as many former members of No Trend as I could and do this definitive article [for the now-defunct New York Press]."
Pre-social media, this wasn't easy, but it also wasn't impossible, and soon Mamone was talking to founding members Jeff Mentges and Bob Strasser, as well as later member Buck Parr, who recorded with the band in the Touch & Go years. Through conversations with Parr the project of Mamone's definitive No Trend article widened to include a potential reissue of all of No Trend's early material in one compendium. Too Many Humans/Teen Love, which covers the group's 1982-84 output, was finally released on Drag City in late May and in true No Trend style, it took 19 years to complete.
Merch for this release:
Vinyl Box Set
Here's why: "The primary participants did not care enough to save photographs or anything else related to their group; the master tapes had been either willfully destroyed or thrown away decades ago; and the enclosed interview with Jeff and No Trend's other surviving founder, Bob Strasser, took months to arrange and involved several aborted attempts, due largely to their reticence and unwillingness to wallow in the past," reads the first page of the accompanying 42-page booklet, which includes an incredible amount of ephemera nonetheless, thanks to the tireless efforts of Parr and Mamone. It carefully winds together the No Trend tale via that mammoth interview, which Mamone conducted in 2012, carefully splicing in reviews and commentary from zines and blogs, email excerpts, and reported pieces (including an '84 report from Playboy on the Dead Kennedys show in DC which No Trend opened).
Mentges and Strasser met one another in the seventh grade in Ashton, MD, a part of the D.C. 'burbs so sleepy its Wikipedia page touts the arrival of a new CVS in 2016. They picked up a love of punk from the radio—D.C. in the '80s had a wealth of independent radio stations. "If you go to school and don't fit in and you see the utter conformity and mindlessness of it all, you can pick up an instrument, you know, right there…," Mentges told Mamone. The essence of punk adolescence, distilled.
The original version of No Trend was called The Aborted, formed when Mentges and Strasser were in high school. Mentges met Government Issue's John Stabb at legendary local record store Joe's Record Paradise, and The Aborted were invited to play a house party at Stabb's. They had zero idea how to play, but they'd been inventing imaginary bands to be in together as friends for years prior—how hard could it be? Though The Aborted were short-lived and went through a number of lineup changes—the chaotic entrances and exits of many of the members are a running gag in No Trend lore—the core, as it was, of No Trend was always Mentges and Strasser.
Merch for this release:
Vinyl Box Set
At the edges of the D.C. hardcore scene, the two friends, along with guitarist Frank Price and drummer Steve Jacobs, turned The Aborted into No Trend, purposeful gadflies to what they saw as a militant, self-righteous scene. When Mamone asked Strasser and Mentges whether they saw themselves as directly oppositional, they demurred. Their answers are, in the booklet, delightfully butted up against a fragment of an interview Price did with Flipside fanzine in 1983: "We're not a D.C. hardcore band. We're not straight edge either. We are playing the music we want instead of trying to please every crowd. A lot of hardcore bands have childish, lame lyrics. If you're going to call yourselves rebellious, your lyrics should say something. Punk rock isn't as threatening as it used to be because people just laugh at it these days. A housewife sees some kid with a Mohawk on the street, and she just laughs at it because she saw it on Square Pegs or Quincy."
"I found it very important to some extent, even in that New York Press piece I did, to contradict Jeff," says Mamone. "Because while Jeff is very funny and very, very cool, at the same time his take and the way that he remembers this might be a bit different than the way that he said something to a fanzine in 1984 when he was a kid. Hindsight is 20/20…We also wanted to weave in Frank, the guitar player who had been in the band who was such a huge part of these records—we wanted to weave in his voice somehow. Maybe I'm overstating it, but there was kind of an impulse to—not really contradict Jeff, but to maybe also have some other points of view from that time period as well, not making it like a complete hagiography. To somebody like Jeff's credit, I don't think he'd give a fuck. Frankly, I think if this book was just an ass-kissing, fanboy love letter talking about how important No Trend was to Washington D.C. and early '80s independent culture, Jeff would be completely grossed out by that."
Merch for this release:
Vinyl Box Set
The picture of the band that emerges is challenging, of course, and mercurial—but it is also extremely fun and funny, full of wild accidents and surprising adventures. "Until now there were so many misconceptions about the band, and also not a lot of hard information really out there especially about the early years," says Mamone. "Those first three records don't really have any credits on them for the most part. The band is credited as 'Jo Jo the Wolf Man and Thousands of Other Living Monsters' or something like that, if you look at the first EP. The more we would talk to people, these great stories would surface. One of the funniest ones was– very briefly after Too Many Humans was recorded, they lost their drummer who was an amazing drummer, a loose cannon of a guy…a guy named Greg Miller. Anyway, Greg Miller was out of the band and they got this D.C. area guy named John Payne, and he played drums for one gig. He was playing really badly, but [the drummer who replaced him] came up out of the audience, threw him off the drum stool and then just took over midway through the show and started playing the songs correctly. You know, stories like that, how can you not put that in there?"
Parr agrees. He'd been longtime friends with Strasser when he was asked to join the band; they were touring A Dozen Dead Roses, the 1985 album they made with no wave icon Lydia Lunch. "I thought I was getting [into] a punk rock noise band, [but] I was getting into something entirely else, a band that was going in 20 different directions at once," Parr says. "So it was pretty cool. Everybody really was into all sorts of different music and was not averse to exploring that…We'd play a show and people would come out there and just stand around looking at us like we were from another planet. We were not the band that they thought they were going to get. And we weren't. So it was cool in that respect. Touring with those guys was very difficult. Each and every one of them could be very unpleasant in their own way, and were. But, you know, it was some of the best and worst times I've ever had in my life, being in that band."
Merch for this release:
Vinyl Box Set
When asked to share a standout story from his days with the group, Parr is quick to recall their last show together: "We had just fired the band manager who owned the touring vehicle, which happened to be an ambulance. So the band went out and bought this school bus from a group of hippies declaring themselves a church for tax status. We brought the van home, we fixed it all up. One of the band members was a mechanic. We painted it, [and] took it out on our maiden voyage to play in Detroit at Corey Rusk's place. Corey Rusk was the owner of Touch & Go and also had a club called the Graystone."
"So we drove up to the Graystone and we were as happy as we could possibly be, you know, driving this big [van] instead of being in cramped quarters," Parr continues. "It was this big school bus with lounges and beds and all this stuff," he continues. "We were maybe a mile away from the club when the engine block cracked. We had to push the school bus in front of the club, we got out, unloaded our gear, did our sound check, played a great show. Samhain opened for us. We had taken the back stock of our records and threw them out into the audience and they threw them back, so there were vinyl copies of these records, these very records that we're putting out now, flying around the club in a very dangerous way. We could not fix the school bus…After not even a successful maiden voyage, we abandoned it in front of the Graystone. We got a U-Haul with a little 7-foot back to it and we all were crammed in the back of this U-Haul, this 7 foot U-Haul with all the gear. We punched air holes in the top of the truck, which only just brought in carbon monoxide and made us all feel woozy, and we drove back to D.C."
While it's easy to focus on No Trend's overall negativity and contrariness, their lack of desire to do things the way anyone else would, along with a little bit of right-place-right-time magic, is ultimately exactly what made their unlikely path—and anecdotes like these—possible. "Another thing that really strikes me about their story is that you can't really exaggerate that stuff or mythologize it, all of this crazy shit that basically happened to these rather negative, but at the same time very curious young guys from Maryland.  I think it really encapsulates what it was like playing in an underground band at that time," says Mamone. "I mean, really, anything can happen…You may end up with one of your drummers getting knocked off his drum stool and replaced mid-gig. You may end up touring in a converted ambulance…Because you were operating so far out of the mainstream, so far out of what had become a calcified hardcore scene, you left yourself open to all of this crazy shit happening, and it was all very organic. It wasn't contrived in any way."