FEATURES
Nintendo's Open Marketplace Hatches a New Wave of "Nindie" Soundtracks
By Jose Cardoso · June 24, 2016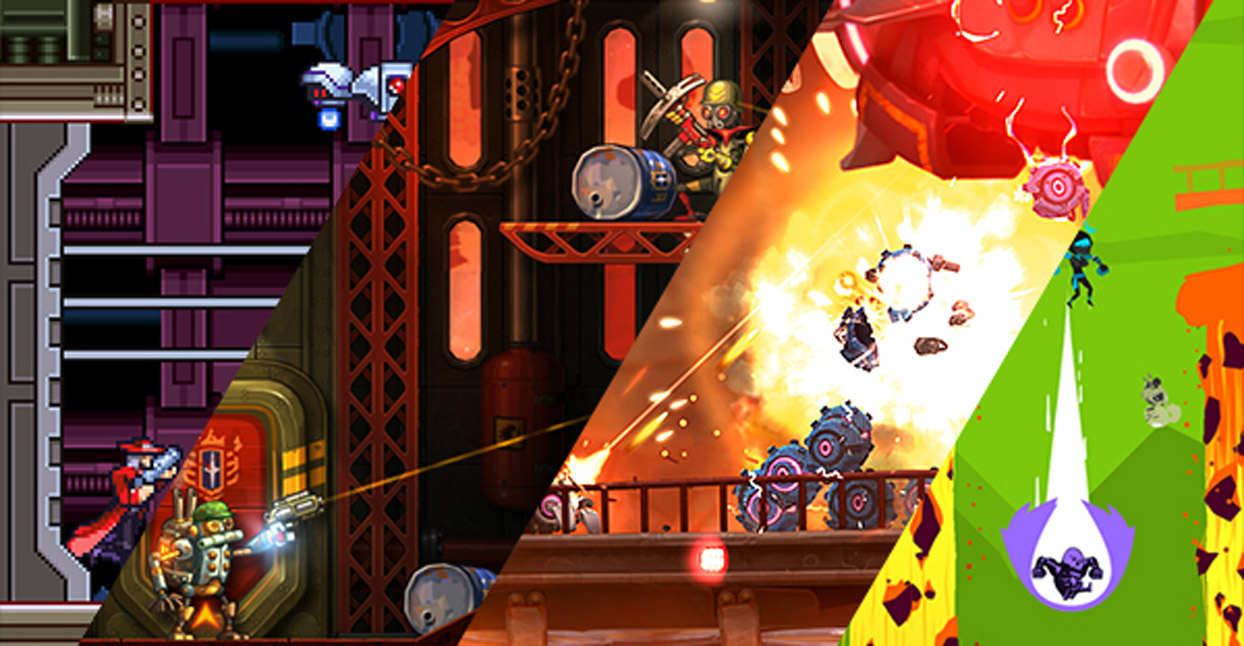 Despite their longstanding leadership in the video game market, Nintendo has lagged behind its competitors in creating an inviting digital home for independent game developers (see the oft-criticized WiiWare platform). But through their renewed outreach efforts, supportive promotion, and the creation of an open infrastructure with the Nintendo eShop, the company has assigned greater stock to the homegrown works of names both new and established. "Nindies" ("Nintendo" + "indie"), as Nintendo calls these partners—a term coined in 2015 for the "Nindies@Home" program—now comfortably co-exist in the same space as Nintendo's own commercial releases. Similar to the way the Nintendo eShop has become a playground for independent game developers, Bandcamp is a growing destination for soundtracks of "Nindie" games. Developers, musicians and composers alike are finding Bandcamp an accessible means of publishing albums that wouldn't normally get an official release. We spoke to some of them about their work.
In SteamWorld Heist, players take charge of bounty hunter Piper and her growing robot crew, for a strategy game set in a universe that blends steampunk and sci-fi. While SteamWorld Heist supports its tactical gameplay with mechanical sounds, the soundtrack is elevated by its vocal tracks. Game developer Image & Form wanted to feature musical performers at in-game bars, and they saw the folk-style music of Steam Powered Giraffe as a perfect fit. "A band of steam-driven robots that are actually humans, but in real life pretend to be steam-driven robots, in a game that centers around steam-driven robots…? It was too good to pass up," said Image & Form's CEO, Brjann Sigurgeirsson.
.
00:10 / 00:58
In what could have been a stylistic clash with Heist's space setting, the group's acoustic sound allowed the game's creators to represent its robot characters in a way that felt true-to-form—"music that was simple and genuine," Sigurgeirsson explained. The music provides a hopeful presence amidst a darkening mood. The softer tones of "Honeybee" convey a bittersweetness that perfectly suits the moment it appears in the game. Sigurgeirsson adds that the band, "knew what songs to pick for each stage," and you can feel that deliberate musical vision as you play.
Wild multiplayer fisticuffs are the hallmark of Runbow's platforming races. Color is treated as a core gameplay feature, with stage elements disappearing and reappearing as background colors cycle. Its competitive framework—which supports up to nine players—needed a soundtrack that would capture the crowded, step-on-everyone's-toes bonanza, and the work of composer Dan Rodrigues certainly delivered. The music is mostly defined by percussion, and an "old-meets-new" aesthetic, which Rodrigues describes as, "surf rock, swing, bossa nova, and old-school sci-fi."
.
00:10 / 00:58
Listeners feel as if they've been transported to a jazz club, one where steel drums and trumpets combine to unconventional effect. "Solitary? Who's Solitary?" recalls the soundtrack to the 1998 PlayStation game Running Wild, with its brass instruments and springy, groovy feel. "Tree's a Crowd" resembles the accordion-style animations of Saturday morning cartoons. Rodrigues explained that he wanted the music to have a light feel, and that he "envisioned forest sprites darting around [his] head" as he composed.
The main multiplayer track, "Two Feet and a Heartbeat" is boosted by, "a pounding beat and double-time bassline," that enlivens the already active gameplay. "Runbow is so energetic that the music could easily drag down the forward motion unless I really pushed it," Rodrigues explains. "The entire horn section was [meant to sound] exhausted and red in the face" by the end.
The soundtrack's greatest strength is the way it combines musical traits of earlier time periods with modern treatments. "We took a lot of risks," Rodrigues says of the stylistically scattered approach. "It was all over the place, yet everything still felt like Runbow."
A 2D platformer with a cowboy theme and sketch-style visuals, Gunman Clive succeeds because of its punishing gameplay and run-and-gun mechanics. While the original was set entirely in the Wild West, Gunman Clive 2 expands to include the whole world. When it came to creating the soundtrack, that shift in context allowed for a more diverse sound—one that composer Arne Hörberg initially worried was "too different."
.
00:10 / 00:58
"I wanted to have the same vibe as 8-bit classics like Mega Man and Ninja Gaiden," he said, "but also with a spaghetti-western, Ennio Morricone touch." Accordingly, "The Cowboy is Back in Town" revives Gunman Clive's theme with a more "cinematic sound" and "staccato strings." Hörberg also makes ample use of bongos (as in highlight "Drill, Baby, Drill") combining them with his guitar to joyous effect. "I play the guitar myself, so the embryo of all of the tunes came to life when I sat and played around with my acoustic guitar."
Even with its expanded scope, the soundtrack feels unified and consistent. In fact, it may have worked too well. As Hörberg jokingly puts it, "When I write new tunes for another game, the problem will probably be that it sounds too much like Gunman Clive."
RIVE (coming 2016)
RIVE distills the mechanics of horizontal space shooters into a gritty, no-mercy platforming adventure where players navigate the chambers of a space station rife with vicious threats. RIVE is Two Tribes' final project, so they enlisted SonicPicnic—the same team responsible for Toki Tori 2's calming, melodious score—to handle the soundtrack. SonicPicnic's co-founder Yorick Goldewijk had a specific vision for the music: "Mostly raw and glitchy, often dark. There's a mixture of '90s techno and contemporary IDM going on, with a few orchestral cues."
The nostalgic references present in RIVE's flight sequences—which feature turrets, meteors and other space hazards—also appear in the soundtrack, with "happy and energetic chiptunes" inspired by the old Konami game Gradius. "Some tracks can be aggressive, like Boys Noize," Goldewijk says. "Others are subtly creaking and sizzling, like Jon Hopkins." The music that announces the arrival of level bosses is appropriately loud and driving.
Taken as a whole, RIVE's music matches its bombarding gameplay, balancing moments of heightened energy with winking retro throwbacks. It's a striking accompaniment for a final send-off.
Released in 2011, Antipole forced players to alter gravity on the fly in order to overcome platforming hurdles. Saturnine Games' upcoming remake—Antipole DX — sports a revamped aesthetic (including active backgrounds and cleaner animations) for a feel that's more crisp than the original's static look. Another key difference is the game's discernible musical story, courtesy of a retooled soundtrack. "The original Antipole was intended to use higher resolution art, and so the music was an attempt to match that concept," explains composer Zack Parrish. "Over the course of production, however, the art didn't hold up to the original demand." Antipole DX's consistent art direction made for a smoother compositional process.
The soundtrack, Parrish teased, will place a "heavy emphasis on synth" and "melancholy and disparate melodies" to reflect the game's tech-centered environment. The dystopian main theme acts as a prelude to the "threatening" gameplay, but elsewhere, Parrish gets subtly nostalgic, using retro sounds (e.g., pulse waves) and shorter loops to resemble the audio design of classic games.
Tumblestone—coming soon to Wii U—recalls games like Bejeweled and Bust-a-Move: a puzzle formula presented with a modest, unassuming visual style that springs to life during the game's fast-paced scenarios. Players extract three blocks of the same color to clear hanging stacks, battling side-by-side against rivals who have identical block setups. Because of the game's brisk action, raging sound effects could disrupt the flow of four-player sessions. But according to game designer Ty Taylor, the team at The Quantum Astrophysicists Guild anticipated this pitfall.
"It was really important to us that the sounds were still cohesive and didn't get blended together," he said. Sound designer Gordon McGladdery gave each character unique, specific sound effects, which correlate to their on-screen position. These and other audio cues eliminate the need to peek at the progress of your gaming rivals. "One of the biggest focuses of our composer, M. J. Quigley," Taylor added, "was to give each of the 12 characters their own fully distinct soundtrack," so when your character wins a round, they will become the visual and audio wallpaper for the round that follows. With its mix of "contemplative" and "climactic" music, Tumblestone's active sound design seems perfectly suited to its rapid gameplay, becoming a crucial part of the total experience.
—Jose Cardoso