FEATURES
Canadian Teen Punks NEOS Played Fast and Burned Bright
By Jesse Locke · November 10, 2021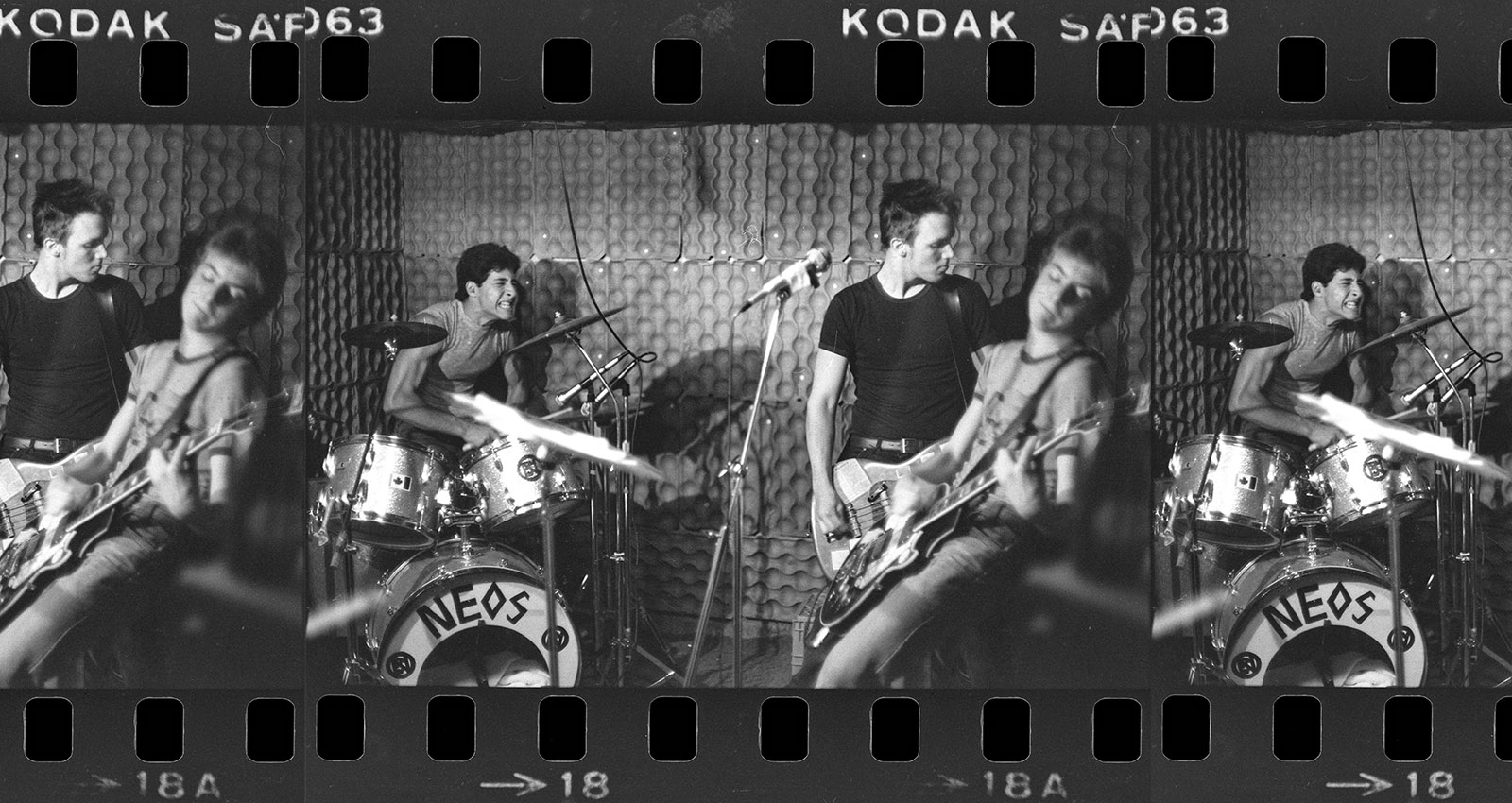 Growing up in the island city of Victoria, BC, Steve Bailey never expected that his teenage punk band NEOS would count members of the Dead Kennedys, Napalm Death, and Dinosaur Jr. among their fans. Yet after listening to the NEOS compilation released this summer, Three Teens Hellbent On Speed, which crams 51 whirlwind songs into 48 minutes, it's easy to understand how those envelope-pushing artists would admire the Canadian hardcore trio. Self-releasing a pair of EPs in the early 1980s, NEOS became known as innovators in the worlds of thrash metal, grindcore, and powerviolence at the dawn of those genres. Naturally, Bailey's own inspirations at age 15 were a lot simpler: "When I got into punk, all I knew was that the faster the songs were, the more excited I got about them!"
Three Teens Hellbent On Speed was lovingly assembled by Supreme Echo Records, a reissue label proudly offering listeners "the anthropology of counter-culture." That's an accurate description for Bailey's 22,000-word liner notes, documenting the band's brief but eventful lifespan and his own mental health struggles with a refreshingly humble candor. Amazingly, the recollections he submitted for the release were originally twice as long. "I hadn't thought about this stuff or dealt with it in forever, so I just poured it all out," explains Bailey.
NEOS's lightning-paced songs live up to a description from Maximum Rocknroll co-founder Jeff Bale in the zine's very first issue from 1982: "Possibly the fastest thrash garage punk ever recorded." Bailey's vocals (credited to Steve Snotalot) are sneering and snarling, more barked than sung, while bassist Kev Smith (Jerkface Kev) and drummer Mario Kasapi (AB Normal) attack their instruments like they're being played on fast-forward. The trio only slows down for a damaged cover of the Simpletones's "TV Love" and their own 2:49 epic, "Kill The Burnouts," complete with a frenzied harmonica solo.
.
00:10 / 00:58
Merch for this release:
Vinyl LP
As the band's primary songwriter, Bailey's politics at 15 were perhaps surprisingly far more progressive than many of his older peers. Titling their debut EP End All Discrimination was a powerful enough statement, but he went a step further by writing a letter to Michigan band the Meatmen, holding them to task for their proto-edgelord lyrics. Bailey says he was never afraid to call out people in the punk scene, but this earned him as many enemies as allies. As he writes midway through his liner notes, "I've always believed that if you're not going to call out bullshit in your own community then you have no right to complain about the wrongs committed in other communities."
"Punk was cool because it let us talk about things our parents and teachers didn't want to, but it also attracted a lot of people who were so savage and selfish that they would destroy everyone around them for their pleasure," Bailey says. "In my lyrics, I was talking to the punk scene about how I wasn't on that side. What we needed to do was talk about building community and cooperation. That classic Sex Pistols idea of destroying everything only works when there's something else to replace it with."
.
00:10 / 00:58
Merch for this release:
Vinyl LP
By the time they released their second EP, the 14-song barrage of surrealist in-jokes, Hassibah Gets The Martian Brain Squeeze, NEOS were not long for this world. Bailey's liner notes include priceless stories about the band's sole U.S. tour (with both of his parents as drivers), and explain how he's most proud of introducing fellow Victoria punk outsiders NoMeansNo to listeners beyond the island. Sadly, none of this was enough to stop him from dissolving NEOS at age 19, as he and the other members began exploring different pursuits.
These days, tracking NEOS's influence is almost as fun as listening to their music. Earning the support of Jello Biafra and international distribution for their DIY 7-inches allowed them to reach far wider audiences than they ever anticipated, resulting in a series of covers from bands like Charles Bronson, Spazz, and even NOFX. Near the end of his liners, Bailey writes: "To our complete shock, we were noticed by a few influential people who were very kind to us and through them became known to a small family of freaks and fans around the world."
Bailey stepped away from the punk scene long ago, but there are still connections that mean a lot to him happening close to home. "I was at the grocery store when a kid working in the produce aisle stopped me and asked, 'Are you Steve from the NEOS?'" Bailey laughs. "My mouth was hanging open staring at him, and it blew me away to find out that 18-year-old kids in town were playing this kind of music. That was way cooler to hear about than some legendary band from the UK mentioning us, because it connected with them personally, just like it did for me when I was their age."