FEATURES
An All-Caps Chat With the Band Behind "White Nationalism Is for Basement Dwelling Losers"
By Joe Gross · August 13, 2018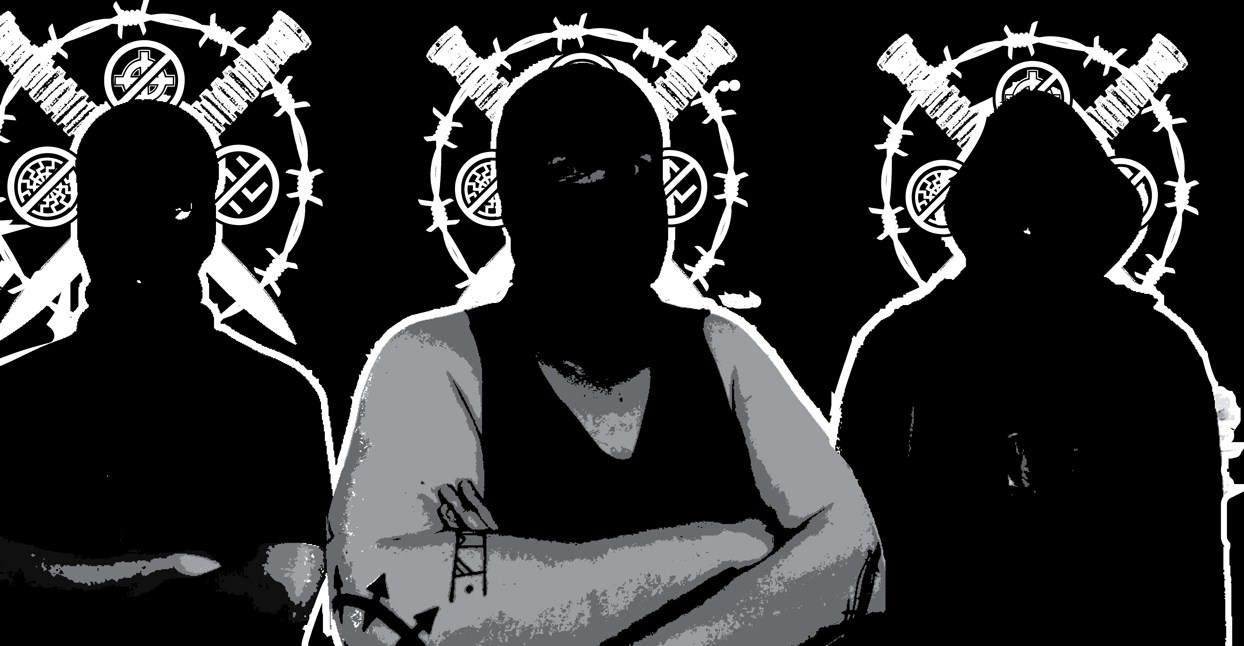 Let's be real: Most of the time, "funny" bands don't work quite as well as you want them to. Either the "funny" isn't funny, or if the funny is funny, the music doesn't hold up. This is not the case with staggeringly great anti-Nazi raw black metal band Neckbeard Deathcamp.
Credited to KRIEGMEISTER HATESTORM (vocals, piano, noise, production), SUPERKOMMANDO UBERWEINERSNITCHEL (guitar, bass), and HAILZ KOMRADEZ (drums), the trio's album White Nationalism Is for Basement Dwelling Losers appeared on Bandcamp on July 21, 2018. Effective equally as anti-fascist political commentary and anti-fi black metal, White Nationalism became, within a matter of days, a viral smash and, for a while there, the best selling album on the site.
Merch for this release:
T-Shirt/Apparel, Compact Disc (CD), , Cassette, Vinyl LP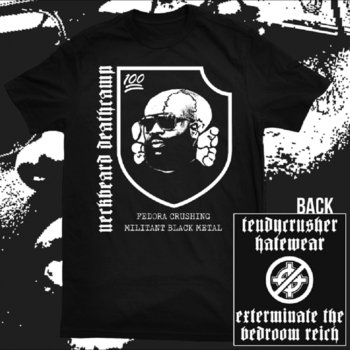 Sporting titles such "Incel Warfare," "Zyklon /b/" (/b/ is the notorious "random" board on 4chan), the dick pic anthem "Please Respond (I Showed You My Penis)," and "The Fetishization ov Asian Women Despite a Demand for a Pure White Race (Outro)," White Nationalism is a debut EP as brilliant of vision in its own way as Fugazi's self-titled or Mission of Burma's Signals, Calls and Marches. Which is to say that the music itself works brilliantly, buzzing like house flies over a bloated Nazi corpse while HATESTORM bellows "HI, FEW THINGS TO START OFF. YES, I ADDED YOU BECAUSE YOU'RE A FEMALE GAMER. 'TIS AN AWESOME THING TO SEE. I'M BRIAN. DON'T BE INTIMIDATED. I'M NOT A STEREOTYPICAL GUY. IF ANYTHING, I'LL BE THE ONE IN THE KITCHEN. PLEASE RESPOND. PLEASE RESPOND," or "HAIL KEK VAPE NATION GOD EMPEROR CARGO SHORTS, HAIL TRUMP, VALHALLA AWAITS US VETERANS OF THE MEME WAR."
The album also bills itself as "Fedora Crushing Militant Black Metal," which really needs to be on a T-shirt. Like most metal, the band's graphics tell a vital part of the story, whether it's the Nazi eagle flag with a penis where the bird head should be and Pepe the Frog where the swastika goes, or the SS Death's Head featuring Rick Ross in place of the skull.
Bandcamp spoke briefly with the increasingly busy trio via email. Yes, they answered in all-caps, screaming and in character.
Merch for this release:
T-Shirt/Apparel, Compact Disc (CD), , Cassette, Vinyl LP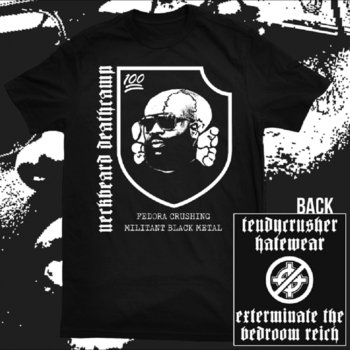 Talk to me about the band's origins and your relationship with black metal in general.
SUPERKOMMANDO UBERWEINERSNITCHEL: I MET KRIEGMEISTER THROUGH ART COMMISSIONS AND CHATTING ONLINE ABOUT POLITICS AND BESTIAL BLACK METAL. HE ASKED ME TO JOIN THE PROJECT ON GUITARS TO PERFORM SONIC ONSLAUGHT AND THE RITUALISTIC HATEFUL DESECRATION OF FASCISM. BLACK METAL RUNS THROUGH THE BLACK BLOOD IN OUR VEINS. WE TOOK OATHS TO RESPECT THOSE THAT ARE TRUE AND SEEK OUT THE DEMISE OF RACIST POSERS.
HAILZ KOMRADEZ: SUPERKOMMANDO AND KRIEGMEISTER WERE IN NEED OF REINFORCEMENT. I HAVE DEVOTED MY LIFE TO THE DEFENSE OF BLACK METAL.
Do you have particular favorite black metal albums or artists?
KOMRADEZ: SUPREME LEADERS INCLUDE WOE, YELLOW EYES, SPEKTRAL HATCHERY, ARCHGOAT, GHOST BATH, FALSE, AND ANYTHING LIEUTENANT LEV WEINSTEIN IS AFFILIATED WITH.
KRIEGMEISTER HATESTORM: I THINK KE$HA IS THE MOST POWERFVL EXAMPLE OV CONTEMPORARY MAINSTREAM BLVCK METAL. ADDITIONALLY, I LISTEN TO BOTH SADNESS AND DRAGGED INTO  SUNLIGHT.
UBERWEINERSNITCHEL: BLASPHEMY.
I can't imagine you thought this record was going to catch on the way it has. Why do you think it has resonated so much?
KOMRADEZ: THE MASSIVE SUCCESS OF OUR DESECRATION OF NECKBEARDED NAZIS CAN BE ATTRIBUTED TO THE OVERWHELMING NEED FOR AN ALBUM PROPERLY SATIRIZING THE FAULTS OF THE ALT RIGHT AND NATIONAL SOCIALISM.
Merch for this release:
T-Shirt/Apparel, Compact Disc (CD), , Cassette, Vinyl LP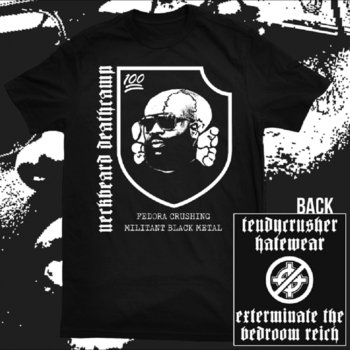 Have you heard from NSBM folks about this, or looked for reactions on Reddit?
UBERWEINERSNITCHEL: THEY ARE TOO DUMB TO REALIZE THEY ARE JUST PROVIDING US WITH REALLY GOOD PR AND PERPETUALLY PROVIDING MORE MATERIAL TO EXPLOIT THROUGH THEIR MERE EXISTENCE ALONE.
What do you think is it about black metal that it developed this particular white nationalism streak? One doesn't automatically leap to racism when one thinks about death metal or metalcore or, say, EBM.
KOMRADEZ: BLACK METAL IS AN OUTSIDER ART FORM. NAZIS WILL NOT BE ACCEPTED IN ANY OTHER COMMUNITY, SO THEY STARTED CIRCLE JERKING IN BLACK METAL, WHERE THEY THOUGHT THEY COULD STROKE THEIR EGOS AND MASK THEIR INSECURITIES IN PEACE. BLACK METAL WILL NO LONGER STAND FOR RACISTS. HAIL BLACK METAL, HAIL VICTORY.