FEATURES
Rapper Nappy Nina Defies Uncertainty on "Dumb Doubt"
By Taylor Crumpton · February 13, 2020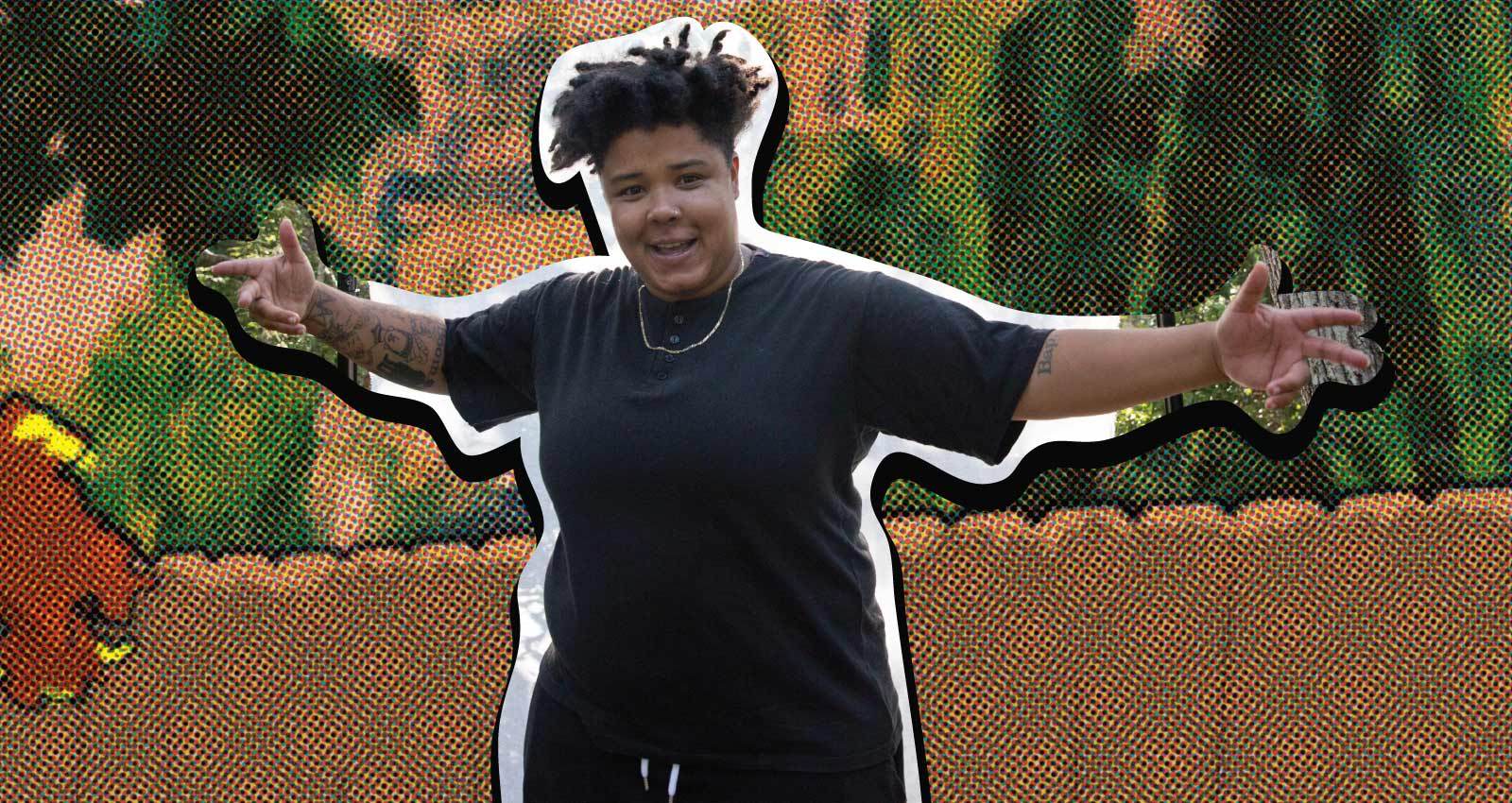 "I'm not in a place right now where I'm eating off my music. I would like for that to happen this year," says Brooklyn-based rapper Nappy Nina over the phone. An Oakland native, Nina comes lineage of musicians including jazz drummers and DJs who contributed to Oakland's sound. For now, her goals are practical. "Try to get some property and try to just help my family out. It's expensive as fuck out there. I'm surprised my family is still holding on," she says of the rapid gentrification in Oakland. Her latest album, Dumb Doubt, merges stream-of-consciousness raps about her doubts of being a successful independent artist with airy beats.
Seven years ago, Nina migrated out of Oakland, or "The Town," as locals call it, with $500 in her pocket. Her goal was to break the "Oakland Curse." "We don't have a Nas, Jay-Z or L.A. equivalent. We have people who have blown, but it's taken them a very long time like—Too Short and E40." The Oakland Curse is one part urban legend, and one part stark reality—regarding the city's lack of infrastructure to develop talents into nationally recognized artists.
.
00:10 / 00:58
A student of the Bay Area's poetry scene, Nina's love of writing developed under the mentorship of José Vadi and Lauren Whitehead at the Youth Speaks workshops. At Youth Speaks, Nina wrote poetry, prose, and nonfiction essays. After high school, Nina enrolled in The New School's writing program and was introduced to the concept of writing as a professional career—a change of pace for the poet. "I wrote a lot of stuff for the screen, and I thought that that's what I was going to do," says Nina. "I still think that, actually. I think that's my love. I think I'm going to be making stuff; films, TV, or some shit when the rap shit is over."
Nina's four projects, Naptime, Extra Ordinary, The Tree Act, and Dumb Doubt act like auditory films—every project is an encapsulation of the social, cultural, and political issues experienced by Nina because of her identity as a queer, Black woman rapper. Nina's intersecting identities has resulted in tokenization of her rapping abilities in media coverage, she says. "People want to be like, 'Oh, as a queer rapper, how do you feel about this? Oh, as a female rapper, how do you feel about this? As a black female rapper, how do you feel about this?' I think the reason why that question gets to me sometimes is because people want to put you in a box so bad."
.
00:10 / 00:58
Dumb Doubt produced by Nina and her collaborator, Dane, marries airy, breathable beats with soulful jazz and Black radical tradition themes. On the hazy opener, "Elevator," a Nina says, "My spirit takes lighting strikes, miss me some Oakland nights/ Where I kissed me some poltergeist." The soulful, piano-backed, "Those Things," features Nina's longtime friend, Grammy-Award winner Anna Wise, while jazz artist Ambrose Akinmusire backs Nina's delivery alongside Quelle Chris and Nick Hakim on their collaborative track, "What You Want." The experimental "Worth Watching," produced by NelsonBandela, inspired the album's title and starts with Nina saying, "Dumbing out on no job shit/ My momma think I still clock in/ Stay home so the cops clockin/ I ain't even really worth watching." Her fellow LucidHouse collaborator, Théo Mode, graces the upbeat and catchy "Stay On My BS." Self described as a "really personal" album, Dumb Doubt is about confronting feelings of fear and uncertainty head-on.
Despite the success of her latest projects, an ever-present concern for Nina is financial insecurity: "If I'm getting all this coverage, how am I not able to pay my bills?" she asks. Plus, there's the weight of expectations: "All these people are paying attention. What am I going to do now that their attention is on me?" Despite her fears, Nina is well on her way to breaking the Oakland Curse. "I want to remember this moment, because I know that this is the easiest time to forget," she says. "I really feel blessed to be in this position. I'm the underground rapper that 14-year-old me would have found, right now."