FEATURES
Dreamsludge Duo Nadja Encourage Introspection Over Spirituality
By JR Moores · November 15, 2016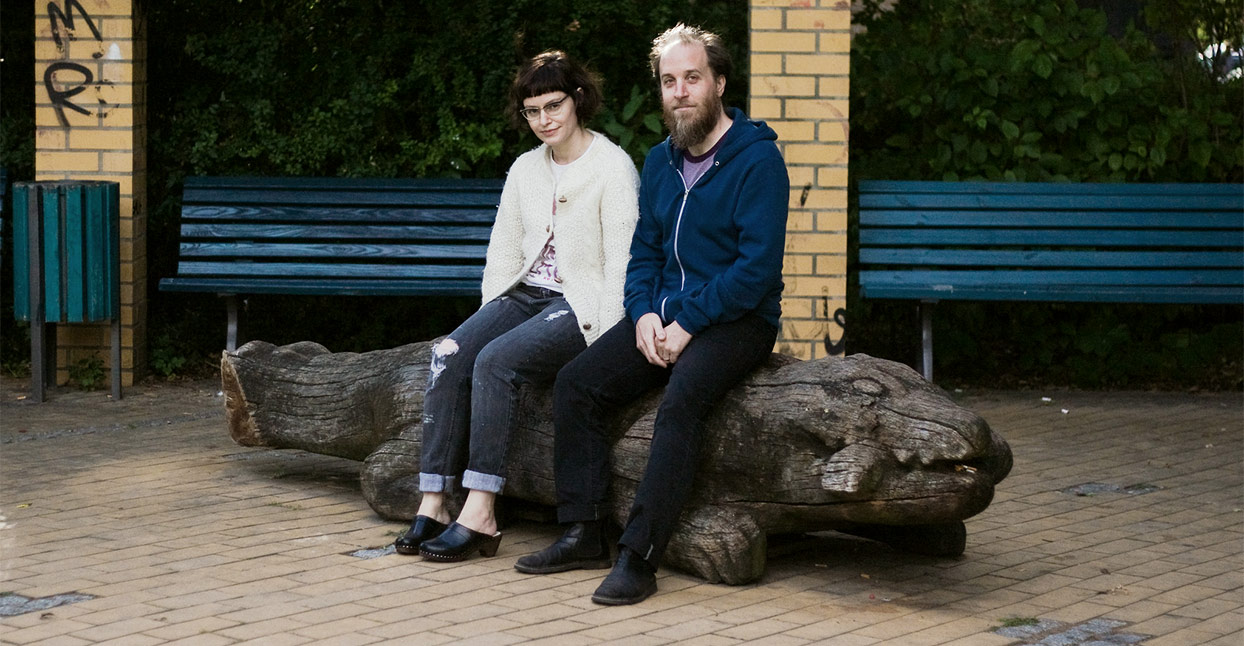 Formed in 2003, Nadja was originally intended as a solo project through which experimental musician Aidan Baker could display his heavier tendencies. Two years later, he was joined by Leah Buckareff as a way to help bring the project to the stage; today, Buckareff remains a constant member of Nadja's live and studio set-up.
While the duo's distinctive sound is anchored in breathtakingly heavy, super slow guitar riffs, the "drone" label doesn't do justice to the underlying intricacies of Nadja's music or the variety of their oeuvre. For the uninitiated, a good proportion of Nadja's mammoth discography can be explored (if you happen to have a spare month or three) through their Bandcamp page, which also offers guiding genre tags such as "dreamsludge" and "grindgaze." Their collaborators have ranged from Jesus Lizard drummer Mac McNeilly to Italian hip-hop outfit Uochi Toki, and their heaviness is underpinned by Baker's preference for a variant on drone music that has "some form of melodic development, whether subtle or overt."
Alongside Nadja's output, Baker has continued to churn out so much solo material that it seems nearly impossible to keep up with; his prolificacy may come fairly naturally to a man whose parents were both musicians, even if their areas of expertise are somewhat different from his own. "They are primarily classical musicians," Baker explains, "but my father also plays jazz and avant-garde music. We have recorded and performed together. I don't know how into drone my parents are, but they have seen Nadja play many times. And certainly music from my parents' record collection that I listened to as a child—such as Isao Tomita, Jean-Michel Jarre and Walter [Wendy] Carlos—was influential to my musical development."
Originally from Toronto, Baker and Buckareff have long since relocated to Berlin in order to give their incessant creativity a place to thrive. "In Berlin, we can subsist as artists, which isn't really possible in most other major cities," Baker says. "But we enjoy the city, the atmosphere, the culture, and the people for lots of different reasons."
Recorded at their Broken Spine Studios homebase, Nadja's latest album The Stone Is Not Hit By The Sun, Nor Carved With A Knife, is a superb introduction to the band's sound. Beneath its dense clouds of distortion and mesmerizing rhythms lie more delicate gothic and shoegaze textures, along with Baker's hermit-like vocals which are muffled low in the mix. It has quieter moments too, including a peacefully ambient ending which could feasibly be described as an "outro"—even if it is a whopping 22 minutes long.
According to Baker, Nadja found themselves developing a "tendency to look back as we move forward." "While The Stone might have something new in terms of rhythm and a certain angularity to the riffs, we're also looking back to some of our earlier albums which contained more extended, monolithic pieces. In particular, I would compare "A Knife" to tracks from our album Skin Turns To Glass [originally released in 2003, then re-recorded with Buckareff in 2008], which have a certain structural similarity by exploring the slow evolution of sound through repetition."
The rhythmic experiments Baker describes were praised by Joseph Stannard of The Wire as introducing a fresh, "almost funky" aspect to the incremental evolution of Nadja's sound. While Baker is unsure he would use the word "funky" to describe this himself, he says they were searching for "a rolling, almost-groovy" cadence in places. "We are influenced by all sorts of music," he says, "and funk is part of that."
The album's title is derived from a much earlier era than the funk heyday of the '70s: "We first came across those words carved on a gravestone while on tour in Iceland. Looking it up, we discovered it was a common Norse runic inscription. It's a burial charm, best known from the Eggja Stone, a fifth-century burial stone unearthed in a farmer's field in Norway in 1917. I don't normally find paganism especially inspiring, but something in the wording of the phrase appealed to me, particularly a certain literalism of the words as a protective charm for a burial plot."
Drone metal has some natural pagan affinities—it's often written about in quasi-religious language, and its followers have been known to speak of the genre's loud, monotonous concerts and slowly unfurling hour-long songs in terms of transcendence. "I suppose drone music usually encourages a certain inward reflection, which some might label as spiritual," ponders Baker. "The word 'spiritual' is a bit loaded in my mind, so I would rather say that drone music encourages introspection than spirituality. Or could encourage this. The appreciation of drone is so subjective—which is part of its appeal for me—that I don't necessarily want to lead anyone's listening in any specific direction. But something I really appreciate about concerts of ambient or drone-based music is the idea of a collective, shared, atemporal experience, which is simultaneously experienced as a group and as an individual."
One can't help but wonder whether the music made by this brooding drone duo would reach broader audiences if they'd concocted an appealing image-related gimmick. But draping themselves in monastic robes à la Sunn O))) wouldn't jive with Nadja's suspicion of quasi-spirituality. "Maybe a gimmick offers something more readily relatable to a wider range of people but, aesthetically speaking, we are more interested in effacing ourselves as personalities or performers and, through a more anonymous presentation, creating an inclusive and enveloping sonic environment."
Baker does have some general advice for young avant-garde metalgaze aspirants. "Find your own sound," he insists. "I often get questions from people asking, 'What equipment do I need to create ambient/experimental music?' But that is not something someone else should tell you. You should experiment and find something yourself. Create your own sound and style."
—JR Moores