FEATURES
Mutoid Man on Their "Most Perverted" Record to Date
By Zachary Goldsmith · June 01, 2017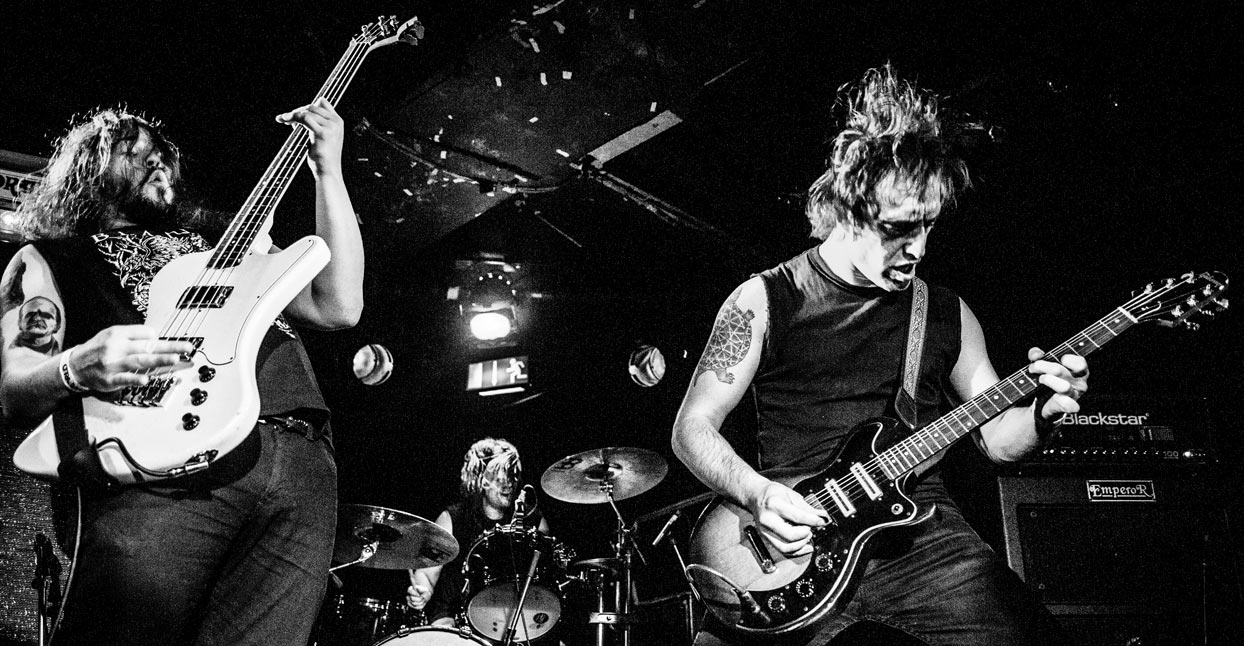 Since their somewhat casual inception in 2012, Mutoid Man has transformed from an outlet for Stephen Brodsky (Cave In) and Ben Koller (Converge, All Pigs Must Die) to explore the lighter side of metal to a deadly serious supergroup. Their 2015 release, Bleeder, netted endless praise, inspiring the band to push themselves even further on their next release. Accordingly, War Moans, leaps forward musically and lyrically, challenging the conventions of metal, culture, sexuality, and politics. We spoke with Brodsky and bassist Nicholas Cageao about perversion, relationships, and war.
.
00:10 / 00:58
You said this was your most 'perverted record.' Can you expound on that? What makes it perverted?
Stephen Brodsky: Well, I think there's sort of the personal side and the political side. It's sexually perverted, probably more so than anything we have done so far. We had the title War Moans kicking around for a while, and with the way things are heading politically, everyone just seems hot for war. There's this unsettling idea of things just being too peaceful. Thrash bands were singing about warheads in the '80s, and things just haven't changed. There's this element of, 'Well, we have to accept that there's this faction of humanity that is obsessed with the game Risk, but in real life.'
Nicholas Cageao: The thing that I think is super relevant about the title: hormones are something that happen to your body, you know? Testosterone and estrogen—your body reacts to these things. Currently, the world is kind of a piece of shit full of reactions. You've got politicians saying, 'Let's bomb this place' and 'Let's send a warship here.'
Brodsky: Yeah, I think there's the two sides of it. There's a lyric in the song 'Bone Chain' that goes, 'Like lovers in chains / bored with our lives today / we're getting restless / oh what a goddamned shame / but what can you say.' I think the idea of sexuality is heightened by the fact that you can watch porn anywhere, anytime you want now. And, there is this 'war on your body,' that too much heightened sexuality can bring upon a person and their various relationships, and how they function in society.
How does that affect your personal relationships? Is it that you no longer need another person, and a whole emotional connection?
Cageao: Yeah, it's like, people just don't have time for that stuff anymore.
You guys were writing this album before the whole 'alternative facts' arguments started to take shape. That's kind of another way to look at perversion.
Brodsky: That really started when the artwork for the album was coming together. Ben [Koller] thought it would be really cool to follow the idea and flesh it out to where it's this soldiers kissing on the frontlines.
Cageao: I think Santos Illustration did a really good job making the characters really androgynous. People are conditioned to think that only men fight the wars, and we have these androgynous characters. That makes people think just a bit.
Brodsky: Yeah. It could easily just be Trump and Putin, making out on the battlefield.
.
00:10 / 00:58
I wanted to ask you about the 'Kiss of Death' and whether the ultimate love really is dying for someone. 
Brodsky: Well, I'd say that the character in that song is definitely coming onto this other person with the degree of intensity that would probably necessitate, in their mind, death of some kind. That's the level of intensity, confidence, and cockiness—their swagger, really. It's cavalier like, 'I'd fucking die for you. I don't care. I'll just jump off that cliff naked and that would be the last thing you see of me.' Someone who writes really great, dark lyrics that go to those extremes would be someone like Peter Steele, and I was trying to channel some of that darker personality and vibe on that song.
There is definitely a goth vibe that appears on the album at times.
Brodsky: I think a lot of bands in our world are either afraid to, or don't know how to, express some level of sexuality in their lyrics or their attitude, vocally. It's just something you don't see a lot of—at least in our world.
You guys are a decidedly 'fun' band in a scene that often intentionally rejects fun. Is that conscious, or is that just expressions of your personalities? 
Cageao: Playing music is super fun, and making it anything other than that is wrong. I never started playing music as a kid thinking I was going to be a rich rock star. I picked up the bass because it was fun, and I just loved guys like Les Claypool and other people who could play stupidly good riffs. Working a job where I see four bands a night, seven days a week, you definitely see people go up there and just go through the motions. I question why they're doing it. If that isn't the best night of your life, at that given moment, then why are you doing this?
Brodsky: Mutoid Man is still a relatively new band, so we're still in our honeymoon phase. But with me coming from Cave In and Ben coming from Converge—those are two bands that have a much more overall serious tone and vibe. I think, for us, Mutoid Man is kind of a break from that, something that is a little more light-hearted. Also, it's not really our 'career.' We all do other stuff besides this band, and that has an effect on how much fun you can have. It takes the pressure off. We're very serious about playing as best as we can. We really demo'd these songs and tore them apart. We worked hard at making them the best they can be, lyrically and musically. We don't shortchange people who come to shows or buy our records. But we have found a nice balance about our overall attitude between doing it and having some fun.
—Zachary Goldsmith