FEATURES
How MSTRKRFT Turned "Hundreds of Hours of Material" Into Their New Record
By Michaelangelo Matos · August 15, 2016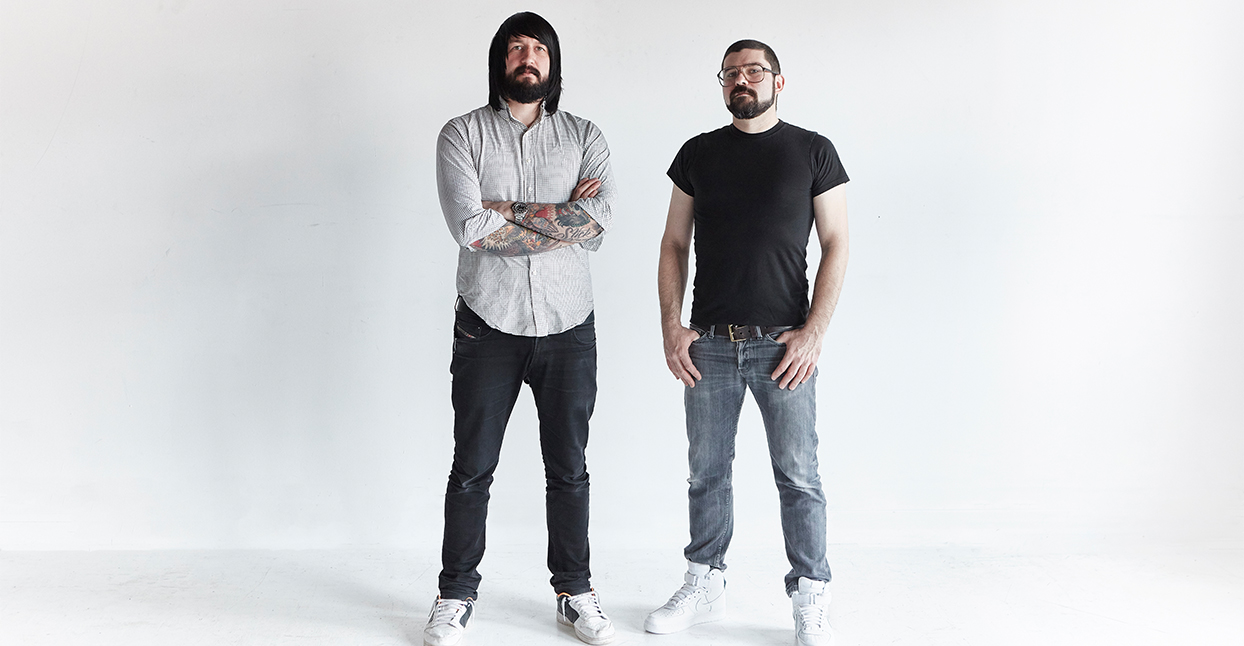 When Jesse F. Keeler (JFK) and Alex Puodziukas (Al-P) formed MSTRKRFT ("master-craft") in 2005, their filthy-toned electro-rock couldn't have found a more welcome setting. Keeler had been in the dance-punk duo Death from Above 1979 with Sebastien Grainger; Puodziukas was in electro-poppers Girlsareshort. Together, they made DJ-ready tracks with scuzzy, leather-jacket appeal, slotting right alongside work by Justice, Daft Punk, and LCD Soundsystem. Making their super-concatenated name with a host of remixes (many of them for Vice Records: Bloc Party, Chromeo, Annie) and then a pair of albums, 2006's The Looks and 2009's Fist of God, the duo bent and shaped distortion like kids with Play-Doh.
That's even truer of Keeler and Puodziukas' new Operator, titled after the "operator culture" of the military, a fascination of Keeler's. The stark, grainy, shock-treatment black-and-white cover art is a perfect complement for the songs. The trippy, oscillating, heavily filtered central synth riff of "Playing with Itself" is one layer covered in fuzz; it plays hide-and-seek with distended hi-hats and what sounds like a wobbling sample of a ghostly choir. A quartet of guest vocalists thickens Operator's stew: Sonny Kay of the VSS screaming "Priceless," D.C. punk legend Ian Svenonius dryly intoning "Party Line" over squalling synth peals, Jonathan Bates of Big Black Delta on the rubber-bandy "Runaway," and on the hurtling climax, "Go on Without Me," the hellbound roar of Converge's Jacob Bannon. The result is both MSTRKRFT's most extreme and most accessible music so far. Bandcamp's Michaelangelo Matos spoke with JFK and Al-P over the phone as they prepared for an end-of-summer tour.
How was South by Southwest this year?
JFK: It was pretty enjoyable—nerve-wracking in the sense that we were doing a live show in front of people for the first time. But also, the nature of South by Southwest is that the set times are really short. We were so accustomed to thinking of performances as being an hour or more. When you have to truncate that amount of ideas down to 25 minutes, it becomes a test in itself. It was still fun. We played five times — I DJ'ed twice because our gear hadn't showed up yet. We don't use that shipping company anymore [laughs]. In one case, we played twice in a day. It was our first-ever live show — we don't think of our thousand or so DJ gigs of the last ten years as live shows. There's a performance element of it, room for technical errors and whatnot, with our gear.
Your bio mentions that you "left the computer set to 'record' and banged out hundreds of hours of music to draw from."
JFK: Literally if you add it up, it goes into hundreds of hours. But we're not talking about pop songs—we're talking about long, exploratory recordings. I definitely start with taking away what's static or not working, and focus on the best moments and start editing from there. Most of the songs started off being 20 minutes or more long, so it adds up in terms of time. We didn't even discuss it in terms of hours, but in terms of days: "Day 25," or "Day 51." The time and hard drive added up quickly.
I have another band [Death From Above 1979], and over the course of our making this record, [DFA 1979] made an album and toured all over the world. [Alex and I] were working in all the off times. I'd be away, come back, work on MSTRKRFT — we didn't really start with strict production schedule. We worked in batches. I think we ended up working in five locations.
Al-P: We'd set up for maybe a month or six weeks, record a bunch of material, he had his other band he'd be touring with, and between the sessions we'd zero in and review what we had done and start marking things—making a shortlist of pieces we wanted to pursue and distill to the final versions. Two or three things on the album came together to fill out the spectrum of what we were doing on the album. We booked studio time to go in and mix it—which is probably the most painless album mix I've been involved with.
JFK: We beat our deadline by three days.
Al-P: It's not hard to work when what you're doing is very enjoyable. It's not hard to mix when you pre-plan how to deal with everything before you get there.
When you were recording, did you know it was an album? Or were you making tracks without a framework?
Al-P: All we were thinking of was performing live. Once we had our gear chosen and had everything synced up together, we more or less had a ProTools rig running, receiving the output from every channel of our mixer. We'd be in the space, hit record, and get to work and make music, and at some point hit save, and do the same thing the next day. We'd already recorded a fair bit when someone said, "You should make a record with this stuff." Records are easier for some people to understand than just sold through your performance. Once we accepted that idea, it focused some things, but it didn't really change the way we were working.
A lot of culture seems to be emanating from Toronto right now. Has it always felt that way to you?
Al-P: For us, we've always been involved in communities of creative producers. It wasn't always in the framework of electronic or dance music. Either Jesse or I've always had a project going since we met in the mid-'90s. I think people are exploding into a more international level, more so now than in the past. But Toronto has always been a creative place.
JFK: Every individual has their own version of the city they live in. In L.A. you're not going to run into anybody — it's a driving city. But [living in Toronto] wouldn't have altered [the music] in any way. When we started there was nothing here for us to access anyway. Now, I suppose there's more. But I don't see how it's changed how we work at all.
How did hearing an unaccompanied Ian Svenonius vocal differ from your expectations?
Al-P: A few years ago, there were [stems] floating around. It's fascinating to hear things and realize, "They're just guys laying down tracks. The strength is in the music." It was a bit of a novelty to solo a vocal from someone we'd heard for years, to hear the performance on its own.
JFK: The surreal thing, if you're looking for one, is to now be linked to some of these artists who meant so much to us. To see the names that pop up in association with us when looking at reviews blows our mind.
How long had you known Jacob Bannon before working with him on the album?
JFK: We didn't. He's the only person on the record we didn't have any prior relationship beforehand, but it didn't feel like it. He was prob. most enthusiastic about the whole thing. We didn't know what anyone's reaction would be, but everyone jumped at it.
Al-P: Based on the track we produced, I was like, "of course he's going to be into this—it's super-heavy." The surprise was that it went to plan so smoothly. I always thought he'd be into it, and he was. That track needed someone equally heavy with the vocal.
JFK: We had an instrumental that was, on its own, so intense that the people that we could potentially work with on that was very small. I think we got the absolute best [person]. I've seen people discuss how heavy that song is, how crazy the vocal is — we should probably put the lyrics on the website. The lyrics are fucking heavy. The intensity is beyond how it sounds. It ended up being very personal for us. Our assumption is that they're all vibing off the tone of what we gave them.
You've remixed a lot of people. Who was most taken by what you'd done to their tracks?
JFK: We did a remix for Bloc Party and we created a synth part. The guitarist told me he loved that part so much, he learned to play it on guitar, and live, when they played that song from that point on, he played that line instead of his guitar part. I don't think we could have gotten better feedback.
Al-P: A similar thing happened with Justice. We sent them the remix; they loved it and asked for the multitrack parts. Next time we saw them play, they were playing a hybrid version of their track and our remix. That's always a great compliment—to redefine somebody else's song. One of the first things we did was more a re-recording for Panthers than a remix—nobody really knew the purpose of having a remix for that band. At South by Southwest [that year], that song was all over the place.
You had a listening party last week with free sandwiches from Frankel's Delicatessen. What was your sandwich of choice?
Al-P: My wife and kid had salami sandwiches.
JFK: Is that what that was? I didn't even look at the food. I didn't get past the free bucket of beer. [laughs]
—Michaelangelo Matos