FEATURES
Ms. Mohammed's Island Punk Celebrates Otherness
By Charlotte Richardson-Andrews · October 17, 2017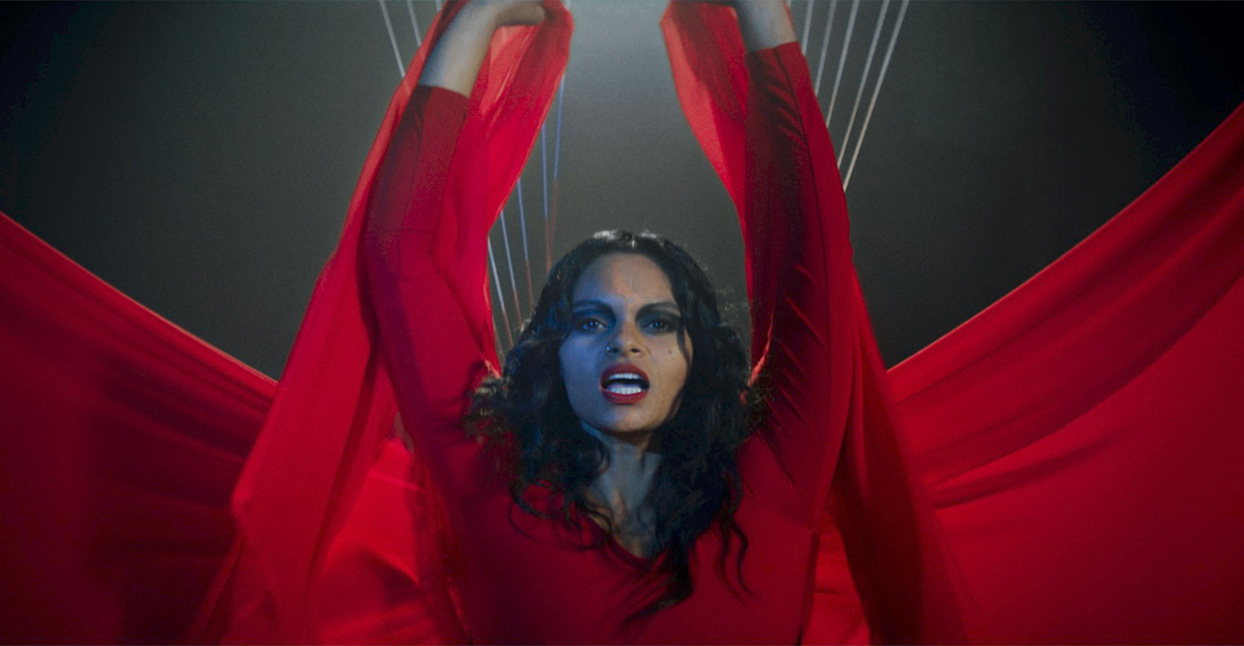 In an increasingly hazardous age of travel bans and mass deportations, it feels more vital than ever to see and hear from musicians who are invested in celebrating otherness—artists who can meet toxic white supremacy head-on, with a volley of colorful, border-traversing sounds. Enter Ms. Mohammed—a queer U.K.-based immigrant artist, born and raised in Trinidad—and her "island punk" vision: rock guitar chords, dhol percussion, riddims, and lyrics that blend protest and pleasure.
.
00:10 / 00:58
You may have encountered Ms. Mo's earlier music before under her former moniker Dana Jade, or her participation in the all-female alt choir Gaggle, or as a supporting act for the likes of John Parish in 2012. But four years later, post-Brexit and Trump, she's re-establishing herself—embracing both her stigmatized government surname and that original, aforementioned sound.
We caught up with this femme firebrand to get the lowdown on her self-produced debut EP Alibi, her anti-FGM activism work, and her unvarnished thoughts on the DIY music movement.
Who is Ms. Mohammed?
I'm a gay woman of color with a Muslim surname, living in post-Brexit England in the era of Trump. Fun times!
You grew up in Trinidad though, right?
Yes. I've always felt like an outsider, and home was no different. I couldn't wait to leave. I moved to New York with my Dad when I was 16 years old and suddenly I was exposed to things that resonated with me, things like queer media and guitar music, like Sonic Youth and riot grrrl. Until that point, I'd only heard reggae and soca and chart pop. Other options for life suddenly became possible in New York; I really came of age there.
How did you end up in London? 
The music brought me here. Also, my brother migrated here, so that made it easy. I'd gone back to Trini after New York, and my depression was at its worst, so that helped to propel me away.
Congratulations on the EP, it's a really powerful debut. As statements of intent go, what do you think it says about you as an artist?
I think it unapologetically celebrates my otherness. I am everything the industry would rather ignore, you know? There is no well-beaten path before me, just a steep climb up my own personal Everest. It's a statement of defiance, not just to the status quo, but to all my detractors—from childhood to present day. It says, 'I'm here and I will not be erased and I will love myself whether or not you acknowledge my existence.' Self-love is everything.
You've been toying with a handful of names for Ms. Mo's genre-mashing style, right? Desi punk, island punk, rock 'n' dhol…  
Right. Previously I was using the term alt-fusion, but people were really freaking out about it because of the 'alt' in alt-right, so I scrapped it.
Tell me about your process. You tend to write using drums rather than the guitar as guide, right?   
I brought back a dhol from India, so I was messing around with that and trying to recreate bhangra rhythms, but I ended up somewhere in rapso—I guess because I grew up with those sounds, so that music is in my subconscious. I found a groove I liked, and then found a guitar riff to go on top. That's usually how it goes.
Are you self-taught?
I had a lesson with Zel [of Vodun fame] about a year ago, but I'm really not a drummer. For me, it's purely a songwriting tool, a way to kickstart a song.
.
00:10 / 00:58
And the lyrics? Is there a central theme on the EP?
The title track, 'Alibi,' is my uppity POC song. It's about imperialism, systems of oppressions, white supremacy, patriarchy. That's kind of [the theme on] three out of the four [EP songs], really.
All very heavy topics, of course, and yet the music feels uplifting and full of life, like someone rising out from under that weight…
That's good news [laughs]. Obviously, I'm here and I'm defiantly resisting these things, and want that to shine through my work.
Why was finding a way to synthesize those themes and sounds important to you?
It's been a bit of a journey. When I first started out [as Dana Jade], I was trying to be palatable, I guess. There was some fusion going on in my music, but not too much. And I was younger, so my lyrics weren't that political at that point; I was all about lust and teenage angst back then. At some point, I gave myself permission to get political.
As you've mentioned, this isn't your first release, but it is your first release as Ms. Mohammed. Why the name change, and why now?
I think when I first started out I was a bit apologetic about my otherness. And now I'm not [laughs]. I think it comes down to having confidence and wanting to take up more space in the world.
Where has that confidence come from? Is confidence even the right term, or is it something born of necessity? 
I think it's both. I couldn't imagine going on and not being my full authentic self anymore. Also, I've had a lot of therapy [laughs]. All these things have shaped where I'm at now, and given me clarity.
Let's talk about Clit Rock, the anti-FGM dance party you founded in 2011. How did you get into FGM activism, and why is this particular cause important to you?
I saw a documentary about an FGM case, and was naturally pissed off about it. When I went online to engage with my friends about it, I realized a lot of people had never even heard of it.
I'm not a survivor, and I didn't grow up in a practicing community, but for me, it's about FGM as the culmination of all the misogyny in the world in one single act. All of us have experience with [misogynist] oppression, especially when it comes to female sexuality. Like Audre Lorde said, we don't live single-issue lives. So at Clit Rock, we're also addressing the fact that music festivals seem to have a dearth of female musicians on their bills, because #festivalssomale. Every year, there's at least ten thinkpieces on it, but nothing really changes. So Clit Rock is also about making sure those heavy, female-orientated lineups happen.
You're an unsigned artist who's been pretty active on the independent scene over the last few years. Are DIYers your people?

It's been hard for me to find my tribe; Clit Rock really is the place that comes closest to it. Community is very hard to find in music because we have a scarcity mentality. There's no solidarity; it feels like we're in competition with each other a lot of the time.
When you say 'we,' are you referring to any particular subset of DIY music community? Queer DIY, POC DIY, London DIY? 
All musicians. It's also about the term itself; I used to use DIY, because I do literally everything myself. But I came up with a lot of resistance. People said, 'This isn't DIY; it's too glamorous, too polished.' My aesthetic, my image—all of those things mean that, apparently, I don't fit nicely into their idea of what DIY is code for. So I dropped it, like 'Fuck it.' People are very protective and superior about labels. And it's weird, because you really can't get more punk rock than me. I'm mean, I'm sorry, but couldn't I be less anti-establishment?
Who would your people be, if you could pick your dream squad of tour mates and collaborators?
PJ [Harvey], M.I.A., The Kills.
What's your game plan, long-term? What are your goals?
Well, if World World III doesn't break out [laughs], I'd love to turn the EP into an album. I have a lot more to say.
—Charlotte Richardson-Andrews