FEATURES
Mr. Lif and Akrobatik on Near-Death Experiences and Boston's Music Scene
By Layne Weiss · Photos by Mel Taing · July 12, 2017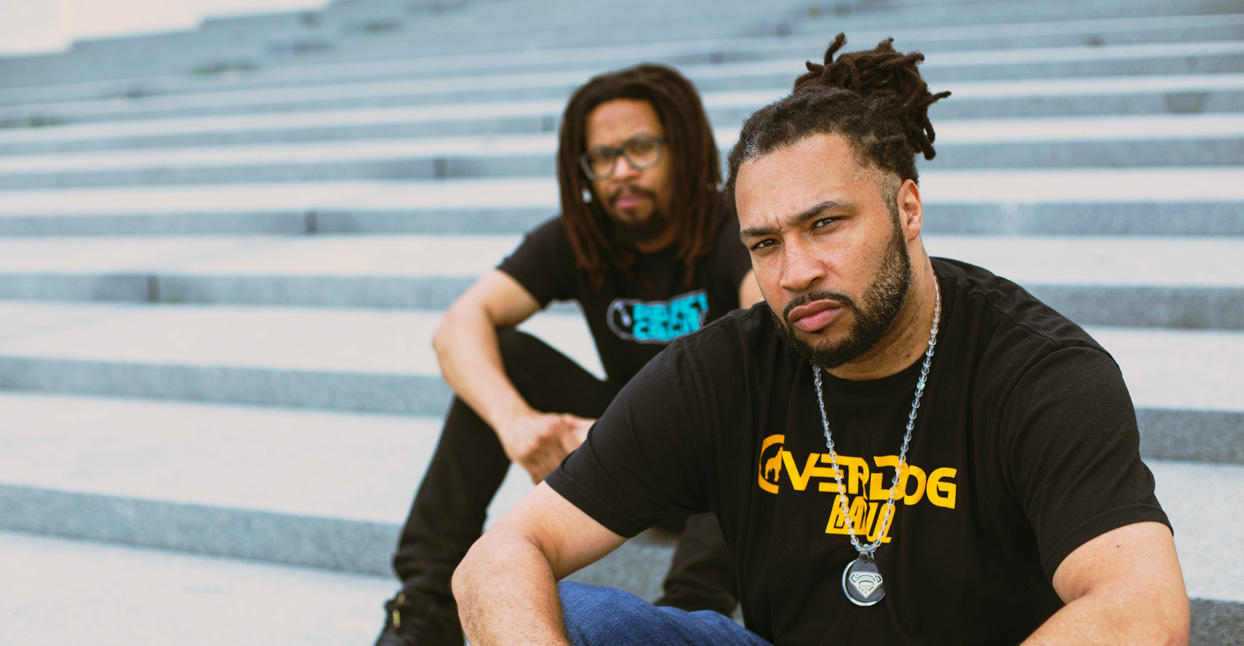 "I was an only child when I met Ak," rapper Mr. Lif says of fellow Boston emcee and Perceptionists collaborator Akrobatik. "He's my brother." Lif and Ak's 20-year friendship is based on mutual admiration, creativity, and a shared love of the NFL's New England Patriots. "We link on sports and video games and hip-hop shit," Ak says. "It's just guys being guys, really. But the music, there was something special there."
On Resolution, their first album together in 12 years, the rappers discuss police brutality, racism, and political corruption, along with their respective near-death experiences: Mr. Lif survived his tour bus plummeting over a cliff, and Akrobatik overcame an aortic dissection and emergency open-heart surgery. Surprisingly, those brushes with mortality didn't harden them or fill them with fear—instead, they provided a new outlook on life, where making music, following their passions, and nurturing close relationships are the top priorities.
Writing and recording this album was cathartic for both Lif and Ak in different ways. Not only did they have a canvas to share the most traumatic experiences of their lives, but they were able to rediscover the joy of making music together again. "The whole 'Resolution' concept just made sense on so many levels, because we hadn't done a record together [in so long], and because we had both been through so much, and never really finished what we started," Ak says. "It's like, what else could it be?"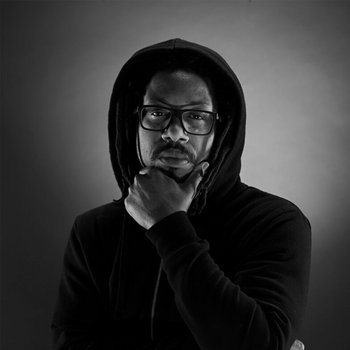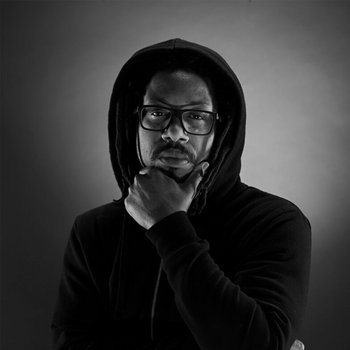 Why do you think you guys have such great chemistry, and make music so well together?
Lif: That answer lies somewhere in the cosmos. Just to have a good friend is a really cool thing. And if you've had a friend, and you've known each other more than 20 years, it's like, 'Wow, this is great. We've been through so much together and we've found a way to come out on the other side, and still be in each other's lives.' I have met a friend who I have so many things in common with. And then, on top of that, we can sit in the studio and write songs and make beats together, and effortlessly pass the mic back and forth. On stage, there's a chemistry that seems so much larger than what either of us can do as soloists. As a soloist, you're writing the songs. You're following your vision. As a part of this gargantuan band [Thievery Corporation, with whom Lif collaborated earlier this year —ed.], I basically get to fulfill all my musical visions. If I want to write a record all by myself, I can do that. If I want to write a duo album with Ak, where we're carrying out our Outkast and EPMD influences, we can do that.
Ak: When I first heard Lif rhyme, I was a fan. And it just so happened that we were both recording demos at the same studio, so we got to spend some time around each other and share some laughs. Then, we decided to do a song. I remember recording that song and sitting in his car with him, listening to the tape over and over again. Like, 'Yeah, we got something here.' From there, we always did records and started hanging out all the time. Then we found out we were both raving, crazy Patriots fans. We watched Super Bowl [XXXI] in 1997 against the Packers, and from that moment on, we've been so tight.
Lif, I know you've been asked this hundreds of times, but what happened the day of the car crash?
Lif: It's weird. I think in life sometimes some things hit you out of the blue. When I look closely at how the energy of the day was going, I can see disaster was kind of lurking there, waiting.
That night we played the House of Blues San Diego. It was myself and The Coup. I had a rookie tour manager who let the bus driver muscle him into leaving on this ill-advised trip from San Diego to, I think it was Scottsdale, Arizona. I knew for a fact that the tour bus driver did not rest. I'm telling my tour manager, 'The guy did not sleep.' Then unfortunately, my DJ stood next to the tour manager. I got outvoted as to whether or not we should leave. I think two hours later or less, we're 38 feet into this boulder-laden embankment. Luckily, when the bus stopped tumbling down the hill, the doors were facing the sky. That's how a lot of us were able to get out.
What was going through your head?
Lif: I was pissed. The bus is tumbling. Shit is bouncing off me left and right. Everyone's screaming. And I was just pissed. Like, 'See, motherfuckers. I told you.'
And Ak, what happened the day of your aortic dissection?
Ak: I was home hanging out in my lab smoking blunts with a couple of my boys. After they left, I was feeling like I got hit pretty hard by the session. But I also knew that for years, I had had an issue with high blood pressure. I wasn't really taking care of that the way it was suggested and it caught up with me. And that day was kind of the culmination of that. I didn't really know it was. I thought I was having a stroke, so I got a little nervous. I called my girl and was just like, 'Yo, I feel like I'm about to collapse.' And she's like, 'If you feel that bad you should call an ambulance.' So I called 911 and got on the phone with the operator and talked my way through the situation until the ambulance got there. At the time, the pain was the most concerning to me. And the last thing I remember them telling me is, 'Well, there's not much we can do for you here, but we're almost there, just hold tight.'
I woke up intermittently a few times while they were prepping me for surgery. The first time I woke up, the first thing I remember is the machines. I wanted to say something, but I couldn't, because I had a ventilator in my throat. Really traumatic shit.
How did these experiences change your outlooks on life?
Lif: I think that in the early 2000s, before the tour bus wreck, I was more combative. I was watchdogging politicians to a certain extent. I was willing to use a large percentage of my energy to constantly be abreast to the news cycle and watch what was taking place on that level. I felt like I could affect change in a certain way. The news cycle can leave you very depressed and very stripped of your own spiritual resources. I think now my thing is to focus on the true beauty of life, which is to focus on the relationships I have with my friends and companions, and to realize that, within my own community, I can affect change and lead by example. By pouring my love and passion into art, that will outlive me. I think that when you're focusing on the things you're passionate about, your life is really illuminated, and that's where I am right now. I've never been this passionate about being an artist. I've never been so passionate about my craft. I've never been so passionate about life. This is year 20 of my career, and I can legitimately say with no form of exaggeration that I've never been this passionate about being an MC.
Ak: Just valuing my everyday a little bit more. If there's not today, what is there? Yesterday is just in your memory, and you don't know what's coming tomorrow. There were times in my life when I was a little more entitled. I felt like, 'I deserve this because I worked so hard for it.' And that's something that the aortic dissection episode made me realize. I'm not entitled to anything. I'm just an animal out here on the Earth like everybody else, and whatever happens around me, happens. And I have to be able to respond and take care of myself and the people I'm responsible for. So I'm focused on not being entitled. I know that a very small percentage of the people that I'll ever know will get to have the experiences I've had. I have to be positive for people. I've gotta rub that off on everyone I meet.
It's been 12 years since the Perceptionists' last full-length album. Why was now the time to release a new project?
Lif: For me, it has a lot to do with Phife Dawg passing away and seeing the Beats, Rhymes & Life Tribe Called Quest documentary—watching them argue and be at odds. There was such a loss of chemistry between Q-Tip and Phife. Songs like 'The Hop,' [from the group's 1996 Beats, Rhymes & Life album]—it doesn't even sound like they were in the studio together when they recorded that song. The verses are so individual. After these guys sounded so inseparable on Low End Theory and Midnight Marauders, you look at all those years of lost time, and I thought, 'Enough is enough with not making records with Ak.' We had some differences. They weren't even that significant. It wasn't even like we had to bury the hatchet because the whole time, Ak's said, 'Yo, why aren't we making records?'
Why did you decide to call the album Resolution?
Lif: Ak chose that title. I never felt like it was the real final title for the album. I wrestled with that until the record was done I thought, 'Everyone's calling it Resolution, including the mastering engineer. The label's calling it Resolution.' And I was like, 'Yeah, man. The album's called Resolution.' I think Ak has a knack for recognizing when something's powerful in a certain way. I think you can say it's as simple as me and my brother making records again. All the bullshit has been pushed to the side and we recognize what's important in life, and right now, what's important is making records together.
On the song 'Hose Down,' you intersperse news reports from the MLK-led protests in the '60s with reports of today's police brutality. How are these eras similar to one another, and how are they different?
Lif: The brutality factor. In particular, what happened to Alton Sterling and Philando Castile so deeply resonated with me as remarkably disturbing. There's still a system in place that allows officers to not be persecuted to the highest extent of the law for outright murdering someone. It's a process of dehumanization that I do not understand. If you are afraid of people with dark skin, don't work in those communities.
Ak: The point of the song is that it's much different now, because the tolerance level is so low, the civilization level is so low that now we just get shot. Whereas in the '60s—not to say there were no police shooting innocent black people back then, there were. But as far as the protests that were happening, they would come through with dogs and water hoses and just wipe you right off the block. So what we're saying in 'Hose Down' is that it's a damn shame that it seems people's lives are even less valued now, less safe now than we were when you came down with hoses, and knocked us off the block. Now we're getting scraped off the block after we get shot.
There's no denying it, 'cause we're in an age of cameras, and the technology is advancing faster than the human brain. If an entire police department doesn't understand that now, there are cameras out, and when you commit murder people are gonna see it, and they're gonna be outraged, then you're not thinking as fast as the camera. I don't know what to do about that. We have protests and we have marches, but you just wonder just how far the police state is gonna go because it just seems as though it's so easy for them to not care about people who are black.
Would Dr. Martin Luther King, Jr. be relevant and effective in today's sociopolitical climate?
Lif: My first thought is just like, 'Man, they'd get rid of him so quick.' There'd be a place for him, 'cause I think you always need to have room for people that are pushing for equality, that are pushing for higher awareness. But, wow. This climate right now with this political shift we've just seen. There were a lot of people that were angry that we had a black president. They have made their voices very clear. So I don't know how that [MLK being alive today] would play out.
Ak: If you're saying, like, a young Dr. King, like we remember from the videos, I think it's very tough to say, because so much of where he was coming from was the church. I wonder how tight the Black Church is as a whole in America now, versus that time. And also because of the technology. The technology we have now—mainly the Internet, especially social media—has led us to a culture of complete lack of respect for anyone, no matter what. It's OK to say whatever bad thing you want. There's no filter anymore. So I wonder. Not because in any way of Dr. King's legacy, or what he stood for, or how great of a man he was. But just because of how pathetic we've become as a society, and how we treat people.
Who are your favorite rappers in Boston right now? Who should we be looking out for?
Ak: The first person who comes to mind is Kyle Bent. Lotus Taylor is another name I would say. He's really young, but I think his is a name you'll hear over the coming years. And then of course Dutch ReBelle. She's so dope. She's on the album. She does the hook for 'When Push Comes To Shove.' I would like to see her push more toward a national audience at some point, but she's definitely got it on lock in New England.
Lif: I love the fact that it feels like the scene is in a form of renaissance. I see so many similarities to the late '90s, early 2000s. I have to shout out guys like the Arcitype, who is one of the owners of an amazing studio in Cambridge called the Bridge Sound & Stage. He's a masterful producer. Masterful mix and mastering engineer. When it became clear to me that I had to mix the entire Perceptionists album, he coached me up on a couple things to make sure the vocals were as solid as possible. And then I would say you gotta be on the watch out for Moe Pope. He's been doing it for years. My boy Insight who produced 'Triangular Warfare' for me back in the day. He's got a lot of fire in his belly still, and it's so great to see that.
I just did a verse for my new friend. His name is Esh. He's got a new record that he's wrapping up right now. I did a verse on one of the songs on that record. And then also Slaine and Termanology have a new record coming out that is a beast. I look around the Boston scene and I'm like, 'Wow, man.' Cats that were in the crowd when Ak and I started doing our thing are now grown-ass men making a serious impact on the hip-hop scene in Boston, and out there winning Boston music awards.
—Layne Weiss