FEATURES
On "Crime Waves," Moor Mother and Mental Jewelry Fuse Their Philly Punk Roots
By Bean Tupou · June 27, 2017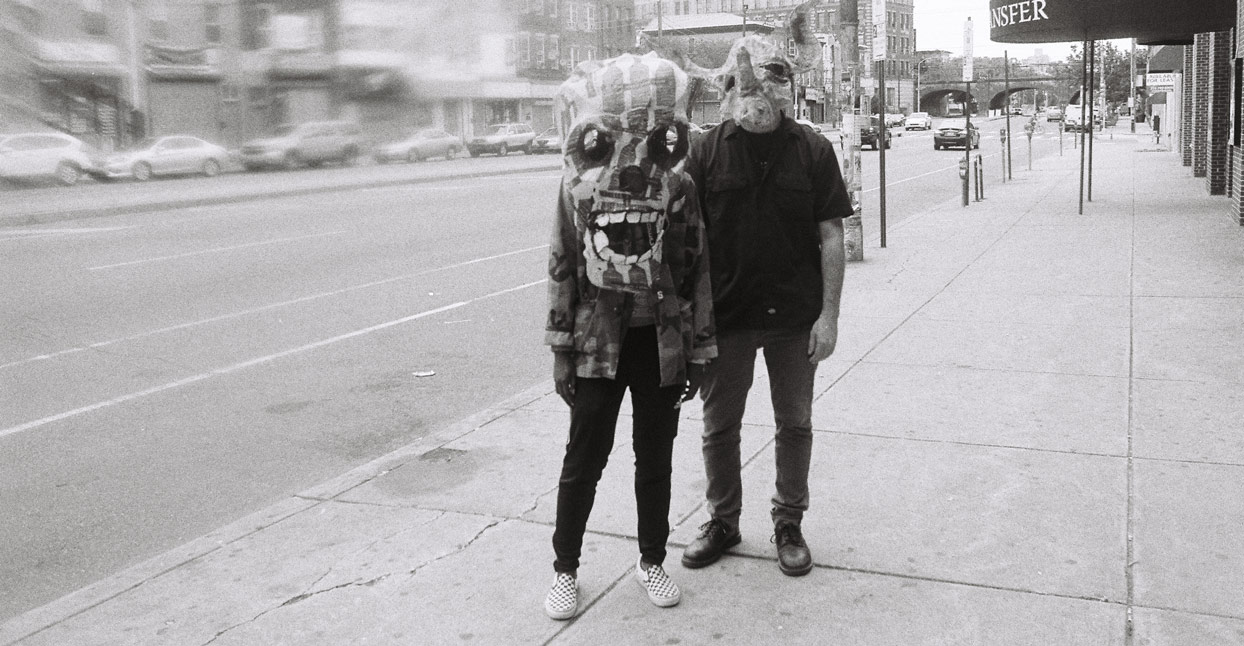 There is a message, urgent and distorted, that Philadelphia-based artist, Camae Ayewa, who performs as Moor Mother, wants people to hear. On the stirring new song "Death Booming," her voice peeks out of the quiet industrial patterns to say, "Death boomin' out the projects, I know you feel it." 
Moor Mother's music is designed to remind the listener that, in the United States, whiteness is considered the default, and that taking up the banner of the marginalized can be a threat to the fabric of institutionalized oppression. She knows the listener can see what's happened to Black bodies across the country, and she points that gaze back on itself. She took that message to a larger audience with 2016's critically-acclaimed Fetish Bones, which was released on the New Jersey-based independent label Don Giovanni (and named one of Bandcamp's Best Records of the Year).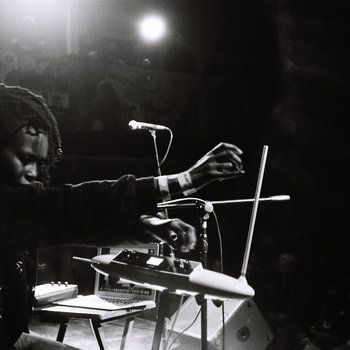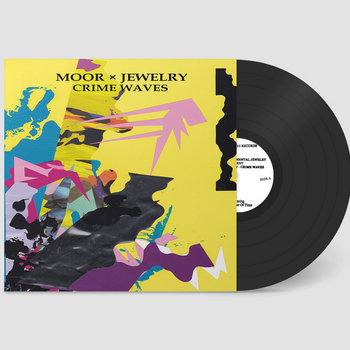 .
00:10 / 00:58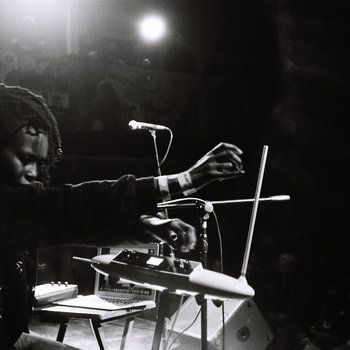 Merch for this release:
Vinyl LP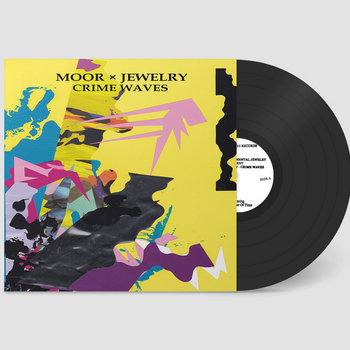 Her latest effort, the six-song EP Crime Waves is a collaboration between Ayewa and Philadelphia-based artist Mental Jewelry, aka Steven Montenegro. The songs on Crime Waves are dense and churning, built on a foundation of avant-garde noise, industrial, and free jazz. "Camae is always pushing things forward, and wanting to open up new opportunities with collaboration," says Joe Steinhardt, co-founder of Don Giovanni Records. "I think that's one of her best traits."
We spoke with Moor Mother and Mental Jewelry about their influences and the architecture of their new songs.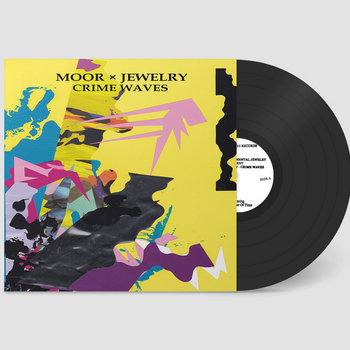 .
00:10 / 00:58
Merch for this release:
Vinyl LP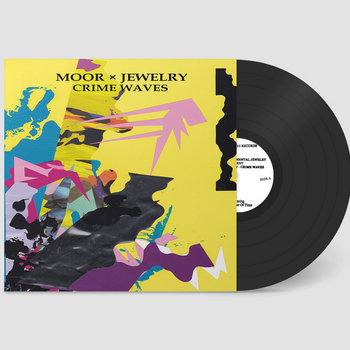 How did this collaboration come about?
Steven Montenegro: We used to play in punk bands in Philly—Camae played in a band called the The Mighty Paradocs and I played in a band called Patty Crash—but I hadn't seen her in years.
I saw Camae play a solo show a year or two ago, she was playing with Blackie and Show Me The Body in Philly. I really liked it, so I sent her a message the next day and we met up at a coffee shop and talked about music.
What kind of artists did you talk about at this meeting? 
Camae Ayewa: It was more genres that we talked about, less [about] particular artists. If we were talking about free jazz, then he'd show me something that he'd been checking out and I would show him something that I was listening to. We would talk about the connections between those artists, the type of music they were putting out around a certain time, and who they were playing with. It's a connection to the music that we like. It was a lot of free jazz and industrial.
Montenegro: We're both really into John Coltrane and Albert Ayler; Philly is a really big jazz town, and there's a lot of still-living free jazz legends in the city that we were talking about, too. We also talked a lot about reggae and dub.
Was there a rehearsal period before you actually recorded the album? 
Ayewa: No practices really. I did rough versions of the songs and then kept working to get them to where I [wanted] them lyrically. We did three or four shows and I just learned in those shows how I'd like these songs to come through. We then went to the studio and recorded them.
So by the time you recorded the EP, you had some songs written, but you were still kind of improvising.
Ayewa: Well, two songs were already figured out, but the songs 'Big Crime' and 'Death Booming' were definite improvised. I had an earlier version of 'Death Booming,' but I definitely still allowed myself that space and freedom to really add in anything. It's funny because I'm still learning how to perform these songs correctly. I like that everything is not 100% figured out.
Montenegro: I think that where you are and where you live has a lot to do with what ends up coming out. It's a very 'city, night-time,' very textural type of sound.
Ayewa: A lot of it came out of conversations we had. When we would come together to meet, we would spend most of the time talking about music, and we actually didn't work on much. Then, he'll send me a couple things, and I'll say, 'Oh, this reminds me of what we were saying here!' or, 'We can do something industrial, like we wanted to do.'
Montenegro: I also like the idea of people listening to it over and over again. There's a lot of weird little sounds and lot of micro-sounds in there that hopefully people will discover upon repeated listen.
What are some of the lyrical themes behind Crime Waves? Is there a connective thread between the songs?
Ayewa: I didn't step into the situation like that. With collaboration, I'm listening to the beat. Something may have a certain vibe, or make me think of a particular thing, or maybe I'll freestyle—I like to freestyle to it and see what good comes out of it. Then, I'll take the good parts and keep working it.
I feel like the messages are always able to come through, but as far as having a theme while writing the record, it doesn't work like that. The theme comes after. There's a lot of issues I'm constantly thinking about. I'm just thinking about different ways to express the things I've studied and experienced.
How did the song 'Streets Dept.' come about?  
Ayewa: That song has the most improvised lyrics.
Montenegro: Both lyrically and musically, that's one of the tracks that has the most live instrumentation on it as well. I played guitar and I just did some noise stuff in one take. I took a 12-string guitar and D-tuned it and randomly played. Camae was kind of freestyling as well.  That one was the most collaborative. We were actually together working on it.
Do you feel like this project has a place in the legacy of free jazz? 
Ayewa: I don't think that was our initial intention, that this would be a free jazz thing. Out of the genres that we talked about, it features free jazz the least.
Montenegro: There are some samples of noisy sax stuff that could be a reference to free jazz, but most of the music is pretty structured on my end. The improvisation element was kind of just layering stuff on top of an already structured song. I want to do some new stuff that's more organic and free and is just us playing instruments in the future.
Ayewa: I want to say that the free jazz element transferred the most on the tracks that you did for [Ayewa's 2017 collaborative album] The Motionless Present. They kind of have more free jazz frequencies.
Montenegro: I did two songs on Camae's record The Motionless Present; one of the songs is 'Big Crime' which is on Crime Waves and the other one, 'Remember,'  has some free jazz elements and some industrial elements. I like linking those two things.
What is it about those two things, free jazz and industrial music, that you find fit together?
Montenegro: For me, personally, I got into industrial music when I was really young, and that's really what opened me up to weird music in general. I wound up discovering all this stuff from that—even stuff that might not be directly related. I used to pick stuff out at the CD store because it was in the industrial section. I wouldn't even know what it was, I would just be like, 'OK, I'm gonna try this one.' It would be really avant-garde and loose or whatever. Extreme sonic intensity is a big thing for both genres obviously. It's pretty legit.
Ayewa: For me, I can't even imagine not having free jazz in my songs. It's a part of what I call the 'technology' of the music, an important element to making powerful music.
—Bean Tupou