FEATURES
Miki Sawada & Brendon Randall-Myers Break Down Barriers in Classical Music
By Vanessa Ague · August 30, 2021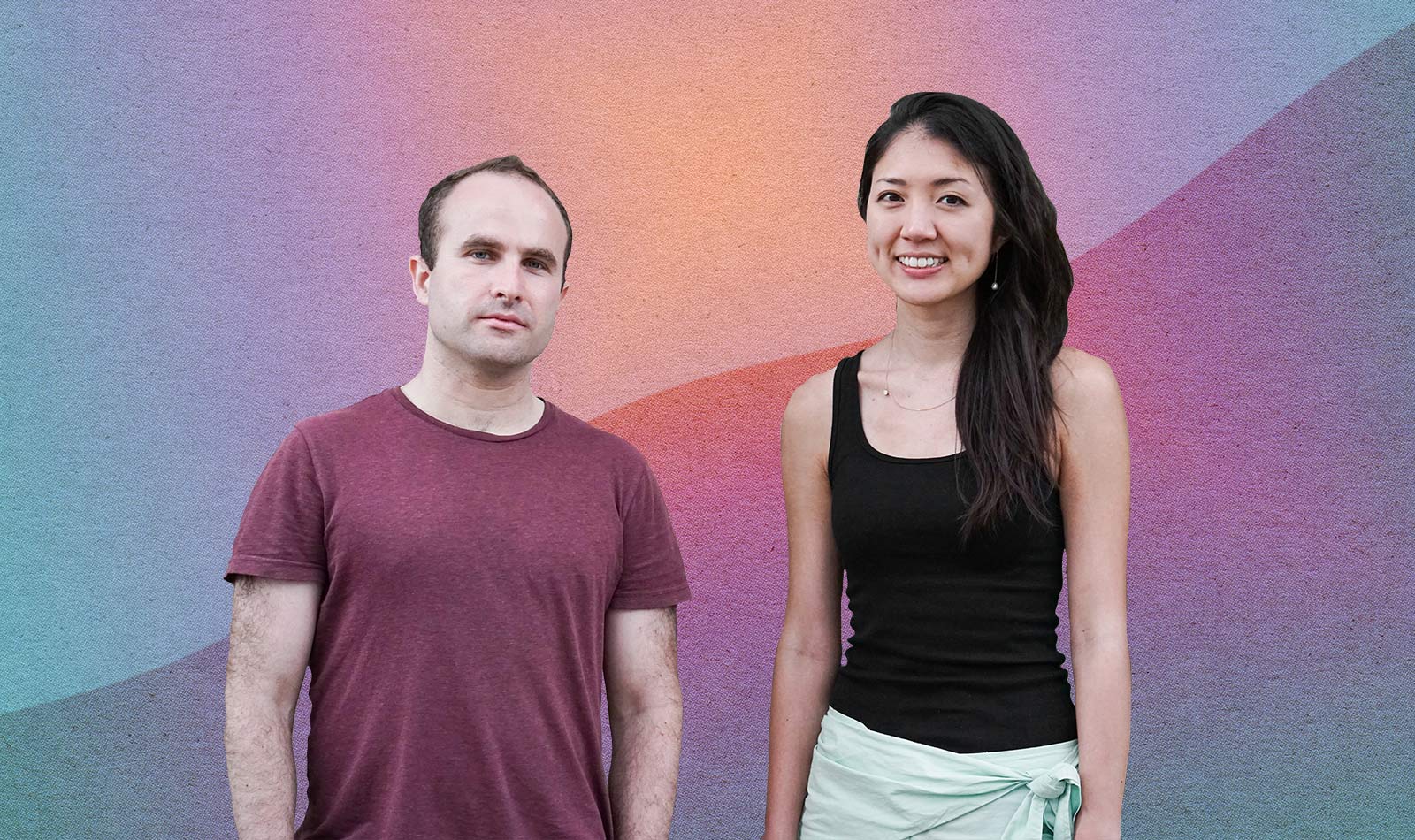 On the second floor of Fayetteville, West Virginia's Secret Sandwich Society restaurant, in a live music venue and art space known as The Grove, Miki Sawada performed movements from Brendon Randall-Myers's A Kind of Mirror while she talked to an audience member about their life in a rural state. The concert was part of Sawada's 13-stop Gather Hear Tour during the fall of 2018. The room where she was playing—an over 100-year-old wood-paneled space decorated with an array of vintage upholstery and string lights—was full. About 50 or 60 people of all ages were in attendance—including composer Randall-Myers—and chairs had to be brought up from the restaurant for everyone to sit on. As the program progressed, different audience members sat across from Sawada, taking turns performing rituals with her. One made tea to share with the audience, another read a spooky story about local legend Mothman, and by the end, everyone was popping bubble wrap together until the room went silent.
"It was a fantastic experience," says Lewis Rhinehart, founder of The Grove. "It was kind of like a feather in the cap of The Grove, because it was something really diverse and it really brought the community together." That's exactly the kind of experience Sawada was hoping to create when she imagined the show with director and actor Daniel Pettrow: something that would feel like sitting around a campfire, giving audience members a voice in her performance. Her goal was for audiences to experience a classical music concert that eschewed stoicism and coldness, which is why she was traveling with her piano in a van across the United States—to shift the genre's established paradigm of separation between audience and musician.
.
00:10 / 00:58
Merch for this release:
Compact Disc (CD)
After the concert ended, Sawada and Randall-Myers headed back to Rhinehart's home, staying up all night and celebrating the joy of the day. In true DIY fashion, Sawada had been sleeping on locals's couches after every show, immersing herself in the culture of the places she visited. She even recalls spending time on a farm, plucking chickens, planting garlic, and having deep conversations about why the farm owner loved West Virginia. "The core of what the project is about is to get people to open up and have real connections with me because I'm there offering the gift of music, instead of taking something from them or taking advantage of them," Sawada says. 
Now, a fully fledged version of A Kind of Mirror, with five movements, receives a new life as an album that captures the transportive nature of the music and extends its reach beyond the concert hall. The album gently flows between different atmospheres that are driven by shifts in the piano's tone: the lush, starry-eyed "Shadow" ventures to the more dissonant, sparse "Echo" and the pummeling, virtuosic "Cascade," creating a trance that's always in motion. Wafting electronics swirl around the piano's melodies to form interlocking patterns, creating a physical and emotional sensation to ultimately make the listener feel as if they're part of something larger than themselves. 
Sawada and Randall-Myers first met as students at the Yale School of Music in the early 2010s, performing together once or twice but never closely collaborating. Sawada initially thought of commissioning a new work by Randall-Myers to bring with her on tour because he's from West Virginia and that he'd be excited to come on tour with her. By bringing Randall-Myers along, the two had the chance to get into the "nitty gritty" of the state. The piece and live show, then, felt more like an experience the two could have together, tied to their time forming bonds in West Virginia. To write the piece, Randall-Myers asked Sawada to create a mixtape of what she was listening to at that time and pieces she loved to perform, which he then notated music to fit. He composed the first movement, "Shadow," and final movement, "Cascade," in 2018, and finished the three middle movements in 2019.
This music was new territory for Randall-Myers, whose work often employs thrashing electric guitars that fuse his experiences playing in experimental rock band Marateck, conducting the relentless no-wave group The Glenn Branca Ensemble, rocking in mosh pits, and studying minimalist composition. A Kind of Mirror channels Randall-Myers's interests in creating a transcendental state from tiny, repeating phrases that weave together into a new instrumentation. "I was looking for a way to create music that was intense and cathartic but not aggressive, and I think that ended up happening in this music. And part of how I personally found my way into that was just thinking about endurance…and Miki's personality and how she interfaces with the instrument," Randall-Myers says.
Both Randall-Myers and Sawada are long distance runners and that shared passion for athletic endurance unfolds across the music of A Kind of Mirror, which alternates between fast-paced runs and celestial meditations. During the COVID-19 pandemic, Sawada ran every day for 139 days and she's been running ultra-marathons for the past couple of years, and Randall-Myers has been long-distance running since high school. "Endurance is a big part of my musical practice generally, partly because I've had these experiences with running, and at some point connected that to my own practice of music making via punk and metal and how physical those things are," Randall-Myers says. 
.
00:10 / 00:58
Merch for this release:
Compact Disc (CD)
Sawada learned A Kind of Mirror one step at a time, memorizing the way the short phrases and patterns felt underneath her fingertips. "I run mostly on trails, in which you have to pay attention to every single step or else you fall on your face. It kind of feels like that, playing Brendon's music, because it's so constantly changing in very delicate ways," says Sawada. While working on a cruise ship, she'd steal away to the piano after everyone had gone to bed to practice. It was music she had to sleep on—not something she could cram into one day, but something she dedicated a little bit of time to playing every day until its rhythmic repetitions became instinctual. 
Writing A Kind of Mirror for a West Virginia tour, and first presenting the piece there, remains a special memory for both Sawada and Randall-Myers—it was a moment where Sawada could break down classical music's old-school barriers and truly connect with people, and a time for Randall-Myers to discover new parts of West Virginia and to find his place in a state where he never felt like he fit in. With A Kind of Mirror now a recording, the two hope to reach a larger audience than just those who heard the music in-person. The live elements are gone, but listening instead becomes an opportunity to sit with the sound and allow it to wash over you. Randall-Myers writes music that can induce a trancelike state, whether it's heard in a concert hall or your living room.
"I like the idea of writing something that you can just grasp immediately and really clearly and feel rather than have to think about," Randall-Myers says. "I want to feel something emotionally, I want to feel something physically, and those are the things that I try to create for other people."