FEATURES
Jazz Drummer Michael Wimberly Steps Into the Spotlight on "Afrofuturism"
By Brad Cohan · March 08, 2021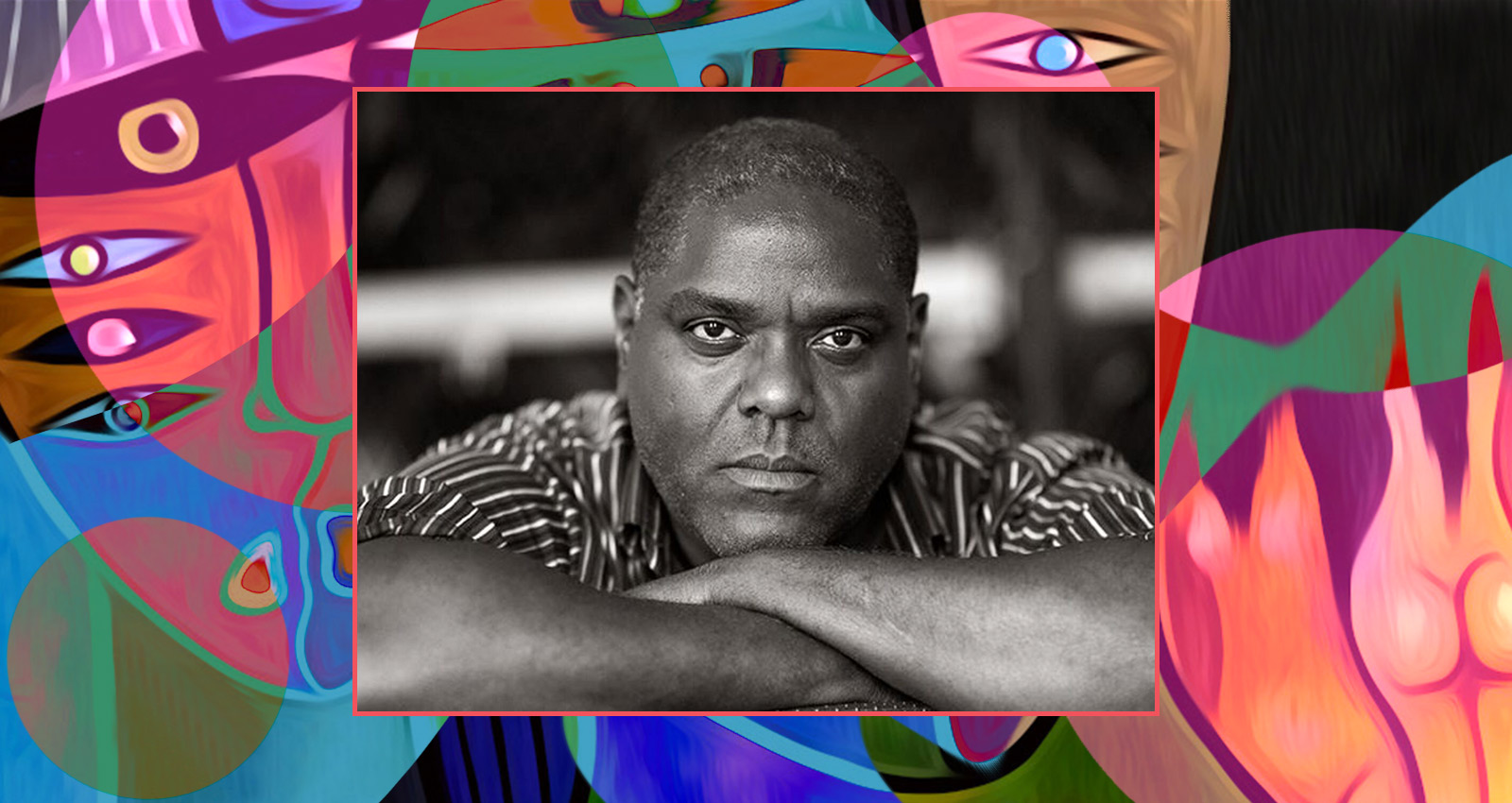 For decades, drummer Michael Wimberly has been a cornerstone of the improvised music landscape. An anchor of the downtown New York avant-garde jazz scene, he's performed alongside figures ranging from Wilco's Nels Cline, saxophonist Charles Gayle, and pianist Thollem. His music bridges the spiritual uplift of free jazz with shapeshifting West African rhythms, a deep-thinking, yet incendiary approach which helped galvanize records such as Radical Empathy and Reality and Other Imaginary Places by Radical Empathy Trio and Gayle's Look Up. Wimberly's pro-community cred can't be denied, either. He's a fixture of Arts for Art, the East Village-based nonprofit committed to the advancement and promotion of cutting-edge music, poetry, visual art, and dance.   
.
00:10 / 00:58
Heady doses of the improvisational wizardry Wimberly is known for show up on Afrofuturism, his first-ever album released under his own name; but, on the whole, this is an entirely different affair, one with enough stylistic shifts to give the listener whiplash. The album showcases an all-star ensemble (including Grammy Award-winning singer Joss Stone, who guests on "Dance with You"), but ultimately it's Wimberly at the center of the fray, armed with a deep stylistic toolbox. In addition to playing percussion on the record, he contributes keyboards, vibraphone, and vocal arrangements, revealing himself as both a polymathic force and a polished songwriter. Not that this is a particularly recent development: "As far as being an improviser and working with great musicians in that genre, I've always been a songwriter since probably the late '70s, early '80s," he explains.
As Wimberly's storied career behind the kit attests, rhythm is central to his neo-soul and pop-centric template—an obsession that started in Cleveland and followed him upon his move to New York in 1982. "Coming out of Cleveland, a funk and rock capital, I always look at it that way where I've seen every funk and rock band under the sun growing up," he says. "[I was] coming out of this really rhythmic place: even though I was exposed to jazz, it was still rhythm. I got exposed to the West African rhythms in Cleveland and then continued that exploration when I got to New York. So that really exposed me to that culture, exposed me to those rhythms, to the dance [scene]—and then New York took over at that point."
Afrofuturism underwent numerous mutations over the course of its three-year recording process, which began in early 2017. The first version, which contained only three tunes, was recorded by Wimberly, with Foday Musa Suso on kora (a 21-string West African instrument) and drummer Jonathan Joseph (of Weather Report and Jeff Beck Band fame) in Brooklyn. Wimberly and co-producer Mike Meurin took a trip to Cuba not long after that, and the musical impact of that visit inspired them to revisit the project. "We went to Cuba for three weeks to hang out, drink rum, hear live music, take in the culture," Wimberly recalls. "It was on his wish list, and mine as well, to go and study some of the Cuban rhythms. As a percussionist, it made sense. Every night, we'd come back and listen to music, our own tracks—demos, basically. Mike started to see this vision, like, 'Man, you need to get back in the studio.'"
.
00:10 / 00:58
So Wimberly kept the project going, bringing in a crew of other artists, among them Trevor Allen on bass and Sharief Hobley on guitar." Ultimately, Wimberly's group ballooned to include 16 contributors with a horn section and the West African instruments djembe and balafon, among others. His sprawling vision began to take shape.
Those aware of Wimberly's free jazz pedigree may be taken aback by Afrofuturism's smooth grooves, sublime melodic sensibility, and tasty hooks. There's not a skronky blast to be found on any of its 13 songs. A songwriting craftsman and arranger of the highest order, Wimberly stacks Afrofuturism with a slew of should-be hits. "Alive" (featuring Hobley on vocals) is an epic dose of slow-burning neo-soul, the white-hot Funkadelic-style grooves of "Revolution" (also starring Hobley) and the Sun Ra-inspired title track are made to be blasted out of a car stereo. Meanwhile, the rapid-fire energy of "Dance with You" (featuring Stone and Foday Muso Susa) feel designed for the dancefloor. Wimberly also includes a nod to D'Angelo. In 1995, Wimberly played on the singer's Smokey Robinson cover, "Cruisin.' "The vibe, his feel, that definitely comes out for me in the song, 'Mack Daddy's Woman,'" he says.
Afrofuturism is organized around a conceptual theme of peace, love, and positivity. The lyrics and music reflect that feel. "Afrofuturism is usually seeing blackness into the future through science, technology, futuristic ideas, trying to create space and voice so that you can just see yourself as an entity in the future," he explains. "But everybody's going to look at that very differently."
His take on Afrofuturism is clearly his own, and it looks back as much as it looks ahead. "I am enamored by the AACM's [Association for the Advancement of Creative Musicians] idea of 'ancient to the future' and that idea of really ancient rhythms. Because when I'm playing the djembe, those are very old rhythms, hundreds of years old. Some of the rhythms that I'm using on the album, I'm blending that with current or whatever my idea of futuristic music is. I'm pulling on my culture, which is ancient, which is old, but I'm also looking forward."
For Wimberly, he's looking at a future that includes the best of both his musical worlds. As he basks in the glow of the just-released Afrofuturism, he's also focusing on a batch of free-improv records that have been sitting on the shelf, awaiting release. "Man, I'm sitting on six other albums that I haven't even put out yet! Things that are definitely more of my background as an improviser. I play a lot of rhythm and when I'm with improvisers, they don't really want to hear all that. They want me to stick to tradition."
He then turns his attention to Afrofuturism. "I took a chance," he says of the new record. "I had a lot of rhythms that I've been working on for years and learning. It was an opportunity to look at some old songs and create some new ones."