FEATURES
Mega Bog Shares Her Experiences with Artistic Communities on "Happy Together"
By Laura Snapes · February 03, 2017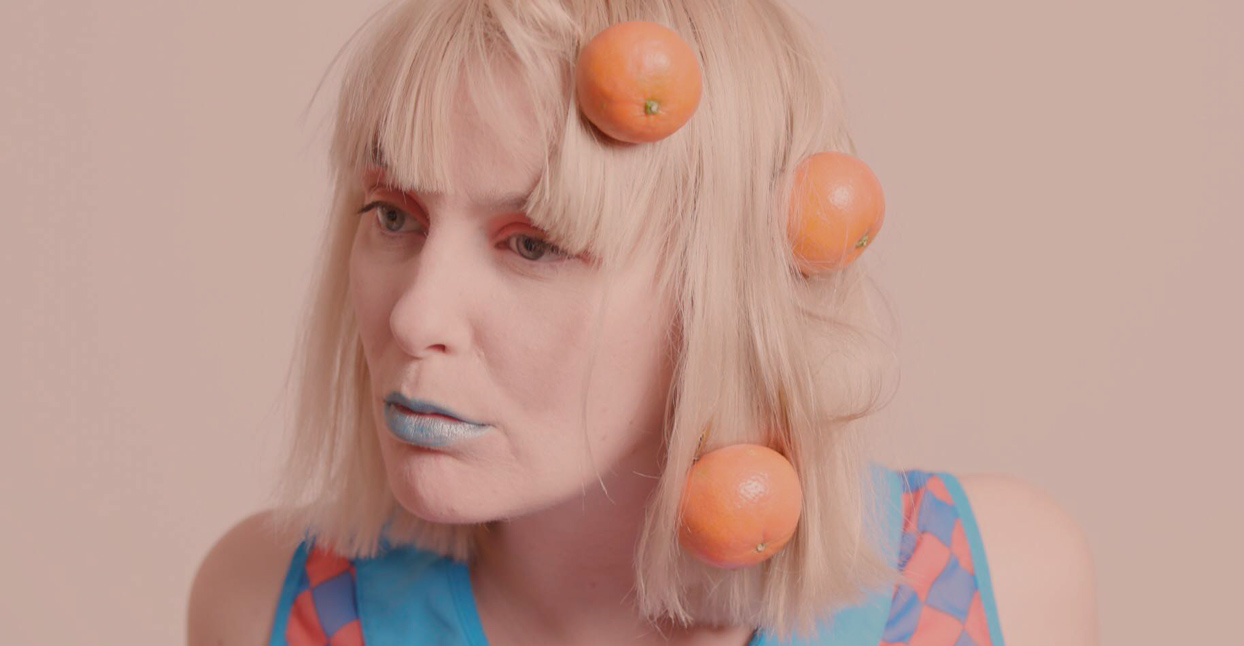 Some years back, Erin Birgy was sweating out a fever to repeat viewings of 1982 sci-fi classic Swamp Thing when a friend came over to keep her company and while smoothing Birgy's sweaty hair, he affectionately called her "Little Swamp." Birgy used the name for her first songwriting project, where she performed solo. It grew into Midi Marsh, an experimental electronic outfit, and eventually blossomed into Mega Bog, "a crew of wild screamers, a proper band," says Birgy. The name fit her youthful obsession with wild landscapes. "My most erotic fantasy was to be the black horse sent from hell running through the deep green moors at twilight, a scene I think I saw in [1959 Disney film] Darby O'Gill and the Little People."
Mega Bog's second album, Happy Together evokes a different kind of lush, green fantasia—something about its wobbling saxophone and loosey-goosey guitar suggests a mysterious caper beneath the fronds of a vast weeping willow. Her band reaches the compositional depths of Grizzly Bear circa Veckatimest, while Birgy channels Nico and Laurie Anderson's eerie sagacity. There are jazz touches, too, which she honed at Seattle's Racer Sessions improv nights. The result is a slippery, hypnotic record that honors "inconsistency," one of Birgy's firmly-held artistic values. "It's awesome to see someone perfect a singular piece of one's passion, but what keeps me interested in music is stepping into the literal unknown," she says. "It's more fun to rodeo around than decide what your band will sound like now and forever based on a singular perspective or desire."
And rodeo around she has, playing in the likes of Remambran, Sundance Kids, Dragons, and dozens more Seattle bands. In her freshman year of high school, Birgy ditched her mom and step-dad's "twisted family ranch endeavor" in Washington and ran to Olympia. There, she lived between punk houses and DIY spaces, educating herself at storefront co-ops, before settling in Seattle, where she found her physical and spiritual home. But after making Mega Bog's debut, Gone Banana, Birgy was sexually assaulted, and, to her surprise, found her supposedly progressive community ill-equipped to help her through the aftermath. "And if I knew a man who would blame the rape on me/Because it hurt his feelings/That was you, too," Birgy sighs on cool waltz, "Worst Way."
As well as confronting her experiences directly, Birgy says Happy Together has a lot to do with how the industry treats wild women. "Specifically regarding rape or devalued women geniuses in the music world," she says, "I raised a lot of strength and inspiration from Bridget St. John, Nina Simone, Marianne Faithful, and Nico, who were always questioned for their sanity, their passions dismissed or degraded, their sex objectified, and musical craft stolen or taken advantage of." She's since found a new home in New York. Bandcamp spoke with Birgy about finding your people, writing through trauma, and her surprise cameo in HBO's "Vinyl."
The title and certain lyrics on Happy Together evoke the happiness of finding your crowd. When and how did that happen for you?
When I was 15, my still good friend, Joel—who designed the record cover—and I were bumbling the streets of downtown Spokane, Washington, and found a copy of a newspaper called The Finger. The Finger was an intentional, underground publication that seemed to embody a lot of the ethics I was trying to form based off the music I was absorbing. We both started writing for the paper. My weekly column was called "Tea Time." I would ride the bus to a part of town I didn't know very well and knock on doors until someone would let me interview them. Anyway, the fact that as a 15-year-old, who really was friendless except for Joel, could be encouraged by all these wonderful and excited punks—who had just as screwy of a backstory as me—to have this writing project was probably the point where I turned to love and community.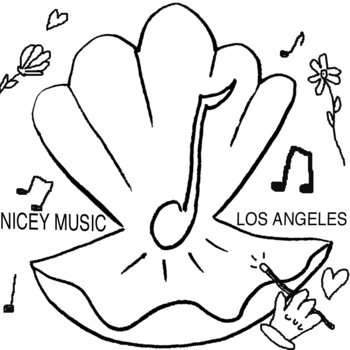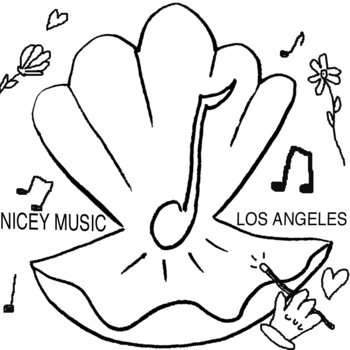 Merch for this release:
Vinyl LP, Compact Disc (CD)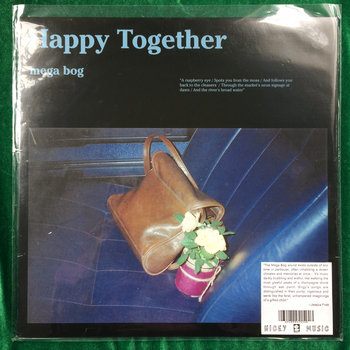 You've spoken out about the vitality of DIY spaces in the wake of the Oakland Ghost Ship fire. What congregational spaces have been important to you as a musician?
There have been so many! I built my life in these spaces. There's the Olympia Free School, which was a library storefront, utopian space where literally anyone could sign up to teach a class. There were accordion classes, foraging, motherhood, pedal building… Something that legitimized interests outside of a social clique. The first house venue I was a part of and lived at was The Finger Complex, in Olympia, WA. It's where I got to know Shelby Turner, from Sundance Kids, Richard Album, and the first bassist in Mega Bog, who got me playing in my first true band, and who I booked my first tour with. He had a house on the east side called The Pleasuredome. At both these homes I started learning to outgrow my obsession for misogynistic songwriters and get to know some true experimental lifers—I was 17, 18. And when I met Zach Burba at The Finger Complex we fell in love and I moved to Seattle, which I consider my home. First stop was living in a venue called Healthy Times Fun Club, which was the big time! The space was run by some of my DIY heroes, like Benji Rouse, it was sober, all-ages, had a green screen, and was completely dedicated to art and inclusive community. I believed every show there was the most amazing show, and when Mega Bog played there for the first time, I felt like my life's goal had been met. It was positive and the spark of many more spaces we would run together and with other friends.
Merch for this release:
Vinyl LP, Compact Disc (CD)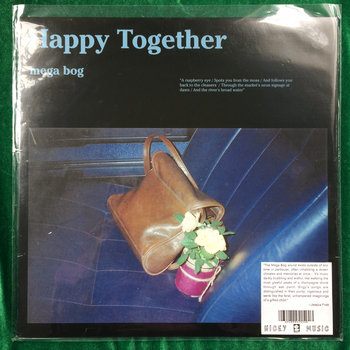 It wasn't until I paid close attention to the record that I realised that you were singing about rape and community accountability on Happy Together. Did you intend for it to be a bit of a Trojan Horse?
In a way, yes. A lot of the music I was drawing from had an attitude of 'It's your job as a listener to investigate this profound meaning.' Whether or not the explicit messages are something a listener wants to learn from, the fact that it has been heard or has exposed a process is crucial to universal health and welfare. Most invoking and incredible music, to me, feels loaded with intention, with messages, with codes, with a public processing that, of course, is sometimes written off as music for sex, music for jogging… limitations to a limitless world.
You've been making music for a while. How did the role of writing and creativity change in your life after those terrible experiences?
There's always been a fair amount of trauma in my personal bubble. Not that I seek it out, but I chose to be vulnerable and active. I want to be out in the wild world as fully as possible, and sometimes you get kicked in the head. Sometimes I may give too much time and power to the pain of being kicked, expecting it to move me, but sometimes I just attach every terrible thing to physiological trauma or anxiety and go nowhere. So, I think what has changed is subjects, concepts, and an attempt to fairly document the positive I'm either gifted with or create. The next record that I'm working on now picks up from the epiphany represented in 'Fwee,' and proceeds to now. It's not 'All things are better and pain goes away,' but learning the capacity to hold it.
Merch for this release:
Vinyl LP, Compact Disc (CD)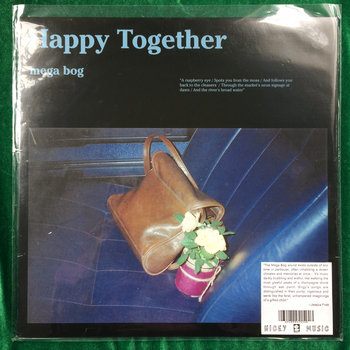 Your community wasn't supportive after you were assaulted. Coming from, presumably, a liberal, progressively minded scene, were you surprised? "Diznee" made me think about how easily you can become the villain when you're asking people to be respectful.
It was definitely shocking to experience how little experience we all had. I would sob to various people, 'Just Google it or something, I can't explain all your feelings and responsibilities for you,' and continue processing myself. I would say all the musical communities I've been a part of see themselves as progressive or punk, and I will say that only a few years later, I feel a universal shift and acceptance of how certain events can be handled with love and respect for everyone involved. I'm really proud of the willingness and devotion to dismantling the patriarchy I see everywhere now.
You've since left Seattle for New York. How has leaving a long established community affected your work?
I was so lucky to move into a crew that knew me a little already. Matt [Bachmann] had moved here a year earlier to be with his childhood best friends and first band, Happy You, and that's how I met Derek [Baron], who's been on for almost two years now playing flute and drums, and James [Krivchenia] of Big Thief, who has become my most trusted collaborator and friend. It has affected me positively, and I've also learned to embrace some of the alone-time as practice and writing time that was inevitable to moving into a new place with new friends whose trust was learned in time.
I found your IMDB page—did you play Mo Tucker in an episode of "Vinyl"? That's a surreal New York assimilation.
I did, yes, ha. A friend suggested me to a casting friend for the show because he knew I played drums and loved Mo. I was given the nickname Mo on my first big tour, playing drums in Sundance Kids. It did validate my assumption of endless opportunities in the city of New York.
—Laura Snapes