FEATURES
With "Cold Water," Medhane Claims His Rightful Place in Hip-Hop
By Marcus J. Moore · May 29, 2020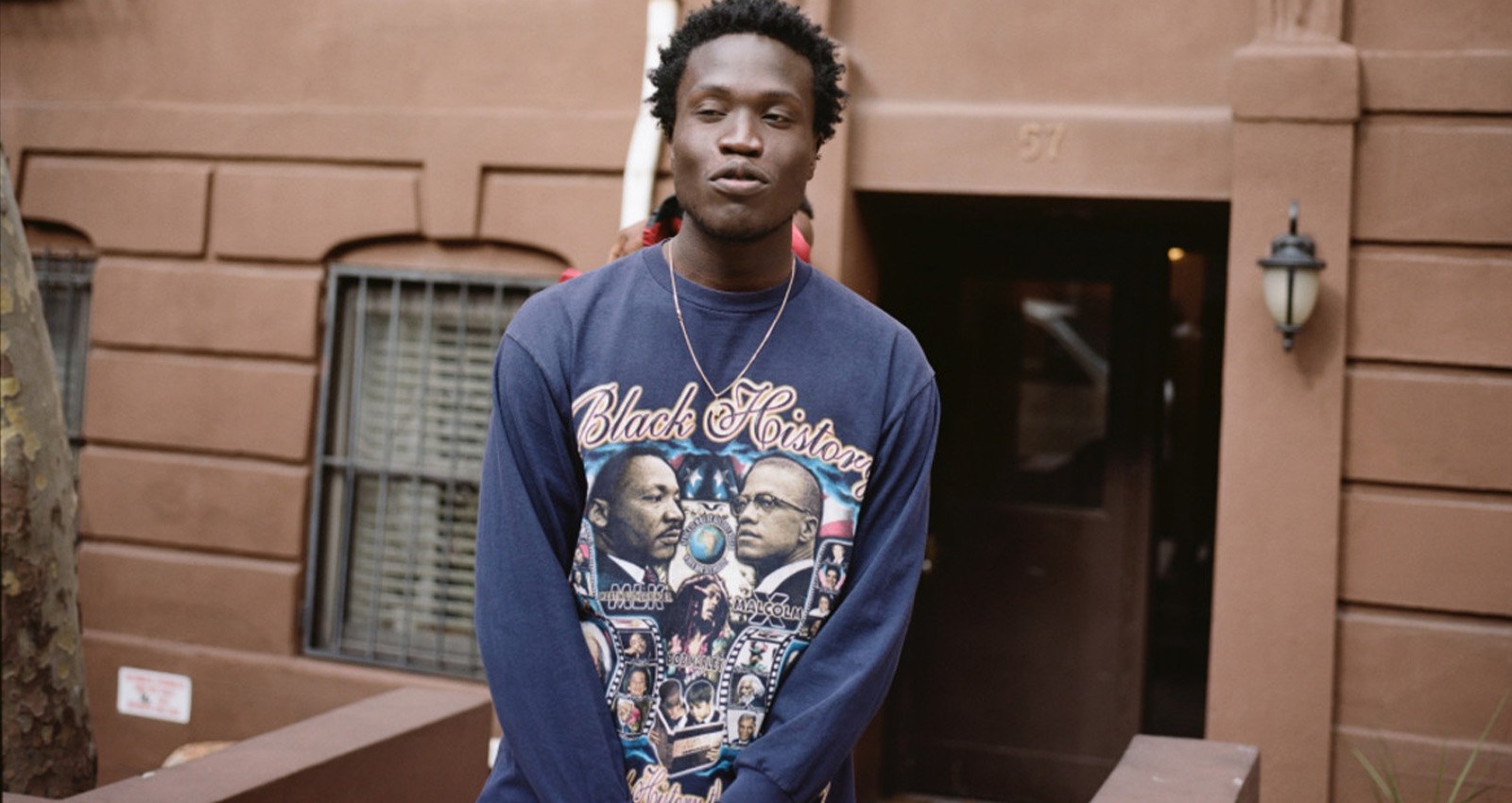 When Medhane answers the phone to be interviewed for this story, the sound of Lauryn Hill's "Final Hour" is blasting in the background. "My bad, let me turn this down," says the 23-year-old. While it's not necessarily surprising that Medhane is listening to one of hip-hop's greatest records, it's still refreshing, given that some of his peers don't exactly bend the knee to '90s hip-hop. (Not that they should, of course). But Medhane (pronounced meh-donny) grew up on this music. Raised in Crown Heights, Brooklyn, his parents played reggae and classic hip-hop around the house. "My mom used to play Let's Get Free [by Dead Prez] all the time when we were cleaning up," Medhane recalls. "And then I would ride around with my dad who was, and still is, a DJ. I remember we were on a road trip, and he played [The Notorious B.I.G.'s] Life After Death for me. I think he played 'N—s Bleed' and I was like, 'Yo, this is crazy.'" That moment of revelation sparked an interest in rap groups like Black Eyed Peas and The Fugees, and punk bands like Bad Brains and Fishbone, artists that would eventually inform his own sound. He's a razor-sharp lyricist with the carriage of an old soul—one foot in the golden era, the other in the present.
Success came early for Medhane; his second EP, 2018's Ba Suba, Ak Jamm, was picked up by The Fader, Pitchfork, and even praised by The New Yorker: "I've listened to 'Ba Suba' obsessively over the past couple months, in part because it reminds me of what life can be like in your early twenties, when you're eager to take the whole world in, slightly unsure of how to do it, but fully certain that you can," wrote music critic Hua Hsu. On that EP, as on his three other albums—Do For Self, Own Pace, and Full Circle—Medhane spins daily uncertainty into forward-looking optimism, using personal struggle as fuel to achieve his dreams. To him, the setbacks aren't forever; they're teachable moments. (Although on 2019's Own Pace, the self-doubt almost took him over: "Tryna repair me," he rapped on "Affirmation #1," "Scary when the motivation missing on the daily.")
.
00:10 / 00:58
Medhane first started rapping during his senior year at New Explorations into Science, Technology and Math, a Manhattan high school for gifted and talented students, and recording his own rhymes over a J Dilla instrumental. After he graduated, he took a gap year before going to college, moving to the town of Mboro in western Senegal and living with a host family. "I was in this program called Global Citizen Year," Medhane says. "At the time, you could choose between Brazil, Ecuador, and Senegal. I have Senegalese family, so I was like, 'Yeah, I'm just going to go to Senegal.' I used to play djembe drums when I was a kid and shit like that." Medhane recorded music in Mboro on a USB mic given to him by his mother. His host brother, Siby Nar, was also a rapper; Medhane gifted him the mic before returning to the States. "Living in Mboro made me appreciate basic Western amenities," Medhane says. "There was no toilet in the crib; we had an outside bathroom, a hole in the ground. Bucket showers every day. You only get water in the morning. I adapted to it. I feel like you could put me anywhere in the world and I'll adapt." In retrospect, living in Mboro seems like fate stepping in: not only was Medhane's host brother a rapper, his host father ran a theatre company, which meant that art was all around him. "Something lined up," Medhane says. "Because for me to come to a rural town in West Africa and meet someone that's caught on to the same stuff that I'm on—it's ridiculous."
Once he was back in New York, Medhane started thinking seriously about pursuing rap as a career. That's when he met producer Jasper Marsalis, who assembles beats under the name Slauson Malone. "I would predominantly work with Jasper, because I felt like stuff I was doing with other producers just didn't hit the thing," Medhane says. "It changed when I met Jasper, because we understood each other. We clicked just on a basic friendship level." By the rapper's own admission, he had bars, but no real direction. Marsalis helped Medhane hone his talent. "I just liked the way that he used his voice," Marsalis remembers. "There was a lot of angst and emotion that I wasn't getting from other artists." The two began meeting and recording regularly. They recorded a song called "Dirty Blue Seats," then a joint album called Greys In Yellow under the name MedSlaus. The duo passed muster with rap heads, and received coverage on sites like Complex and The Fader. "It was instant," Marsalis says of the collab process, which spawned a follow-up LP, Poorboy, in 2017. "It was exploring the unknown."
.
00:10 / 00:58
Medhane's new album, Cold Water, is his most confident to date, a set of clear-eyed, chest-thumping rhymes on which the rapper rises up to claim what's his. "Own Pace was basically me saying, 'Yo, let's go, it's time. You can do whatever you want to do, just make sure you maintain your own. Don't be distracted by other people's expectations, how things are going for them, or the way shit is going with other people's careers,'" Medhane says. If the Medhane of Own Pace was a little gun-shy about his next steps, on Cold Water, he's taking a leap toward wider fame. On songs like "No Cap," "Late" and "Bun Down Babylon," Medhane reflects on the struggle with thankfulness. You can feel him growing more assured as it plays; on "Full Hands," a spacious soul loop featuring rapper Maxo, the protagonist unpacks the emotional baggage that had been weighing him down. "Spinnin' through adversity," he declares, "Lettin' go of all that burdens me/ Hurdling uncertainty/…Took time just to find a little peace of mind." Medhane has spent years trying to grind his way to popularity, and with Cold Water he's almost there—largely because he's no longer stressing over things he can't control. And while his previous work may have been more pensive, Cold Water is rooted in fluid rhymes and raw beats, a mix of old- and new-school rap meant to flex Medhane's mic skills. Ultimately, that's what he wanted to showcase. "I'm deadass nice," Medhane asserts. "I feel like I'm misunderstood by a lot of people, as corny as that sounds. On this album, I'm saying 'This is me, this is who I am, take it or leave it.' You need cold water when it's hot. But when you pour cold water on someone, they wake up."