FEATURES
What Can I Help You With: Reckless Records
By JJ Skolnik · June 29, 2016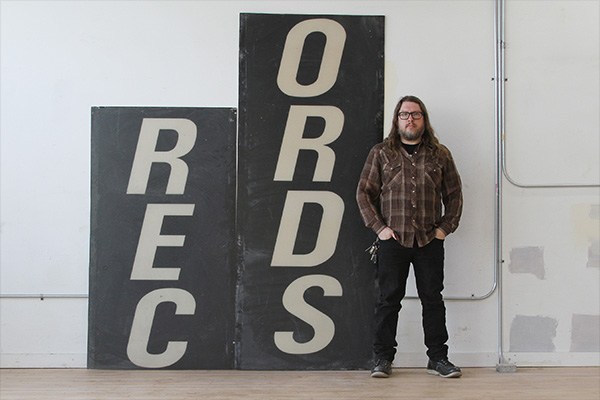 Matt Jencik from Reckless Records
"Record stores are still an incredibly vital part of music culture."—Matt Jencik
Reckless Records is such a Chicago area institution that its '90s Wicker Park location was used as the inspiration for the record store set in the movie High Fidelity. The venerated independent record store chain has been been around since the late '80s; its three locations throughout the city are renowned for their knowledgeable staff and a selection of LPs, CDs, 45s and DVDs that is both wide and deep.
Matt Jencik has worked at Reckless since 1999, and is currently the head new music buyer. He's also a touring musician; his most recent band, Implodes, released two albums on Kranky and one on Gilead Media. Jencik has been performing and recording since the early '90s with bands such as Hurl, Don Caballero, Thee Speaking Canaries and Taking Pictures, as well as playing bass on the 2007 and 2013 Slint reunion tours, guitar and bass for PAPA M from 2009 to 2012 and, most recently, bass and synthesizer for the Circuit Des Yeux live band as well as synth for the Wrekmeister Harmonies live group. His first solo album is due later this year.
We caught up with Jencik to ask him a few questions about the contemporary record industry because of his unique position as as both a buyer and a musician (and, of course, a consumer). This interview is the first in our "What Can I Help You With?" series, in which we talk to the many different people involved in helping artists bring their music into the world.
How did you get started [at Reckless], and what was your evolution into this position like?
I worked at a store in Pittsburgh called Paul's CDs (now Sound Cat) in the mid-to-late '90s. As a touring musician in the '90s I had played shows with Kip McCabe (drummer of the band Dianogah), who worked at Reckless in Chicago. So when I decided to move here, I reached out to him about getting a job. That was in the summer or fall of 1999 and I've worked here since then.
What's a day in your life as a buyer like?
My days mostly involve listening to and writing about music, placing orders with labels and distributors, receiving and sending emails, setting up promotions and in-store events and social media marketing and promotion.
What do you look for when selecting records for inventory?
From a "new product" perspective, Reckless intentionally stocks a wide variety of music. Our best sellers are primarily indie-centric titles on labels like Matador, Sub Pop, 4AD, Merge, etc. But we take pride in stocking everything from, say, the new Beyonce CD to a cassette by an up-and-coming local artist, to a reissue of a mostly unknown African psychedelic rock band or an obscure techno 12″. Myself and the other buyers are always on the lookout for new artists, limited-edition pressings, imports and unique items.
Do you have any tips for artists who want to get their records into stores, but maybe aren't familiar with navigating the system?
Simply asking your favorite store if they'll carry your record is the best way to start. Like many other stores, Reckless stocks records—CDs, LPs, tapes, etc.—on consignment. It might seem unappealing to not be paid up front, but I think just having your record on the shelf at a good store is the best first step.
I hate to ask "vinyl resurgence" related questions, but since it's somewhat unavoidable in your line of work: how has the trend changed your day-to-day? Since you're a musician, too, how is it affecting the decisions you make as an artist?
Vinyl sales have been really strong for Reckless over the past few years, and I don't see any signs of that slowing down. There are still people coming in the shops that have just purchased a turntable for the first time and are looking to start building a collection. One of the things that concerns me about vinyl sales, though, is the increase in prices. We have started to hear comments from customers who think some records are too expensive, and I don't disagree. I've talked to people at some labels that are aware of this and they're trying to figure out work-arounds to combat the rising costs.
From a retail perspective, I am obviously really happy to see young people getting into buying records. I think the vinyl resurgence shows that music fans still want music in a tangible format, something they can hold onto. Since downloads and streaming services are now very common music media providers, it makes sense that if someone is going to buy something physical, they'd choose a vinyl record. I grew up poring over lyric inserts and marveling at gatefold artwork while listening to records, and it's clear that other people are still interested and excited about that now. I will say that I'm not against CDs by any means, and I even think that people will possibly come around to buying more music that way.
From an artist's perspective, the rising cost of making records and the constant back-ups at vinyl pressing plants have made it difficult for indie labels and bands to produce records affordably. It's not impossible by any means, but self-releasing records, or releasing them on a small scale, has definitely gotten more difficult. I think that's why cassette labels are booming now and so many artists are turning to sites like Bandcamp to release their music. Hopefully, the vinyl resurgence will continue allowing small labels to release great records on vinyl.
Anything else you'd like to let artists know from a record store buyer's perspective?
Record stores are still an incredibly vital part of music culture. If you're in a band and have made a record, definitely ask the store if they will stock it, even if you have to start on consignment. If the store hosts in-store performances, ask them if your band can play. If the store posts fliers for local shows, ask them if they'll hang up your flier. The majority of indie stores exist because they want to be part of the local scene, so definitely take advantage of their existence in your town.
—Jes Skolnik