FEATURES
Mary Lattimore's Traveling Harp
By Ross Devlin · May 30, 2018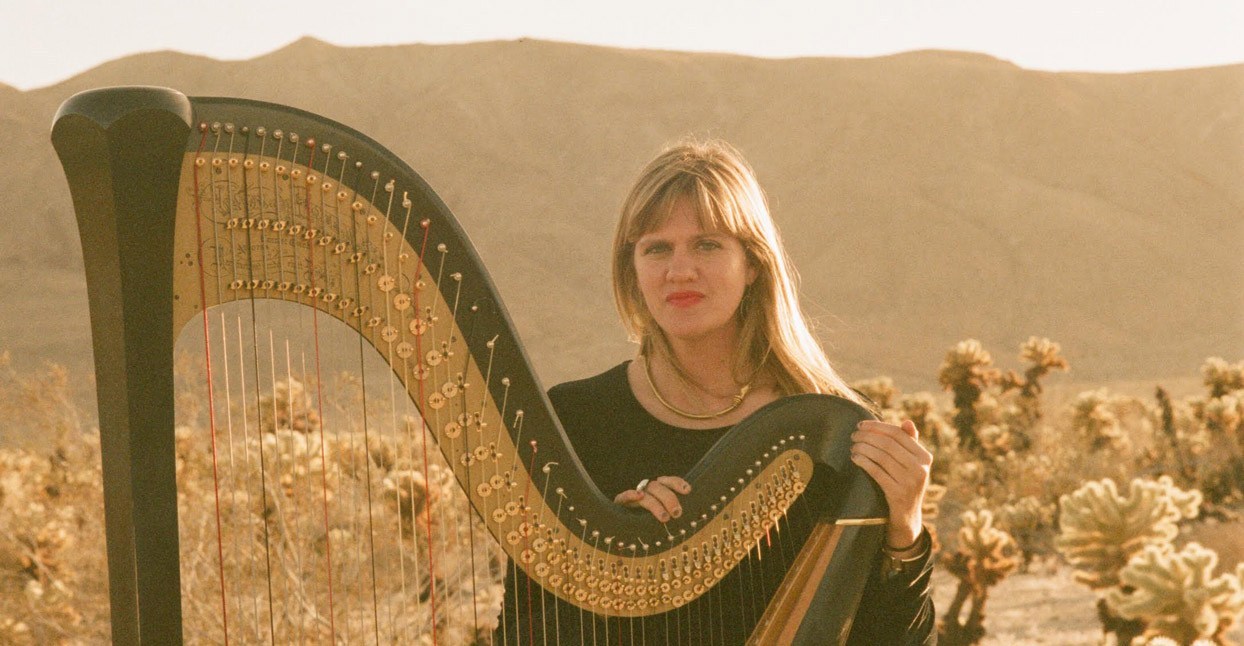 Mary Lattimore's favorite description of her music is "blossoming." She uses the term multiple times when describing her composition process, which she likens to playing live. The comparison makes sense, especially in the context of her career, where she's become one of the most in-demand harpists in the rock industry. Lattimore admits this is a bit ironic—that if she "didn't play a harp, [she] would probably be way less mobile. Playing this weird instrument has brought me a lot of opportunities." Lattimore is the daughter of the longtime harpist for the Asheville Symphony, and she remembers practicing classical music in the kitchen when she was younger. She didn't learn to improvise, or even play music she'd written herself, until the age of 25.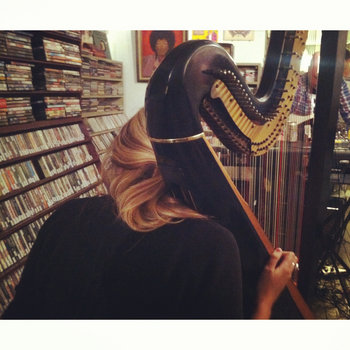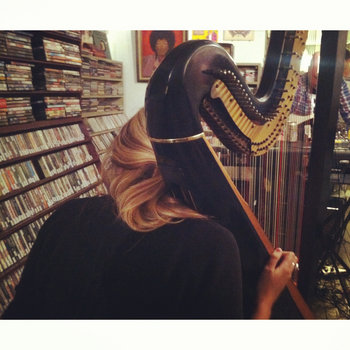 Merch for this release:
Vinyl LP, Compact Disc (CD), Cassette
Her command of this enormous, ancient instrument, developed through years of practice and a series of chance encounters with experimental-leaning indie rockers, has given her musical career velocity. Although many songwriters start informally, learning chords and songs, Lattimore took the opposite approach. "All of this is part of the process," she says, "you learn and then you unlearn. I feel like that's the ideal." Her third solo album, Hundreds of Days, retains much of her signature style—evocative chords mapped from real-life memories create looping finger patterns, which sometimes persist for over 10 minutes—while introducing new instruments and ideas.
"I like layers and things. I like abrasive sounds, but I wouldn't say I'm groundbreaking in doing things that have never been played before," she says. She contrasts her melodic style to that of other innovative harpists, like Zeena Parkins, who "modifies harps, and makes unusual sounds." Instead, Lattimore aims to insert the harp into a "vocabulary of normalcy," and use it to perform melodies that may normally be suited to other instruments—in places, "where a piano could go… a guitar could go… a harp could go here!" Her aim is to make music that is "glittery… pretty, accessible, but interesting."  
Her introduction to the indie rock scene came via Kurt Vile, another Philly native, when she began to write melodies for him. Then, through Vile, came opportunities to improvise with Thurston Moore and Bill Nace, to tour with Moore, Nace, and Samara Lubelski, to record with Moore and Beck, and to sit in on gigs with Arcade Fire. In addition, she regularly uploads solo pieces to her Bandcamp page. The greater project is to "learn new things," to "recontextualize [the harp] a little bit. To get people to feel like it's not such a precious thing that you see in cartoons and stuff like that."
Merch for this release:
Vinyl LP, Compact Disc (CD), Cassette
The music of Mary Lattimore could be considered the recollections of a traveling duo—the artist and her instrument. They speak a shared language, and tell stories of iconic American locales: on 2016's At the Dam, it was Joshua Tree, California and Marfa, Texas; on 2018's Hundreds of Days, it was an artist's residency in Bolinas, California. "I just try to make [a song] into a miniature movie with something in mind," she says. "A melody depending on how it makes me feel, the idea of the memory. It's kind of like exorcism, like therapy." Moments from her past, "tributes" to people who have passed away, and an ever-shifting geography are all mined for songwriting material.
The recording process for Days was also an internal journey. Every song begins simply, and slowly accumulates layers. "I definitely wanted to add more textures… to surprise myself a little! I bought all these instruments that I didn't know how to play," instruments like the theremin, piano, and guitar. Lattimore will begin recording a sequence as if it's a performance, continuing for as long as she deems necessary, and then returning to add layers and harmonies. "Having those kinds of surprises is what keeps me interested and curious," she says. "Just pressing buttons until I got a sound I liked, just a funny ignorance, or naivety" is the spirit that leads her to sounds she likes.
Her playing style is a phalanx of fingers, moving in deft patterns across the plane of her instrument. The connection is intensely personal, the harp "is like a sister to me," she explains. She explores ways that a harp can be more resonant, and sustained, trying to "create this glittery sound acoustically by playing really fast, like tremolo-style." And once she added pedals, "I wondered how it would sound looping it, or by adding delay, to create a wall of sound." The effect is apparent on the title track, "It Feels Like Floating," a single chord progression that loops for almost 12 minutes, collecting accents and inflections as Lattimore repeats a methodical sequence.
Merch for this release:
Vinyl LP, Compact Disc (CD), Cassette
The song titles are occasionally literal. One instance is "On The Day You Saw the Dead Whale," which describes a moment on a beach by Bolinas, observing a beached whale that was hit by a boat. "It was heartbreaking, but it was also such a beautiful, majestic sight," she says. "It was also very awe-inspiring, to see the size of it, I'll probably never see something like that again in my life." Lattimore would return to her barn studio space to reflect on these and other moments, in "a wholly creative environment, away from the chatter of social media." During the residency, she spent most of her time "isolated," reading copiously—14 books in six weeks, during breakfast with coffee—and either spending the day in the studio or hiking in the hills.
There is something of a Wild West spirit to her story—a musician and their tool, slowly conquering a vast continent. "You're always going to find places you've never been [on tour]," she says. "There's so many different kinds of places and people. All of it is such a mystery. It's very romantic—the crazy diverse landscapes. Each state feels like its own country." She drives by herself because "my harp is so gigantic it can't really fit in a van with other people," she says. But the solitude is inspiring: "When you have all day to drive, it can take you to some deep places in your mind." The process helps her "be the musician I want to be, getting exposed to new stuff, having new experiences that keep things fresh."
-Ross Devlin