FEATURES
The Musical Conversation of Mary Lattimore and Jeff Zeigler
By Liz Pelly · October 06, 2016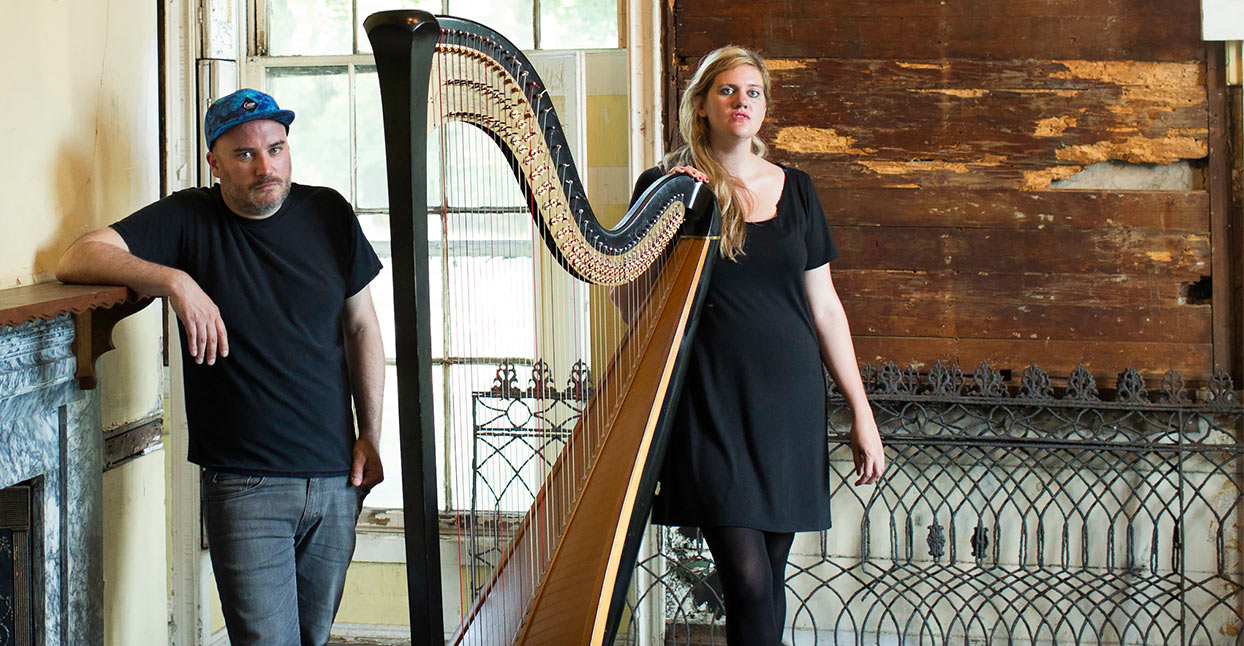 Though Mary Lattimore and Jeff Zeigler play vastly different instruments—she plays harp, he plays synth, melodica, and guitar—when they perform together, it can be surprisingly difficult to figure out who's playing what. "Some of the sounds Mary creates on harp, people assume are coming out of my instrument," says Zeigler. Chalk that up to their shared experimental sensibilities. Lattimore is a classically-trained harpist, known for playing through effects pedals and for accompanying the likes of Steve Gunn, Sharon Van Etten, and Thurston Moore. Zeigler is a multi-instrumentalist and producer who has been recording bands like The War on Drugs and Kurt Vile at his studio, Uniform Recordings, in Philadelphia for over 15 years. He also plays solo under the name Valley Exit and was formerly a member of the band Arc in Round.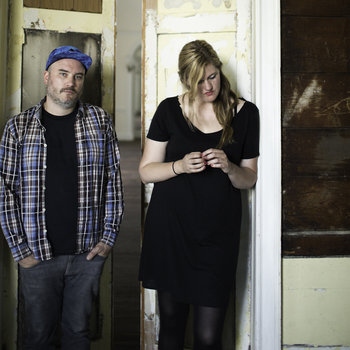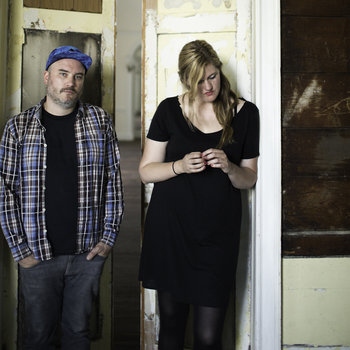 Merch for this release:
Vinyl LP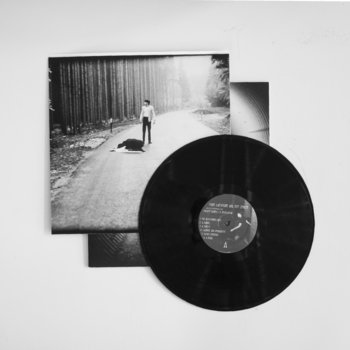 As a duo, they make music that is warm but ominous, a strangely organic mixture of conventionally beautiful sounds filtered through outsider sensibilities. "I like making beautiful sounds on the harp," Lattimore says, "But it's also really fun to make non-beautiful sounds with the harp. There's a lot of room for exploration of texture that you usually don't think of when you think about my instrument. It's fun to make it really weird."
Lattimore's "weird" approach to her instrument is wholly her own, and it pushes the music they make together into unexplored sonic space. For Zeigler, it creates a challenge to match his partner's sense of unconventionality. So far, he's succeeded: Their seamlessness as a duo is on full display on their 2014 album Slant Of Light, as well as Music Inspired by Philippe Garrel's Le Révélateur, released earlier this year.  Le Révélateur is a soundtrack Lattimore and Zeigler wrote to accompany French filmmaker Philippe Garrel's 1968 silent film, which follows a small boy who leaves his family's tumultuous home to seek out a life on his own terms. Ambient beds of synthesizer swell beneath Lattimore's gentle pulls of harp, which alternate between atmospheric and aggressive, melodic and melancholy. At times, the synths sound like violins, both piercing and solemn.
The project came about when the Marfa Ballroom invited Lattimore to participate in their annual silent film program in 2013. "I like the fact that the film from 1968, so it's a 'later' silent," Lattimore says. "And it was directed by Garrel, who was the longtime partner of Nico. I thought that was interesting." Zeigler and Lattimore's writing process relies mostly on long-form improvisation, but for this soundtrack, they broke the film up into scenes to work on shorter pieces. "There are a couple of scenes [where characters] are running through forests," Lattimore says. "We wanted to make violent music for that. The images are sort of frantic. I thought about getting stuck by all of these branches—a sort of 'bristly' sound—so I tried to make that kind of feeling with my harp."
"It's easy to fall into making something really pretty with synthesizers and harp," Zeigler says. "It's super ripe for music that's celestial and pleasant. But we both really appreciate uglier music. There's times where that contrast makes either approach seem more interesting than it would be on its own." That duality is reflected in the film, as well. "There's a lot of beauty to it," Zeigler says, "but also a lot of pretty warped cinematography."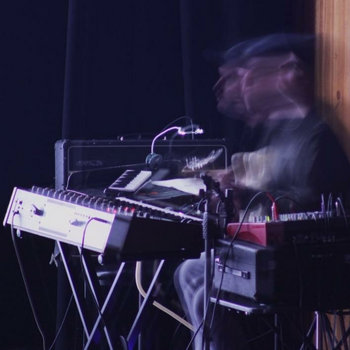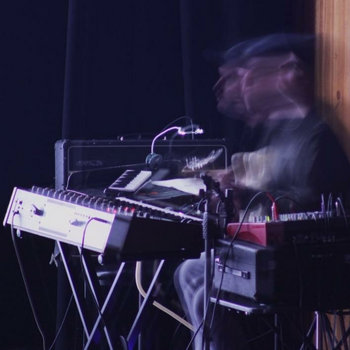 Lattimore grew up around the harp; her mother played the instrument, and she was playing it herself by age 11, taking lessons in school. She went on to study classical harp at the Eastman School of Music in Rochester, New York. "When I lived in Rochester, I also loved non-classical music, like rock music," she says. "I worked at the radio station on the campus of the university there, I worked at several record stores in Rochester, but I sort of kept those two worlds separate—the stuff that I listened to versus the stuff I was playing." Eventually, Lattimore befriended members of The Arcade Fire at one of their shows, who enlisted her to play harp with them at a gig in Philly. It was the first time she'd ever played without sheet music in front of her.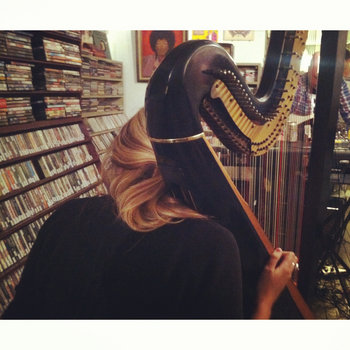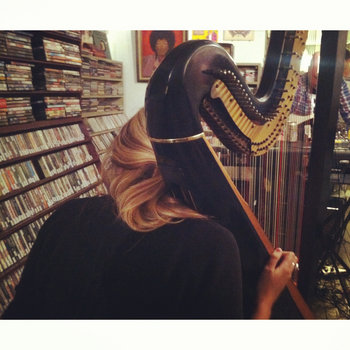 Lattimore's first "real band," though, was a 12-person orchestra called The Valerie Project, which toured around the world playing an alternate soundtrack to the Czech New Wave film Valerie and her Week of Wonders, and featured members of Espers, Tara Burke (Fursaxa), and other Philly indie rock luminaries. "My music is all instrumental, so it tends to be cinematic," Lattimore says. "You're sort of running pictures through your mind when you're playing it. It lends itself to playing with a film."
Still, there are a lot of hard-wired pre-conceptions people have about the harp—ideas about delicacy, innocence, purity. Lattimore defies all of those through improvisation and creative thinking. "People will think it's weird to be playing a harp in a bar," Lattimore says. "Or they'll think, 'Oh, you must be a fancy person' or 'You must be really rich' or 'You must be prim and prissy.'"  Zeigler agrees. "There's an air of decadence to it," he says. "Sometimes I am still terrified by the sheer physicality of it. I'm waiting for the day where I manage to knock it down a flight of stairs."
While Lattimore loves the classical music she was raised on, performing in bands is more interesting to her. "It's just trying to bring the harp into a modern place in our world," she says. "To make it not so precious and not so weird to see it somewhere. It is a giant heavy thing, but I want to make it more accessible to people, where it's not just an alien thing." She pauses and jokes, "I'm just trying to bring the harp to the people, man."
In fact, the spirit of collaboration between Lattimore and Zeigler's defies yet another stereotype about the harp: that it's an isolating, lonely instrument. "You do play a lot by yourself," Lattimore says. "It can be isolating to play it, because not many people play the harp, and you don't have a lot of people to talk to about stuff in the way that people, say, talk about guitars. I don't have that many people to talk to about playing harp. Except my mom." Working on collaborations has allowed Lattimore more space to write and experiment, and has also provided her with a community, and a sparring partner. "It's sort of like we're having a conversation with each other," she says, "Just going back and forth."
—Liz Pelly