FEATURES
Meet Mary Bell, A Parisian Punk Band Named After a Very Young Serial Killer 
By Amy Benfer · April 10, 2017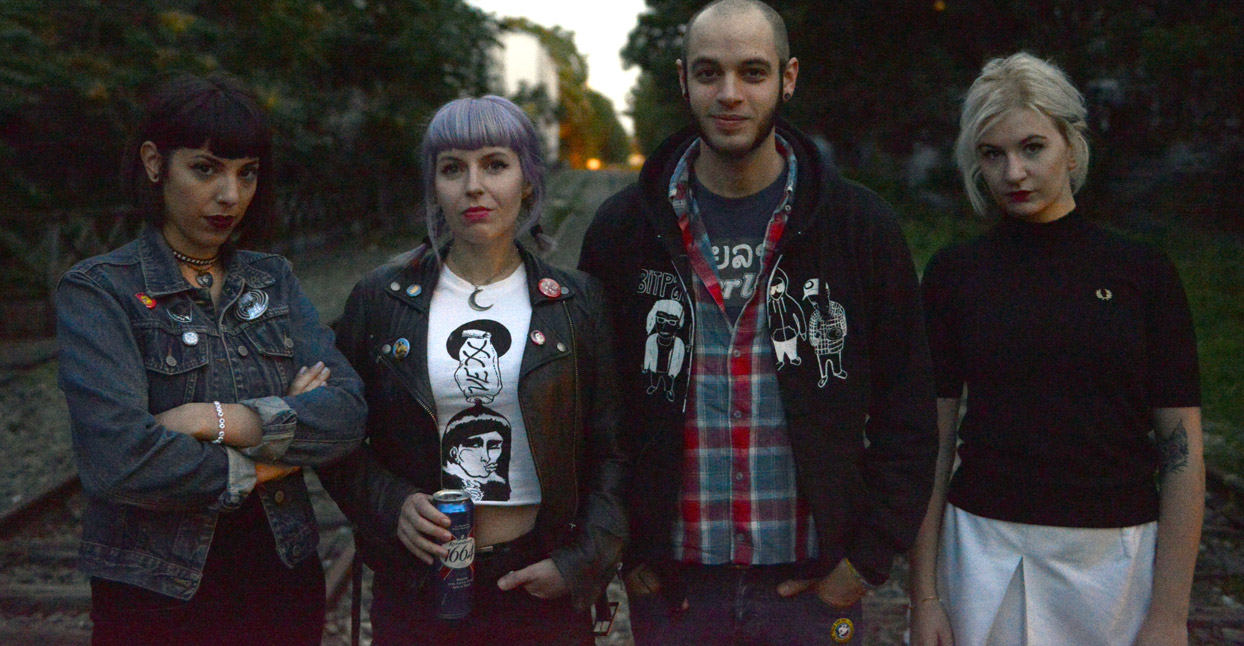 Mary Bell is a Parisian punk band named after a British serial killer from the '60s, inspired by (mostly American) hardcore and grunge bands from the '90s. Their music sounds like something you'd get if the heaviest of grunge bands got together with feminist Riot Grrl punk bands to form a supergroup: Imagine, say, Kathleen Hanna on vocals with Buzz Osborne (of the Melvins) on guitar.
"Oh my God, I love you for mentioning the Melvins," says lead guitarist Victoria Arfi during a Skype call from her apartment in northeastern Paris, a few blocks away from their next gig at Point Ephemere. "They are one of my favorite bands ever. I've seen them eight or nine times."
"You can't see them from here," bassist Tristan Bardre chimes in, "but there are Melvins posters all over this apartment."
"I'm a huge fan of Buzz Osborne's sound," Arfi continues. "On this record, we wanted to get something very heavy." To achieve that heavy sound—Bardre and Arfi—who often complete one another's sentences, deliberately layer their instruments on top of each other, then add lots of distortion, making it difficult to distinguish guitar from bass and vice versa.
Merch for this release:
Vinyl LP
The band takes its name from Mary Bell, who strangled two little boys to death when she was 10 years old. The band is fascinated with serial killers—there are many in France, says Bardre (the band's home page on Bandcamp reads: "We are angry children. We want to kill you."). Arfi says she discovered the Mary Bell case in John Waters' book Crackpot: The Obsessions of John Waters. "What we liked was that she was a child herself," Arfi says. "She was very young, she had endured a lot of hardships in her very early life."
"In retrospect, it could not be a better fit to our music," says drummer Gailla Montanier. "It's violent, tense, and spontaneous. And then there's the cute little girl look of Alice [Carlier, the band's lead singer], who catches you by the throat as soon as she opens her mouth. It's destabilizing—in a good way."
Montanier, too, favors a heavy sound (inspirations include Janet Weiss, Stella Mozgawa, Shannon Wright, and Lori Barbello, who, like her, often uses toms). She and Arfi formed the band three years ago, when both were first learning their instruments. But they needed a singer, so they posted to a Facebook group: "Looking for a female punk singer in Paris."
Alice Carlier answered.
"At first," says Arfi, "she was quite shy."
Carlier, a classically-trained vocalist, went to conservatory and studied baroque music in Versailles. She loves the composers Marc-Antoine Charpentier, Jean-Baptiste Lully and Giovanni Battista Pergolesi. But, Carlier says, she grew up listening to her father's Led Zeppelin records and has always "been into rock n' roll." At age 12, looking for inspirational female singers, she found Hole's Live Through This in her older sister's CD collection.  "When I heard 'Violet,' it was an inspiration," she remembers. "I listened again and again. And I practiced my voice, my screams, to it." Hole lead her to seek out other feminist punk bands—Bratmobile, Le Tigre, The Distillers – but also earlier bands, like The New York Dolls, Johnny Thunder and the Heartbreakers and the Dead Kennedys.
Merch for this release:
Vinyl LP
Later, one of Carlier's singing teachers compared her to Nina Hagen because of her "punk clothing." At first, Carlier found Hagen's voice too "eccentric" and her backing band "not punk enough for me." Her favorite track was "Naturträne,"—"the most classical," she says. "But now I realize I learned a lot from her—that I had to be literally mad, not afraid of any eccentricity in my vocals." That same teacher made her sing other "mad" songs, including Kurt Weill's "Alabama Song." "It was a way to trash my classical voice," she says. "I loved it!"
At age 16, her parents sent her to a rock n' roll summer camp where she discovered her "punk voice"—smoking a lot of cigarettes helped, she says—and composed her first punk songs. But by the time she answered the Mary Bell ad, she hadn't used her "punk voice" in years. "I was afraid I'd lost it," she says.
At rehearsal Montanier kept shouting: "Scream more! Scream more!" "It came back," Carlier says. "I finally found a voice I could have fun with." Bardre joined soon after ("I can't imagine the band without him," says Chalier), and Mary Bell was complete.
Merch for this release:
Vinyl LP
The Parisian punk scene is thriving (see: the band's extensive list of their favorite bands below), all the band members agree, though "town hours" (city ordinances that limit noise between 10 pm and 7 am) and the high cost of living make the city less accommodating to musicians than cheaper, more-mayhem-tolerant European cities like Berlin. Some musicians in the DIY scene have serious day jobs (Bardre works in IT; Carlier is a music teacher in Nantes; the bass player in Arfi's second band, P.M.S., is a high powered attorney in a big law firm by day and plays bass in a hardcore punk band at night; other punk friends work in architecture, engineering and marketing organic food). The band believes this sense of economic and political frustration is one reason hardcore punk—a genre bred during the Reagan years—is so popular right now.
"Yes, frustration," says Bardre. "Here life is very fast.."
"It's very stressful," says Arfi.
"It's expensive," says Bardre. "It makes people angry. It's a way for the kids, and I include myself, to extract that frustration, and put it into art. If I don't have music to express myself after work, I feel very anxious. It's a way to put our frustration…" "Into something positive," says Arfi.
"The music scene makes a lot of people," says Bardre, "From different social backgrounds," continues Arfi.
"They all come together to do something good. Everyone in Europe is working outside their music," says Bardre. "I don't know anyone here who pays for their life with music."
"I know some people," says Arfi. "But they don't really play punk music."
Despite this, the band's first vinyl release sold out quickly on Bandcamp and was then co-released with Le Turc Mecanique and Danger Records. For listeners eager to continue exploring the Parisian punk scene, the band recommends checking out Youth Avoiders, Frustration, Last Night, Bitpart, SIDA, and Hystérie, as well as bands who, like them, are also members of le Collectif Semi-Conscient: Ours Blond, P.M.S., Los VVs, and bands on the French labels Teenage Menopause and Gone with the Weed records. Adds Arfi, "It's cheating because they are Belgian, but—Cocaine Piss!"
—Amy Benfer