FEATURES
Suicide's Martin Rev on Making Music Out of History
By Marc Masters · June 01, 2017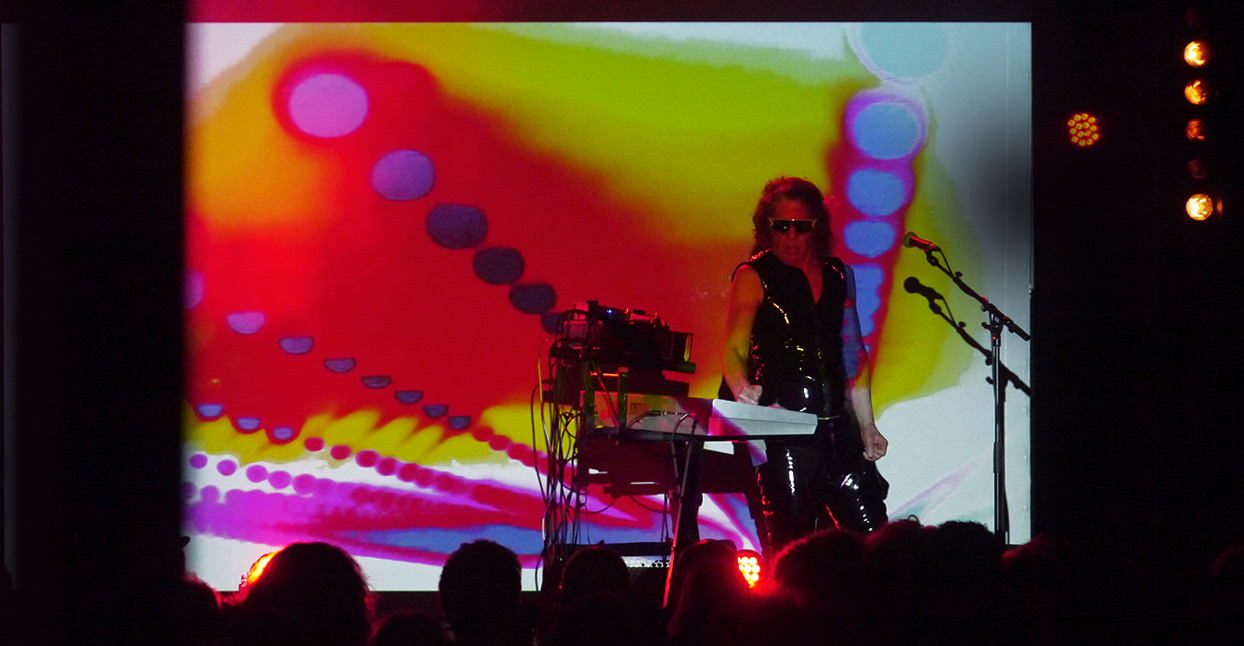 It's not easy to summarize the vast musical history of 69-year-old groundbreaker Martin Rev, but his new album Demolition 9 does a pretty good job. Across 34 tracks—most of them less than two minutes long—Rev skates through jazz, classical, doo-wop, R&B, punk, industrial, and the many uncategorizable styles he coined as founding member of pioneering post-punk duo Suicide.
Demolition 9 feels like a concept album—perhaps a score to a musical about Rev's life—but, for him, there was no concept beyond making new music. "I was just following my ear, which is what I do in everything I work on," he says, speaking over the phone from his home in New York City. "It's all about playing around. I'm like a kid playing with toys, assembling his own little arrangement out of stuff that doesn't make any sense to anyone else but him."
That playfulness is clear on Demolition 9. Rev will jump from a swelling symphonic piece to a swinging pop ditty, then cut to a jarring blast of noise or a pounding storm of electronics. There are serious moods throughout the record, but there's also lots of fun to be had. Take "Tuba," a bouncy piece that could soundtrack a Bugs Bunny cartoon. "The sounds of certain instruments—horns, tubas, bassoon—always have an angelic or innocent humor for me," admits Rev.
.
00:10 / 00:58
The many modes of Demolition 9 reflect Rev's lifelong devotion to music. Born in New York in 1947, Rev first fell in love with the doo-wop and R&B songs he heard kids his age playing and singing in the streets. In his teen years he turned to jazz, watching legends like Thelonious Monk and John Coltrane in Manhattan nightclubs, and taking piano lessons from bebop innovator Lennie Tristano.
A jazz career could've been in Rev's future, but his path veered when he met artist and singer Alan Vega in the summer of 1969. The two bonded over mutual loves of classic pop and the confrontational performances of Iggy Pop. They soon formed Suicide, with Rev banging at a hybrid of keyboards and drums and Vega playing the dangerous frontman. A huge influence on the post-punk scenes in '70s New York, the duo stuck it out for four decades, outlasting their peers and ending only when Vega died last year at age 78.
Demolition 9 is Rev's first album since Vega passed. He wasn't specifically thinking about his musical comrade when he made it, "but he's always a listener somewhere in my mind," he explains. "There are certain people in your life that you're really playing for. They're the ones you want to please. Alan and I didn't always agree on everything, but I always wanted to hear what he had to say."
To learn more about how Rev's past informed Demolition 9, we asked him to give us a guided tour of his musical history.
On R&B and Doo-Wop
I grew up on this music. It was coming right out of the homes of people I knew, and kids would sing it in the streets. Songs would sometimes go right from the streets into the studio and then onto the radio. It was the pure emotions and inventiveness of kids my age.
That music was New York. Everybody was listening to R&B and doo-wop on their little transistor radios. Anytime you went out to a school dance, that was the music, that was the soundtrack of your life. Being romantic, falling in love as teenagers do, the music enhanced that and that enhanced the music. It was a reflection of that whole teen way of coming of age amorously.
R&B holds up today because it was truthful, not always in the words but in the performer's intensity, commitment, and direction. The rhythm is poignant and terse and tight. It's a structure that has been time-tested. You make a building so well, with everything screwed in so perfectly, it's going to hold up a long time.
On Classical and Jazz
When I heard something that I really liked, I wanted to know how to do it. As a teenager, classical music was the most remote kind, but I knew there was something there that I didn't want to just walk away from. If Stravinsky came on the radio, I'd make sure to listen to it. Some I didn't have the concentration to listen all the way through, so I'd fall asleep. But I knew that it was a challenge and it was great in its own way.
Jazz struck me immediately. As a teenager, it was an incredibly fascinating thing, hearing Monk, Miles, and Coltrane. They held music on such a high level. You didn't mess with that in terms of your dedication and the level you tried to achieve. As an instrumentalist, it demanded such study to master. You couldn't just dabble, you had to really work at it. I dug that, because I always felt that the worst thing in the world was to run out of things that I didn't know.
At that point the classical musicians that I knew of were not improvising so much. They were basically working on mastering what was already written. Whereas the jazz guys were inventing forms all the time, so they were really on top of the whole thing. And issues in America—civil rights, equality for all—jazz was reflecting that because the musicians were living it. So when they played, that was in their horns, the intensity, the truth. That came out in their music.
.
00:10 / 00:58
On Suicide
A lot of why Suicide stayed together so long was because we were never really embraced; we never had a really major success. We were always on an uphill battle. When we met, we were both already developed and committed to being artists. There was not going to be anything else in life for us; we didn't want anything else in life. That was our great obsession and desire. Alan and I were the only ones still out there after everyone went home, so to speak. We were up the latest, and we were the most inspired in terms of what we wanted to do.
We sculpted Suicide out of each of our own musical tastes and value systems—what might work better for his vocals, what might work better for my instruments. You just keep sculpting it out from one big block of sounds. The music stayed fresh enough for us that it was never something that we thought was finished. It was always changing as we were. So was all the stuff happening around us, especially the whole focus on performing with a certain aspect of theater. That was really in the air, from Iggy and before him the Rolling Stones, and we seemed to take to it naturally.
On New York City
The city has changed a lot, but there are still aspects of what it always was, in terms of its geometry. The ratio of people versus space versus height versus nature—that kind of dynamic has a rhythmic aspect to it. It creates a certain energy, a certain intelligence because people are so close together. When you're surrounded by a lot of activity and a lot of people, there's a lot of information around. So you become more aware and sophisticated about other people, and tolerant of other people. But because of the cost of living, it doesn't really allow new artists—dreamers, you might say—to come to NYC and hole up for a while, and that's what always made it a fertile ground for new arts.
I can't separate New York from my life. I don't know where it applies on a daily basis. Suicide was definitely influenced by the subways and the streets and the concrete. It's the way that you shape things and the intensity of your focus that is effected. So it's all there, and I don't think it'll ever not be, because I was born in New York and it has always been an incredibly exciting place for me, and so influential.
On Career
I wanted to do something with all this stuff that knocked me out, all the rock and jazz and classical. So I had a real adventure ahead of me, to master that, to find my individuality in all of it. I knew early, at age 10 or 11, that was the route I was on, and it influenced every decision I made afterwards.
It's like an obsession or a compulsion, like when you see a girl or a guy that's the one for you. You want nothing to get in the way of that. Music never really breaks your heart the way love can, but the circumstances of your life can become very tough. Some cats don't take risk into account. Many years after I started, I realized I hadn't ever factored in risk. A lot of people around me, they gave up early if they had an aspiration like I did—they said, 'I gotta make a living.' They were more realistic in a sense.
Then you have a few people like me who say, 'I don't care about that.' They end up making the work that means something, but they also end up in difficult places. Because when you're steering your ship, everybody else is going where they need to survive, and you're going off to the side. You see an island in your mind, and at some point you're way out in the sea towards this island, but all the other ships are far in the distance. Suddenly it hits you that you're in this giant ocean with nothing around you. But that's part of the whole journey.
—Marc Masters