FEATURES
Marshall Allen, At 97, Broadens the Arkestra's Cosmos
By Hugh Morris · February 10, 2022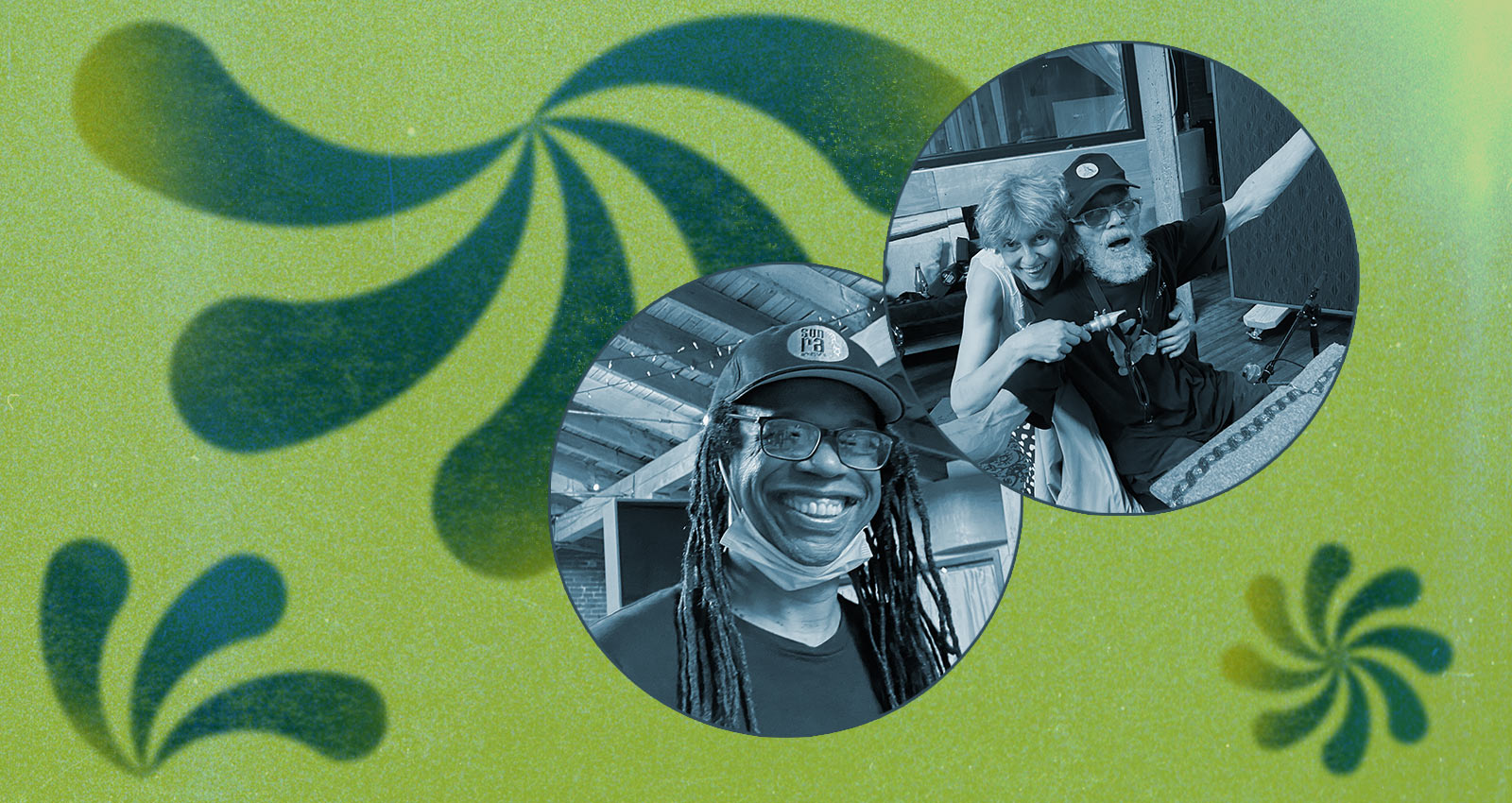 The light is orange, the shutters are closed, and the line is crackly as Marshall Allen and Tyler Mitchell squeeze into view from a dark room of the Arkestra House in Germantown, Philadelphia. The house has been the basecamp for the Sun Ra Arkestra's interstellar exploration for the past 50 years, and all manner of artifacts from that time lurk behind them: piles of books, photos of past Arkestra members, a few huge portraits, and even Allen's kora, which he plucks nonchalantly to fill the gaps between questions. Mitchell regularly drives from his home in New York to visit Allen; this is one of their hangs.
"We go waaay back," Allen drawls, and the two chuckle to each other.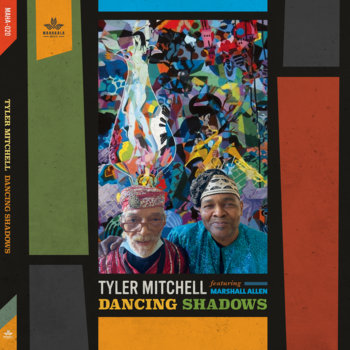 .
00:10 / 00:58
Merch for this release:
Compact Disc (CD)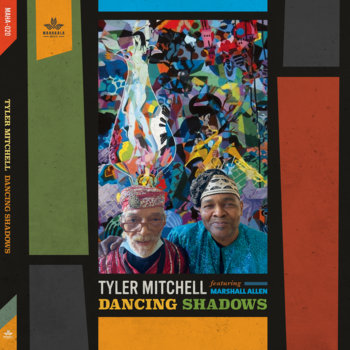 Allen has been the leader of the cosmic wanderers since 1995, and a pupil of pianist and bandleader Sun Ra since 1958. That was the year Mitchell was born, a bassist whose career has charted a more restless course. After joining the Arkestra in 1985 ("back in the days of the big hitters, Pat Patrick and John Gilmore," he remembers fondly), Mitchell took time out of the ensemble to tour Mexico, Cuba, and Central America, whilst also putting a foot firmly in the straight-ahead camp, recording with the likes of Art Taylor, Shirley Horn, and George Coleman.
Mitchell returned to the band in 2010, and Dancing Shadows, his new sextet album out on Mahakala Music, represents a dream he's had ever since—to reimagine a ream of the Arkestra's oldest music outside of the Ark.
There's a lot less of the trademark Arkestral pandemonium on this release, replaced with a more collaborative presence. "Sun Ra had this thing where one man could start a particular piece. That's the way he did it, from one man up, and so the band's built like that, whether you have two people, three, four, fifteen or twenty," says Allen. The absence of a central figure around which life and music orbits also means the end of the legendary through-the-night sessions that produced the Sun Ra records of old: "with Ra, we wouldn't even know what we're going to play," says Mitchell. "You'd play a concert the same way as a recording studio." Arrangements from Mitchell and Allen protégé Nicoletta Manzini lend the record a more contained sound.
Ra's otherworldliness obscures the fact his career began as an arranger for bandleader Fletcher Henderson, and Dancing Shadows therefore encourages a return to the roots of the well-established cosmic sound, prompting some surprising results; "Enlightenment," which first appeared on the 1959 album Jazz in Silhouette, is like an Ellington tune where every component comes loose before detaching entirely. "Sun Ra covered so many genres of music, so I want to get into some of his older tunes," says Mitchell. "We got the chance to mix the old with the new."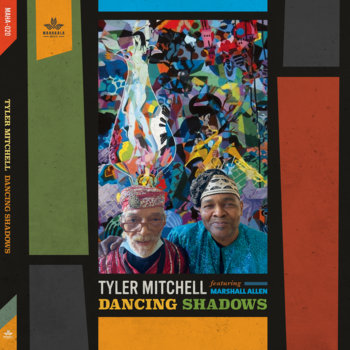 .
00:10 / 00:58
Merch for this release:
Compact Disc (CD)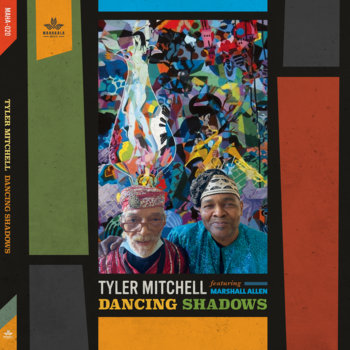 How does Allen feel revisiting the older Ra tunes in a whole new format? "Every day, everything changes!" he counters. "I play something today with the vibrations of today, and it's gonna sound different because the vibrations are different. I have no problem with that. I don't want to sound like yesterday, yesterday's gone." Says Mitchell, "Marshall wasn't going to play like the old days, he adds something fresh on top of it."  And, true to form, Allen attacks, deploying his vocabulary of growls and squeals over shuffling grooves, bop-ish backings, and sweet ballads.
The lineup is a microcosm of the Arkestra (comprised of three saxophones, two percussionists, and double bass), and the agility of that small ensemble allows them to skip through a multitude of soundworlds; a witty cover of Thelonious Monk's "Skippy" ("That was me thinking about James Brown," says Mitchell. "Funk meets the avant-garde") sits beside two divergent takes on new ballad "Nico," and there's space for euphonious sound of Allen's EVI too. "We got seven of them," says Allen, referencing the wind synthesizers made by Italian instrument makers Crumar, which he added to his long list of instrument doublings after Ra's 1978 Italian tour. At this point, he seems to reach for one, to give a demonstration, but alas not; he stands, lights a cigarette, and the moment passes.
Allen is 97, and, though slowed by the dodgy connection, is quick on the uptake. As for why Ra called him Marshall the Deputy (the moniker gives its name to the seventh track, where Allen takes center-stage), he says simply, "Because someone got in and shot the sheriff."
Neither does he show signs of slowing down. There's a live record from Smalls Jazz Club with Mitchell, Allen, and other Arkestra folks in the pipeline, as well as more Arkestra dates (the ensemble recently received their first Grammy nomination, too). What, then, keeps him going? "The music! I play the music for my wellbeing. Then, when it feels good, I can give some to you. Otherwise, why would I play for the public?" Allen's soundworld is notoriously uncompromising, but it's one Mitchell is eager for us all to hear—for their benefit as much as ours.