FEATURES
Marisa Anderson's Imaginary Sci-Fi Western Soundtrack
By Robert Ham · July 07, 2016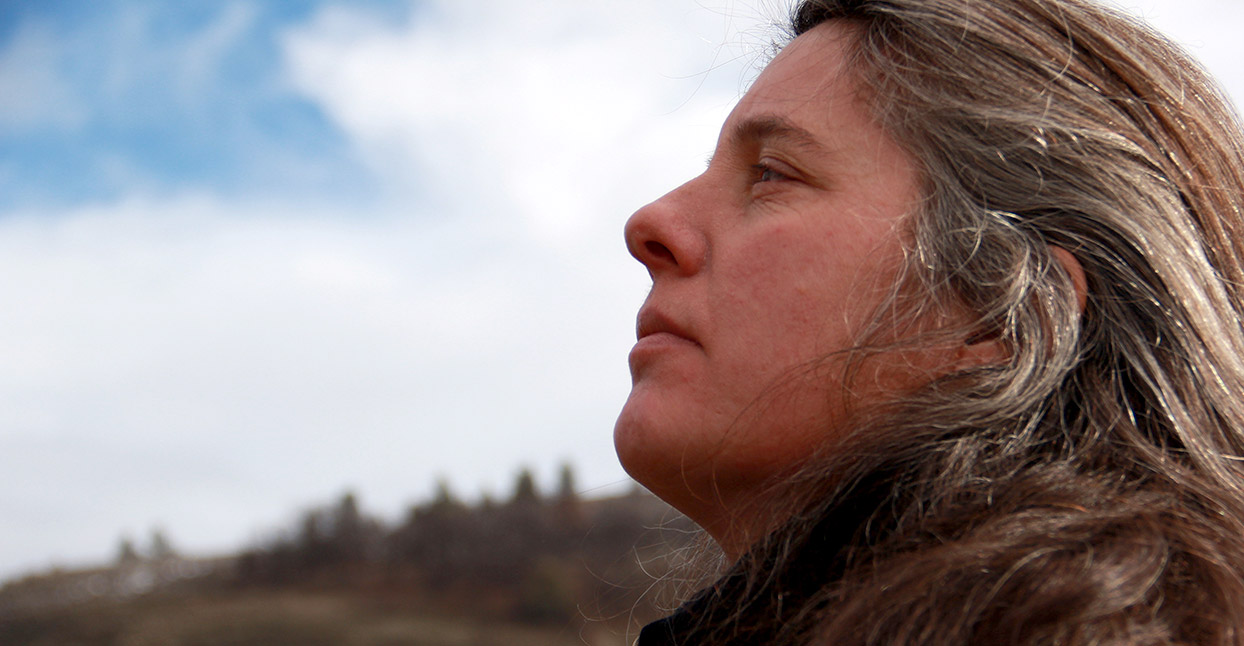 photo by Jodi Darby
"The songs that I chose and the way I presented them—it's about war, violence, institutional power, and how that affects people."
Marisa Anderson doesn't seem particularly comfortable talking about her music. Sitting in a worn vinyl booth and sipping on whiskey in a surprisingly sizeable dive bar in her hometown of Portland, Oregon, her expression is often a little pained as she works out the inspiration behind the recordings of folk, blues, and jazz guitar instrumentals that she has been releasing over the past seven years. But while the music says a great deal about her on its own, her work only gains more depth and clarity when you learn about her past.
Her days as a self-proclaimed "weird teenager" poring over books written by pioneering folklorist Cecil Sharp gave her a firm foundation in the traditional folk songs that were born throughout the U.K, mixing with varied styles of traditional music from across Africa to become the folk and blues of the Mississippi Delta and the Appalachians. Songs like "Electricity" from her 2008 album The Golden Hour, and "Mojave" from 2013's Mercury, bear traces of the dirt and grit and heat that stung her skin as she spent her 20s living in the Southwestern desert, taking part in anti-nuclear protests and political actions. Cutting through all of Anderson's recent work is a confidence that she credits to the six years she spent building her improvisatory skills as a member of the freeform jazz ensemble, the Evolutionary Jass Band.
All of the above elements are readily apparently on her latest album Into The Light, with a small emphasis on her desert days in the sun-baked beauty of its sound and her idea to make the record the soundtrack to an imaginary sci-fi Western. That concept drove Anderson to create her most expansive work to date, her assured finger-picked melodies stretching out and resonating while the muted earthtones of synth and pedal steel add a larger depth of field throughout. Even if you can't imagine the Man Who Fell To Earth-type scenarios Anderson had in mind when writing this material, the combination of the earthbound and otherworldly that she achieves in the music will still haunt you.
.
00:10 / 00:58
Merch for this release:
Compact Disc (CD), Vinyl LP
Where did the concept for Into The Light come from?
It came from paying attention to the world, and having a bunch of ideas and impressions about the refugee crisis and the border of the U.S. and Mexico and all of the really intense stuff happening there. And wanting just to process that through my art. Musically, it came from Bruce Langhorne and his soundtrack for The Hired Hand, and The Red-Headed Stranger. [Unlike The Hired Hand], there was no movie when Willie Nelson made that album. I was, like, "Oh you can do that? Thank you, Willie Nelson." I sort of took that and raised him one, because my album is instrumental. There's no overt narrative. I'm accompanying scenes that I see.
What do those scenes look like?
It's a little bit hard to explain. I spent so much time in the Southwest, thinking about borders and thinking about how there's so many people that didn't move—the borders moved around them. Their nationality changed, but who they were didn't. And seeing how that is playing out now with the refugee crisis, I thought of a visitor, someone with no context, landing in the Southwest. Where would they be? Who would they encounter? How would that play out for them?
Does all your work have that underlying political thread to it?
It started with Mercury. Mercury is the name of the town inside of the Nevada Test Site where the scientists who work there live. When I was in my late teens and twenties, I lived across the street from the test site in an encampment and did a lot of protesting there. One of the things you would do is walk into Mercury. You had to walk all night to get there. You'd climb the fence and walk all night. It was also the start of me waking up as a human, so the naming of that record was where I started connecting stuff I made to things inside [of me], and most of that stuff tends to be political. And with [Traditional & Public Domain Songs], to me that's very much an anti-war record. The songs that I chose and the way I presented them—it's about war, violence, institutional power, and how that affects people.

photo by Jodi Darby
Where does this political side come from? Was this something your parents instilled in you?
No! [laughs] When I was 16, the Great Peace March was a big cross-country walk that happened then. Life Magazine did a piece on it and I remember looking at that article and was totally activated. Like, "I have to do that." I graduated from high school and went to college for one year and met this guy who was organizing for a walk that was happening the following year. I told my parents, "That's it. I'm done with college." They basically disowned me. Whatever, it's fine now. I just had to do it.
What do you remember most from that period of time?
Just meeting people that you would never meet in regular life. For example, there was this guy on one of the walks. He came off the street somewhere. We had been walking through the desert for many days and were going to be walking for many more days. And he says, "I need a beer." And just turned and took off out into the desert. And we were, like, "Where's he going?" We all made it back to camp, and sometime after dark, he shows up with some warm six-pack that he had found under a rock. I remember meeting multiple people like that, that just operated on a different frequency. There's not really a place for people like that.
These walks and protests led directly to you playing music for a circus, right?
I was part of the logistical group. We did a lot of cooking and port-a-potty coordination, these kinds of things. There was a street theater group that we had worked side-by-side with. They said, "Let's take a trip to Mexico and do a circus. You have a bus and a kitchen." We were there for about three months and came back and started renting a house on the outskirts of Santa Fe. It had this enormous horse corral. So it was, "Wouldn't it be fun to do a circus in the horse corral and charge 25 cents for the adults?" We did it and 800 people came. It wasn't a crusty punk circus, but it wasn't Barnum & Bailey either.
.
00:10 / 00:58
Merch for this release:
Compact Disc (CD), Vinyl LP
You play this traditional blues and folk music in a pretty male-dominated field.
My experience of being in a dude's world is not that different from being in the world. [laughs] I really really appreciate the allies that I run into who are, like, "Hey, why does it have to be this way?"
I only ask because talking about the political side to your music, it seems to me that simply the act of you as a woman making this music and performing it solo is, in some small way, a political act. Would you agree with that?
Well…if I was a guy who was doing it alone, how would you frame your question? Would you notice it?
I try to notice it. As a straight, white male, you aren't conditioned to notice the imbalance.
I think it's a journey that we're all on. And some people don't know that they are on it. [laughs]
—Robert Ham