FEATURES
Mariam Finds Her Voice
By Chaka V. Grier · January 03, 2017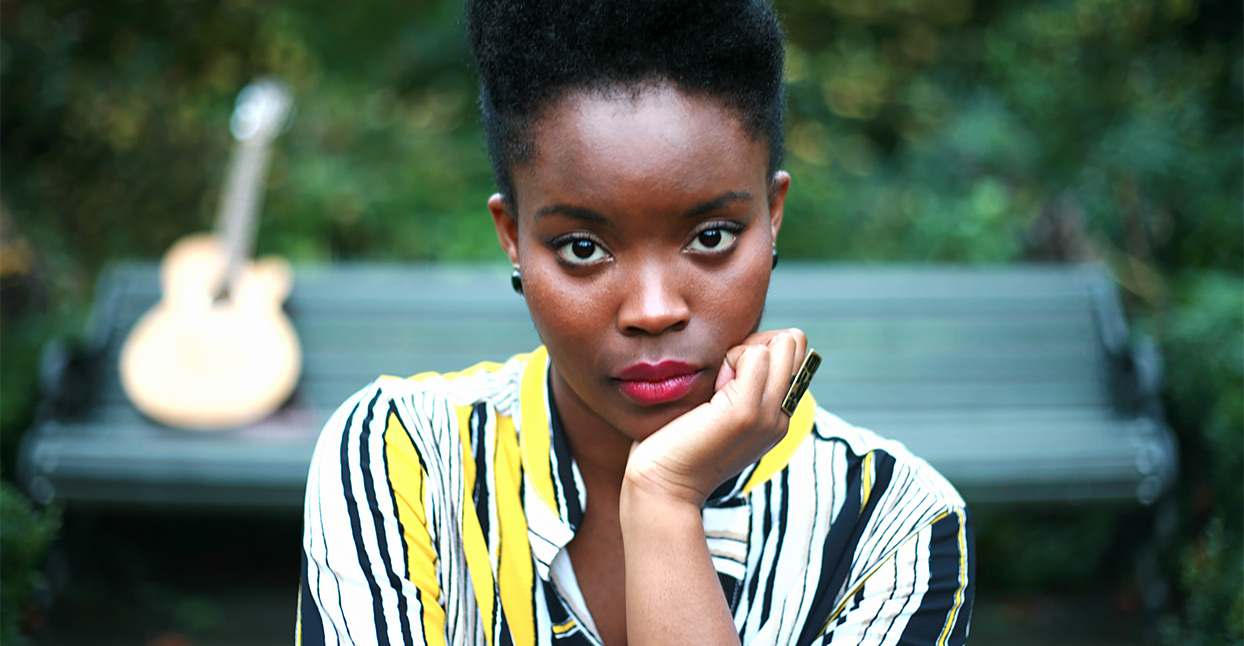 When asked what her next steps are, now that her EP Heart to Heart is finally out, British singer-songwriter Mariam replies: "To keep dreaming." And indeed, it's truly been dreams—and faith—that led Mariam to return to creating music after two years away from the spotlight. Prior to Heart to Heart, she'd recorded tracks for a planned R&B EP that didn't turn out the way she'd hoped. Eventually, she returned to her roots in gospel music, which helped her find her voice again as well as a renewed passion to create.
.
00:10 / 00:58
Influenced by soul-stirring art, the South Londoner began singing at the age of ten. She wrote poems that became song lyrics, and later taught herself how to play the guitar. Though she was born and raised in the U.K., Mariam cites her Nigerian heritage as a powerful influence on her sound and ideas. American musical influences like Stevie Wonder, Bill Withers, and Lauryn Hill also broadened her palette, inspiring her to bring gospel's buoyant energy and soul's introspection into her own unique brand of pop-folk music.
Bandcamp spoke to Mariam about second chances, learning to accept help, and weaving hope into her music.
How did you connect with your label, OL Music?
We connected via Twitter. Good old social media! They followed me on Twitter, but I had been looking at their page before as I know some artists who have recorded with them. So when I felt ready to record again, I slid in their inbox and inquired. They messaged back, we met up and it was a done deal. It was a great decision, I feel like I have known them for ages! They're amazing, very attentive and really brought the songs to life.
Putting work out there is a bit of a vulnerable experience. What were some of your highs and lows?
The highs were seeing the process through to the end, having the EP finished and having my launch be a sold out event—but there were so many times I wanted to give up.
It was all self-funded, and there was a time when I didn't have enough to cover the costs. I didn't know what to, who to talk to, I didn't even want to speak to anyone. But just before I was about to put a message on Facebook to say that it was cancelled, my family stepped in—my mum specifically—and saved the day, not just financially but emotionally, encouraging me and simply taking some of the burden off by helping. I'm so bad at asking [for help]. I had friends call me, send me texts, prayers throughout the planning [process] which kept me going and still does.
What about Heart to Heart met your intentions and what came out differently than planned?
Most of it came out differently. I went into the project with a different sound in mind and with different songs.
If you listen to 'Selah' [on my homepage], you can hear it is a bit more soul/R&B than the songs on Heart to Heart. It was one of the songs I recorded for the previous EP, and that is the sound I was looking to create [then]. The songs are still there, I love them and still perform them when I do live shows, but as the project was moving forward, it required something new—and I did too. I was in a newer place, and needed to express that, and that can't be done fully with old songs. So myself and my producer spoke about that and came out with these songs that are more soul, folk, pop and alternative. Even though the songs are new, they have the feel and message I wanted to get across.
I read that the London Community Gospel Choir helped you get your groove back prior to recording this EP. Did you ever consider doing a gospel album?
No, I never did. I felt that for me, I was gifted to talk about life and relate to people. I think that if I did gospel, I would be boxed in, and I don't want to be put into anyone's box.
Does your relationship with gospel music influence your approach to music?
Yeah, it definitely does. It's in my being, in the overall messages I'm trying to share with everyone, which is to encourage and in some way uplift, which is what gospel music is all about. It's good news! With my music, I try to just let it be what it is, but my perspective is one of hope.
.
00:10 / 00:58
'Running' is really the definitive track on your EP. What was going on when you sat down to write that song?
It's about that feeling we all have when it is easier to run away than to face your fears and confront issues. I have had relationships where I didn't feel valued or cared for so I had to make a decision to walk away because I value myself. To me that stands for any relationship, knowing you are worth love and are no less than anyone else is essential.
Do you believe you have to live a song in order to write it?
It depends on the writer. Some people are amazing at telling stories without the experience, [but] for me I think it helps when the song is personal so that the listeners can feel like I'm sharing this with them. Having the experience of 'Be There for Me' [being helped by my family] was helpful. Without it, the song wouldn't have come about.
Are there broader messages/feelings behind your songs that you hope to get out into the world?
As great as it is to talk about love, there are other types of relationships to be explored and so much to life to talk about. I want my music to be relatable and touch people, help people hope again—and just enjoy some good music.
—Chaka V. Grier