FEATURES
On Their New Album, Iceland's Mammút Writes Songs for Elvis
By Steven Edelstone · August 25, 2017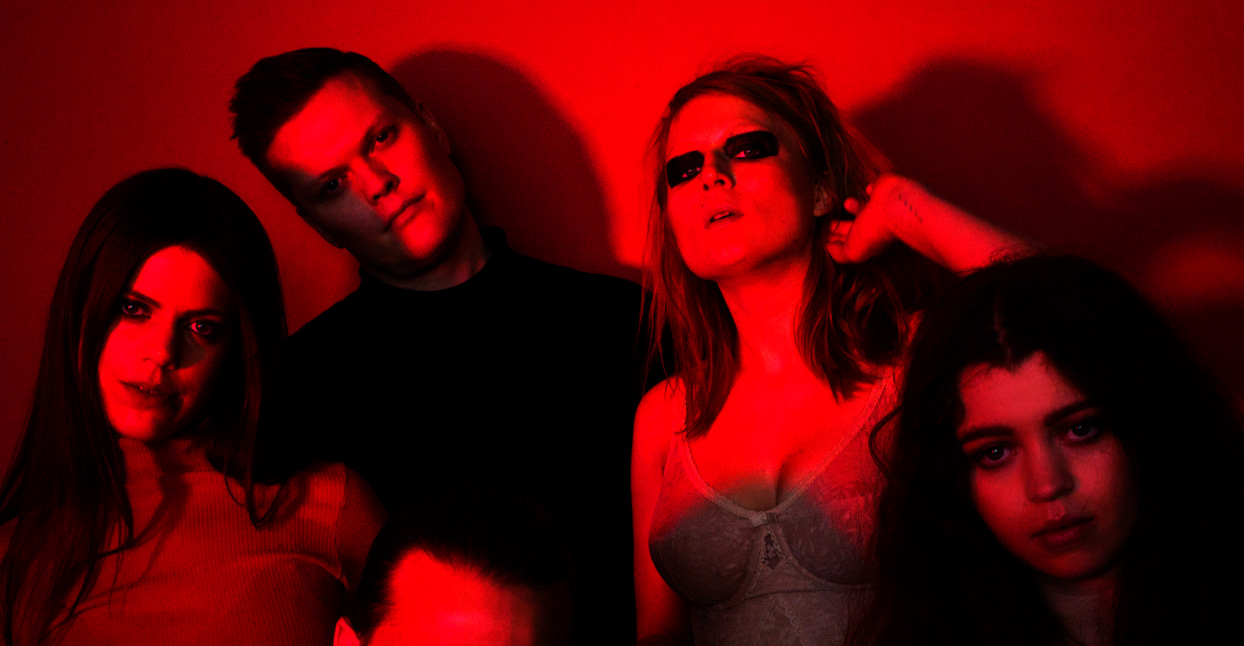 The phrase "I love you" translates to "ég elska þig" in Icelandic. While it's an undoubtedly beautiful collection of syllables, it would hardly resonate beyond the island of 332,000 people. This presented a quandary for Mammút frontwoman Kata Mogensen. After years of listening to American pop music, she wanted to write lyrics that could've been sung by Elvis or Michael Jackson. So for Kinder Versions, the group's fourth album, Mogensen made a decision: she would write and sing in English for the first time.
While the lyrics on Kinder Versions are darker and more abstract than, say, "Jailhouse Rock," on album opener "We Tried Love," Mogensen gets to sing the phrase she's been wanting to sing for years: "I love you." You can hear the overwhelming happiness in her voice as she screams the phrase over and over again, while Alexandra Baldursdóttir and Arnar Pétursson's clawing guitars threaten to swallow her whole. Kinder Versions—a follow-up to the group's Icelandic Music Award-winning 2013 record, Komdu til mín svarta systir—focuses on connecting with a larger audience without compromising the shape-shifting sound that has won them acclaim in their homeland.
We caught up with Mogensen just before the band's return flight back to Reykjavik following their set at Valkhof Festival in the Netherlands.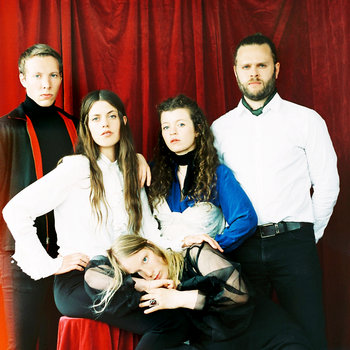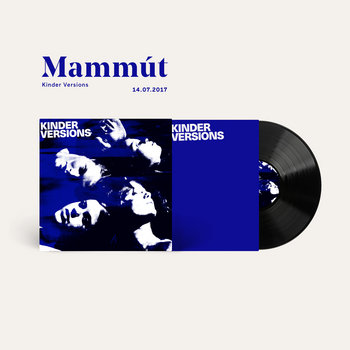 .
00:10 / 00:58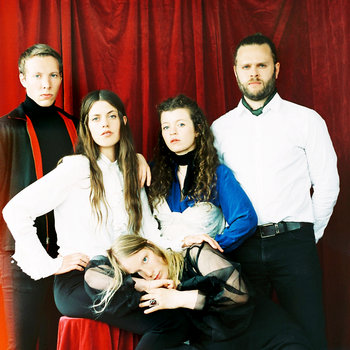 Merch for this release:
Vinyl LP, Compact Disc (CD)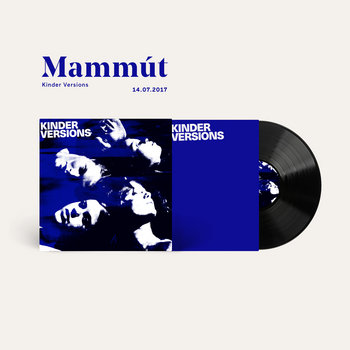 This is your first full-length album written in English. Was that hard to do?
It wasn't really hard once I got started, but at first, I was very scared of it. I had never written anything in English. I had no idea if I could do it or not. When I got started, it all came very naturally, just like with the Icelandic lyrics. It was a very important step for the band, and for me, to start writing in English, because we're very stuck on this island of Iceland. It's very small, and there's claustrophobia, and you really want to jump over to other countries and play. This is our fourth album, and we've done three already in Icelandic, so it was a very good time to switch.
But it was very funny, because when you're writing in English, there's rock and pop history with English lyrics, so you can connect into stuff that had already been written. Also, saying stuff like the 'I love you' lyric—you can sing that in English, but in Icelandic, you can't. It just sounds weird if you try to sing, 'ég elska þig.' It just doesn't work. I've always wanted to put that phrase in every record in Icelandic. Finally, in English, I could do it. The first song, 'We Tried Love,' at the end of the song, I just say, 'I love you, I love you,' for the last three minutes because it was so great just to sing it. You can allow yourself to be more open about stuff in English than in Icelandic. You have to be more hidden in Icelandic, more of a riddle. You can be more direct in English, which is good.
Which songs and artists were you trying to channel when making the connection to pop history in English?
When I was working on lyrics, I could hear someone like Elvis Presley singing it. I could hear some legendary rock star singing it. I could connect it to voices, which you can't in Icelandic. We have a lots of huge artists, but they don't sing much in Icelandic. Emilíana Torrini, Of Monsters and Men—all of these big Icelandic artists sing in English. When you're writing Icelandic lyrics, you're not connecting to a big history; you're just connecting to a few songs that were written in Icelandic. When I was going into clichés, I was always thinking, 'Michael Jackson would sing this!'
There are so many musical twists and turns on this album—there's acoustic guitar on 'Kinder Versions,' 'Bye Bye' hardly has any instruments at all. Was it a conscious decision to try all of these different approaches, or did that develop as the album was being recorded?
We don't really talk about what we're doing while we're writing the songs, we just meet up and try to play and hear what comes out of it. We wrote 25 songs, and then there's only nine on the album. When we write, we try to treat each song like a whole album. So the strings on 'The Moon Will Never Turn on Me'—that came afterwards, when we'd already recorded it. 'The Moon Will Never Turn on Me' was originally a guitar anthem, with heavy guitars all over it, but when we were in the studio, I felt like we had to throw all of the guitars out and have my sister play the cello. You go through so many different stages when you're making an album. We've realized more and more that we're very much doing it by instinct. We're not afraid to throw stuff away and put other things in. This album took over our lives—it was a very intense one-and-a-half years making this album. We wrote a lot of it in the countryside, out in the heavy winter and in the very bright sun. Some songs, we started out writing in very dark, heavy weather, and then we finished them off in the summertime. There's a lot of contrast. We're very relieved to have it released, because when you release an album, other people can hear it and you can release yourself from it, like cutting the chord.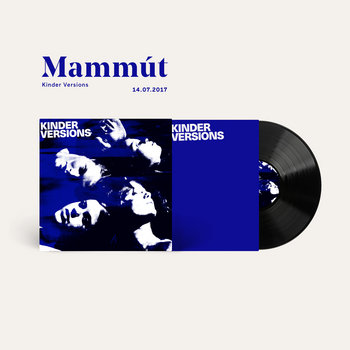 .
00:10 / 00:58
Merch for this release:
Vinyl LP, Compact Disc (CD)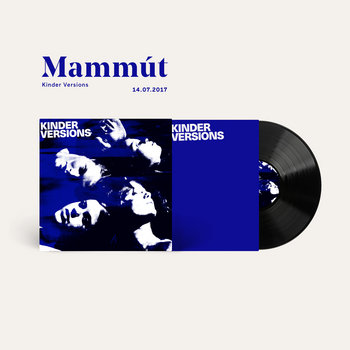 Because you made the decision to write in English, was there more of an emphasis on the lyrics on this album? Are the lyrics more meaningful to you?
The first album, we were 16 and I didn't care what I was saying, and I'm very glad the rest of the world won't understand the lyrics from that record. On the second and third albums, I got very into the lyrics. For the last three records, the title of the albums, the songs, the lyrics—they're all very important. I'm very glad that I could deliver this feeling within the band and with lyrics as personal as they were with Icelandic. I thought that I would maybe lose some intimacy, because it's not my mother language. But for me, I thought I succeeded.
—Steven Edelstone