FEATURES
Maimouna Youssef's Regal R&B Bridges the Gap Between Partying and Purpose
By Sarah Godfrey · Photos by Farrah Skeiky · August 28, 2017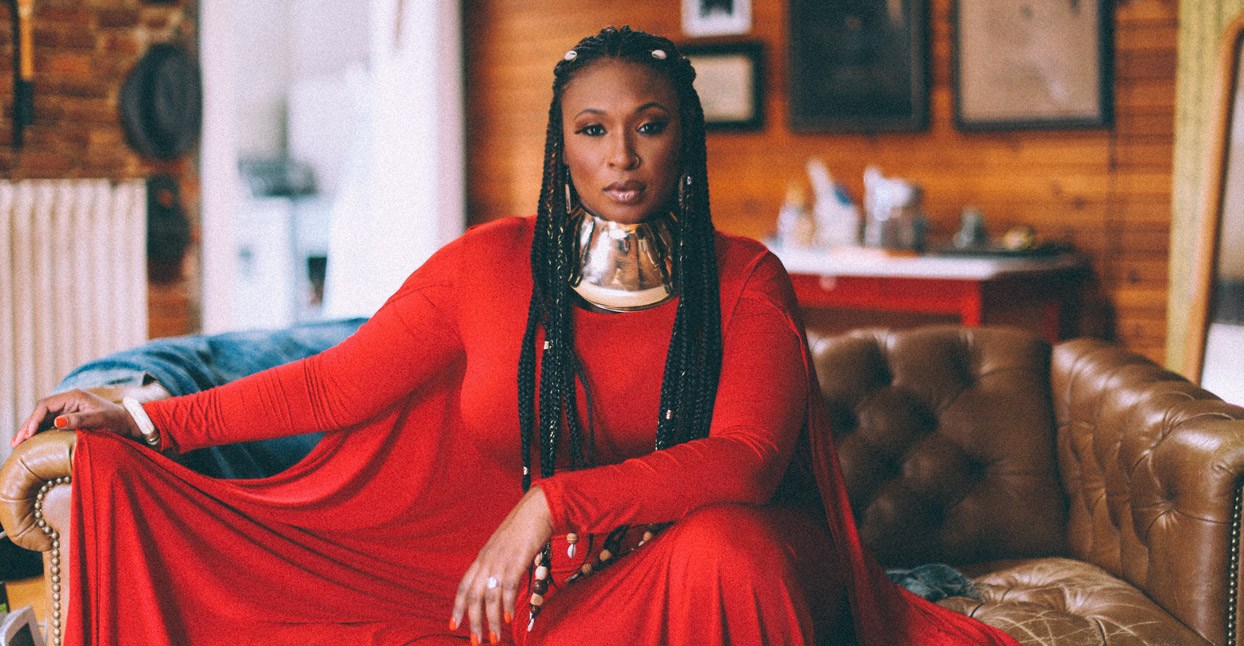 There are two types of people on social media: those who think we can solve the world's problems one tweet at a time, and those who want you to chill because it's not that serious.
On Vintage Babies, a new collaborative album and group with producer DJ Dummy, Baltimore singer, rapper, songwriter and musical healer Maimouna Youssef is out to build a bridge between those two parties: those who are down for the movement, and those who want to turn up.
"There's this idea that if you want to be woke, you can't party," Youssef explains. "There's always one group saying, 'We 'bout to party and bullshit!' and another saying, 'We 'bout to science and math!' Why can't we party and think?"
According to Youssef, when the Black community treats the two things as mutually exclusive, it's not just divisive, it flies in the face of cultural tradition: "During slavery, there was one day a week—Sunday—when we were able to go to church. We didn't have to work, and you'd see us dance, you'd hear song. It's ceremony, healing, prayer, and it allowed us to keep some part of our culture."
.
00:10 / 00:58
The concept for Vintage Babies, the follow-up to 2011's The Blooming and the 2014 mixtape, The Reintroduction of Mumu Fresh, was born out of conversations between Youssef and Dummy. While touring with rapper Common and talking about the presidential election, they began work on a collection of thoughtful, political lyrics, that they layered over gorgeous, head-bobbing production.
Youssef says the first single, "Shine Your Light," is the result of those initial conversations with Dummy, "about everything going on in our country, and what has been illuminated with regard to the change in power with 45 in office." The track sounds like a "cookout song," she says, because it borrows some of its melodic groove from classic '60s soul; but lyrically, Youssef is still delivering potent knowledge for those alarmed by the news coming out of the White House.
"The power now and forever belongs to the people—not the people in power," Youssef says. "If we're talking reactionary, if we're talking fear, we're moving away from our power."
Comic relief, laughter, and jubilance are important to restoring that power balance. "I love comedy—I'm a fool, too!" Youssef says. She displays that sillier side on "Pimp Down," a hip-hop soul track about a heartbreaker who is dealing with an unfamiliar scenario: she's the one getting blown off. The story is told via Youssef's vocals and a series of increasingly frustrated voicemail messages.
In fact, Youssef's entire career has been a study in both party and purpose. While performing with Common at Essence Fest, her set was captured by a film crew working on Girls Trip, and as a result, she has a small cameo in the summer blockbuster. But she also spent a week last year at Standing Rock with water protectors fighting the Dakota Access Pipeline. Her time there, and her encounter with a pregnant woman on the front lines, inspired the Vintage Babies track tentatively titled "Good Fight."
"She was fighting against police, laying down in front of heavy equipment," Youssef says of the woman. "The baby was born, and she was still out there banging for freedom. Everything I saw there was an incredible testament to the human spirit, and shows that as people we have to value the earth, our water, and our right to pass down a livable earth to our children and grandchildren." That brand of activism is what Youssef aims to capture on Vintage Babies.
"I've been making what people consider 'conscious music,' whatever that means, since 2003, back when people were saying, 'You need to make dance music!' Now the same people are saying, 'Hey, we need to be conscious!' So, with this album, I felt like I didn't want to come from a perspective of, 'Hey guys, wake up,' I did that 15 years ago. I'm coming from a place of, 'What can we do that's productive?'"
.
00:10 / 00:58
That call to action isn't just about changing the political structure. On "Never Bring Me Down," one of the more prescriptive tracks on Vintage Babies, Youssef confronts misogyny in the music industry, and how she escaped it, in part, by leaving the major label system. "A self-aware black woman is your worst fear," she raps, in the scathing takedown of "fuckboys" everywhere. It's a blueprint for young female artists who consider a record deal their ultimate goal.
And while Youssef has performed with the likes of Lauryn Hill, Nas, D'Angelo, Mos Def, Sting, Femi Kuti and Dead Prez (famously, in a scene from the classic concert film Dave Chappelle's Block Party), she remains a fiercely independent artist—with good reason.
"I left my label when it wasn't cool to leave a label, when people were saying it was career suicide," she says.
Back when, as Youssef puts it, "the only people making it out of Baltimore were Dru Hill," she signed to a major as part of the group Cirius B, a jazz/hiphop/funk band. It was a big deal, but Youssef was miserable. "I was feeling stifled, hating music—it was one of most depressing times in my life."
Youssef escaped major label life after two years under a deal, and she was determined to do things her way—which, for a short time, meant working other jobs while pursuing her art. When she received a Grammy nomination for Best Rap Song for her vocal contribution to The Roots' hit "Don't Feel Right" in 2007, she still was singing in a wedding band. Prior to that, she had a series of 9 to 5 jobs in retail. "I'd sing while folding clothes, and I hated it when people would come up to me and say, 'You can sing! You ever think about singing?' Yeah, I thought about it, but decided to come in here and fold up your clothes."
Now that she's no longer folding clothes for a living, or singing songs for a record industry conglomerate, she is free to create bold, diverse works like Vintage Babies. "I feel like I can do what I want now, and I have the freedom to express myself as I see fit. There are so many things in life that don't feel good. Music should feel good."
-Sarah Godfrey