FEATURES
Little Tybee's Label-Free Approach to Creativity
By Amanda Wicks · August 29, 2016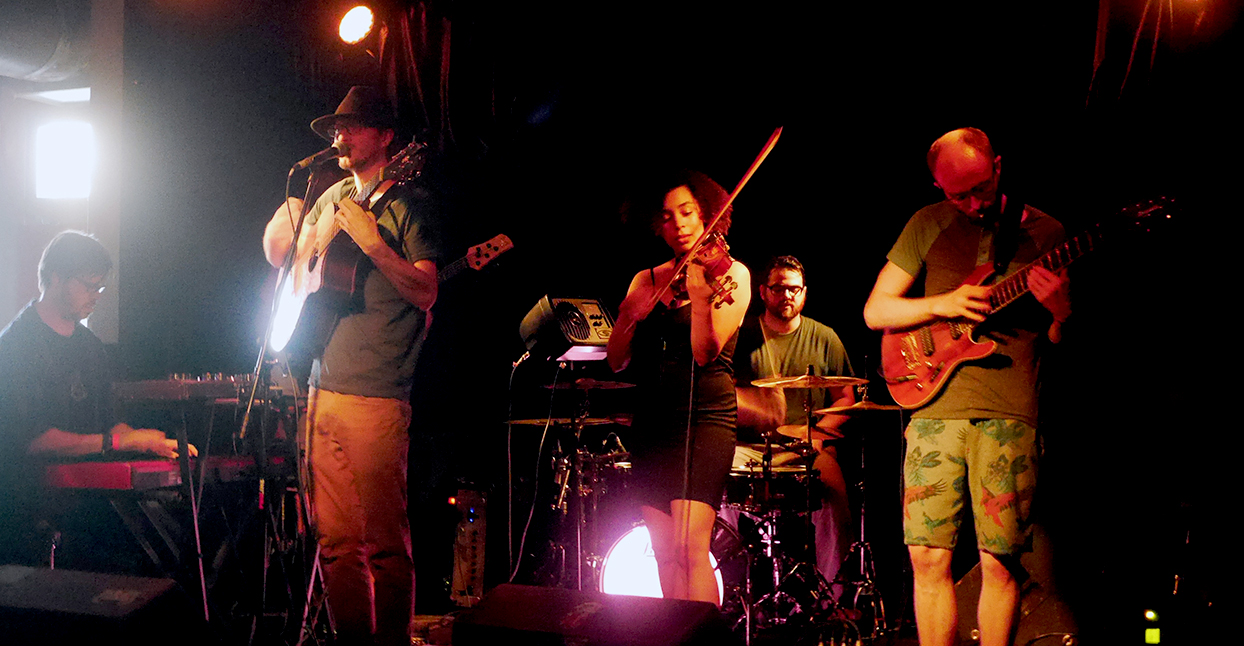 "We don't want a record deal."
Little Tybee makes feel-good music that's marvelously complex. Those two qualifiers may seem contradictory, but Little Tybee— Brock Scott (vocals/acoustic guitar), Josh Martin (eight-string guitar), Nirvana Kelly (violin), Chris Case (keys), Ryan McDonald (bass), and Pat Brooks (drums)—occupy a rare space. The group writes songs that boast intricate arrangements and highbrow technicality, but still emanate a warm, rich feeling. It's symphonic jam music made to accompany a sunny porch and a pitcher of lemonade. Martin begins "Languid," from their latest, self-titled album, by tapping his 8-string guitar, creating a fluid melody that Kelly builds on with her violin. What begins slightly mournful takes a massive leap into brighter territory just after the one-minute mark, when the rest of the band joins and the tempo quickens.
Although they could be loosely considered a jam band, the Atlanta-based six-piece band fits comfortably into several musical genres—especially those that reference southern traditions while experimenting with more progressive techniques. Little Tybee plays with listeners' expectations: They don't want anyone to get bored, be it a new listener, a long-time fan, or even a member of the band. "We like making you comfortable with the feel of a groove, but not for too long," Brock Scott says. "We want you to understand what we're doing in snippets, but then transition to a whole other feel." When they tour, the band often unlocks different ways to play a song, integrating that subtlety into future sets. As a result, their songs feel like living, breathing entities rather than set, structured products.
Though they resist easy categorization, Little Tybee's sound remains heavily tied to the South. Citing influences like Johnny Mercer, James Brown, the Allman Brothers, and Outkast, Scott says, "There's something about all these bands where, they're different stylistically, but the feel is almost like the rhythm of the south. You swing everything. Everything's laid back."
Though the group has been around since 2009, they have yet to sign with a label—and, in fact, have no intention of doing so. "We don't want a record deal," Scott insists. "I want to learn everything a label is doing [so that I can do it myself.]" Little Tybee tours throughout the year, playing packed clubs and house shows where audiences readily turn up to hear them. In an industry that requires a certain level of financial support to survive, they've maintained their career through endorsements and unique merchandising, like radio-shaped USB drives that contain the individual vocal and instrumental tracks from each song. "I think a lot of musicians today are stuck in the old model. They think 'Oh, I need to get signed and then I'll get my advance.' It's naïve. That doesn't exist. Labels aren't the same [as they used to be]. All these endorsements [are for products that] have these huge fan bases and that is, in a sense our label."
So when Little Tybee film a music video, they carefully integrate their endorsements into the scene. The company's cool factor rises by association with their music and, in turn, Little Tybee get the funding they need to keep going. "The product placement is subliminal," he admits. "It's not NASCAR. They obviously don't want it to be gimmicky. They want to produce a video for you, and maybe at the end there's a logo, or maybe it's on their channel. But that way, it gets shared, and people don't feel like they're getting advertised to." As for press, what hasn't spread by word of mouth after one of their stunning live performances comes by way of viral video. "We film instructional videos of Josh doing some new technique and then it'll get shared—it'll get 200,000 YouTube views in a couple of weeks," Scott says.
As relaxed as their music sounds, Little Tybee's innovative approach to their craft is carefully structured. Little Tybee orchestrate their music—and their ability to keep making it—down to the last detail. They are fully invested in controlling their art, whether that means designing the t-shirt a fan buys, shaping a song without feedback from A&R, or shooting a video. Little Tybee knows there are different ways to do things, and they're more than happy to continue pushing against the mainstream.
—Amanda Wicks