FEATURES
Lisa E. Harris Examines the Human Condition on "Life, And That"
By Marcus J. Moore · June 18, 2021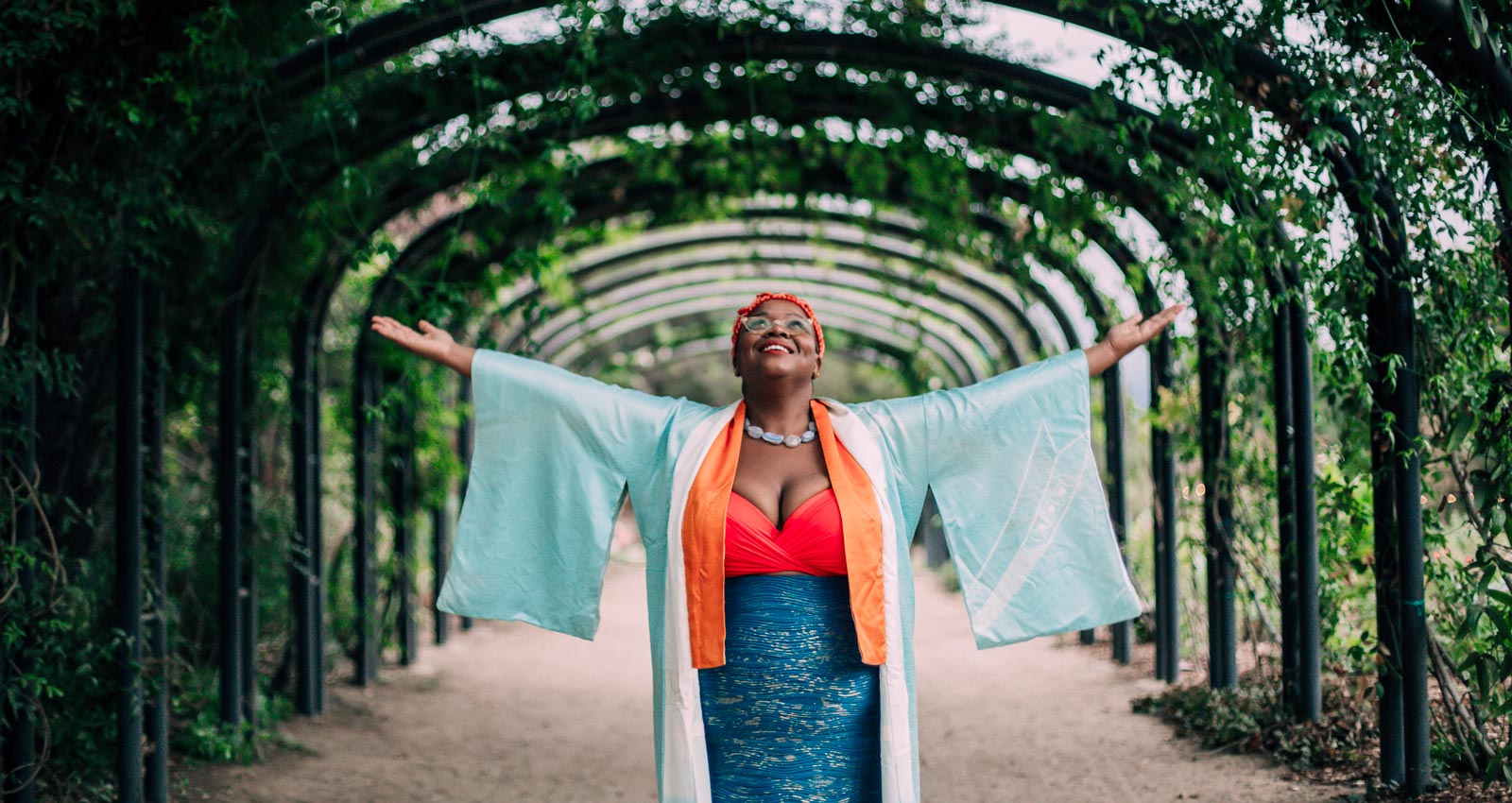 On last year's EarthSeed, flutist Nicole Mitchell and vocalist Lisa E. Harris reinterpreted science fiction author Octavia Butler's 1993 and 1996 books Parable of the Sower and Parable of the Talents through dark, atmospheric soundscapes meant to score the horrors of everyday life. On her new solo album, Life And That, Harris still examines the human condition, but the tenor is far more palatable. She protests student loans and denounces racism through vibrant mixes of funk and soul that unveil more of her personality. "A lot of these songs were written over the years," Harris says over the phone from her native Houston. "They're older songs, a collection of selected works from different pockets of my life."
Talking to Harris reveals a multifaceted backstory in Houston's Third Ward, where she had dreams of being an opera singer. Her mother played all kinds of songs at home and watched classic films in which vocalists had leading roles. Harris went to a Baptist church and developed a natural love for gospel music. Then she started singing in the opera chorus at the age of 8. Where singing in the church choir would've let her perform the gospel she was drawn to, singing opera presented an exciting challenge—as a Black woman, she could naturally blend spiritual, classical, and operatic textures to create something new and invigorating.
Harris remembers the moment she opted for this iconoclastic approach. She once heard a white vocalist friend sing the old hymnal "I Want Jesus To Walk With Me" in a Negro spiritual style. "She had a beautiful voice, and I was like, 'OK, this is our sound, too," she recalls. "That particular song became my entryway because the spiritual intersected it all for me. It was spiritual, it was religious, it was coming from the Black church and the Black spiritual experience of this country, but it was something else. So when I would sing the spiritual, I could really sing. That's when everything came together." Harris wanted to blend the lively elements of Black music—the fun, movement and sound—with the divine aura of traditional gospel.
.
00:10 / 00:58
In the early 2000s, Harris moved to New York City to study vocal performance, composition and piano; first at Mannes College for undergrad, then at the Manhattan School of Music for graduate studies. In New York, she reconnected with fellow Houston natives Robert Glasper and Jason Moran, studying classical music during the day and watching Glasper and Moran play jazz gigs at night. With them, Harris found a sense of community while taking in various strains of improvised music.
"I always had a track of study, but I was also learning from my environment, just keeping my ears open all the time," she says. They'd throw Houston-based parties and freestyle rap just for fun. That too was an education. "I started thinking, 'Oh, this is improvisation,'" Harris says. "This is where it's the same as jazz, but this isn't showing up so much in classical music. Then I started making connections between the two genres."
Moran and Harris first worked together at the concert Houstonians in NYC in 2010. The pianist was looking to start a dance party dedicated to the pioneering jazz artist Fats Waller and needed a dynamic voice to bring the music to life. The noted singer and bassist Meshell Ndegeocello was first tapped to sing lead at the party. Then she heard Harris sing and urged Moran to let her sing back-up. "She was like, 'We need Lisa for the Fats Waller show,'" Moran says. But after Ndegeocello had to miss a few dates for her own work, Harris took over the lead vocalist duties. "She has an effusive energy," Moran says. "She was able to keep everything centered and connect the band to the audience."
But it wasn't just a jazz show; mixing Afrobeat and house music, along with the sculptured replica of Waller's head that Moran would wear during shows, the dance parties offered yet another form of education. "It was a transcendental kind of experience," Harris says. "I had to be ready to dance and turn all the way up. It taught me a different kind of performance practice, which was liberating and super fun."
.
00:10 / 00:58
Moran praises Harris as an activist for their hometown. In 2020, she released an opera called Cry of the Third Eye that meditates on the effects of gentrification in the Third Ward. Where others might leave Houston and never return, Harris came back to empower the neighborhood and fight for its culture. "She interrogates where the neighborhood is headed," Moran says. "The city still needs the energy of people who moved and saw something and moved back. Somebody has to be there to talk about how the music feels in the neighborhood. Lisa is a summoner."
Two years ago, Laura Lee, bassist of the Houston-rooted funk band Khruangbin, took singing lessons from Harris. "She became a real source of wisdom for me," Lee says. "It's like she has the wisdom of a mother and the curiosity of a child." Lee remembers what she called a "hilarious" show in which Harris was booked to perform for an audience that wasn't familiar with her music. "She stood up and made bleep and bloop sounds for an hour," Lee recalls. "She's off the wall in her thinking and creativity."
All of this informs Harris the person and creator. Over the past decade, she's been a chameleon of sorts, crafting disparate forms of music without straying far from her aesthetic. Anything is on the table creatively; she navigates jazz, soul, funk, rap and avant-garde in ways that challenge her fan base without leaving them behind. Whether at big jazz festivals in Chicago, Paris, or Montréal; as an artist-in-residence at the New Quorum Residency for Composers in New Orleans; or as a faculty member of International Contemporary Ensemble; Harris funnels all these disciplines into a well-curated stream of atmospheric art.
Life And That collects songs that Harris has performed over the years but never put on an album. It's a greatest hits of sorts, a personal release for her and friends who've heard these songs live and wanted studio versions of them. "It was sourced in a Black girl who had these experiences and sourced in humor," she says. "I don't want to miss all of these people in my neighborhood who are like, 'Dang, you didn't put one song on there for me?'"
But while Harris is fond of these tracks and the moments they represent, she's releasing the LP as a means of transitioning to the passion project she's currently compiling: an eight-hour album meant to soundtrack sleep. As she put it, if you enjoy the wide-ranging Life And That, you'll be able to accept the forthcoming LP, her potential magnum opus. "I had to put [Life And That] out as a reference point to this next album," Harris says. "It's about dreams and imagining utopias and Blackness of sleep and deepness of faith. I want you to put on your Jordans and get to the spaceship. We're going far. We've got to get there, so follow me."