FEATURES
LAKE's Radio Romance
By Leah Rachel Swan · September 17, 2013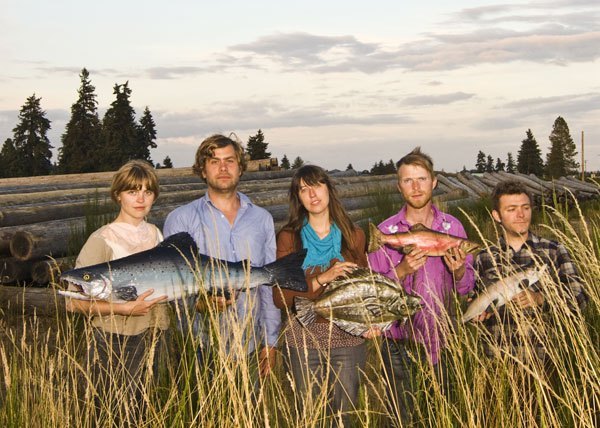 "Our biggest influences were bands that did things with what they had, and didn't wait around for someone to record them."
Like many artists who came of age in the '80s and '90s, Eli Moore says he sponged influences from pop radio. He can even name-check all the mainstream stations from his hometown in Whidbey Island, on the northern border of Puget Sound. Classic rock wafted from 102.7, right in the middle of the FM dial. Jerk the knob counter-clockwise and you'd get oldies at 97.3 FM or hip-hop at 93.3 FM. Twist it the other way and you'd get alternative rock at 107.7 FM.
But Moore, the 35 year-old singer and co-founder of bubbly indie-pop quartet LAKE, also acknowledges his debt to pop artists of decades past, with their warm chords, chunky drumbeats, thrumming studio effects and syrup-thick harmonies. And indeed the band, which is teeing up its sixth album for release this week, also raises the question of whether a debt actually matters, if the imitation surpasses the original.
Moore and his 29 year-old wife Ashley Eriksson formed LAKE seven years ago as an extension of their love story.  They met in Los Angeles through a mutual friend and started recording together on a lark, after discovering they owned the exact same digital 8-track recorder (a Boss BR 1180).
"We both secretly were in love with each other from the get-go, but had partners at the time," Moore writes in an e-mail. "So we kept our relationship focused on music."
Within a few months Eriksson moved up to Olympia, Washington to form LAKE with Moore.  The two of them split rhythm section duties, switching off on guitar, bass, drums, and keyboards. They recruited Kenny Tarantino to play guitar and Lindsay Schief to handle drums. Everyone sang, often in multi-layered harmonies that seemed redolent of sunshine pop from the '60s and '70s. That iteration lasted about two months, Moore said, before Schief conceded her spot to Andrew Dorsett, and Tarantino was replaced by Markly Morrison.
Roughly a year and a half after the band's genesis, LAKE did its first cross-country tour. The band members piled into a van and hit 27 states in nine weeks, performing in whatever venues would book them – bars, colleges, gritty rock clubs, art galleries, and even a museum. One night Moore and Eriksson woke up holding hands, after dozing off in a friend's living room in Ypsilanti, Michigan. They've been together ever since.
They were married in January, 2011, in a small church ceremony.  Eriksson wore white, Moore wore a forest green suit. They held a reception in a grange hall and sang "Devoted to You" by the Everly Brothers.  Eriksson kept her maiden name for career purposes. As Moore later explained, "Ashley Eriksson is just too Googleable."
At that point, LAKE might have teetered toward sentimentality. Had its leaders been any less talented, they could have devoted themselves to the kind of cloying, pedestrian material that occasionally plagues husband-wife outfits. Or they could have taken such pains to hide their relationship that it might have immolated while they were still writing songs together.
Fortunately, the two bandleaders struck a delicate balance, and continued making music that sounds uncannily like the work of four people, rather than two. Because everyone switches instruments and because most of the lyrics are sung in ensemble form, rather than as a lead part followed by a chorus, the band has an oddly egoless quality.
That's also reflected in LAKE's lyrics, many of which sound like quaint philosophical proverbs. How do you reconcile what you believe, with what you do? the band members sing, call-and-response style, in the aptly titled "Reconcile." Like much of LAKE's material, it touches on broad themes (dogma, morality, hypocrisy) without ever personalizing them. The singers of LAKE might pose questions, but they seldom opine.  For the most part, Moore and Eriksson avoid larding their lyrics with first-person narratives.
In fact, the band's new album The World Is Real, which drops this week on Olympia's K Records, only has one clearly delineated love song. It's a sweet, woozy number called "Takin' My Time," in which Moore and Erikkson sing each other's praises. And even that one spreads quickly from the personal to the universal, with a chorus that could apply to any two lovers – or to any heartfelt relationship, for that matter.
While they're not afraid to shore up the sentiment of a band that spawned from a romance, their music has a depth and sophistication that elides many of its surface pleasures. Whether intentional or not, LAKE is incredibly reverent to its antecedents, borrowing warm chord patterns and loping tambourine rhythms from the '60s and combining it with hippie language of the '70s (In "Takin' My Time" Moore rhapsodizes about Eriksson's "aura"; in the selfless "I Want You" Eriksson wishes for listeners to be happy and free.) The band members also favor old analogue gear, even if it roughens the texture of their music. LAKE recorded its second self-titled album on a Tascam 8 track cassette, which was just modern enough to allow for overdubbing.
"It was just the medium that we had available," Moore says, describing the 8 track as a gift from his uncle. "Our biggest influences were bands that did things with what they had, and didn't wait around for someone to record them.
That said, many of the outfits he cites as influences are bands that actually achieved mainstream success, even to the extent of being household names: Steely Dan, Hall & Oates, The Beach Boys. LAKE has a stripped-down garage aesthetic, but its soft, breezy rhythms and sing-songy verse-chorus patterns hearken back to old-school radio. Songs like "Do You Recall?" and "Composure" could have easily been pop hits a few decades ago.
It's the stuff of kids who grew up listening to escapist pop music and eventually tempered their tastes with an art school education – both Eriksson and Dorsett attended Los Angeles County High School for the Arts, where they took piano lessons and sang in barber shop quartets. Soft, buoyant, and accessible. LAKE's music offers a studied kind of nostalgia. You might have heard it wafting from the radio thirty years ago.