FEATURES
New Zealand's Ladi6 Is Equally Rooted In Neo Soul and Hip-Hop
By Gus Navarro · July 05, 2017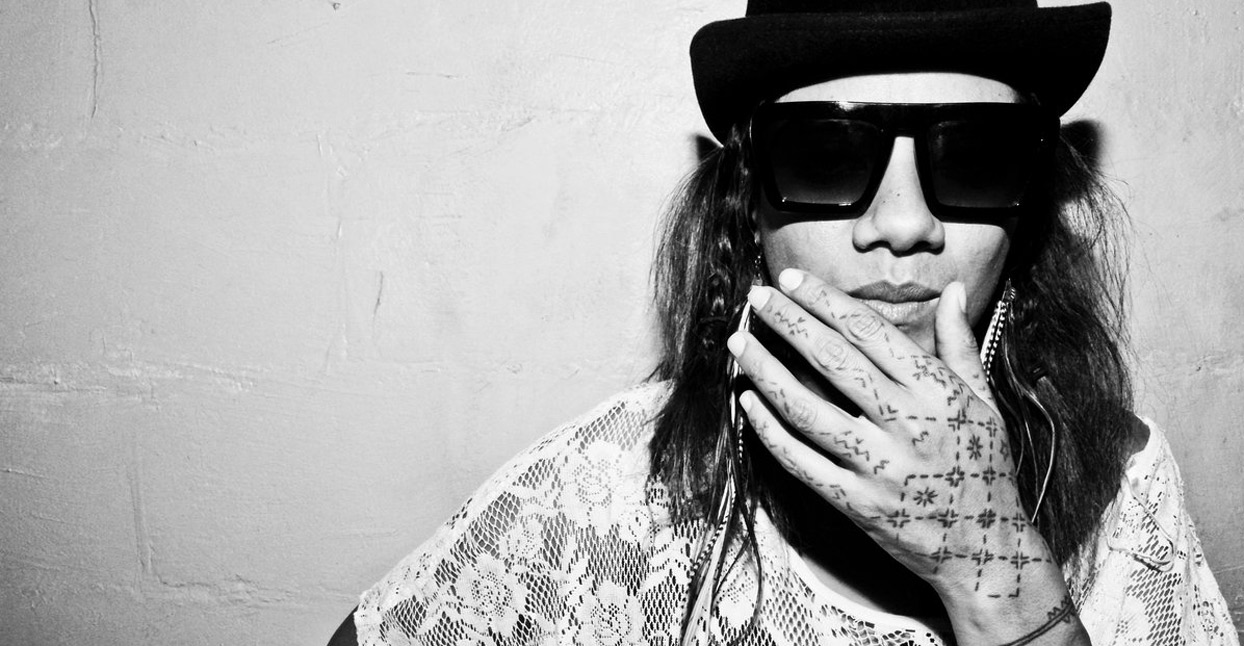 The United States might be thousands of miles from New Zealand, but that's never stopped beatmaker/producer Parks and vocalist Ladi, the founding members of the electronic soul band Ladi6, from soaking up the country's beats and rhymes.
While the band's sound is rooted in neo-soul, Ladi6 doesn't stop there. Behind Parks's synth-driven production and Ladi's tantalizing voice lie a whole host of genres, styles, and sounds. Though the group has played together for more than 15 years, released multiple projects, and toured the world, they're still finding ways to innovate.
Their most recent release, Royal Blue 3000, was written during a series of intimate parties known as the Alpha Sessions. There, the band experimented with different styles while Ladi drew on her background as an MC to freestyle and develop new lyrics. The result is a six-track EP where Ladi's voice soars over bouncy, synth-driven grooves that are deliberately placed and always in the pocket. Whether the band is playing an upbeat shuffle or a slow-burning reggae beat, Ladi always sounds poised and ready. Following the release of Royal Blue 3000, we had the chance to speak with Ladi and Parks about the new EP, their hometown of Christchurch, and what it's like to work with Detroit producer Waajeed.
.
00:10 / 00:58
How did your writing process change when it came to working on Royal Blue 3000?
Parks: In the past, the band would come up with beats and the music, and give them to Ladi to write over. When we came up with the idea to do the Alpha Sessions, we really wanted to change the process of how we write music. We wanted to bring an element of spontaneity and improvisation. Ladi has always been able to jam with people on stage and come up with things on the spot. The Alpha Sessions were always held at a small club or party—ideas come to her in that setting. We wanted to tap into that. Because we were working on our fourth album, we wanted the process to be more fun. We wanted to sound different, too. At the time, me and our co-producer and keyboardist, Brandon Haru, were experimenting a lot with different synth sounds. We wanted to bring all of that shit to the live stage and let it be this wild card sound. The idea of spontaneity was really fun.
Ladi, as Parks said, you have a way of coming up with new lyrics and songs on the spot. How are you able to do that?
Ladi: In order to understand it, I suppose it's important to speak about my past. I really got into music through trying to be a rapper. I grew up in Christchurch, New Zealand, and being a representative of hip-hop was really important in that scene. So having a real hunger for the mic, freestyling, and coming up with stuff on the spot was kind of my whole passion. That's how I came into music. Singing hooks for my old rap group, Sheela Roc, is how I found my singing voice. Improvising on stage is very natural for me, and it's something that, as a band, we had never tapped into before. We created the last three records in the studio and it didn't give me that opportunity to 'wyle out' on the mic in a party atmosphere. It literally was my upbringing to get drunk and jump on the mic and rock a party.
.
00:10 / 00:58
You have both been able to travel the world doing music. What are some things you've learned along the way?
Parks: When we travel and are in the States or something like that—there's just something about the music we listen to that resonates when you're in cities with higher populations. We don't really know anyone in New Zealand who lives in an apartment. We all live in houses, basically. With the music we're raised on—like funk, hip-hop, jazz, and stuff like that—it sorta makes more sense when you're in populated, urban environments. I always feel a little more connected to that music that I know so well when I get to go to those places.
Ladi: To be honest, I probably have the hardest time traveling out of the two of us, 'cause I'm such a homebody. I do enjoy trying new food and being in new places. New York City, for example, is cool because it's completely different—but I also find it scary 'cause it's so different. When I travel, I usually have to set up the home space within this other crazy environment. In saying that, I think what I love the most about traveling is just getting inspired by all these cities that we've been to, particularly Berlin because we were based there for such a long time, and it's so culturally different from New Zealand. It was really eye-opening and showed how conservative New Zealand actually is. I think we came back with a more worldly view on individual freedoms. For me, traveling is awesome for opening my eyes to how other people live.
You guys traveled to Detroit to work with Waajeed on your 2013 album, Automatic. What did you take away from being able to work with such an accomplished producer?
Ladi: We had heaps and heaps of good conversations with Waajeed about getting to the heart of what we're doing with our music and why we continue to create as artists. He was just so knowledgeable and shared so much wisdom in terms of his philosophy and his thoughts around living an artistic lifestyle and what that means to him. He really helped us remain true to our gut feeling in music and to never let other people dictate to us how it should go. He talked a lot about staying true to what we feel are the important things to us as human beings. He was so passionate about it. We really connected and he'll always be like a real brother to me. It was much more than the music we were making together.
Parks: For us, Detroit hip-hop and people like Waajeed were super important to us growing up. One of the repeating things that happened with Waajeed is that he would always say, 'Leave it raw, leave it raw, leave it raw.' That was a thing he would always say. I totally understood what he meant, but I wouldn't have phrased it like that, ya know? But now it's something that I say all the time. When I heard him saying that, it started to make sense why Detroit hip-hop sounds the way it does. That's something we say in the studio all the time now, when we're trying to cover our insecurities with layers and layers of bullshit on a recording. We just try and strip it back and leave it raw.
—Gus Navarro