FEATURES
Kristen Schaal and Kurt Braunohler are Sitting in a Hot Tub at the End of the World
By Patrick Rapa · November 28, 2016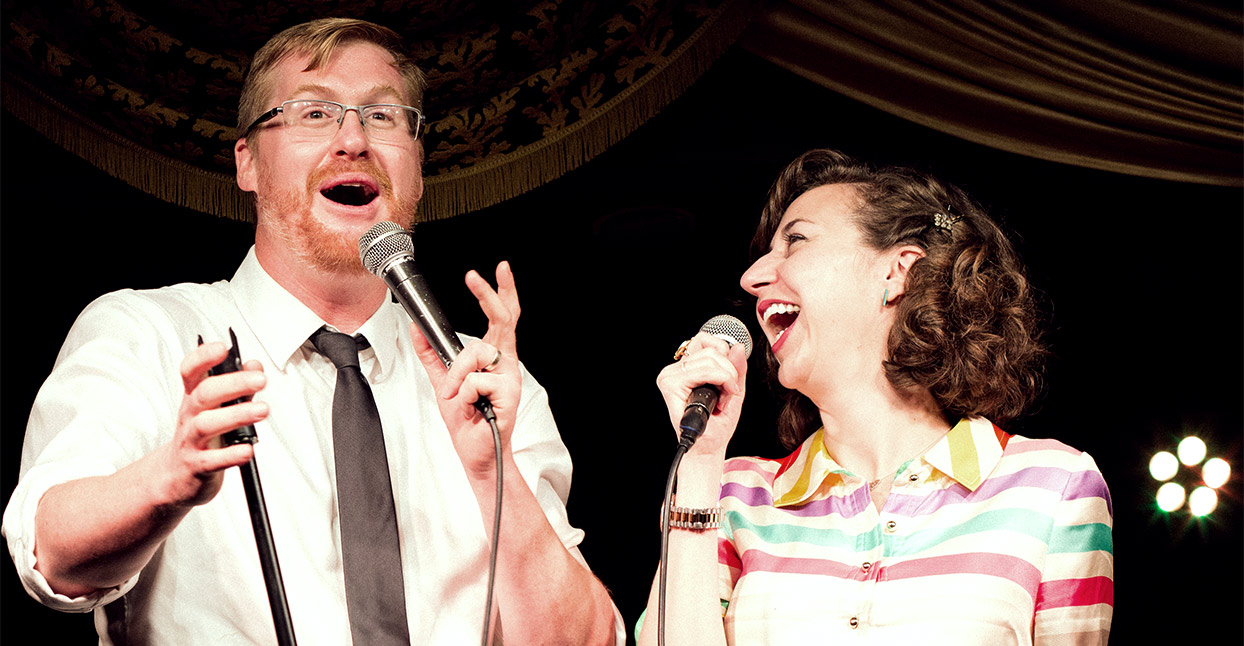 As odd as it may seem, an upbeat attitude is actually kind of a rare thing in comedy — which is part of the reason why Kristen Schaal and Kurt Braunholer stand out. Where their peers might complain and mutter for laughs, these two opt in their performances for a kind of high-energy, wide-eyed enthusiasm. It's a giddy, infectious caffeine rush.
In addition to their solo standup and acting gigs, Schaal (Bob's Burgers, The Last Man on Earth) and Braunohler (Bunk, The K Ohle podcast) have been burning their seemingly limitless adrenaline together for the last 13 years and counting by co-hosting the weekly comedy variety show Hot Tub. It started in New York, and continued in L.A. when they moved west three years ago.
Now, the always-excitable duo has a new reason to smile: the release of Hot Tub with Kurt & Kristen Live at the Virgil by Kill Rock Stars — the legendary punk/indie label that's been making serious in-roads into comedy in the last few years with albums by Hari Kondabolu, Cameron Esposito and more. Like the live shows, the album features Schaal and Braunohler riffing off of one another in planned and unplanned bits, in between short sets by their funny friends. Hot Tub includes appearances by Eugene Mirman, Aparna Nancherla, Karen Kilgariff, Kyle Kinane and many more. The hosts' positivity seems to rub off on their fellow comedians. Even lovably manic grump Eddie Pepitone sounds like he's having a good time.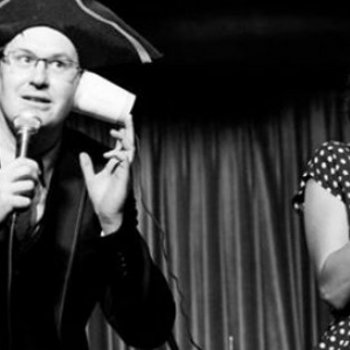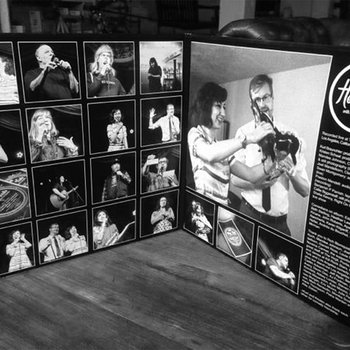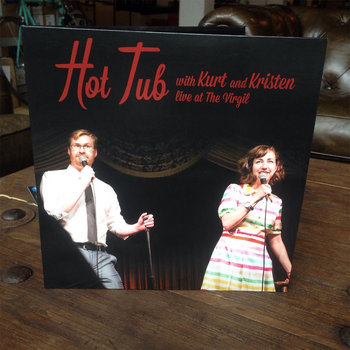 .
00:10 / 00:58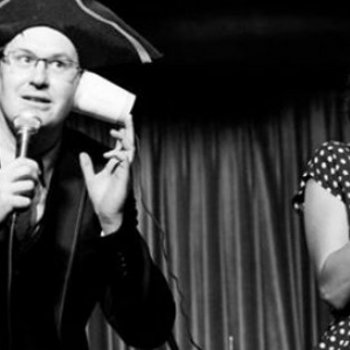 Merch for this release:
Vinyl LP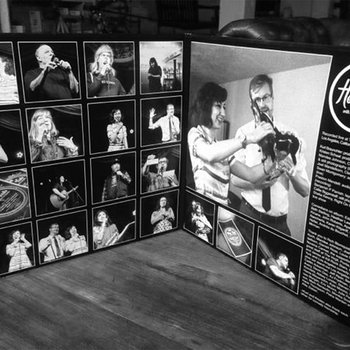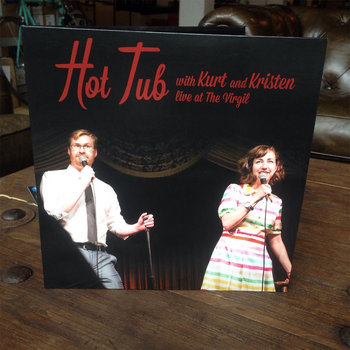 Coincidentally, we spoke with Schaal and Braunholer at a moment when this country appeared to be reaching peak optimism: election day.
Schaal was sitting in her car in a supermarket parking lot. Braunohler was in his garage. She'd already voted by mail. He was planning to drop by his polling station once the morning rush died down. It seemed like a good time to talk about looking on the bright side of things.
It feels a little weird to interview you on election day. The people who read this article are going to know a lot more about the world than we do.
Braunohler: It's scary.
Schaal: No, it's exciting.
Would you consider yourselves pretty optimistic people?
Schaal: I think Kurt and I would agree we're both optimistic and realistic, but I think we try to look at the bright side of things.
You guys are so upbeat onstage. Is this a conscious approach or is it just how you are?
Schaal: I mean I think that's how we are.
Braunohler: I think that's how we are, too. And especially hosting the show for so long, the top of any variety show is always a little—you just really get the audience used to the idea that they're gonna watch a show, and I think while we're naturally enthusiastic, we're also trying to really get the audience on board early.
Schaal: Right. Also, I feel like every show—especially a Hot Tub show—is a celebration, you know? It's a celebration. We've always sort of thought of our show as a party, in a way. And parties are exciting and parties are fun. Every time I go out on stage, I'm just so thrilled that people came to our party, and that they continue to come. It's just always a good time.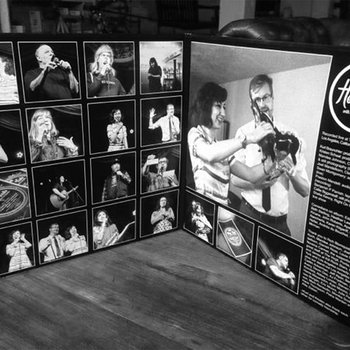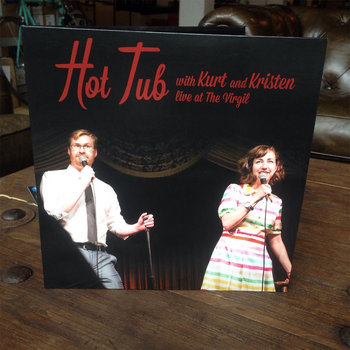 .
00:10 / 00:58
Merch for this release:
Vinyl LP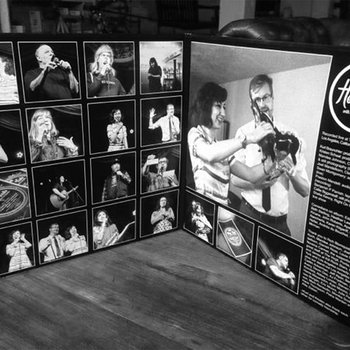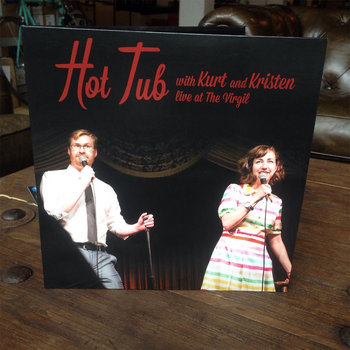 The idea of a "hot tub," I guess, is that different people might drop in…?
Braunohler: We originally had an inflatable pool onstage that we'd make the comics sit in after they did their set. We stopped doing that because it was awkward to have the audience watching comics sit in a tub watching the other acts perform.
Schaal: Oh yeah.
Braunohler: Because everybody's checking with the comics to see if they're laughing, and comics don't laugh that much. We nixed that after maybe the first year.
Schaal: Thinking about it now, the early comics that did our show are really good sports. We were trying to think of a name for our show, and I thought of 'jubilee,' which I think there's an actual event [where] you go to, like, the Pope and—I don't know. So I was like, 'jubilee!' And Kurt had just come from a party where he sat in a hot tub. And he was like, 'How about Hot Tub?' and somehow he won.
Braunohler: It was a compromise, it was 'Hot Tub: A Wet Jubilee Of Comedy.'
And one of you had to blow the hot tub up before each show?
Braunohler: It was awful. Oh it was awful. The blowing up of the tub.
And how do you deflate it afterward?
Braunohler: You lay on it. And in the beginning, it was always, 'comedy and an animal race'—that was the guarantee. So at the end of each show, we would have an actual animal race. What were the animals? We raced sand worms once. Sand worms are gross.
Schaal: Yeah. Snails!
Braunohler: Snails. We raced crickets. And then we raced a mouse or something once. Then we started losing the animals in the theater, and they would die, and then we were kinda like, 'Oh this has become an animal cruelty thing. We gotta stop racing these animals at the end of the show.'
…the persona that Kurt and I have on stage is positive. And we're no better than the audience. We're all in this together. We're just excited to see comedy.
Putting on a show like this, you've become talent scouts in a way.
Schaal: At the beginning, yeah. Kurt and I booked the show for the first few years. I would go to all the comedy shows in New York, and I would just wait 'til the end, when people were leaving the bar and I'd be like, 'Oh hey, Demetri Martin, I have a show. Hi!' Just cozy up to them. We collected comedians that way.
But booking the show was so much work, and eventually we found someone to do that for us. So Marianne Ways booked the shows in New York and then after that, when we moved to L.A. we located Joel Mandelkorn and Mandee Johnson produce the show. And they are out there, collecting comedians.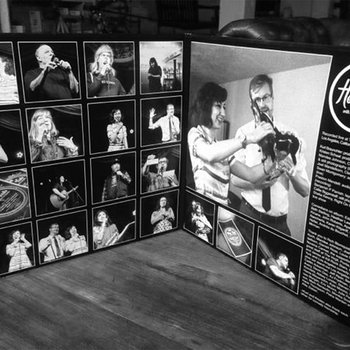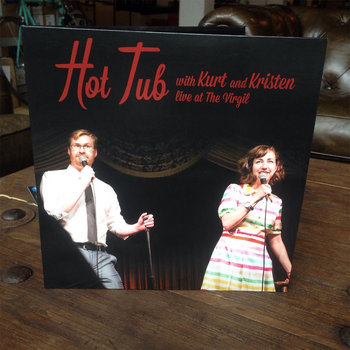 .
00:10 / 00:58
Merch for this release:
Vinyl LP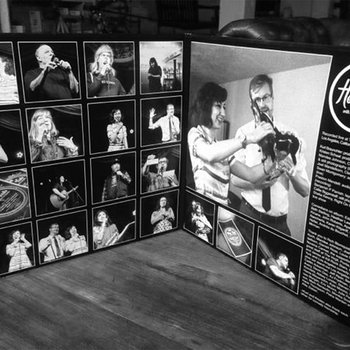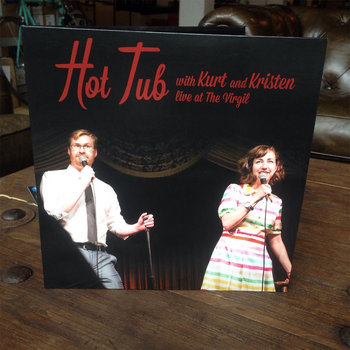 Hot Tub, to me, can be little weird. (See the Radiolab segment "Kristen  Schaal Is a Horse".) And it also stands out because of the energy you bring to it. A lot of comics can be pretty droll and cynical. Do you think most comedians and audiences have gotten what you're going for up there?
Schaal: I don't know. I think so.
Braunohler: To us, it doesn't seem weird, I don't think. It's so much of a dumping of our brains out onto the stage. I don't see it as 'other,' because it's just so much of ourselves. But everybody who's been on the show has always been on board. I don't think we've ever had anybody who's said, 'Why, this show's too weird for me! I'm out of here!'
Schaal: It's a pretty typical show. It's not like 'Zany! Wacky!,' but I guess the persona that Kurt and I have on stage is positive. And we're no better than the audience. We're all in this together. We're just excited to see comedy.
'Alt-comedy' is a hard thing to define….
Braunohler: Hot Tub started when the term 'alt-comedy' was used very frequently, but I think it's no longer used, because there's been such a blending of who's an alt-comic and who's a club comic and who's a blah blah mainstream comic. But we did start it in a time when alt-comedy was the norm for the shows we were going to see and the shows we were going to do.
The alt-comedy term almost feels like a little bit of a dinosaur,  but I do realize that we use it in the opening track. When I was re-listening to it, I was like, 'Oh right, we do say alt-comedy,' so it's kind of a funny thing. At this point, it's almost like a relic, which is interesting.
Is it like '90s music? 'Alt' won, so now 'alt-comedy' is just 'comedy?'
Braunohler: [Laughs] Maybe.
I read somewhere that you decided to do a show together before you really even knew each other.  
Schaal: Yes.
Braunohler:  100 percent.
So do you think it's a miracle that you ended up working so well together, and agreeing on so many things?
Braunohler: Yes, I think it's a very rare thing to happen. I just yelled across a backstage area like, 'Hey, you wanna do a variety show with me?' And Kristen just yells back, 'Okay!' and it just totally worked. That's a unique thing.
Schaal: Yeah, it's pretty special for sure. I don't think it happens every day. I'm very grateful that Kurt hollered at me.
—Patrick Rapa