FEATURES
The Koreatown Oddity Seizes the Day on "Finna Be Past Tense"
By Christina Lee · January 09, 2017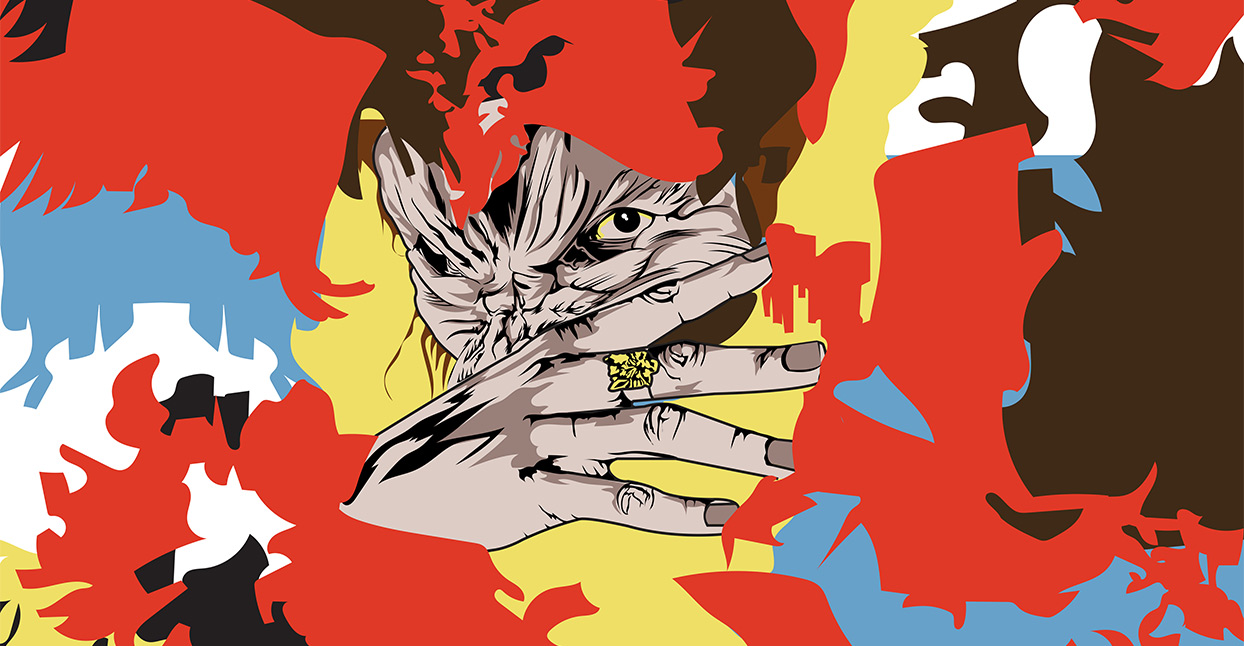 The latest video from LA rapper Koreatown Oddity opens on a note of harrowing tension. Instead of his trademark wolfman mask, the lyricist appears in the clip for "Yesterday's News" wearing a blindfold with the word 'FAITH' scrawled across it. He's standing in between his parents, whose faces are grim and expressionless. As the camera slowly pulls back, the reason for their stoicism becomes clear: A white man has a shotgun aimed at Koreatown Oddity's head. "Get your paper, meet your maker / Before they take ya, hurry up and create something," goes the song's hook, "'cause you can be the shit today / and yesterday's news tomorrow." It's familiar advice—to make the most of each day—but in the context of the video, it feels terrifyingly urgent.
"My dad reminds me every time we link up," says the rapper, born Dominque Purdy. "'A lot of people aren't going to make it to tomorrow.' It sounds corny, because people are brainwashed to think concepts like that are corny, but it's true. Especially after 2016—people are like, 'It's been such a horrible year, all these people dying.' But this shit happens every fucking day in every year."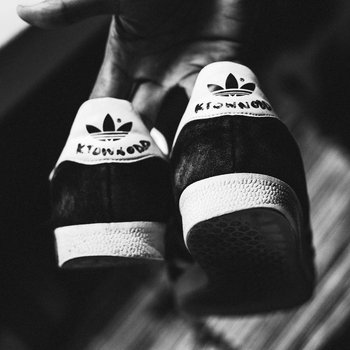 .
00:10 / 00:58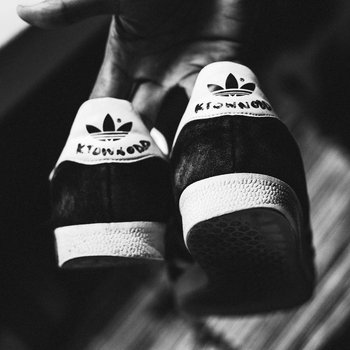 In fact, if there's a throughline to Oddity's career, it's that exact same sense of 'carpe diem.' The wolfman mask that has become his calling card he bought way back in high school for $70. On Finna Be Past Tense's "Don't Say 2 or 1," he raps about how he used to release music solely via hissing cassettes, "whether you want them or not." Four years ago, he entered a local Wendy's and stood on one of its tables to rap to folks waiting to order Jr. Cheeseburgers. As fate would have it, producer Vex Ruffin saw a video of that public stunt, which eventually resulted in him signing on as the sole producer of Finna Be Past Tense. "I liked how raw he was, you know?" Ruffin recalls.
Like his 2014 debut 200 Tree Rings, Finna Be Past Tense is a loose concept album on which Koreatown Oddity reckons with life, death, and the passage of time. Early on in "Fuck Dinosaurs," he stomps through swampy rhythms, threatening every rapper who came before him. By the closing track "Technology After Time," though, he's frustrated, demanding listeners to put their phones down and pay attention. The distorted noise that squelches and howls in the background of the track comes courtesy of Vex Ruffin's 2-year-old son, who was playing random sounds on his dad's sampler. Compared to the grainy, grimy tracks that preceded it, "Technology"'s digital squeals feel strangely futuristic. The net effect is similar to the transition from the dawn of man to the Jupiter odyssey in 2001.
.
00:10 / 00:58
The Koreatown Oddity says that jarring jump was intentional, a way to underscore the idea that the present becomes the future in the blink of an eye. "You can't be too egotistical about whatever moment you're in," he says. "You want to be humble and really appreciate each moment, because even in an hour or two, that moment is going to be locked in life—part of the past. I think sometimes people forget that life is not a movie. This is actually all going to end for everyone, you know?"
Another takeaway from Finna Be Past Tense is that behind the attention-grabbing wolfman mask is an instantly relatable person. Much of the album deals with the creative process, but The Koreatown Oddity doesn't just dole out advice—he acknowledges how creativity can ebb and flow. He understands how grueling the work can be ("Mood of the Grind"), and argues that 'overnight success' does not exist ("Don't Say 1 or 2"). He understands how no one can be productive all the time ("A Break from the Drama of Life Drunk at the Wet T-Shirt Contest"). But he's also at the point in his underground career where he's beginning to understand the impact his music can have.
"Say somebody works at the gas station. They might spend their fucking not-that-great-of-a-check on your album that costs, maybe, 10, 12 dollars," he says. "They're listening to this throughout the day when they're living their lives. Now, it's seeping into their lives and they're quoting you. They're taking things you're saying seriously, and having a laugh at what you're saying. If you're not thinking about that, hey, that's your thing, you want to do with your music. But I do think about that, and it's a weight that I carry into my creative process every single time."
While he was editing the video for "Yesterday's News" video, director Protius noticed something he hadn't seen on set. About halfway through, the Koreatown Oddity's mother mouths the hook: "Get your paper, meet your maker." No one told her to do that. "[Protius] sent me that shot and he was like, 'Did you notice your mom did that right there?" he continues. "I didn't. I was like, 'Wow, we gotta keep that. That's amazing.'" The scene is now a beautiful, surreal reminder of the urgency and indelibility Finna Be Past Tense inspires.
—Christina Lee