FEATURES
The Winding Road of Hawaii's Kit Ebersbach Goes From Jazz-Funk to Field Recordings
By Anton Spice · July 24, 2020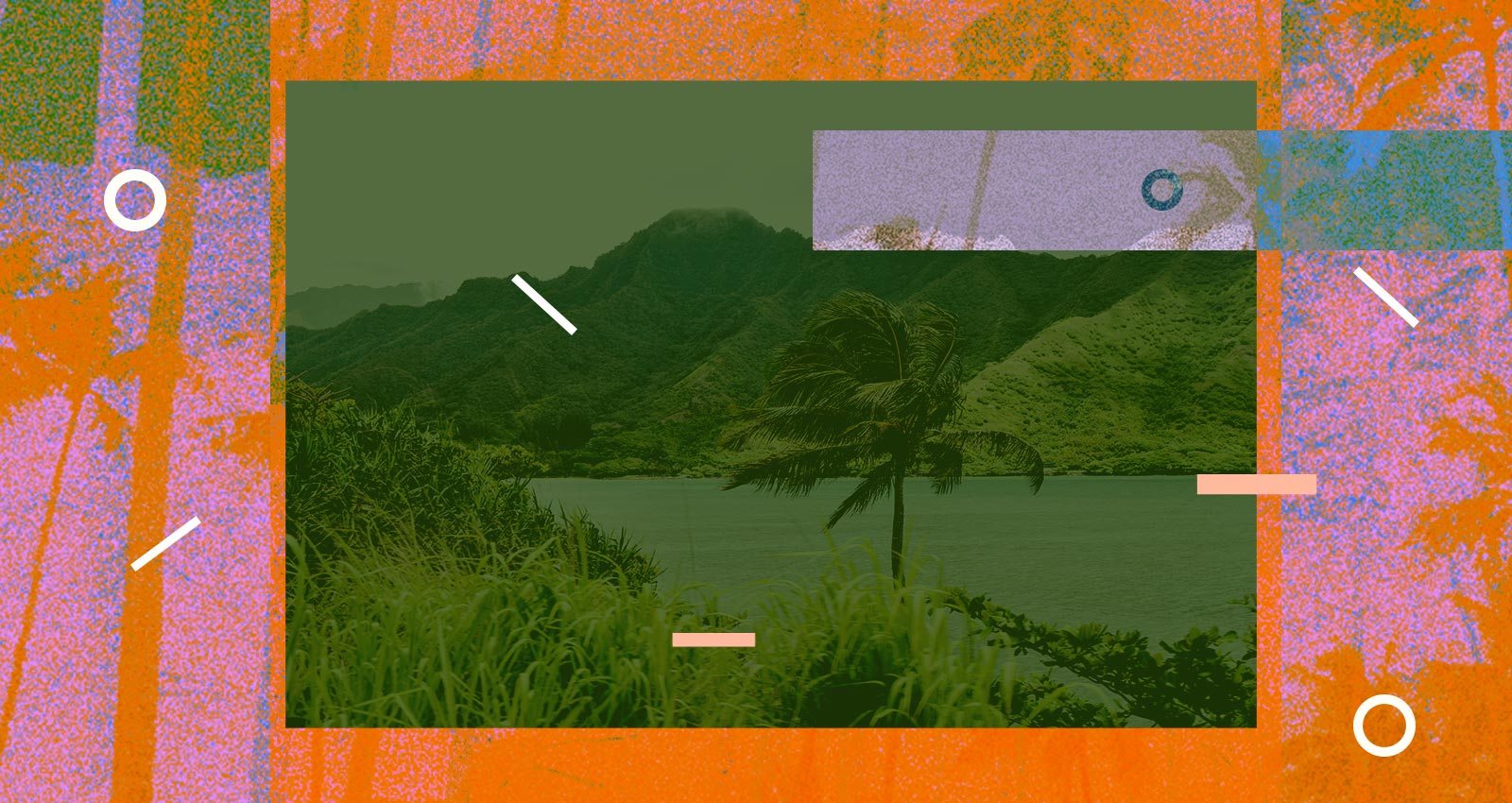 Whenever he can, the 75-year-old musician Kit Ebersbach heads out from his home in Honolulu to hike through Hawaii's wild interior, Tascam in hand. More often than not, he follows his ears, the paths he takes determined by his curious and intrepid nature. Musically, he's no different. "A number of times I have just gone in a different direction," he says, sounding surprised at where his career has ended up. Aloha 'Āina, a 12-volume collection of field recordings taken around Hawaii that Ebersbach dreamed up with Aloha Got Soul's Roger Bong, is his latest destination. The recordings began as part of Hawaiian Airlines in-flight programming, which Ebersbach curates. They are meditative and organic, designed to flood the imaginations of vacationers with the gentle hum of paradise.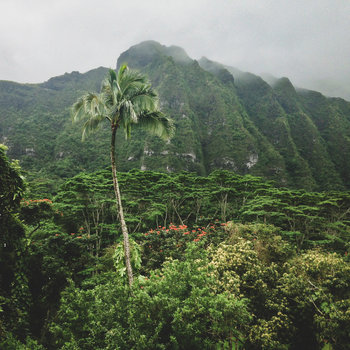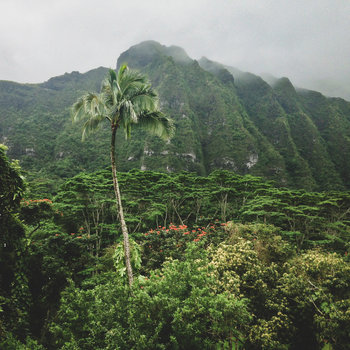 Ebersbach is not a field recordist by trade; to retrace his steps—from jazz-funk to post-punk, ambient to exotica—is to revisit the history of independent music in Hawaii. Born in New Jersey, Ebersbach arrived in Honolulu in 1967 with a half-finished college degree and a broken heart. Not exactly suited to academic life, Ebersbach dove into the music scene instead, playing with local jazz bands and entertaining tourists at Waikiki shows. Mythologized by the music of Arthur Lyman and Martin Denny, '60s Hawaii was synonymous with escape. "When jazz players came to Hawaii, they were obviously on vacation," Ebersbach observes, remembering tepid performances from Miles Davis, and personal hero, Bill Evans. Modest almost to a fault, he recalls being humored by Elton John and upstaged by Stevie Wonder, who once played his ARP 2600. The greats passed through, but they didn't hang around. With talented local musicians often seeking greater challenges abroad, if you wanted to make anything happen in Hawaii, you had to do it yourself.
And so, Ebersbach embarked on a career powered by his own steam, forming bands to meet his needs. One of the first was jazz-funk outfit Us, which was inspired by Hawaiian legends Seawind, and whose remaining recordings are slowly being unearthed. Frustrated with the lack of production talent, he went on to record with Lemuria, a jazz collective who provided Ebersbach with "a complete course in how to make an album from scratch." Featured on Strut's Aloha Got Soul compilation, it became one of the islands' most enduring records.
Merch for this release:
2 x Vinyl LP, Compact Disc (CD)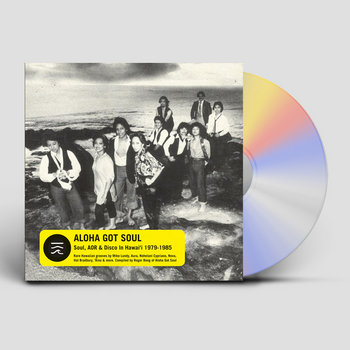 In 1977, with the sound of the Talking Heads ringing in his ears, Ebersbach became fascinated by the "annoying" sound of post-punk. "I realized I couldn't really work with most professional gigging musicians because they had set ways," he explains. So he founded The Tourists, a short-lived group that performed Devo covers at unsympathetic military bases. By the following year, he had moved on to form The Squids, who wrote original music, and are credited as Hawaii's first post-punk outfit. Their tag line, "best quality under the circumstances," summed up Kit's mischievous ethos. A single four-track 7" is the only document of their existence.
It was a familiar pattern. "Once I got the idea, I needed to do things that were outside of my comfort zone," Ebersbach remembers. He took a left at the turn of the decade into the world of performance art. With space to write more freely, three more outfits followed (one of them, Gain Dangerous Visions, featured ambient pioneer Robert ÆOLUS Myers). By the mid-'80s, Ebersbach was immersed in the works of John Cage, exploring aleatoric composition and delegating his creative process to a random number manual: "I liked that you didn't have to make a decision…where to set the parameters would be my creativity." It suited a musician who, try as he might, always seemed to find ways forwards.
In idiosyncratic fashion, it follows then that Ebersbach spent much of the next 20 years reviving the fantastical, cinematic world of exotica. Often tongue-in-cheek on the surface, Don Tiki's lounge lizard aesthetic concealed complex arrangements and sophisticated jazz improvisation. "My favorite music is the kind of music that you don't have to listen to in order to enjoy," he explains. "But if you want to listen, you can enjoy it, and if you want to listen really closely, you can enjoy it even more. I like that because Hawaii is exactly that same way."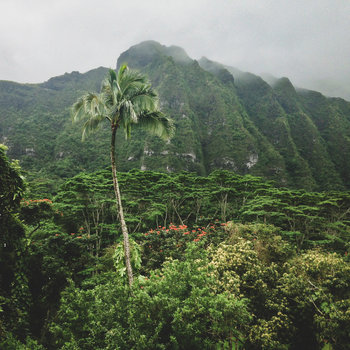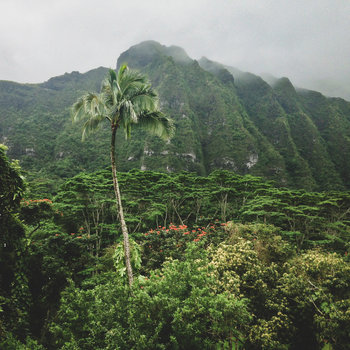 Listen to the "Secret Waterfall" of Na'alehu on Aloha 'Āina Vol. 1 and you'll hear the familiar gushing of water. Listen to it more closely, and you'll hear a cascade of intertwining poly-rhythms, an innate musicality in the environment unlocked by attending to the details of the sound.
Ebersbach revels in the particularities of fast-moving streams, and extols the stereo qualities of the smallest waves. Every beach has its own sound, occasionally enhanced by the distant whooping of surfers catching a break. Rock faces can carry specific reverb, the legacy of agricultural exploitation carving peculiar echo chambers into the hillsides. He notes the orchestration of the wind as "short-form," coming-and-going more actively than the "long-form" wind of New Jersey.
Sometimes a plane will fly overhead, but much like the exotica of Don Tiki, Ebersbach is more interested in representing untouched fantasy than intrusive reality. The recordings function as "memories and photographs," sonic postcards from a place beyond the horizon. Still performing with Hawaii's most prominent vocalists, Ebersbach has begun unpacking his archive as source material for experimental recordings Untilities and Itchi Lee presents The Dalai Lawnmower (set to inaugurate a new AGS sublabel). An ambient suite, Moonbath, initially written for the new age channel on Hawaiian Airlines, was released last year.
"I'm intensely interested in things that are right on the edge of music and sound," Ebersbach says, looking for a thread to tie his restless musical career together. Fittingly, the explanation is deceptively straight-forward. "Music is sound manipulated by spirit, that's all it is. Go out and hike, and the music is there for you to listen to."