FEATURES
Two Days in King Tuff's Brattleboro, Vermont
By Patrick King · Illustration by Josie Keefe · March 02, 2023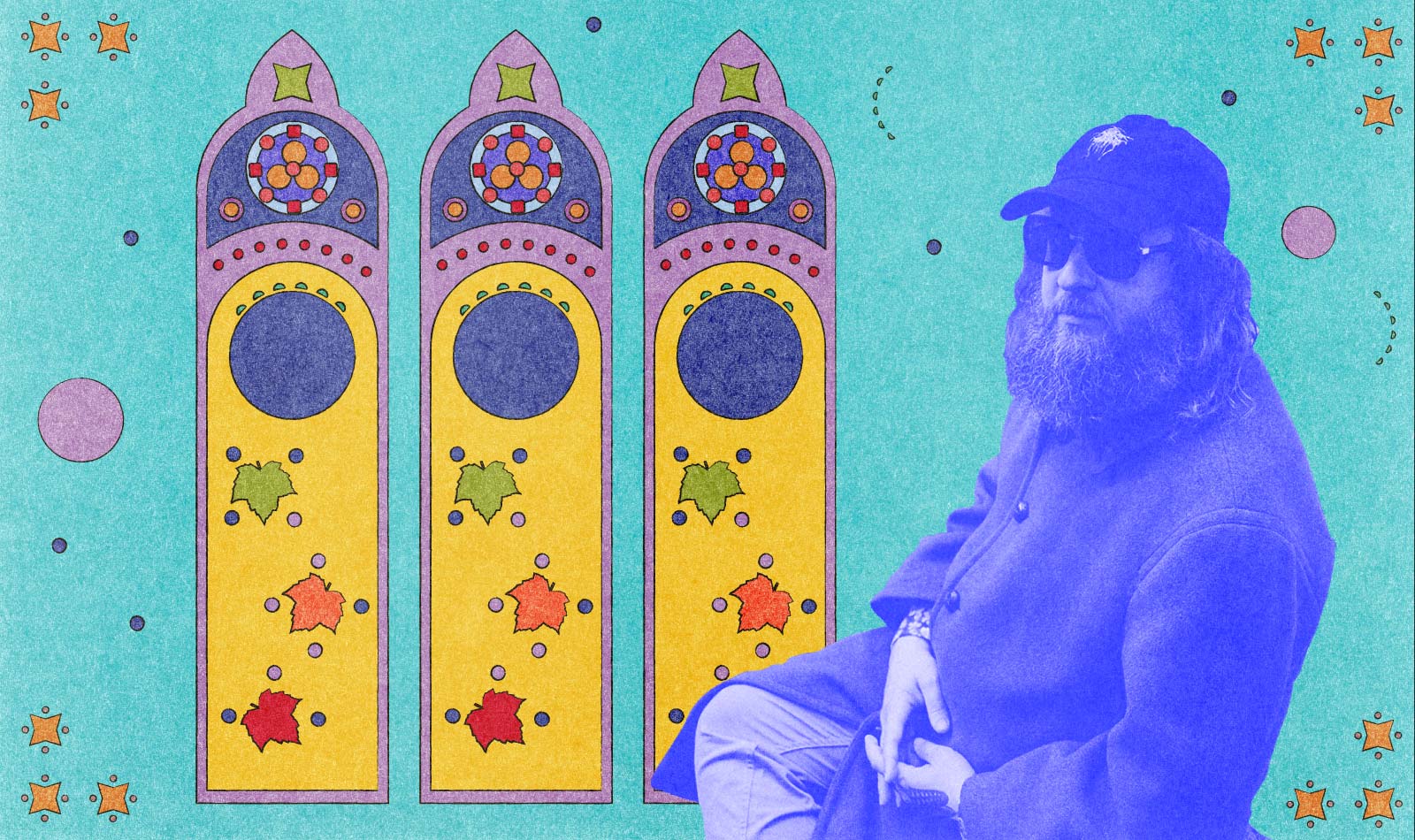 Monday
It's early afternoon on a mid-December day when I walk out of my parent's front door in my hometown of Cambridge, New York, to warm up my car. I'm in the area to spend a few days two hours southeast in the unassuming town of Brattleboro, Vermont, ten miles north of the Massachusetts border, nestled between the Connecticut and West Rivers. My tour guide will be musician and hometown hero Kyle Thomas, who has recorded numerous beloved records as King Tuff, among a bevy of other projects.
The latest King Tuff album, Smalltown Stardust, marks a new beginning, spotlighting Thomas's Beatles fandom instead of the resin-stained psychedelic power pop that won him a following in his early days. The album is full of warm, rich arrangements with dreamlike narratives rooted in the hometown that inspired him when he was first recording demos at his parent's house as a teenager.
Brattleboro has a history of fostering artists and musicians, some of whom eventually choose to move elsewhere—people like Merrill Garbus of Tune-Yards, Matt & Kim, The Devil Makes Three, Sam Amidon, and Zach Phillips of Fievel Is Glauque; others prefer to remain in the splendid isolation provided by the town's folksy atmosphere. Over the next two days, Thomas will introduce me to close friends who still call the area home: Ruth Garbus (Merrill's sister), Chris Weisman, Graham Brooks of the metal band Barishi, young Captured Tracks-signed post-punk band THUS LOVE , and Matt Valentine and Erika Elder, formerly of MV & EE and currently of Wet Tuna.
There's an idyllic, snowglobe-like feel to the town. Built along the Connecticut river dividing Vermont and New Hampshire, the town's main street has an old-school, offbeat, mom-and-pop charm, free of the chain establishments that wipe away a town's history or personality. There's the sense that businesses here are kept alive by the faithful patronage of the townspeople. As I look down the busy sloping street, I see clusters of locals leaving shops like the massive antiques store Twice Upon A Time just a few buildings down.
I meet up with Thomas outside of local record store Turn It Up! Thomas has a big, friendly presence that is instantly disarming. With his bushy, graying beard, long hair tucked up into his beanie, and a long green peacoat held closed by a golden pendant, his appearance resembles the kind of woodland wizard typically found on a stoner rock album cover. He's back in town for a month, staying with his parents and reconnecting with friends in the music scene. In a few weeks, King Tuff will play a New Year's Eve show with the Burlington rock band Rough Francis, some of whom are related to members of Detroit proto-punk legends Death. They will also serve as his backing band. "I don't think we'll be playing any of the new stuff," Thomas says with a laugh.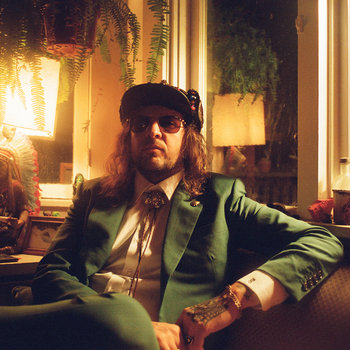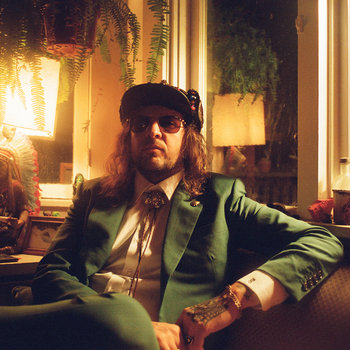 Merch for this release:
Vinyl LP, Compact Disc (CD), Cassette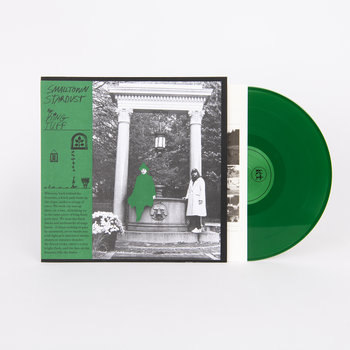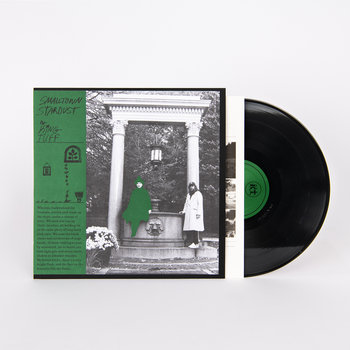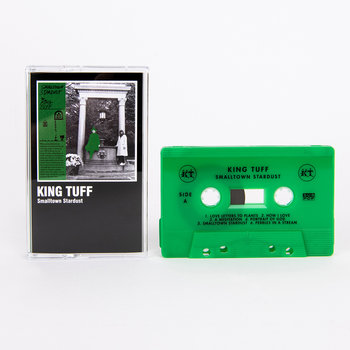 As we walk together up Main Street, Thomas gives me the lay of the land. We pass the majestic facade of The Stone Church, a recently opened church venue that has started hosting larger touring packages; King Tuff is set to play a homecoming show there in late March. A little ways behind us, Thomas says, is another church venue called Epsilon Spires that caters to a different crowd, hosting pipe organ performances and appearances by experimental artists like William Basinski, Laraaji, and regional heroes Sunburned Hand of the Man.
It's baffling that a town of 12,000 would have two venues catering to niche markets on a street which is otherwise filled with the kind of storefronts you'd expect in this part of New England. But I'll come to find out that there is a long, storied history of championing outsider art in Brattleboro. At the time of our meeting, Thomas was on the cusp of turning 40, and the two of us end up waxing poetic about a time when finding out about underground music took embarrassing amounts of trial and error.
"Living in a small town, if you were a punk and you saw somebody who was even the least bit punk, like had a patch or something, that you didn't know, you'd be like, 'Who's that person,'" says Thomas. "Now it's like everyone kind of looks good or looks a little bit 'indie' in some way. It's harder to tell. It's harder to maybe find your people. Or maybe just everyone is cool now."
Thomas's parents both moved to Brattleboro from New Jersey; they met while attending Windham College in Putney, Vermont. The school later became Landmark College, which focuses on providing education to students with learning disabilities such as dyslexia. But back then it was, according to Thomas, a "hippie party school." After a brief move back to Jersey shortly after Thomas was born, Brattleboro's pull proved too strong to resist; they have been living here ever since. Thomas's father worked night shifts at the famous Brattleboro Retreat (founded in the 1840s as the Vermont Asylum for the Insane) in the center of town until he retired, and his mother currently works part-time in early education.
Though Thomas has been living in Los Angeles for the last 12 years, his imagination is still drawn to his hometown stomping grounds in the Green Mountains. "I am always thinking about this place," he says. "It's such a part of me. I learned how to be creative here, and it's where I started writing songs. So, a lot of the time, when I go to write a song, they kind of take place here even if I'm not here. When I'm writing, I'm thinking about being here. Especially with this record and during the pandemic, I was just kind of imagining I was somewhere else. That's a theme in the album. There's this energy from here that I have inside me and that I'm still pulling from."
Walking the streets of Brattleboro, Thomas can only go so many steps without receiving a friendly greeting from an old friend. It's no wonder he was recently voted "The Bruce Springsteen of Vermont" on The Best Show with Tom Scharpling. It's this same small-town interconnectivity that Thomas explores on Smalltown Stardust, a feeling he hopes is not lost with the times.
We head down Elliot Street and pass the building that used to hold the short-lived but influential art studio and DIY venue The Tinderbox, where Thomas shared a space with his older brother Luke and some of their closest friends in the mid-'00s music scene. It was there that Thomas would re-record material that he'd first written and recorded in the makeshift bomb shelter at his parent's home—songs that would eventually become the first King Tuff album, Was Dead. Thomas played and saw countless shows at the Tinderbox—which closed for good in 2009—and thinks back fondly on its "ramshackle," Foot Clan-like clubhouse vibe and how its nurturing environment was a miracle for Brattleboro artists.
Just down the street, Thomas points out where the legendary Common Ground Cafe, known for its organic hippie-friendly menu and concerts, used to be. The building was purchased by the infamous fundamentalist Christian cult The Twelve Tribes in 2008 and hasn't been used for years. He spent a lot of time loitering in a nearby parking lot on Harmony Place, a small area tucked away between Elliot and Main Street, which served as a connector to different storefronts such as the Harmony Underground tobacco shop and the Harmony Collective Artist Gallery, and laments that younger generations are not taking advantage of these simple townie pleasures. "There's no loitering!" Thomas says with a laugh, "Growing up, we were just loiterers, loitering hard all day long. That's where a lot of inspiration came from. I think because you're so bored, you've got to make stuff happen. There's no boredom anymore."
Merch for this release:
Vinyl LP, Compact Disc (CD), Cassette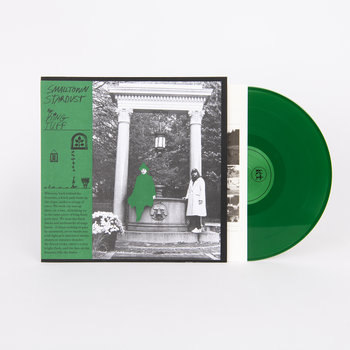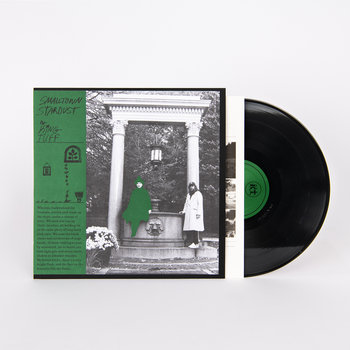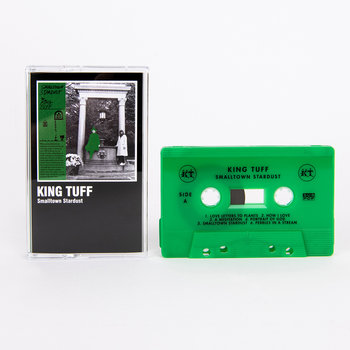 Thomas played in numerous punk bands as a teen, cutting his teeth at places like the Teen Center on Flat Street, which is now a Boys And Girls Club. As we arrive at that venue's former location, Thomas tells me about a time it hosted a show with the legendary crust-punk band The Casualties; his band at the time was the opening act. He remembers liberty-spiked singer Jorge Herrera confronting him as they pulled into town, bluntly asking an underage Thomas, "Where's the beer store?" after they loaded in their gear.
Before it was the Teen Center, the space was known as the Flat Street Nightclub, the biggest rock club in the state. Bands like Sly and The Family Stone, Asleep at the Wheel, and George Thorogood made stops there in between gigs in Boston and New York. The members of Aerosmith made their way through when they were just getting started in Boston. In fact, when Steven Tyler and Joe Perry inducted Led Zeppelin into The Rock and Roll Hall Of Fame in 1995, Tyler made a surprising connection to his early history in the region. In his speech, telling a story about how, as a drummer in his first band Chain Reaction, he lost his drum tech to John Bonham. "Who was going to set up my drumset at Murray's Clam Shack in Brattleboro, Vermont," Tyler exclaimed. It was a moment of true high strangeness that blew Thomas's mind when it happened. "Brattleboro, Vermont? Are you fucking kidding me?" Thomas asks with righteous bemusement. "Strange things like that always seem to happen here."
It was another wild instance of stars aligning that led Thomas to one of his most notable projects: the doomy stoner metal band Witch, which features J. Mascis on drums. In the early '00s, Brattleboro had become the new home of an influential Boston-based indie record distribution company called Surefire, run by Dave Sweetapple and Ron Schneiderman; the latter would go on to play in the ever-evolving lineup of Sunburned Hand of the Man. Sweetapple and Schneidermann had been working with Mascis to reissue some of Dinosaur Jr.'s early material, which meant Mascis would make his way up from Amherst, Massachusetts, to hang around Brattleboro. Thomas was in his early 20's at the time, and was working at the since-closed record store Meridian's Music on Elliot Street. He recalls seeing the indie rock hero in the shop one day. "I remember he bought a Soundgarden Superunknown LP, and I was like, 'I think that was J.,'" he remembers. His suspicions were proved correct when he checked the credit card receipt.
When Sweetapple and Mascis were planning to start a new project, one condition was that Mascis play drums instead of guitar. ("He said that his goal was to be able to be on the cover of Guitar Player magazine and Drummer's World," remembers Schneiderman.) Both Sweetapple and Shneiderman had taken a liking to Thomas over the years; he had been a fixture at their HQ over at the Cotton Mill warehouse space that housed their operation—and would occasionally host shows and jam sessions—just on the outskirts of the town's main drag.
At the time, Thomas had put his aspirations of recording King Tuff material on hold to become part of a sprawling eight-member "freak folk" collective called Feathers, made up of musicians from Brattleboro and Northampton, Massachusetts, like Kurt Weisman, Asa Irons, and Thomas's close friend songwriter Ruth Garbus. "Dave was like, 'There's this kid in town; he's playing in this psychedelic folk band, but I think he wants to rock!'" Thomas laughs. "I was 21 or maybe 22. And all of a sudden, we had our first practice in my parents' basement, and J. brings his giant fucking drums down there. And I'm like, 'Okay J. is playing drums in my band, and I have to play lead guitar in front of J? What the fuck?'"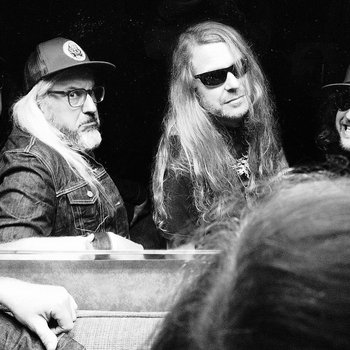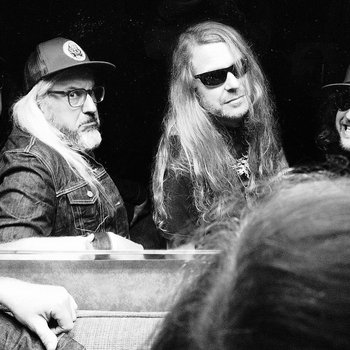 Merch for this release:
Vinyl LP, 2 x Vinyl LP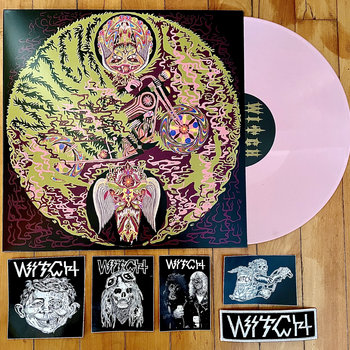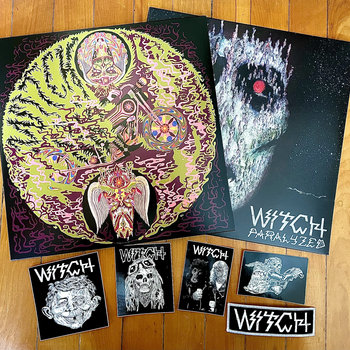 Witch has been playing and recording sporadically ever since. Before we met, Thomas had been on the phone with their management, where the band offered final input to the rollout of a recently completed third full-length. After nearly 20 years of recording, Witch has decided that now would be an appropriate time to open a band bank account.
We grab a quick takeaway bite to eat from the massive village Co-Op on the banks of the Whetstone Brook and then find a park bench nearby to talk about Thomas's early days in the local music scene. He talks about going on his first U.S. tour opening for Matt & Kim, whose Matt Johnson grew up in the area and was a close friend of Thomas's in high school. The two played in a band together back in those Teen Center punk show days. But we mostly discuss his love of Brattleboro's strange and inspiring energy.
"We always used to talk about [Brattleboro] as being a giant house where all of the people in the town are like your weird housemates and the Co-op is like the kitchen," Thomas says as he devours his wrap. "You [get to] know so many people of different varieties and ages in a small community. People in their 80's and six-year-olds that you're friends with. You don't get that in a big city as much. I know other musicians and artists, but you tend to find people that are pretty much just like you. You don't get that other thing, which is magical—knowing weird old people."
After lunch, Thomas and I hop into my car to head over to the Cotton Mill, where Ruth Garbus is renting studio space. Unlike Thomas, Garbus came to Brattleboro as an adult, following her sister, who had moved to Brattleboro after attending Smith College. Ruth attended the Rhode Island School of Design briefly before dropping out and was looking for a new place to land. As the story goes, Merrill was working a shift at coffee shop Moca Joe's, and Ruth went to pay her a visit. She was new in town, dog-sitting for a family and looking for an apartment. Thomas, who was friends with Merrill and a regular at Moca Joe's, was immediately intrigued. "She just appeared one day, and she had a long coat and a little mushroom haircut," he recalls. "I was like, 'Who is that mysterious person?'"
The two immediately became inseparable. Thomas gave her the nickname "Ruthie"—the inspiration behind the Was Dead track "Ruthie Ruthie." Garbus was drawn in by Brattleboro's affordable rents and its off-beat charms—the complete opposite of the uptight, wealthy suburb of New Canaan, Connecticut, where she grew up. "When I first moved here, I had the thought that this could be a place where I didn't have to lock into one thing and strive really hard for it," says Garbus. "I could try doing creative things at a low level."
Merch for this release:
Compact Disc (CD), Vinyl LP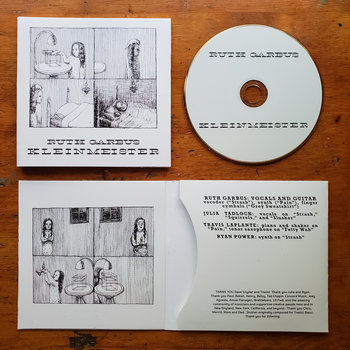 Brattleboro isn't immune to the influx of people leaving big cities for a slice of country life—as evidenced by the steady increase in rents over the last few years. But at the time she moved to town in the early '00s, Garbus paid under $200 for a single room. She also points to the state's socialist-leaning policies for citizens who need assistance as one reason why artists like herself and her partner, Chris Weisman, can still live here. "It's very easy to get food stamps, and I had free health care for the longest time," she says. "It wasn't a place that demanded a lot. I haven't ever made a lot of money. I feel like one of the things about living here is that the economy is kind of depressed, but you don't need a lot of money to live really well. Then, there's the scene in Western Massachusetts that feeds Brattleboro and fed me culturally. There's a lot of depth there."
Around the same time he met Garbus, Thomas met Chris Weisman's brother Kurt while working at Turn It Up! Thomas and Kurt were in the process of starting Feathers with the idea that, as Thomas puts it, "if there was anyone cool in our vicinity, would ask them to be in the band." Naturally, they asked Garbus to join, and she became one of the band's five primary songwriters. Feathers found a kinship with other bands riding the "freak folk" wave at the time, artists like Devendra Banhart and Joanna Newsom on the West Coast and Philadelphia's Espers on the East Coast. The band built a following on the road, touring with Smog and Michael Hurley, and signed to Banhart's Gnomonsong label with whom they would release their single, self-titled album in 2006.
Before moving to Brattleboro, Garbus played music and took private lessons, but she never thought she would play in a band or write her own songs. It took moving to a place like Brattleboro to realize what she wanted to accomplish as an artist. When she first came to Vermont, she lived in a secluded yurt in the woods around the neighboring town of Guilford. "I was bartering for rent in exchange for driving these kids to school," she remembers. "And it was completely private. And I had no fear that anyone was going to hear me sounding like a complete idiot. That was really the only thing I think that helped me be unafraid enough to be expressive to be able to start going."
A key factor to finding isolation for creativity in Brattleboro is the cheap and readily available studio space around town. Garbus is able to clock out from work at the Co-op and head over to the Cotton Mill to work on her own solo material undisturbed without worrying about rent. Garbus tells us that the studio space we are currently sitting in costs her a mere $236 a month.
"A place like this in L.A. would be at least $1,000," proclaims Thomas when he hears that number. "It's pretty tempting to come back."
"Have you tried to convince him?" I ask Garbus.
"He doesn't need convincing; he knows," she responds as we all burst into laughter.
---
Tuesday
I pick up Thomas at his parents' house, and we head over to Duchess Coffee, where Chris Weisman is waiting for us. Wiseman was a member of the short-lived Sub Pop band Happy Birthday, which featured both Thomas and Garbus. We grab coffees and walk over to Weisman's studio space on Main Street, located on the top floor of the church building that houses the Epsilon Spires venue.
Weisman uses his studio to teach private music lessons during the day, as well as make music—we take seats near the large cube-shaped isolation booth he's had built. Weisman and his brother grew up two hours west of Brattleboro in the town of Seaport, New Hampshire. He moved to Vermont in 2008; by that time, he was already dating Garbus and knew Thomas through Feathers, but before arriving in town, he had never had any of his recordings released by a label. Things started happening for him quickly in Brattleboro due to the rich social network he found through his brother, Thomas, and Garbus. "It's got a paradoxical quality where it's simultaneously the ideal place to disappear into your own dream, with all the sort of 'back to the land stuff' from the '70s," says Weisman. "But then, there's kind of an uncanny number of people from here that end up doing things on a bigger stage."
So why is there this lingering urge for so many locals to make the pilgrimage back to the Green Mountains, even after they find success? At multiple points during my visit, the idea of Brattleboro being built upon a ley line—or the idea that there is a giant crystal underneath the town—comes up against and again. It's an idea that Weisman (ahem) crystalized in a song he wrote with musician Greg Davis called "Crystal Under Brattleboro" on their 2010 album Northern Songs.
"I like to think of Brattleboro as a Bermuda triangle or something. If you tried to look at it on a map, New Hampshire, Western Mass, and Vermont just beyond here would all be touching—and there's nothing where [Brattleboro] is," says Weisman of the phenomenon. "It sort of feels simultaneously like nowhere and the only real place."
"It's funny because once you start deciding that you're going to talk about a place like it's special and treating it like it's special and important, it is incredible," he continues. "Investing in a place and loving the place like that makes that real. It's not just in your mind. It feels like it's actually making it real real. I've basically been in that mode since I moved here, which was 14 years ago; just championing living here."
Ironically, Weisman is now experiencing some of the biggest artistic successes of his entire career outside of Brattleboro. Through a connection made by Thomas, he recently flew to L.A. to work on a new solo album by guitar virtuoso and producer Blake Mills at the legendary Sound City Studios. At the time of our conversation, Weisman was about to receive final masters of the album. Their musical friendship also led Weisman to collaborate with Mills on songs for the new Amazon original series Daisy Jones & The Six. With both of these projects, Weisman would be seeing his first real payday as a musician—at the age of 47. But Weisman finds joy in cultivating and nurturing his art in a place that speaks to him rather than in one where he'd have to fight to be heard. "It's a kind of a dream come true to do things my own way and to have it sort of feel like it's working," he says.
The three of us say our goodbyes, and Thomas and I make our way to meet up with Graham Brooks of the local metal band Barishi for an early afternoon bite at artisan bakery called Amy's. Now 30, Brooks met Thomas after reading about Witch in a Guitar World round-up of new stoner metal bands. He was amazed that the band was from his hometown, and the two would eventually become friends. Later, Thomas took his roommate Sasami Ashworth—who records as SASAMI—to check out Barishi. Ashworth, impressed, asked them to be the backing band for her tour behind the metal-leaning album Squeeze. "​​I think it's probably easier to be a metal band and live in Brooklyn, or Philly or something like that," says Brooks, "But [Brattleboro] is weirdly supportive of metal. A lot of people who come to metal shows, I'm like, you're the last person I expected at a metal show, and they're into it."
Merch for this release:
Compact Disc (CD), 2 x Vinyl LP, T-Shirt/Apparel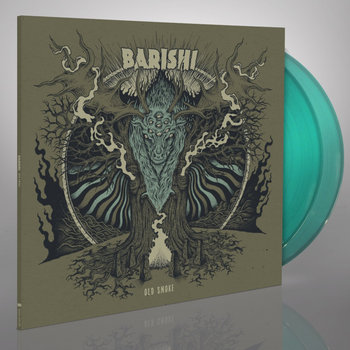 Though the town is known for championing outsider artists, Thomas and Brooks point out that the main type of art supported by the local economy is the kind of cutesy, self-referential trinkets like dreamcatchers and window art that pander to those looking for a pleasant afternoon in an offbeat hippie town. Brooks believes the scene grew as a form of rebellion against what was expected of them. "It felt like there wasn't genuine counterculture. People had something to push back against," he says.
I start my car, and we descend back into the main stretch of town to find parking near the Buoyant Heart. The converted space was initially part of the Estey Organ Company, at one time one of the largest organ manufacturers in the world. In fact, electronic instrument pioneer Harold Bode, who is credited with inventing the synthesizer, worked for Estey back in the '50s as a chief engineer; he was also vice president of the company—another strange-but-true Brattleboro fact that blows Thomas's brain.
Now, the factory space is known as The Buoyant Heart, a collectively run art space and venue that is also home to the young local band THUS LOVE, a post-punk group founded by three trans musicians: singer and guitarist Echo Mars (she/her); drummer Lu Racine (he/him); and Nathaniel van Odsul (they/them). The downstairs is divided into two large rooms—one for hanging out and one for performing—with art spaces located upstairs. We walk through the hangout room, which has an Estey organ ready to play, and sit down in the performance area to talk.
Neither Racine nor Mars are native to the town. Racine grew up in Florida but moved to Putney in 2008 and attended Brattleboro High School. Mars grew up near Burlington in Thetford but came to Brattleboro in 2018 to study journalism at the now-defunct Marlboro College. But that idea was quickly dashed after meeting and starting the band with Racine. Mars first met Thomas in 2019. Like many local musicians before her, she was working at Mocha Joe's, and he came in to grab some coffee. As Thomas walked out, Mars ran after him and asked if THUS LOVE could open for his upcoming show at The Stone Church. He agreed. That night the band played to a much larger audience than they would have at the 50-capacity Buoyant Heart or at their local bar venue, McNeil's, which sadly burned down earlier that month. "I listened to Kyle in high school," says Mars, "and all of Brattleboro saw us because of that night."
Merch for this release:
Vinyl LP, Compact Disc (CD), Cassette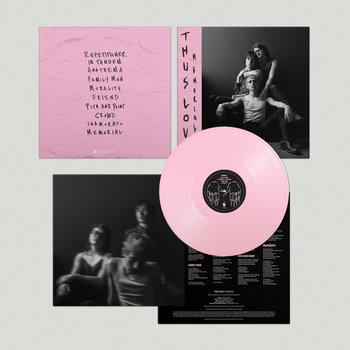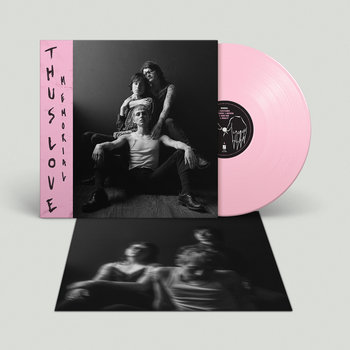 The three musicians agree that, whether or not there is a crystal under the town, there is some force that allows musicians in Brattleboro to manifest their goals. "Having the space or the reflective behaviors to just be like I'm visualizing this crazy fucking thing, and I'm gonna live that, and then it just literally happens. It's pretty wild to me," says Mars.
THUS LOVE could make the move to a larger city, but they, too, are happy being part of the long lineage of Brattleboro "freaks." The Buoyant Heart reminds Thomas of his glory days at the Tinderbox, where he and his friends helped lift one another up and build a scene out of nothing. Many of those same friends are helping out at the Buoyant Heart today, like artist and puppeteer Jonas Fricke, who stops by to help prepare for a potluck later on. This kind of support is exactly what Mars—who keeps the sign from The Tinderbox in her studio space upstairs—wants to pass on to kids following in their footsteps.
"In the last couple of months, there's this group of teens that are like 16, and they come here and practice now," she says. "They come to shows and are like, 'We've got a band going; can we practice?' They came over on a Saturday night, and I was just like, 'Here's how you lock the door. This is the shit you can use. Have fun,' and then I left them here alone, and they had a great fucking time."
Our final stop is the home of musicians Matt Valentine and Erika Elder, nestled in the mountains in the neighboring town of Guilford. Thomas has known Valentine and Elder since his freak folk Feathers era, when the couple recorded music as MV & EE, making a name for themselves in New York City's Lower East Side underground scene before relocating to the Vermont wilderness. The sun has gone down when we arrive, and the only illumination comes from our cell phone flashlights and the sparse lights coming from Valentine and Elder's cabin-style home at the top of the hill as we make our way to the front door. Inside, the home is pleasantly abuzz with Valentine and Elder's young daughter Vega making gingerbread cookies in their kitchen while the mind-melting free jazz funk of Miles Davis's On The Corner bounces off the rustic wooden walls.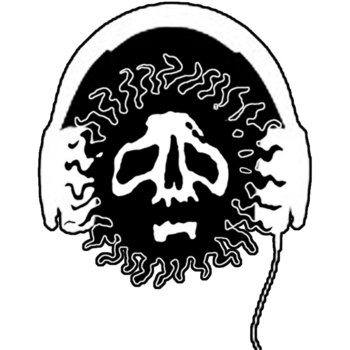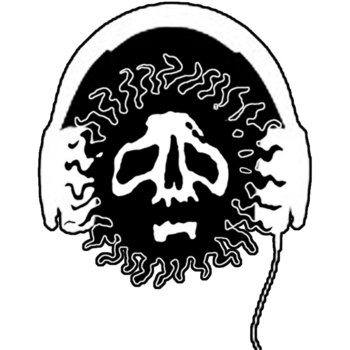 Valentine's presence is warm and inviting as he tells us about how the couple first made their pilgrimage up north; Elder is in and out of the room, assisting Vega in making goodies in the kitchen. He explains that he grew up in Rye Brook, New York, and met Elder, who was originally from Virginia, when the two attended the arts school SUNY Purchase College. Valentine had spent some time in Burlington in the '80s, and when the couple started to feel the end was near for them in New York City, moving up to the country seemed like an ideal plan. "I wanted to get back to Vermont because I dug it," he explains. "I had been in New York for like 10 years, and I was ready to get out."
Like Garbus making music in a yurt, or the members of THUS LOVE practicing in the Buoyant Heart, the couple found freedom to create due to low rent and the lack of industry pressure. "That's why we came here," says Valentine. "I was always into having inexpensive places so you could do the art. And [New York] was getting too expensive and too much distraction."
The couple already had strong connections with artists like Thurston Moore of Sonic Youth, who lived in Amherst, Massachusetts, and were routinely asked to come up and play by students booking DIY shows around Hampshire College. "We found ourselves coming up here to play more than we would play in a city," says Elder. During their trips, they would be given listings for houses in the area by then-recent Brattleboro converts Dan Ireton of the influential freak folk pioneers Dredd Foole and The Din, and his partner, photographer Pat Ireton. "Pat would feed us these listings of houses to rent, and then we finally found one," she adds.
In fact, the two remember hiking in the woods around their current property with Phil Franklin, another former member of Sunburned Hand of Man, years before they bought their house. Its location happens to be in close proximity to the legendary Vermont hippie commune known as Packard Corners. "They're all still here. They're all our neighbors," says Valentine.
The couple found a groove in Vermont, sometimes playing around 100 shows a year and releasing records regularly on their own Child of Microtones label, which they founded in 1999 and still operate today. Valentine and Elder were also around during the foundational years of what journalist David Keenan coined the "New Weird America" in a piece for Wire Magazine, where he covered the infamous Brattleboro Free Folk Festival that was put on by Valentine and Schneiderman in 2003 and included acts like Vermont DIY folk legend Michael Hurley, Sunburned Hand of the Man, Jack Rose, Dredd Foole, and, naturally, MV & EE.
I ask Valentine what he thinks about the so-called magnetic force in the region; his take is a bit less mystical than the others. "I think it's the two rivers that converge right in town," he says. "I'm always goofing that it's like a centrifuge, and you can't get out. You're stuck." But, he continues, this kind of suspended feeling is conducive to getting work done. "We have our studio space in town, and I feel like, when I work there, it's cool because I get this energy that makes it hard to leave, which is good when you're trying to work."
Up here, Valentine and Elder are allowed to pursue a genuine muse by being as far away from the noise as possible. "I'm so in the minority, but of all my heroes and heroines, that's how they all did it. They all had these loft spaces or lived in the desert. They lived in these one-room places on the outskirts of Paris. That's how they did it, and I realized that that's where their art kind of came out."
"There are some real freaks out here," adds Elder, "I think part of the reason is because you can be left alone and do your own thing."
We say our goodbyes and trudge down the icy hill. As we head back to Thomas's house, we talk about the cities to which we will be returning in the coming weeks. Before moving to Philly a year ago, my wife and I had been living in Brooklyn for almost 13 years, leaving after it became financially unsustainable, as it does for so many. While Philly is less constricting than New York, you don't get the same feeling of exhalation that Valentine and Elder feel with the life they've built out in the wilderness. And though it's not easy to replace the industry connections Thomas has in Los Angeles, the idea that someone like Weisman could reap the benefit of those connections while remaining in this autonomous artistic zone feels like an industry hack worth chasing. Then there's all the energy around THUS LOVE and the Buoyant Heart, the way they're staying local and cultivating a music scene—it brings back a sense of nostalgia for Thomas. It also makes him think about how doing all these things in these surroundings might be a more attainable goal now than it was when he was younger and unable to connect with the world from an iPhone. "Just like I manifested leaving," Thomas says, as we pull up to his parents' house. "I'm manifesting coming back."