FEATURES
King James & the Special Men Keep New Orleans Moving
By Jim Allen · July 10, 2017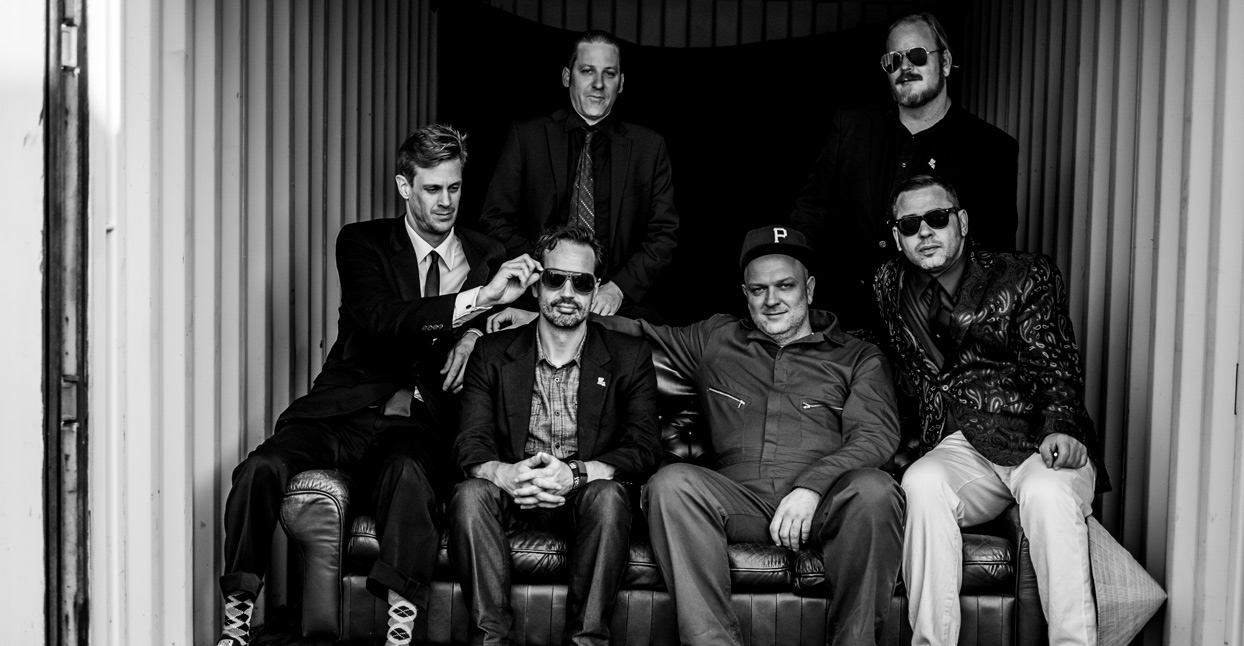 The story of the New Orleans-based King James & the Special Men starts a long way from the Crescent City—about 1,700 miles northwest, to be more precise. Frontman Jimmy Horn began his musical journey in Sanpete County, Utah. "It's a lot of sheep, snakes, and dirt," Horn says of his former home. But even before he made his way south and started digging into the Big Easy's sonic traditions, he found ways to feed his soul with music. "My father's record collection was where I started," he says. "He gave me all his 45s from when he was younger. Little Richard doing 'Tutti Frutti' was my first favorite record."
The raw, garagey mix of New Orleans R&B, blues, and first-gen rock 'n' roll that is Act Like You Know evokes images of Little Richard and Joe Strummer in a 1962 Chrysler getting into a fender bender with Professor Longhair and Fats Domino. Recorded in the 9th Ward region, it seems set to do for old-school New Orleans sounds what the Daptone crew has done for '60s soul—honor what's been while adding a contemporary spin.
.
00:10 / 00:58
Horn has lived in New Orleans for 25 years now, soaking it all in and eventually spitting it all out. The Special Men have played weekly residencies in local haunts for years, and everybody from Elvis Costello to Robert Plant has turned up to see them perform. But they've only just gotten around to making an album. "I've always been a long-game guy," explains Horn. "I knew for some time now that we needed a record, but I didn't want to be the band that has eight CDs out before anyone hears a record, I wanted them to hear the first record, so I took my time."
At age four, Horn got his first guitar. As a kid, his interest evolved from Kiss to Hendrix to blues to punk, but "that Little Richard stuff just kind of stayed with me the whole time," he says. "I was a digger from my early days; I was listening to Mingus when other kids were chasing girls." That eclectic spirit found the teenage Horn playing in both punk bands and youth symphonies, until he reached a crucial turning point.
"I heard Sun Ra and that completely changed my life," he recounts. "Within 24 hours of hearing my first Sun Ra record I switched instruments, quit the band I was in, broke up with the lady I was with, and moved. And in less than a year I found myself in New Orleans. I didn't plan it, I was in Seattle, Washington; I was 18, 19, and I got really bored. A friend of mine said, 'Let's take a road trip.' The car broke down here and I've been here ever since."
When he first hit town, Horn started busking the blues on the streets, playing the kind of Mississippi hill country sounds he'd already been digging. But, he says, "It wasn't long before New Orleans kind of took over. That's when I realized, wow, Fats Domino really is the best of everything that I love. I just found myself wanting cheeseburgers and Fats Domino records in my life."
Around 2000, Horn was playing in a heady jazz band, but eventually hungered for some rock 'n' roll. "Me and the drummer said, 'Let's get a case of beer and play some Fats Domino songs,' and that was the birth of the band," he remembers. We were [just] called The Special Men back then. I was the unfortunate piano player. Even though I'm a guitarist, we didn't know any piano players. We just did all the old New Orleans songs I had become obsessed with. We split up after a year or two and I found myself doing a little bit of traveling, spending time with [Mississippi blues singer] Jessie Mae Hemphill, more soul-searching as an artist. When it was time to put the band back together I decided that this time it was gonna be in earnest, we weren't just gonna do a bunch of old songs, I was gonna write songs, and hire a proper piano player, do it right."
That was seven years ago, when the re-christened King James & the Special Men started playing in a 9th Ward bar called BJ's Lounge. "It's also frequented by folks like Little Freddie King, and it's kind of a lighthouse for the old neighborhood," Horn says. "Katrina brought in a lot of change fast. So the folks from the old neighborhood put it over there just to keep it old-school. After about five years at BJ's it just got too crowded and we ended up moving. We had a little transition year at a bar on St. Bernard that had just opened called Sidney's Saloon. Now we're at the Saturn Bar, which is a bar I've been drinking in since I was probably 19 years old. We're at home more than ever. It's been run by the same family since 1960. You'll have a hundred and some people at two in the morning on Monday night in a quiet neighborhood, it's a pretty special thing. I don't know what other town I could be doing that in."
The band's long series of residencies have helped make them a weekly destination for seekers of something with both a vintage vibe and a fresh feel. "I realized, 'Oh shit, we've got a house band here,'" says Horn, "like the Skatalites in Studio One or like [Fats Domino bandleader] Dave Bartholomew here with Cosimo [Matassa]. So after all these years of just doing it in New Orleans for the people here, we're recording it, we're trying to bring it to the world finally."
But the sound King James & the Special Men are bringing to the world was locally grown and nurtured. Over the years they've built up a strong reputation that draws not only neighbors, but out-of-towners as well, sometimes high-profile ones. "We get a strong dose of loyal locals," says Horn. "We get old-timers that just can't believe there's a band playing that music, and they come and dance. We get hardcore music heads from all over. We've enjoyed a lot of muckety mucks in our midst. People come through New Orleans, people bring Robert Plant to BJ's, [Afghan Whigs singer] Greg Dulli; we enjoy a pretty good crowd."
That same local rep has been enough to generate interest in the band overseas. They've been finding fans in unexpected places like Denmark, where they now play every summer. "I really enjoy the way they see us over there," says Horn. "I've been told that we look like a gang [laughs]. We're nice guys, but I enjoy that we look rough and tumble to these folks. They get right to dancing. We don't have a lot of wallflowers at our shows."
Act Like You Know is a snapshot of the various stylistic strands the band weaves together in their live shows. The record opens with the sweaty undulation of their calling card, "Special Man Boogie." Horn explains, "I wanted to introduce us properly as a New Orleans rock 'n' roll band with Caribbean roots, and with a very blatant tip of the hat to the '50s boogie rhumbas that were popularized by Dave Bartholomew and other people." The slow-rolling blues stroll "Baby Girl" is inspired by Horn's blues hero Guitar Slim. "I've always loved the strength and the looseness and ferocity of his attack," says Horn, "and I was just trying to do him justice with that one."
The randy R&B strut of "Eat That Chicken" is Horn's homage to another of his idols. "The vibe of the song is straight-up Jessie Hill," he explains, "who is kind of my lighthouse as far as New Orleans performers go. I'm not a singer's singer, I'm more of a hoot and holler and wiggle kind of guy. And Jessie Hill's records are full of energy and spirit and attitude and swagger. Sometimes they lack a little finesse, but the unabashed way that he puts himself out there gave me strength as a singer…helped me believe in myself."
But it's on the album's closing cut, the 14-minute blowout "9th Ward Blues," that Horn and company really bring together the biggest, most disparate batch of influences, combining a punk-informed edge with some Sun Ra-inspired carnival-of-chaos vibes in an epic throwdown that honors the band's roots while pushing the envelope, which is what King James & the Special Men are about at their core.
"I try to be firmly rooted in tradition but I don't want to just retell stories," says Horn, "I wanted a song that could be played at Carnival time and I wouldn't be embarrassed. It's not so derivative. Let's take it somewhere. These punk rock bands used to take Bo Diddley songs and turn them into what ended up as The Stooges. I wanted to take The Stooges and turn it into something more New Orleans street. I think it sits right there in that middle ground between the tradition of that New Orleans stuff and that punk rock energy that I can't shake. A lot of what's great about New Orleans is its past, but if you just focus on the past you're gonna lose sight of the present."
This is a balance Horn had to learn the hard way. "I was very confident when I got here at 19," he recalls, "and it took a matter of minutes before I saw some kid out of the 6th Ward with a trumpet bigger than his torso, playing such beautiful music that I realized instantly, 'I don't care how good you thought you were, that kid's like eight.' As a kid I used to think of my heroes as super-humans. In New Orleans I learned right away that, yo, your next-door neighbor is one of those super-human people, and you've been eating liver cheese sandwiches with the dude for months. People are people, and it's up to us to keep it moving. I wanted to come out hard and make a statement about some firmly rooted but looking-forward music."
—Jim Allen