FEATURES
King Gizzard and the Lizard Wizard Confront Infinity
By Paula Mejia · May 04, 2016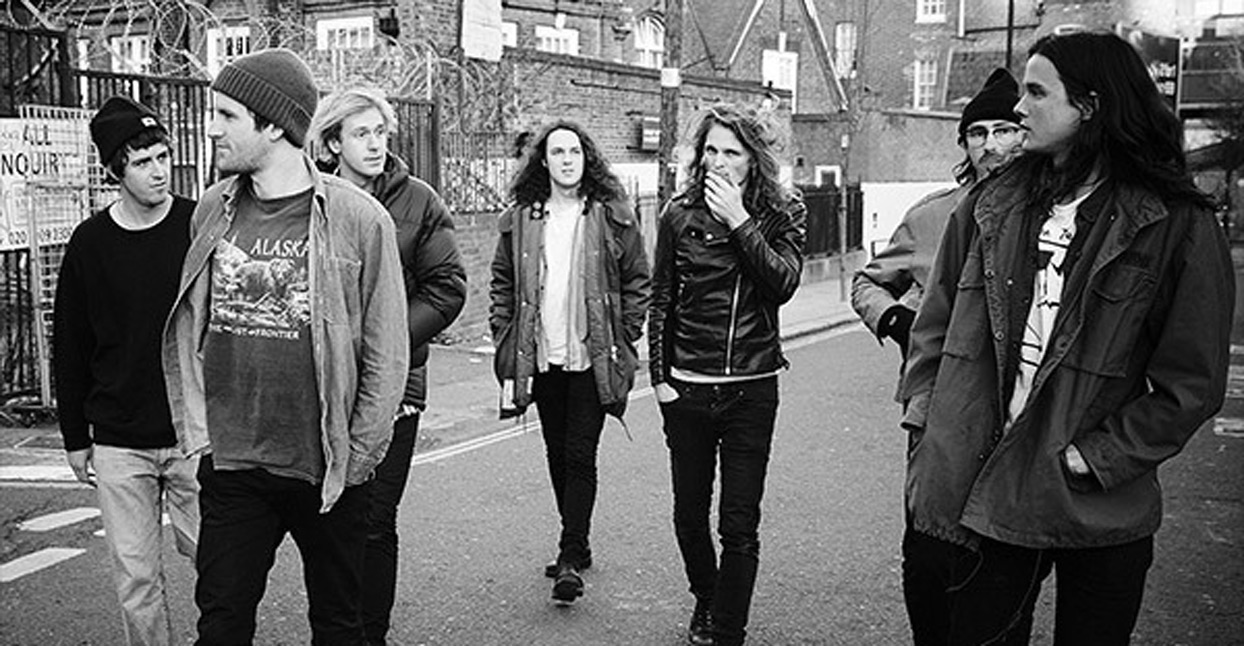 photo by Lee Vincent Grubb
"I think that knowing the endpoint doesn't necessarily mean you know what journey you're going to take. So the songs definitely evolved and changed in a way; they took on their own life."—Stu Mackenzie
The concept of infinity seems to become a little more conceivable every day. People are living longer. The Internet's vast cache of information allows things like Twitterbots to echo our communication patterns and predict our future moves long after we're gone. Thanks to digital archives like the Wayback Machine, anything we put online now has a sense of permanence.
Infinity can be a terrifying thing to consider, but it also contains possibility. Take, for example, Nonagon Infinity, the latest effort from the prolific Australian cohort King Gizzard & the Lizard Wizard, which is an album that reaches for eternity. With Nonagon, the group sought to create the world's "first infinitely-looping album." Its songs swell into and through one another from start to finish. The album is designed to be played on a continuous loop, challenging what our conceptions of beginning and end even mean.
We spoke to frontman Stu MacKenzie about this ambitious record, timelessness, and evolution.
What was your headspace while you were recording Nonagon Infinity? It's quite a shift from the more languid records you've done lately, like Paper Mâché Dream Balloon and Quarters.
Definitely. We had written most of this record before we recorded [Paper Mâché]. This one's come together over a longer time. And I guess it follows on with some of the heavier stuff we've done previously. This was one we kind of worked on live as well, and let ourselves fully evolve it and let it take shape. So, it was kind of an entirely different process.
In that process, did the songs develop in a way that you weren't expecting?
There was definitely a structure and a pretty strong sort of… endpoint. But I think that knowing the endpoint doesn't necessarily mean you know what journey you're going to take. So the songs definitely evolved and changed in a way; they took on their own life. It wasn't really a possibility to orchestrate everything. There was definitely an element of, you know, vaguely orchestrating everything, but over the course of a year or so, it was just slowly tinkering, adapting and changing, adding, subtracting.
I'd imagine it's hard to keep your focus on something like that for such a long time.
We definitely didn't keep our focus! We made two records while working on this one as kind of an excuse to think about something else for a little while. Quarters was pretty improvisation-based—there are only four tracks. And the idea for that record was to take really simple ideas and stretch them out almost to monotony, and to let it be improvised, leaving space for things to just go wherever they want in the moment. And then Paper Mâché, quite a lot of those songs were ones we'd been sitting on for a little while as well. Which is so opposite to Nonagon. But I think those three records occupy three different spaces in the mind; they could all be worked on simultaneously without interfering with one another.
What surprised you about going through this journey?
It kind of surprised me how long this record took to come together. I mean, I guess this album's the most similar to what our live shows have sort of been like for the past couple of years. And you think that should make it easier, but, no. It made it more challenging. Because we made this record in sort of a traditional way: rehearsing fully as a band, writing everything together, recording everything together. It was the most cohesive because of everyone's involvement, more than ever before. But that made it more challenging, because it required more time.
photo by Jamie Wdziekonski
I love that you told Rolling Stone that "Paper Mâché is like a nice afternoon siesta before going to work a night shift."
I think that interview was when we were at Daptone, in New York, while recording Nonagon. Paper Mâché had just come out, and we're all kind of deep in this Nonagon Infinity sort of hole, the peak of busting our brains trying to make it fit together. Conceptualizing 40 minutes of music that all kind of flows into one sort of huge song is really tiresome [laughs].
This is probably the last thing you want to do right now, but are you going to have to listen to the album again in order to translate the songs live?
We've played almost all the songs live before. But even in the live sense, they're still evolving. The recording is a snapshot, or a moment in time. And I think they're the kind of songs that are loose and jammy in the way that they can take other directions, too. But yeah, there's definitely an element of going back and listening to stuff, reinterpreting, remembering, thinking, 'Oh, we did that?'
—Paula Mejia