FEATURES
King Garbage Blend Soul, Dusty Funk, and Country Grit on Their Debut Album
By Will Schube · October 10, 2017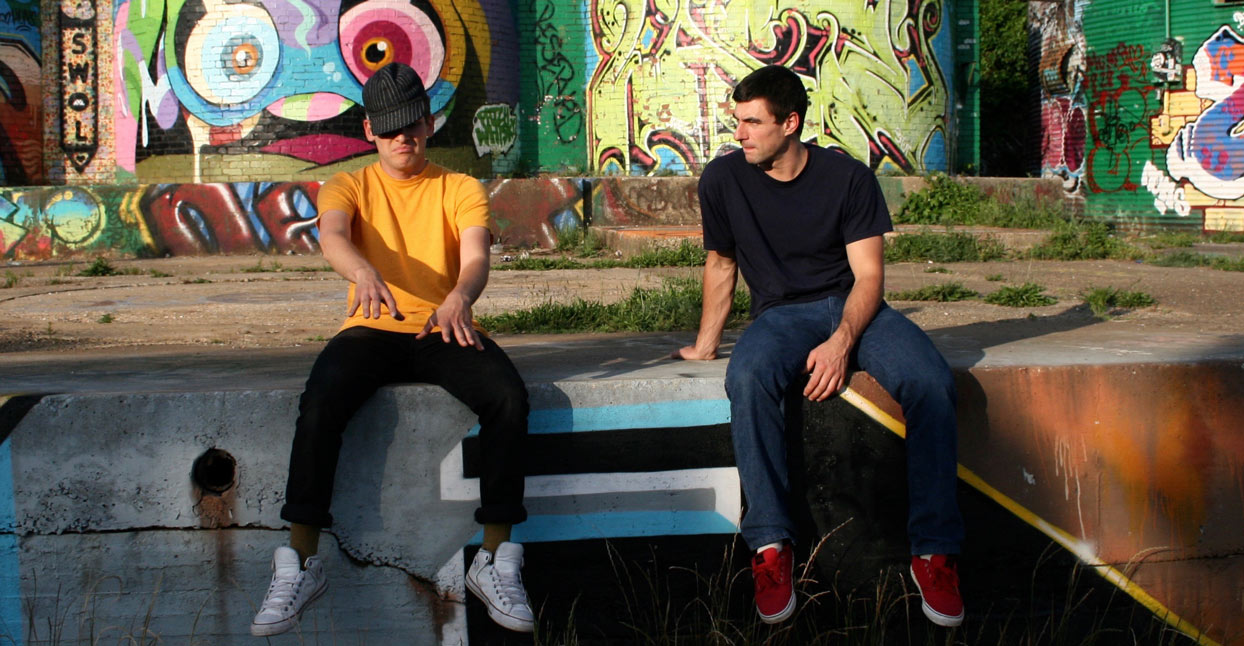 Make It Sweat, the debut album from North Carolina duo King Garbage, is the result of a 12-year collaboration between Zach Cooper and Vic DiMotsis. The pair have been making music together since 2005, and have been recording and performing as King Garbage since 2008. Over the course of those nine years, Cooper and DiMotsis have worked their way inward from the outer extremes of grindcore and noise to something looser, friendlier, and more soulful. Their first official full-length as King Garbage, Make It Sweat, is a haunting collection of dusty funk and rusted blues.
The deep connection between the pair is immediately apparent. They finish each other's sentences, interrupt, and heckle one another. During the course of our conversation, the guys are equally silly and forthcoming, just as eager to name-drop mid '90s Billy Joel releases as they are to break down the influences that inform their singular style. Make It Sweat is a blend of Rust Belt sensibilities and East Coast street smarts, set against downtempo swamp-country instrumentals and cocaine-addled vocals. The album is precise and exacting, each tone carefully considered, yet presented in a way that feels wholly devoid of pretense.
Merch for this release:
Vinyl LP, T-Shirt/Apparel, Compact Disc (CD)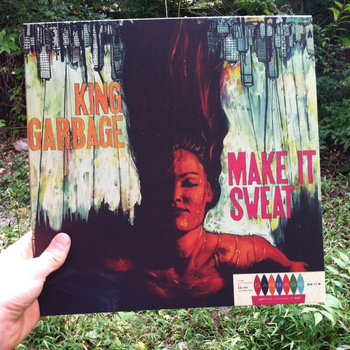 How did this first full-length finally come about?
Vic DiMotsis: We played in a bunch of different bands, more wild and out there than King Garbage. We had ideas for each project—a full-length or something—but it never came into fruition. This, for whatever reason, has been a project that made it all the way to an album. I don't know why, but here we are.
You both put out solo records in 2016. How important was it for you to each get your own ideas into the world before pursuing the King Garbage full-length?
DiMotsis: [Zach] Cooper's always working with his own stuff. He's got a lot of projects he can speak for by himself. He's just always making art in that way. For me, I had a pile of shit that I knew would never be used for anything. I thought, 'What would happen if I made a crazy-ass tape?' Zach was nice enough to ask the label [Styles Upon Styles], and they were like, 'Yeah! That's a great idea!' For me, it was a happy accident, but Zach's always coming out with stuff. He's got, like, a hundred albums.
Zach Cooper: My record was actually kind of similar to Vic's story. I had a pile of shit that I needed to work out. That became The Sentence. I don't know if these records were important in shaping what the King Garbage record became. I think it was just a need to branch out and do my own thing, same for Vic. It's just what I do. I study music theory and composition, it's second nature to me to be writing a lot of music.
DiMotsis: We have a lot of feelings to get out. A lot of angst and emotion.
Cooper: Yeah, that's why my records are mostly emo and grindcore.
Growing up outside of New York, did that city's music scene play a role in either of your artistic developments?
DiMotsis: I think landscape certainly transforms what you see and hear. I'm from New Jersey. We've got pizza, suburbs, smelly factories, and grindcore bands. That's a different experience. Being older now in a more natural environment, I can't complain.
Cooper: I think being out in North Carolina has been huge for my musical development. In New York, there were a lot of expectations that people had for musicians; what kind of category or genre you fell into. Out here, there isn't that much of a scene, other than jam bands and a bluegrass presence. We're genuinely doing something out here that a lot of people don't hear very often.
DiMotsis: I feel like a wind-up toy, where you're from a place that's more developed, it has a more city-like environment. Then, as you grow just a little bit older, you grow a little bit more relaxed, and the music is easier to come out. In a city environment, it's hard to sit down and concentrate. Having experienced that and having to make art, versus now, where I have the time to sit down, it takes pressure off. We were a bunch of crazy, angsty, weird teenagers. We had stupid problems. We had stupid…everything.
Did you move out to North Carolina for the isolation?
Cooper: Originally, my wife and I left New York because it was feeling a little bit nuts. It got to us. We came out here [to Asheville] in 2013. Before we left, Vic and I had talked about living closer to each other so we could work on this music. That was part of the intention. A year or two later, Vic came out to Asheville as well.
DiMotsis: I was planning on being a huge country music star in Austin, Texas. I moved down there with dreams of grandeur and was met with failure. Zach and I had been doing most of our stuff via the internet, so I gave him a call, 'Hey man, you wanna do this thing face-to-face again?'
Cooper: I said no at first.
DiMotsis: He said no, but I just sort of showed up. It's so much easier to work in the same room together.
Merch for this release:
Vinyl LP, T-Shirt/Apparel, Compact Disc (CD)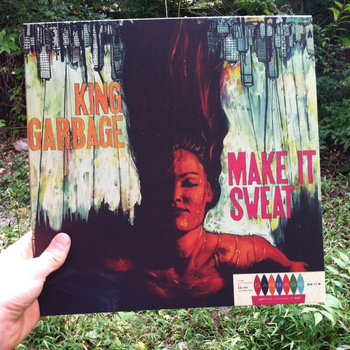 What sort of musical eras or collectives helped inspire your project? You've said the Muscle Shoals scene was a big influence.
DiMotsis: Zach is actually the one with the musical vocabulary so maybe he should answer this.
Cooper: Uhhhhhhhhhh…
DiMotsis: OK, nevermind. A common denominator is a lot of the swampy, Muscle Shoals stuff. The label came up with that reference, but when we originally met, we were really into grindcore—heavy stuff. We also really love classical music. I didn't even know jazz music or sushi was a thing until I met Zach Cooper. When I met him, he opened my eyes to a lot of stuff. He was like, 'Is there something wrong with you? Why don't you know these bands?' He blew me away. He put me in the basket and floated me down the river of dreams a little bit. I'm referring to the 1994 Billy Joel album, by the way. But when we met, the common denominator came down to the question of, 'How weird can you get? How freaky-deeky of a noise can you manage?' And those early bands we were in were focused on tearing people's faces apart. From there, it turned into an attempt to unite people by making something pleasant while still tweaking the dial to the left ever so slightly. Did that answer the question?
Cooper: No.
DiMotsis: Well just make sure to mention The River of Dreams by Billy Joel. That's absolutely imperative.
Cooper: We started by focusing on heavy stuff from the late '90s and early 2000s, but then our interests shifted in similar veins. We both got super into D'Angelo and Sam Cooke, all sorts of doo-wop stuff.
DiMotsis: Anything that sounds like cries and tears coming through the radio. When it's just undeniable emotion. If it rips at your heart strings, that's the purpose of it. I like having a bunch of different musical styles to pull from. Luckily we haven't pigeonholed ourselves yet, so we can still go anywhere with the music while still adhering to the rules that we absolutely love.
Is it a conscious effort while writing and recording to balance paying homage while innovating your own sound?
Cooper: We don't think about that. If we're listening to something that could give us inspiration, maybe it's a launch point, but for the most part, we keep it pretty insular. We keep our ears pretty fresh to our own ideas.
DiMotsis: There are rough guidelines, and then from there we try to figure out how far we can go side-to-side within those boundaries. That's one of the fun things about working with Cooper. We like pushing things a bit too far and then pulling them back. We like to see how crazy it can get, then we reel it back. I'd say that's the process of our music making. It's an ironing process, while at the same time, asking what's appropriate. We put tons of work in. We've worked on some of these songs for five years, just never being happy with them. So we just went back and did it again until we were happy with it. That's one of the cool things about not having pressure of a big label or anything. It's all about where it can go.
Merch for this release:
Vinyl LP, T-Shirt/Apparel, Compact Disc (CD)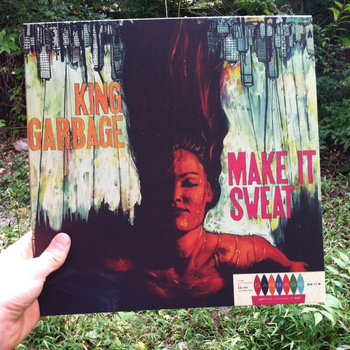 The title Make It Sweat has an inside meaning, trying to push through and keep going. Do you find it difficult to make music in this era, in trying to find a purpose?
DiMotsis: Bruce Hampton said something like, 'You don't go into the music business unless you have a gun on your back.' That makes a lot of sense. This is just the shit we do. It's just what happened.
Cooper: If you're a chef, a plumber, a teacher, of course shit is fucked up in the world. But you gotta keep doing what you love to do. You're gonna do what you do and you're gonna do it well. You're gonna make it sweat.
—Will Schube