FEATURES
Kill Alters Find the Light in Working Through Trauma
By Marc Masters · August 25, 2017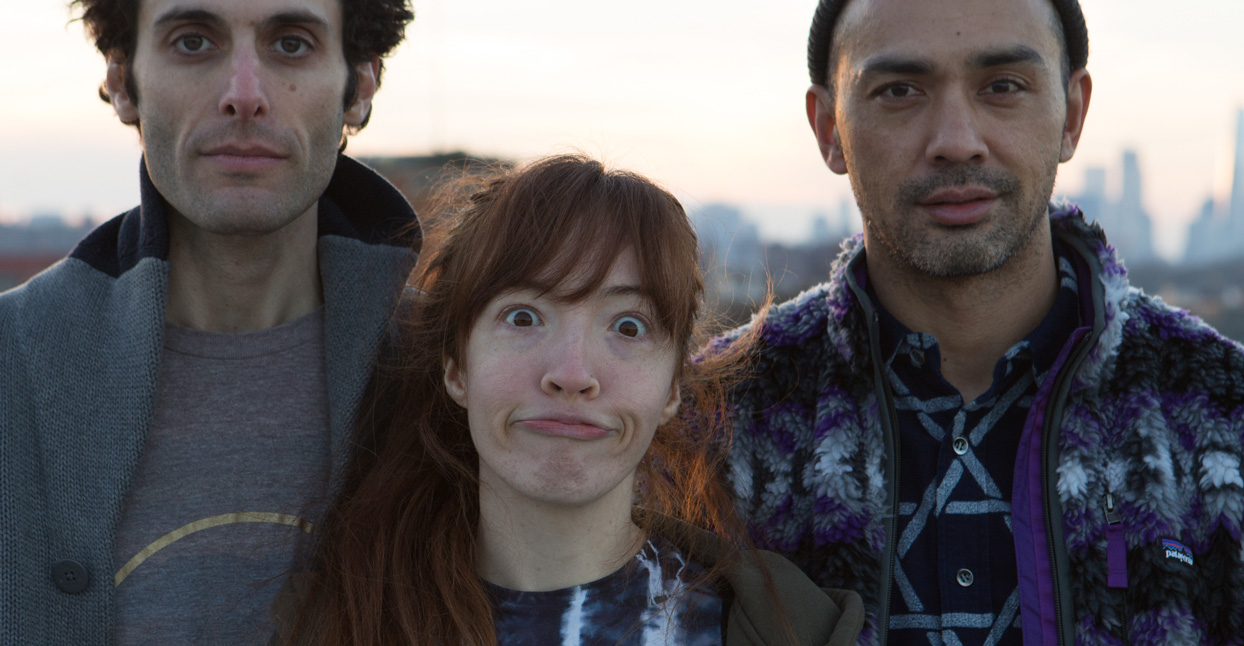 No Self Helps, the second album by Brooklyn trio Kill Alters, may go by fast, but it makes an impact. Grinding together Bonnie Baxter's authoritative bark, Nicos Kennedy's flying synths, and commanding beats from Baxter's drum machine and Hisham Bharoocha's drums, the group's aural attack summons the same catharsis as a sweaty workout, a devout ritual, or a raucous party.
If that sounds intense, it should. No Self Helps is a product of three ardent years of work, during which married couple Baxter and Kennedy spent 30 hours a week holed up in Gowanus studio King Killer. Invited there by friend Matt Kilmer (the music coordinator on Louis CK's series Louie), they hammered out ideas through a 5000-watt PA and 18-inch subwoofers, filling up all the spare time their day jobs allowed. "We were in there nonstop," says Baxter. "Just soaking it up because we knew maybe it wasn't going to last forever." Adds Kennedy, "[It got] to the point where my family was like, 'You guys need to stop for a second.'"
By the end of their time at King Killer, Baxter and Kennedy had the basic tracks for an album, but felt something was missing. Around that same time they met Bharoocha, best known for his work with Lightning Bolt, Black Dice, as well as his solo project, Soft Circle. He soon became a permanent member of Kill Alters, and his presence on No Self Helps is clearest in his drumming, added in during a session at Brooklyn's Figure 8 studio.
But Baxter and Kennedy insist Bharoocha brings much more than drums to Kill Alters. "People are like, 'Who's your drummer?'" explains Kennedy. "And I'm like, 'That's my bandmate.' He has modular synths, he has drum machines. He'll bring stuff and play and experiment." "[Hisham] says in a weird way that I'm the drummer," Baxter says. "I've never drummed on a kit, but the beats that I make have to work with Hisham. So now I'm thinking more about, 'How do I open up my drum machines to give Hisham space?'"
Opening up has always been at the core of Kill Alters, a project that Baxter says began as "just me in my head." She had been making solo music as Shadowbox when she came upon a trove of audio tapes created by her mother starting in the late 1970s—when she was just a teenager—and stretching into the '90s. Documenting her struggles with Tourette Syndrome, Baxter's mom recorded phone calls, fights, singing, and screaming that sometimes went on until a tape ended. She also captured moments from Baxter's tumultuous and traumatic childhood. "I ended up finding out things about my life that I didn't know," Baxter recalls. "I would always be thinking about the tapes and wanting to know more. I was just obsessed with them."
"I started thinking about dissociative disorders, and going into chat rooms where there were people that have come from abuse and have dissociated," she continues. "I was wondering why. Why did I stuff these memories [inside]? How do memories like this go away and then come back? I sat down with Nicos and had a little bit of a breakdown, but I said, 'These things have happened to me. I was abused as a child…I want to make [music] that uses this.'"
At first, Kennedy was reluctant, finding the tapes too dark to bear. But eventually he became addicted to them too, and the couple began posting portions under the label Kill Alters Archives. They also happened upon Call Me Lucky, Bobcat Goldthwait's documentary about comedian Barry Crimmins, a victim of child abuse who became an activist. "That gave us a lot of fuel," Baxter recalls. "I was nervous about opening up and talking to other people, but when I saw that I thought, 'Yeah, I want to be open about this. I want to share my story so I can maybe help people in some way.'"
The first Kill Alters album (released in 2015 as a self-titled tape and now included in Hausu Mountain's CD version of No Self Helps) mixed those found tapes with Baxter and Kennedy's forceful music. A powerful narrative came to vivid life through Baxter's attention-commanding vocals. The album ends with "Love Me or Murder Me," featuring some of the most chilling material from Baxter's mother, including disturbing chants that became the song's title. "It's the scariest thing I've ever heard," admits Kennedy. Adding to the intensity, Baxter used home movies to make brilliant, brutally surrealist music videos. She's furthered that skill through clips for No Self Helps, as in the hypnotic face-altering video that accompanies "Ego Swim."
Understandably, the darkness of Kill Alters' first album weighed on Baxter and Kennedy, and they strove to make No Self Helps brighter and less focused on personal history. "It was getting too much about digging into the past, and it's not always healthy to do that," says Baxter. "It's good to be present and just make music for fun, too. And I didn't want all the music to just be wrapped around this story about me." Baxter's past still factors into No Self Helps: some of the songs are about her childhood, and her mom emerges again during "Wart Therapy," a recently-recorded improv skit in which Baxter plays patient to her mom's growling, cartoonish therapist.
In contrast to the found sounds on Kill Alters, "Wart Therapy" is played for laughs ("[My mom] always wanted to be a comedian," says Baxter), and overall, No Self Helps is more upbeat. That's symbolized in sounds of Baxter as a child singing "la la la" interspersed throughout the album, which add a playful spirit. Baxter intended to make a single track from that singing, but Kennedy suggested placing snippets between songs. "It really revs up [as the album progresses]," he explains. "That first tape was so dark, so for the second one we were like, 'Dude, let's just fill this shit with light.' Hisham is the light, and we're all the light now."
Even Baxter herself didn't fully understand the title No Self Helps at first. "That came to me in my writing," she says. "I don't know why. It just spoke to me. It was an unconscious thing." But she eventually discovered rich significance in the phrase. "It can be like you have multiple personalities and none of those things can help find light, because you're fragmented," Baxter explains. "Or it can be when you let go of the ego and find escape in that. Let go of the self. Music does that."
Baxter and Kennedy are clearly excited about Kill Alters and their journey with Bharoocha, despite the dark places their music can reach. Though they love talking to fans touched by Baxter's stories, they're even more enthusiastic about their work's more primal effects. "I wanted [our music] to speak to people and I was hoping kids would come up to me and be like, 'I really felt that. The lyrics spoke to me,'" says Baxter. "But now it's more like, I want these heavy beats to get into you, and I want you to feel its power. I want it to give you power."
—Marc Masters